Disability Insurance Market Research, 2031
The global disability insurance market was valued at $3.3 billion in 2021, and is projected to reach $9.2 billion by 2031, growing at a CAGR of 11.2% from 2022 to 2031.
During the COVID-19 epidemic, the disability insurance industry was negatively impacted due to the sudden lockdown in 2020, due to decreasing investment in financial solution. Furthermore, many small businesses closed their business processes due to lack of funds to sustain in the market and some withheld all investments in advanced business solutions and tools due to the low return on investment. Thus, demand for disability insurance decreased during the COVID-19 lockdown situation.
Disability insurance is a type of insurance that pays out if a policyholder is unable to work and earn an income due to a disability. The policy can protect policyholder financially if they become disabled in case of an accident or disease. It can replace a portion of the income if the insured individual is unable to work due to their condition. The standard disability insurance plan will also cover any medical bills, which policyholder may incur as a result of the therapy, depending on the policy terms.
Rising awareness about the benefits of social security disability insurance policies and tax benefits under various sections of the income tax act is boosting the growth of the global disability insurance market. In addition, development of new offers and schemes by insurance companies is positively impacts growth of the disability insurance market. However, lack of awareness among the customers is hampering the disability insurance market growth. On the contrary, increasing government support for medical and health insurance is expected to offer remunerative opportunities for expansion of the disability insurance market during the forecast period.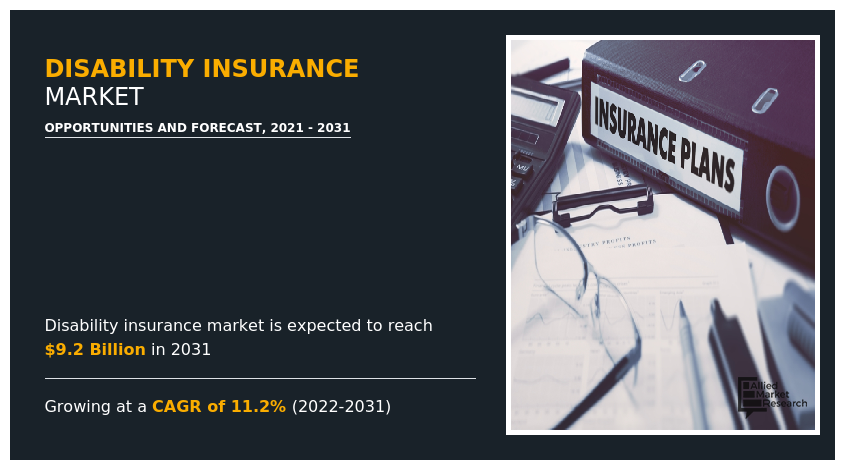 The disability insurance market is segmented into Insurance Type, End User and Coverage Type.
Segment review
The disability insurance market is segmented on the basis of by insurance type, end user, coverage type, and region. On the basis of insurance type, the market is categorized into employer supplied disability insurance, individual disability insurance, high limit disability insurance, business overhead expense disability insurance, and others. On the basis of end user, the market is bifurcated into government, enterprise, and individual. By coverage type, it is classified into short term disability insurance and long term disability insurance. By region, the market is analyzed across North America, Europe, Asia-Pacific, and LAMEA.
The key players that operate in the disability insurance market are Aegon N.V., Ahana, Assurity Group, Inc., Allianz, Assicurazioni Generali SpA, Asteya, Aviva, AXA, Guardian Life Insurance Company, Illinois Mutual, Petersen International Underwriters (PIU), Massmutual, Mutual of Omaha, MetLife Services and Solutions, LLC, Ping An Insurance, Nippon Life Insurance, and Zurich Insurance Group. These players have adopted various strategies to increase their market penetration and strengthen their position in the industry.
Disability Insurance Market

---

By Insurance Type
The employer supplied disability insurance segment is expected to garner the highest market share, owing to increasing risks related disabilities and growing awareness among the employers to protect their employees.
Get more information on this report :
Request Sample Pages
In terms of insurance type, the employer supplied disability insurance segment holds the highest disability insurance market share as it protects skilled employees from danger and proves a competitive edge from competitors. However, the business overhead expense disability insurance segment is expected to grow at the highest rate during the forecast period as it protects the company from bankruptcy or losses during the disability period of the employer.
Disability Insurance Market

---

By Region
The demand for disability insurance in the North American countries are growing owing to, higher spending by employees for employees financial security.
Get more information on this report :
Request Sample Pages
Region-wise, the disability insurance market size was dominated by North America in 2021 and is expected to retain its position during the forecast period, owing to the presence of major players that offer advanced solutions and invest heavily in solutions such as faster claim management offers lucrative opportunity for the market. However, Asia-Pacific is expected to witness significant growth during the forecast period owing to growth in awareness regarding importance of disability insurance among employers and employees working in dangerous fields.
COVID-19 Impact Analysis
The disability insurance market has recorded continuous investments for its developments and has become a massive contributor to the economic growth. However, this industry has been largely affected due to the outbreak of the COVID-19 pandemic, leading to economic instability. In addition, the COVID-19 pandemic has resulted in changes in model performance, as more continuous monitoring and validation is required to mitigate various types of risks, as compared to static validation and testing methods, which, in turn, drives the development of disability insurance. Moreover, buying disability insurance online is no more a choice as online insurance is the only means to avail the compulsory liability insurance. Digital-first insurers such as Getsurance were offering online policies even before COVID-19 times, but now online insurance has become a new norm, given the circumstances.
Top Impacting Factors
Rising awareness about benefits of disability insurance policies
Rising awareness about the benefits of disability insurance policies is driving the growth of the disability insurance industry. This, is attributed to greater transparency of information encouraging customers to participate more actively in purchasing the disability insurance. In addition, adoption of automated claim technology plays a major role for the market growth for faster claims process as disability insurance takes a lot of time to process the claim. Furthermore, enhancing overall customer experiences along with lower operational expenses are also positively impacting the growth of the disability insurance industry. Moreover, the growing preference for technology and the importance of knowing requirements of the user and available products of insurance is driving the market growth. In such a competitive marketplace, brokers need to invest time to get know their customers on a personal level and what they truly needed. It results to find the right fit, also largely lifting the growth of the market. These are the factors that drives the market growth.
Tax benefits under various sections of income tax act
Taxes are an integral component, accounting for a major portion of the income earned by the government, which is utilized to provide certain basic provisions to citizens. In addition, individuals who earn more than a certain amount are expected to pay taxes, as per the existing tax slabs. The government also provides certain provisions wherein one can save tax. Furthermore, tax deductions can help one reduce the taxable income, lowering their overall tax liability and thereby helping them save on taxes. The tax deduction depends on many factors, with different limits set for different purposes. Moreover, individuals can claim tax deduction benefits for payments made towards disability insurance and other insurance policies, fixed deposits, superannuation funds, tuition fees, and purchase of residential properties under Section 80C of the Income Tax Act. Owing to this, Department of Labor and Training of state of Rhode Island stated Temporary Disability Insurance (TDI) provides benefit payments to insured RI workers for weeks of unemployment caused by a temporary disability or injury. Enacted in 1942, TDI was the first of its kind in the U.S. It protects workers against wage loss resulting from a non-work-related illness or injury and is funded exclusively by Rhode Island workers. Thus, increasing tax benefits is driving the Disability Insurance Market Opportunity.
Key Benefits For Stakeholders
This report provides a quantitative analysis of the Disability Insurance Market Forecast, current trends, estimations, and dynamics of the disability insurance market analysis from 2021 to 2031 to identify the prevailing disability insurance market opportunities.
The market research is offered along with information related to key drivers, restraints, and opportunities.
Porter's five forces analysis highlights the potency of buyers and suppliers to enable stakeholders make profit-oriented business decisions and strengthen their supplier-buyer network.
In-depth analysis of the disability insurance market segmentation assists to determine the prevailing market opportunities.
Major countries in each region are mapped according to their revenue contribution to the Disability Insurance Market Outlook.
Market player positioning facilitates benchmarking and provides a clear understanding of the present position of the market players.
The report includes the analysis of the regional as well as global disability insurance market trends, key players, Disability Insurance Market Opportunity, application areas, and market growth strategies.
 Disability Insurance Market Report Highlights
Aspects
Details
Insurance Type

Individual Disability Insurance
High Limit Disability Insurance
Business Overhead Expense Disability Insurance
Others
Employer Supplied Disability Insurance

End User

Government
Enterprise
Individual

Coverage Type

Short Term Disability Insurance
Long Term Disability Insurance

By Region

North America (U.S, Canada)
Europe (UK, Germany, Netherlands, France, Spain, Rest of Europe)
Asia-Pacific (China, India, Japan, South Korea, Australia, Rest of Asia-Pacific)
LAMEA (Brazil, Mexico, UAE, Saudi Arabia, South Africa, Rest of LAMEA)

Key Market Players
AEGON N.V., Assurity Group, Inc., Allianz SE, assicurazioni generali spa, Aviva plc, AXA Group, Guardian Life Insurance Company, Illinois Mutual, Petersen International Underwriters (PIU), Massmutual, Mutual of Omaha, MetLife Services and Solutions, LLC ., Ping An Insurance, Nippon life insurance, Zurich Insurance Group, Asteya, Ahana