Dishwasher Tablets Market Outlook: 2026
The term domestic dishwasher can be used interchangeably with household dishwasher. Dishwasher tablets are sold in two forms, small bricks, which include concentrated dishwashing powder, and dishwashing gel instead of powder. Dishwasher tablets precisely deliver detergent dosages and are less prone to spill over. According to AMR, the global dishwasher tablets market size was valued at $596.1 million in 2018, and is anticipated to reach $990 million by 2026, registering a CAGR of 6.8% during the forecast period.
The use of dishwasher tablets eliminates the issue of excess foam generation inside the dishwasher. This further helps users to extend the average service life of their dishwasher, thereby saving the overall maintenance cost.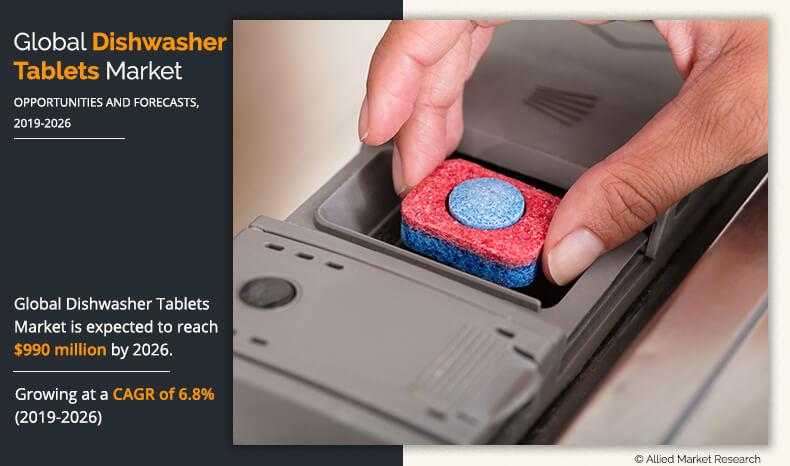 Get more information on this report : Request Sample Pages
Dishwasher tablets are sold through various channels, including online sales channels, supermarket & hypermarket, departmental & convenience stores, independent grocery stores. Thus, the penetration of dishwashers in regions such as North America and Europe is around 50%. Moreover, the consumer base in these regions are well aware about the availability of dishwasher detergents such as liquid, powder, and tablets.
However, the scenario in completely different in the Asian countries such as China and India, where the penetration of dishwasher is limited due to premium pricing as compared to developed regions. On the contrary, companies operating in the Asia region are now focusing more toward designing effective sales channel by offering cross-border sales through e-distribution. Moreover, consumers in Asian regions are now inclined toward the purchases of dishwasher and other white goods, due to upsurge in disposable income and increase in spending on home & hygiene needs. Furthermore, improvement in residential infrastructure such as deployment of effective sanitation systems is expected to boost the revenue growth of dishwasher tablets market.
Dishwasher Tablets Market

---
By Product Type
Branded

segment dominates the global dishwasher tablets market and is expected to retain its dominance throughout the forecast period.
Get more information on this report : Request Sample Pages
The price war between global and private label brands in the dishwasher detergent market has triggered the need to introduce differentiated products in the market. For instance, Bosch original dishwasher tablet is a "5-in-1 tab bursts," which include detergent, salt, rinse-aid, glass protection, and power clean action in one tablet. Majority of the private label brands are competing based on price and supply chain over global brands. Hence, the global brands are introducing innovative product offerings in the dishwasher tablets market. In addition, global brands are adopting various models of distribution channel such as subscription e-commerce and mobile models to penetrate in untapped regions/countries. Moreover, these companies are majorly focusing on offering wide variety of dishwasher tablets due to limited competition by private label brands.
Dishwasher Tablets Market

---
By End User
Residential segment is projected to grow with fastest CAGR during the forecast period
Get more information on this report : Request Sample Pages
Dishwasher tablets are sold in various packages through discount stores, e-commerce, and other retailers. In addition, different sizes of dishwasher tablets packages are offered by manufacturers due to increase in ownership of compact table top dishwashers. Such innovative product offerings in the market by global brands are anticipated to provide lucrative opportunities for market expansion during the forecast period.
The dishwasher detergent market is highly price-sensitive, and only a limited number of customers spend on environmental-friendly products, especially in the European and North American regions. Thus, global brands are constantly focusing on promotional activities to gain green credentials. For example, in the UK, significant amount of product launches in dishwasher tablets market were promoted with the claims of environmentally friendly packaging, which considerably fueled the dishwasher tablet market growth. Thus, extensive focus on adopting recycled packaging and sustainable cleaning logos on product packing is driving the sales dishwasher tablets market.
Dishwasher Tablets Market

---
By Distribution Channel
Online Sales Channels segment is expected to grow at a highest CAGR of 8.6% during the forecast period.
Get more information on this report : Request Sample Pages
Furthermore, increase in environmental awareness among consumers has created the need for green raw materials in the dishwashing detergent market. This is projected to offer new opportunities for companies competing on the basis of environment-friendly detergent products. For example, in 2014, Reckitt Benckiser launched Finish Power & Free, a new line of detergent and rinse product, which is manufactured by using hydrogen peroxide. This product uses limited amount of harsh chemicals, thereby protecting delicate utensils during washing. The product does have chlorine bleach in it, and the use of fragrances and dyes has been reduced significantly.
Regional detergent manufacturers are competing on the basis of price to garner maximum share in global dishwasher tablets market demand. Thus, manufacturers often provide their products at economical pricing, which is one of the major factor influencing consumers' purchase decision. Low product cost from regional brands is majorly attributed to limited expenditure on channel management, branding, and promotion. Procurement of raw materials from the regional market at much lower price helps them to further reduce the overall cost of production.
Dishwasher Tablets Market

---
By Region
North America

dominates the Global Dishwasher Tablets market and is expected to grow with a CAGR of 5.5% during the forecast period
Get more information on this report : Request Sample Pages
However, global brands are following product differentiation strategy to penetrate in the market. These brands are continuously focusing on strategies such as product launch, packaging, and usability of sustainable raw materials. However, this has led to increase in the overall price of products for global brands. Furthermore, global brands are facing challenges in terms of product distribution. As a result, these companies are targeting to reduce the overall price of product, which has led to price war between regional brands and global brands. The initiation of such price wars are expected to hamper the overall dishwasher tablets market share and growth.
The global market is segmented into product, end user, distribution channel, and region. On the basis of product, the market is bifurcated into private label dishwasher tablets and branded dishwasher tablets. Depending on end user, the market is categorized into commercial end user and residential end user. By distribution channel, the market is segregated into online sales channels, supermarket and hypermarket, departmental and convenience stores, and independent grocery stores. Region wise, the market is analyzed across North America (U.S., Canada, and Mexico), Europe (Germany, France, Spain, Italy, and rest of Europe), Asia-Pacific (China, India, Japan, Australia, South-East Asia, and rest of Asia-Pacific), and LAMEA (Middle East, Latin America, and Africa).
The key players profiled in global dishwasher tablets industry report include Eurotab, IFB, Reckitt Benckiser, Unilever, LIBY Group, Nopa Nordic A/S, McBride plc, Henkel, Church & Dwight Co., Inc., and Method Products, Pbc.
Key Benefits for Dishwasher Tablets Market:
The report provides detailed qualitative and quantitative analysis of the current dishwasher tablets market trends and future estimations that help evaluate the dishwasher tablets market opportunities.
The key drivers, restraints, opportunities, and detailed dishwasher tablets market analysis are elucidated in the study.
The market analysis is conducted by following key product positioning and monitoring the top competitors within the industry.
The report provides extensive qualitative insights on the potential and dishwasher tablets market segments or regions exhibiting favorable growth.
Industry player positioning segment facilitates benchmarking and provides a clear understanding of the present position of players along with the dishwasher tablets market forecast.
 Key Market Segments
By Product Type
By End User
By Distribution Channel

Online Sales Channels
Supermarket & Hypermarket
Departmental & Convenience Stores
Independent Grocery Stores

By Region

North America
Europe

Germany
UK
France
Italy
Spain
Rest of Europe

Asia-Pacific

China
India
Japan
Australia
South Korea
Rest of APAC

LAMEA

Middle East
Latin America
Africa
 
Key Market Players
Eurotab
IFB
Reckitt Benckiser
Method products, pbc
Church & Dwight Co., Inc.
Nopa Nordic A/S
McBride plc.
Henkel
Unilever
LIBY Group