Disposable Medical Supplies Market Overview:
Disposable medical supplies consist of medical apparatuses, devices, or consumables that are intended for one time or temporary use in medical settings. These supplies are an essential component in hospital settings, as they save staff time and reduce healthcare-associated costs. Few examples of disposables medical supplies include bandages & wraps, drug tests disposables, exam gowns, face masks, gloves, suction catheters, surgical sponges, hypodermic needles, syringes, and applicators among others. The global disposable medical supplies market was valued at $48,630 million in 2016, and is expected to reach $80,252 million by 2023, registering a CAGR of 7.3% during the forecast period.
The major factors that drive the market growth are increase in demand for disposable medical supplies to avoid contamination and hospital-acquired infections, and rise in incidence of diseases worldwide. However, the rising environmental concerns due to the improper disposable of medical waste impede this market. Moreover, the increase in robot-assisted surgeries is expected to create numerous opportunities, as robotic surgeries utilize disposables such as syringes, needles, scissors, scapula, and others.
Type Segment Review
The disposable medical supplies market by type is segmented based on diagnostic supplies, dialysis consumables, radiology consumables, infusion products, intubation & ventilation supplies, hypodermic products, sterilization consumables, nonwoven medical supplies, wound care consumables, and other medical supplies. Nonwoven medical supplies is expected to be the lucrative segment during the forecast period, owing to their wide usage in the healthcare settings. These supplies consist of disposable products such as incontinence products and surgical nonwoven products that are consistently used across the healthcare settings.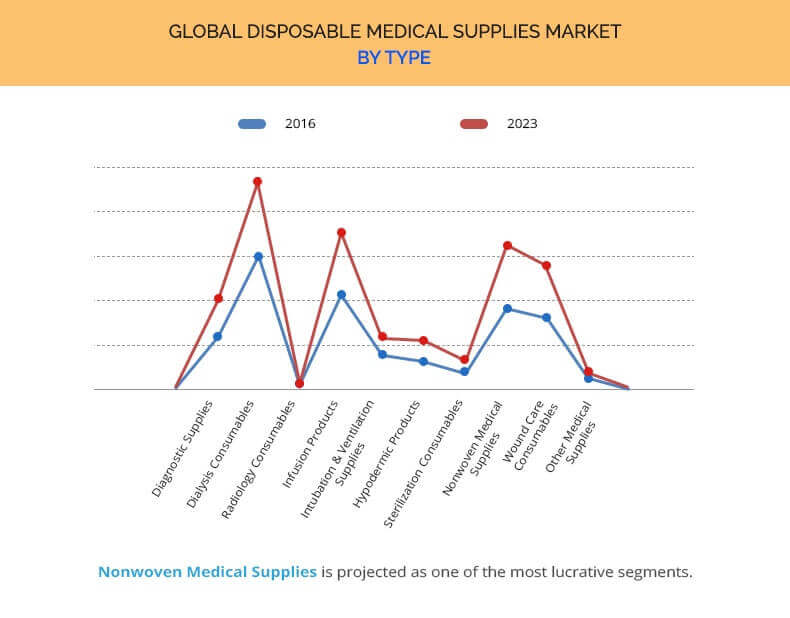 Application Segment Review
The disposable medical supplies market by application is segmented into cardiovascular, cerebrovascular, ophthalmology, gynecology, urology, orthopedics, and others. The cardiovascular segment accounted for the majority of the market share, i.e., two-ninths share of the total market in 2016, owing to the rise in cardiovascular diseases globally. For instance, according to the World Health Organization, an estimated 17.7 million people died from CVDs (cardiovascular diseases) in 2015, which represents 31% of total global deaths.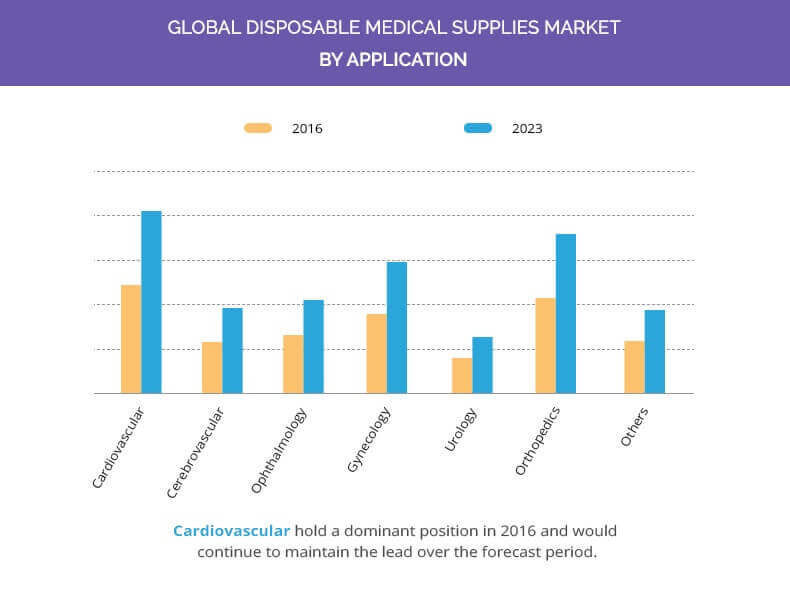 Disposable Medical Supplies by Region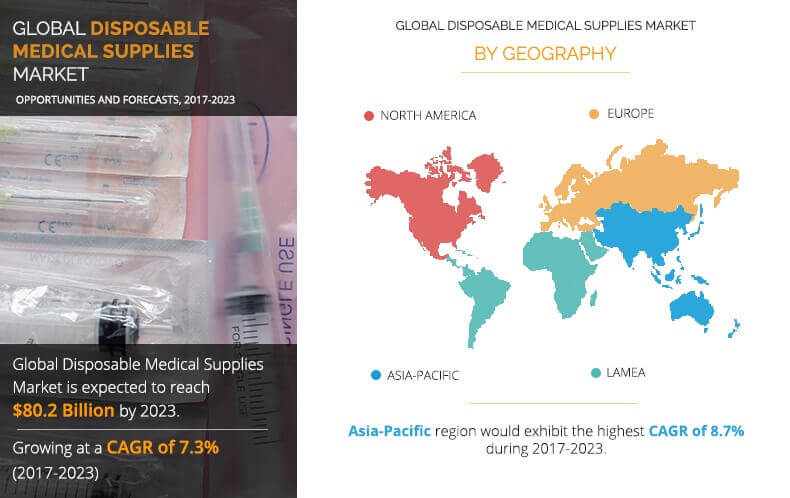 The global disposable medical supplies market based on region is analyzed across North America, Europe, Asia-Pacific, and LAMEA. North America dominated the disposable medical supplies market in 2016 and is expected to retain its dominance throughout the forecast period. This is attributed to the sophisticated infrastructure and huge investment by the government to upgrade the healthcare facilities across the region.
The report provides a comprehensive analysis of the key players operating in the global disposable medical supplies market such as Abbott Laboratories, Bayer AG, Becton, Dickinson, and Company, Cardinal Health Incorporated, Domtar Corporation, Medtronic plc, 3M Company, Braun (B.) Melsungen AG, Terumo Corporation, and Smiths Group plc. Other players operating in the value chain are Bard (CR) Incorporated, BarrierSafe Solutions International, Cederroth Intressenter AB, Johnson & Johnson, Ansell Limited, Teleflex Incorporated, Derma Sciences Incorporated, and Centaur Guernsey LP Incorporated.
Key Benefits for Stakeholders
The study provides an in-depth analysis with the current trends and future estimations of the global disposable medical supplies market to elucidate the imminent investment pockets.
Comprehensive analysis of the factors that drive and restrict the market growth is provided.
The quantitative analysis of the industry from 2016 to 2023 is provided to enable the stakeholders to capitalize on the prevailing market opportunities.
Extensive analysis of key segments of the industry is provided to understand the type of disposable medical supplies used globally.
Key players and their strategies are analyzed to understand the competitive outlook of the market.
 Disposable Medical Supplies Market Report Highlights
Aspects
Details
By Type

Diagnostic Supplies

Glucose Monitoring Strips
Blood Collection Consumables
Diagnostic Catheters

Dialysis Consumables
Radiology Consumables
Infusion Products

Smart Syringes
Prefilled Syringes

Intubation & Ventilation Supplies
Hypodermic Products
Sterilization Consumables
Nonwoven Medical Supplies

Incontinence Products
Surgical Nonwoven Products

Wound Care Consumables

Infection Management
Exudate Management
Negative Pressure Wound Therapy Devices (NPWT)

Other medical supplies

By Application

Cardiovascular
Cerebrovascular
Ophthalmology
Gynecology
Urology
Orthopedics
Others

By End User

Hospitals
Clinics/Physician Offices
Assisted Living Centers & Nursing Homes
Ambulatory Surgery Centers
Research Institutes

By Region

North America (U.S., Canada, Mexico)
Europe
Asia-Pacific (North America)
LAMEA

Key Market Players
Domtar Corporation, Cardinal Health, Inc., Medtronic Plc, B. Braun Melsungen AG, Bayer AG, BECTON, DICKINSON AND COMPANY, Smiths Group Plc. (Smiths-Medical), Abbott Laboratories, 3M Company, TERUMO MEDICAL CORPORATION