Diuretic drugs also termed as 'water pills' assists the kidneys eliminate extra water and concentration of sodium and chloride from the body by increasing flow of urine. Diuretic drugs are prescribed as first line drugs used solely as therapeutic agents to treat hypertension while combination with other antihypertensive drugs is used in treatment of more severe forms of hypertension. Diuretics are extensively used in treatment for people facing health concerns like hyper tension, water retention problems, liver disorders, cardiovascular diseases as well as nephrological and urological disorders.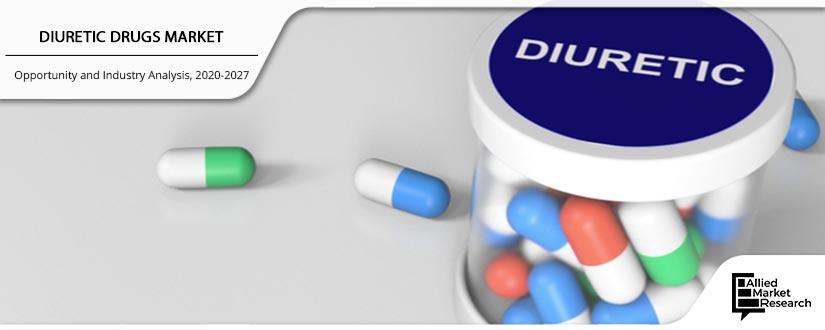 They are also are used to treat edema caused by renal dysfunction such as nephrotic syndrome, acute glomerulonephritis, and chronic renal failure owing to their wide range of applicability across various diseases. Diuretic drugs include microzide, diuril, and indapamide while they are classified mainly into five categories: carbonic anhydrase inhibitors, loop diuretics, miscellaneous diuretics, potassium-sparing diuretics and thiazide diuretics.
COVID – 19 scenario analysis:  
The COVID-19 pandemic has emerged as a humanitarian as well as economic crisis, creating strain on the society and affecting millions of people and businesses
Industry closures and people are asked to stay in their homes which has cause taken a huge toll in terms of money and economic growth
Over 4 million people affected globally, with 300 thousand losing their lives due to novel coronavirus
Healthcare organizations are already working in battle mode, preparing new plans to respond growing COVID-19 patients, right from sourcing rapid diagnosing kits to sufficient PPE kits for workers
Due to diversion of medical field towards treating COVID-19, the funding to R&D activities related to digital genome has been reduced and this segment have to face negligence subsequently causing negative impact on  resulting into patient digital genome market
Top impacting factors: Market Scenario Analysis, Trends, Drivers and Impact Analysis
Increasing prevalence of hypertension is the key factor driving the market growth of diuretic drugs therapy as diuretics are commonly used in the treatment of hypertension. The global burden of high blood pressure is resulting into a patient pool, growing rapidly, thereby fostering the market of diuretic drugs therapy market. . About 16% of deaths caused in 2012 were due to hypertension. The increasing geriatric population and growth in kidney disorders are other major prominent drivers of diuretic drugs market. Another promising factor, to ensure optimum development of this market is in rising number of population suffering from cardiovascular diseases, which is also a major cause of death across the globe. As per the World Health Organization, number of deaths caused by these lifestyle-related diseases is expected to surpass 23 million by 2030.
However, stringent regulatory policies imposed by governing authorities, mandate to fulfill requirement  in order to manufacture, process and distribute the drugs and various compliances such as FDA's CGMP regulations, WHO Guidelines are making it very tedious and complex functioning for manufacturers of these drugs. For example, FDA's Current Good Manufacturing Practice (CGMP) regulations in U.S. imposes various regulations under 21 CFR parts 314, 210 and 211 while also considering application and licensing of innovative and generic drugs, regulatory guidelines for manufacturing, processing, packaging or distribution of drugs. These strict regulations could negatively impact the diuretic drugs market growth by causing hindrances in smooth functioning.
Rising prevalence of hypertension and kidney disorders to boost the market growth
According to the World health Organization, fatalities caused due to hypertension are estimated 7.5 million worldwide, which accounts for 12.8% of global deaths. Assumptions are made that this would increase to 1.56 billion by 2025. Hypertension is more often seen in elderly population ageing above 60. Increasing prevalence of hypertension is the key factor driving the market growth of diuretic drugs therapy as diuretics are commonly used in the treatment of hypertension.
Rising incidences of kidney disorders are causing high expenditures on healthcare due to high cost of treatment, thus paving a way for growth on diuretic market. The increase in the renal and kidney disorder cases causing a tremendous rise in patients suffering from these disease to drives the global diuretics drug market. In case of a kidney disorder, there is kidney dysfunction which can potentially lead to kidney failure and thus increases the need for diuretic drugs to maintain elimination of excess water and salts from body via a proper flow of urine. The increasing prevalence of kidney disorders is majorly due to sedentary lifestyle, high consumption of fast food and packaged food with high levels of calcium and other minerals. As per the Global Burden Disease 2015 study, approximately 1.2 million people died due to kidney failure, which denotes a significant 32% rise since 2005. The population majorly affected by kidney disorders and high blood pressure belongs to age group above 60 years.
Development of Oral Nanoparticle Delivery Mechanism to surge the growth
Technological advancements owing high investments in R&D activities in diuretics gave rise to a new drug delivery technology called the oral nanoparticle delivery technology. It aims to improvise the pH and intestinal penetration of the diuretic drugs such as amlodipine and isradipine to increase digesting capability, as most of these drugs lack water solubility and bioavailability. Nano emulsion is used as (dispersion that consists of oil, surfactants and aqueous phase) as a drug delivery system to deliver thses drugs to their target. These advancements have shown enhanced stability and bioavailability. For instance, a pharmaceutical nanotechnology company Nanomerics, is conducting a R&D in this advancement by focusing on MET (Molecule Envelop Technology) Nanoparticles Oral Delivery. Similarly in 2017, a Russian biopharma major, RUSNANO made an investment of $ 68.1 million for the production of Nano biopharmaceutics. Hence, the enhanced performance and efficacy of diuretics would increase owing to capabilities of Oral Nanoparticle Drug Delivery system would further surge the diuretic drugs market growth.
Key benefits of the report:
This study presents the analytical depiction of the global diuretic drugs industry along with the current trends and future estimations to determine the imminent investment pockets.
The report presents information related to key drivers, restraints, and opportunities along with detailed analysis of the global diuretic drugs market share.
The current market is quantitatively analysed from 2020 to 2027 to highlight the global diuretic drugs market growth scenario.
Porter's five forces analysis illustrates the potency of buyers & suppliers in the diuretic drugs market.
The report provides a detailed global diuretic drugs market analysis based on competitive intensity and how the competition will take shape in coming years.
Questions answered in the Diuretic Drugs Market research report:
Who are the leading market players active in the diuretic drugs market?
What are the current trends that will influence the market in the next few years?
What are the driving factors, restraints, and opportunities in the diuretic drugs market?
What are the projections for the future that will help in taking further strategic steps?
 Diuretic Drugs Market: Global Opportunity Analysis and Industry Forecast, 2020-2027 Report Highlights
Aspects
Details
By Product type

Loop Diuretics
Thiazide Diuretics
Potassium-sparing Diuretics
Carbonic anhydrase Inhibitors
Miscellaneous Diuretics

By Indications

Hypertension
Glaucoma
Cardiovascular Diseases
Kidney Disorders

By Route of administration
By Distribution channels

Hospital Pharmacies
Retail Pharmacies
Online Pharmacies

By Region

North America
Europe
Asia-Pacific
LAMEA

Key Market Players
Merck & Co., Meda Manufacturing GmbH, Sanofi-aventis U.S. LLC, Centaur Pharmaceuticals Pvt Ltd, Validus Pharmaceuticals LLC, Pfizer Inc., Glaxosmithkline, Roche, Paddock Laboratories LLC., Perrigo Pharmaceuticals Company.