DNA Sequencing Market Overview:
The global DNA sequencing market was valued at $6,243 million in 2017, and is expected to reach $25,470 million in 2025, registering a CAGR of 19.0% from 2018 to 2025.
DNA sequencing is a technology in which several DNA strands can be sequenced through massive parallelization. This sequencing includes both Sanger's method of sequencing and non-Sanger's methods of sequencing. Advantages such as low cost, high accuracy & speed, and precise results even from low sample input are offered by DNA sequencing over microarray and other genomic analysis methods. DNA sequencing is used to execute various applications such as biomarker discovery, oncology studies, personalized medicine, forensics, and others. It has streamlined nucleotide analysis and consists of widely replaced conventional tools of genomics, especially microarray, genotyping, and others. The demand for DNA sequencing has increased significantly, owing to surge in sequencing applications and rise in technological advancements in DNA sequencing. In addition, surge in number of genome mapping programs globally and increase in R&D investment drive the market growth.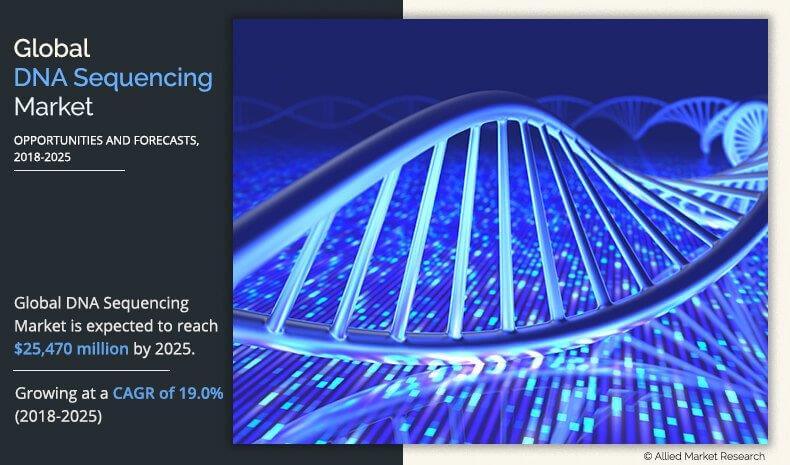 The DNA sequencing market is segmented based on product, application, technology, end user, and region. Depending on product, the market is classified into consumable, instrument, and service. The applications covered in the study include biomarkers & cancer, diagnostics, reproductive health, personalized medicine, forensics, and others. By technology, the market is divided into, sequencing by synthesis, ion semiconductor sequencing, sequencing by ligation, pyrosequencing, single molecule real-time sequencing, chain termination sequencing, and nanopore sequencing. Region wise, it is studied across North America (U.S. and rest of North America), Europe (Germany, France, the UK, Italy, Spain, and rest of Europe), Asia-Pacific (Japan, China, Australia, India, South Korea, Taiwan, and rest of Asia-Pacific), and LAMEA (Brazil, Turkey, Saudi Arabia, and rest of LAMEA).
Segment review
Based on product, the instrument segment is expected to grow at a CAGR of 22.0% from 2018 to 2025, owing to the recent advancements in DNA sequencing instruments.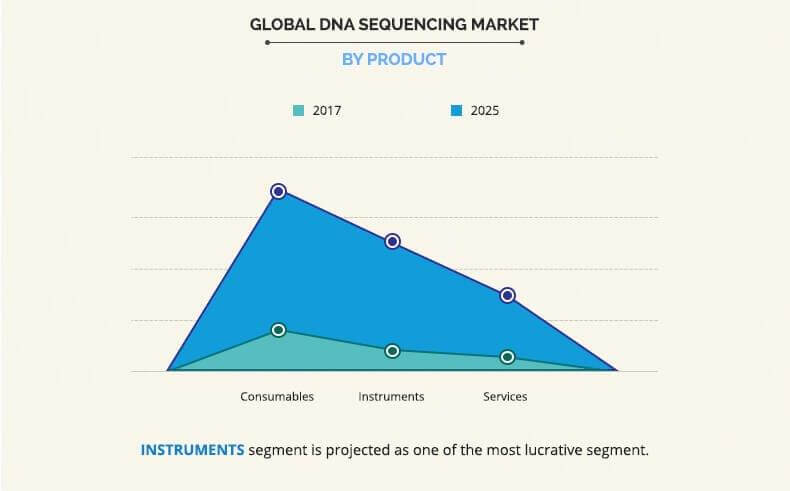 According to application, the biomarker & cancer segment accounted for the highest share in 2017, due to increase in prevalence of cancer across the globe.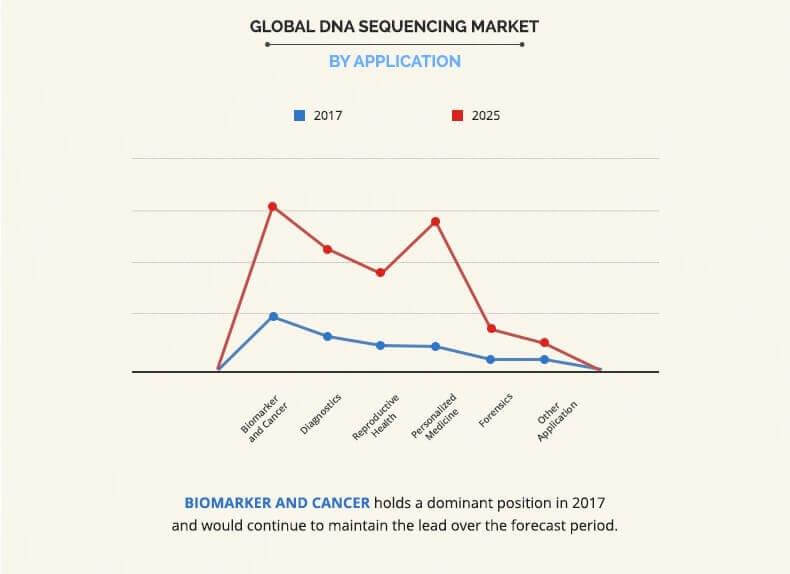 Snapshot of Asia-Pacific DNA sequencing market
Asia-Pacific possesses high growth potential in the DNA sequencing market, owing to increase in awareness about DNA sequencing and rise in DNA sequencing applications. Furthermore, this region is anticipated to experience fast-paced growth, in terms of development and use of DNA sequencing technologies.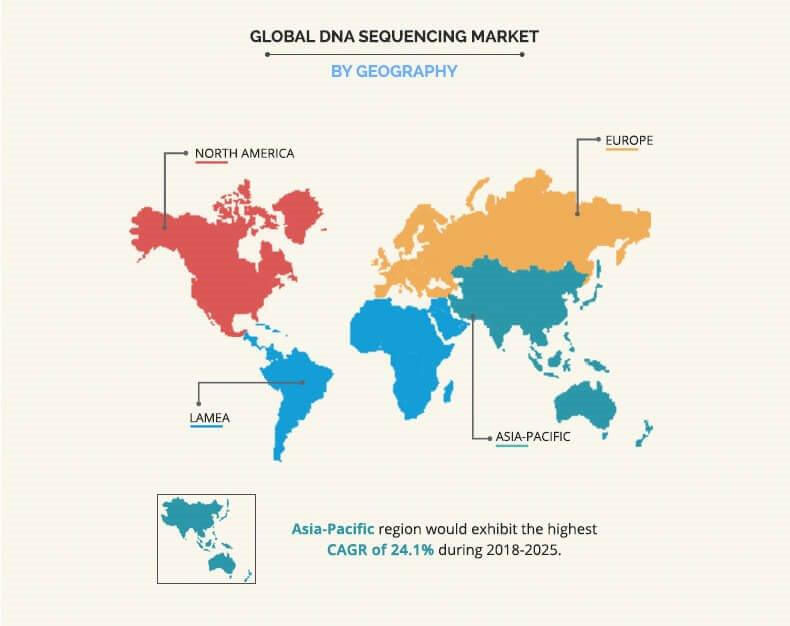 The key players operating in the global DNA sequencing market include Abbott Laboratories, Agilent Technologies, Inc., Danaher Corporation (Beckman Coulter, Inc.), F. Hoffmann-La Roche Ltd, Illumina, Inc., LI-COR Biosciences, Inc., Pacific Biosciences of California, Inc., SIEMENS AG, PerkinElmer Inc., and Thermo Fisher Scientific, Inc.
The other prominent players in the value chain (but not included in the report) include Eurofins Scientific, Gatc Biotech AG, Macrogen, Inc., Oxford Nanopore Technologies, Ltd., Bio-Rad Laboratories, Inc., DNASTAR, Inc., Biomatters Ltd., New England Biolabs, Inc., and Myriad Genetics, Inc.
Key Benefits for DNA Sequencing Market:
This report entails a detailed quantitative analysis of the current DNA sequencing market trends from 2017 to 2025 to identify the prevailing opportunities along with strategic assessment of global DNA sequencing market.
DNA sequencing market size and estimations are based on a comprehensive analysis of the applications and developments in the DNA sequencing market.
A quantitative analysis from 2017 to 2025 to enable the stakeholders to capitalize on the prevailing market opportunities is discussed.
Key market players are profiled, and their strategies are analyzed thoroughly, which help understand the competitive outlook of the market.
Porter's five forces model interprets the bargaining power of suppliers & buyers, threat of new entrants & substitutes, and competition in the key players.
 DNA sequencing Market Report Highlights
Aspects
Details
By PRODUCT

Consumable
Instrument
Service

By APPLICATION

Diagnostics
Biomarkers & Cancer
Reproductive Health
Personalized Medicine
Forensics
Others

By TECHNOLOGY

Sequencing by Synthesis
Ion Semiconductor Sequencing
Sequencing by Ligation
Pyrosequencing
Single-molecule Real-time Sequencing
Chain Termination Sequencing
Nanopore Sequencing

By END USER

Academic & Government Research Institutes
Pharmaceutical Companies
Biotechnology Companies
Hospitals & Clinics

By Region

North America (U.S., Canada, Mexico)
Europe (Germany, France, UK, Italy, Spain, Rest of Europe)
Asia-Pacific (Japan, China, Australia, India, South Korea, Taiwan, Rest of Asia-Pacific)
LAMEA (Brazil, Turkey, Saudi Arabia, Rest of LAMEA)

Key Market Players
PACIFIC BIOSCIENCES OF CALIFORNIA, INC., THERMO FISHER SCIENTIFIC, INC., AGILENT TECHNOLOGIES, INC., ABBOTT LABORATORIES, F. HOFFMANN-LA ROCHE LTD., PERKINELMER INC., SIEMENS AG, DANAHER CORPORATION (BECKMAN COULTER, INC.), ILLUMINA, INC., LI-COR, INC.