Dolomite Mining Market Research, 2031
The global dolomite mining market was valued at $1.8 billion in 2021, and is projected to reach $2.7 billion by 2031, growing at a CAGR of 3.9% from 2022 to 2031.
COVID-19 had negative impact on dolomite mining market owing to decreased mining activities due to lockdown imposed by various government.
Dolomite is an anhydrous and transparent carbonate mineral that is rich in magnesium, calcium and magnesium. It also includes some levels of iron. Dolomite mining is a versatile, non-metallic mineral that may be utilized in creating ceramics, composites, glass and refractory materials. It is also utilized in environment preservation, energy conservation and chemical manufacturing. The dolomite mineral finds its application in mining, refining, manufacture etc.
Dolomite has several industrial applications. Dolomite mineral powder is utilized as a filler in several industries, resulting in the expansion of the dolomite market. The market demand for dolomite is increasing as a result of the development of mining technology that is leading to various methods of crystal dolomite extraction. Dolomites, which is utilized in the production of glass and ceramics, is seeing a market expansion as a result of evolving interior design trends. Dolomites also have a market in the agriculture sector, where they are used to reduce soil acidity. Dolomites are utilized as a soil conditioner in horticulture, hence raising the demand for dolomites on the market and contributing to the future growth for the dolomite market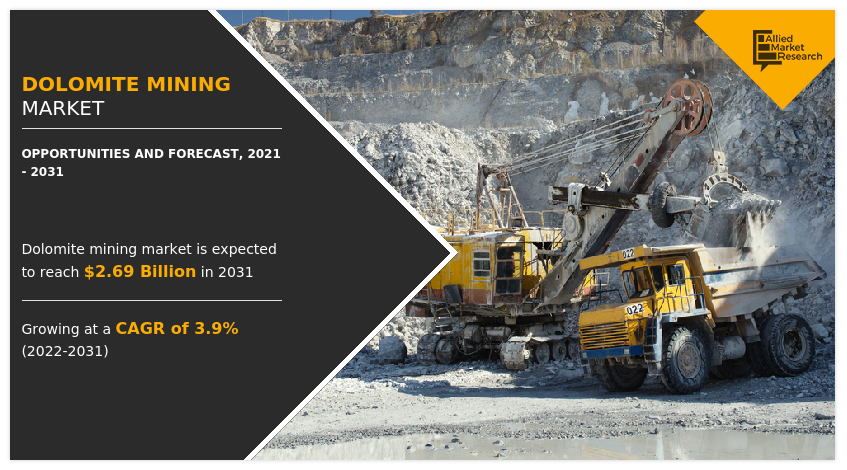 The increase of the dolomite market has been caused by the expansion of the global construction industry and infrastructure. Dolomite is used in pharmaceuticals industry, since dolomites contain magnesium salts essential to make medications. Dolomite is also a supplement for individuals deficient in calcium and magnesium. This presents lucrative opportunities in the pharmaceutical industry for the dolomite mining market.
Dolomite market expansion is hindered by the substitution of raw dolomites with igneous rock containing olivine's minerals. Dolomite produces negative effects when consumed directly through the mouth for extended durations. It may result in a variety of health problems, including sickness, discomfort, diarrhea, and vomiting. These dolomite adverse effects hinder the expansion of the market.
The dolomite mining market is segmented into Mineral type and Application. Depending on mineral type, the market is categorized calcined dolomite and sintered dolomite. On the basis of application, the market is categorized into Construction, Agriculture, Animal Feed, Ceramics & Glass, Iron & Steel and Others. On the basis of region, the market is studied across North America, Europe, Asia-Pacific, and LAMEA.
Major players operating in the global dolomite mining market include Arihant Min chem, Calcinor, Carmeuse, E. Dillon & Company, Essel Mining & Industries Limited, Imerys, JFE Mineral Co., Ltd, Lhoist, Liaoning Beihai Industry (Group) Co., Ltd., Longcliffe, Nittetsu Mining Co., Ltd., Nordkalk Corporation, Omya AG, RHI Magnesita GmbH, Sibelco.           
Other players operating in the dolomite mining market are Infrasors Holding Ltd., Aruna Dolomite Mines, Inca mining.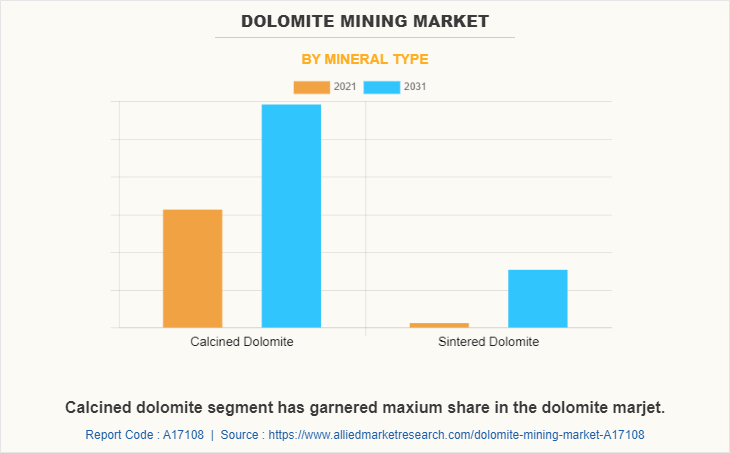 The calcined dolomite segment accounted for the largest share i.e., 66.2%., this is due to increased demand for calcined dolomite from construction industry.calcined dolomite mining segment is the fastest growing segment, growing around 3.9% CAGR over the forecasted period.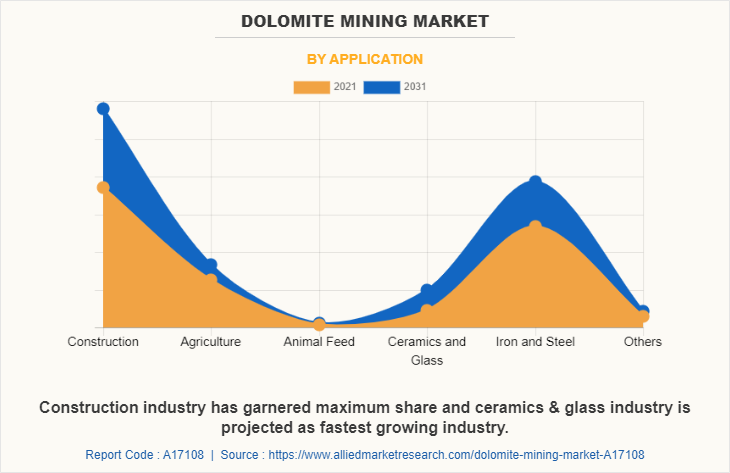 The construction segment accounted for the largest share i.e., 74.2%. construction segment is the fastest growing segment, growing around 3.8% CAGR over the forecasted period. This is due to increased demand for construction products such as cement and putty.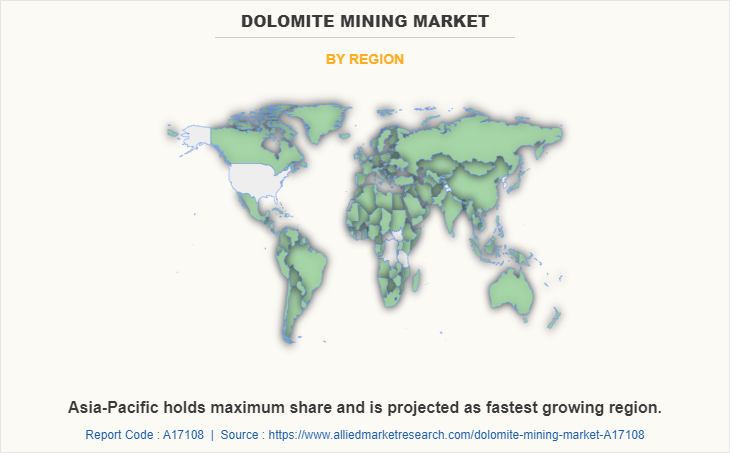 Asia-Pacific contributed the 38.9% market share in 2021 and is projected to grow at CAGR of 5.1% during the forecast period. Owing to the increased demand from construction and electronics industries. Asia-Pacific has garnered major share in dolomite mining market.
Key Benefits For Stakeholders
This report provides a quantitative analysis of the market segments, current trends, estimations, and dynamics of the dolomite mining market analysis from 2021 to 2031 to identify the prevailing dolomite mining market opportunities.
The market research is offered along with information related to key drivers, restraints, and opportunities.
Porter's five forces analysis highlights the potency of buyers and suppliers to enable stakeholders make profit-oriented business decisions and strengthen their supplier-buyer network.
In-depth analysis of the dolomite mining market segmentation assists to determine the prevailing market opportunities.
Major countries in each region are mapped according to their revenue contribution to the global market.
Market player positioning facilitates benchmarking and provides a clear understanding of the present position of the market players.
The report includes the analysis of the regional as well as global dolomite mining market trends, key players, market segments, application areas, and market growth strategies.
IMPACT OF COVID-19 ON THE GLOBAL DOLOMITE MINING MARKET
Dolomite is a raw material for several industries, including the glass, ceramic, cement, ferroalloys, and fertiliser sectors. The mining industry provides the majority of dolomite; however, the Covid-19 pandemic has caused the production lines of mining industry to collapse.

The pandemic affected the global construction sector as well as other industries, like cement and fertilisers, also experienced a decline in growth.

Due to the lockdown imposed in several nations, national and international transportation have been restricted, which has had a substantial influence on the supply chain of different sectors throughout the world, consequently expanding the supply–demand gap.

Consequently, an insufficient supply of raw materials is anticipated to hamper the production rate of dolomite, which would have a negative influence on market expansion.

Consequently, an insufficient supply of raw materials is anticipated to hamper the production rate of dolomite, which would have a negative influence on market expansion.

However, this scenario is anticipated to improve as governments throughout the world have begun to ease restrictions on the resuming of commercial activity.
 Dolomite Mining Market Report Highlights
Aspects
Details
By Mineral type

Calcined Dolomite
Sintered Dolomite

By Application

Construction
Agriculture
Animal Feed
Ceramics and Glass
Iron and Steel
Others

By Region

North America (U.S., Canada, Mexico)
Europe (Germany, France, U.K., Sapin, Italy, Rest of Europe)
Asia-Pacific (China, Japan, India, South Korea, Australia, Rest Of Asia Pacific)
LAMEA (Brazil, Saudi Arabia, South Africa, Rest of LAMEA)

Key Market Players
RHI Magnesita GmbH, Omya AG, Essel Mining & Industries Limited, nordkalk corporation, JFE MINERAL Co., LTD., carmeuse group, calcinor s.a., E. Dillon & Company, Arihant Min Chem, longcliffe group limited, lhoist, imerys, Liaoning Beihai Industry (Group) Co., Ltd., Nittetsu Mining Co. Ltd., sibelco group