A Doppler ultrasound is a non-invasive test. This test used to measure the blood flow in the arteries and vein through blood vessels by using high-frequency ultrasound waves. A regular ultrasound uses sound waves to produce images, but can't show blood flow. This process is usually done on the arms and legs. It is non-invasive and a completely pain-free method which involves only high-intensity sound waves. A Doppler ultrasound can estimate how fast blood flows by measuring the rate of change in its frequency. During a Doppler ultrasound, a technician trained in ultrasound imaging presses a small hand-held device i.e., transducer which examined the blood flow against skin over the area of body, moving from one area to another as necessary. This test may applied on different invasive procedures, including angiography, which involves injecting dye into the blood vessels so that they show up clearly on X-ray images. Doppler ultrasound test may also help physician to check injuries associated with arteries and vein. Doppler ultrasound system used to treat chronic disease such as pulmonary, respiratory disease and arthritis. For treating this diseases various type of portable doppler ultrasound system and devices are introduce in the market such as Handheld Doppler Ultrasound System which id sub segment into two parts i.e., Directional Doppler, Non Directional Doppler, and Trolley Based Doppler Ultrasound System. A Doppler ultrasound may help diagnose various condition such as, Blood clots, Poorly functioning valves in leg veins, which can cause blood, Heart valve defects and congenital heart disease, A blocked artery (arterial occlusion), Decreased blood circulation into legs (peripheral artery disease), Bulging arteries (aneurysms), Narrowing of an artery, and carotid artery stenosis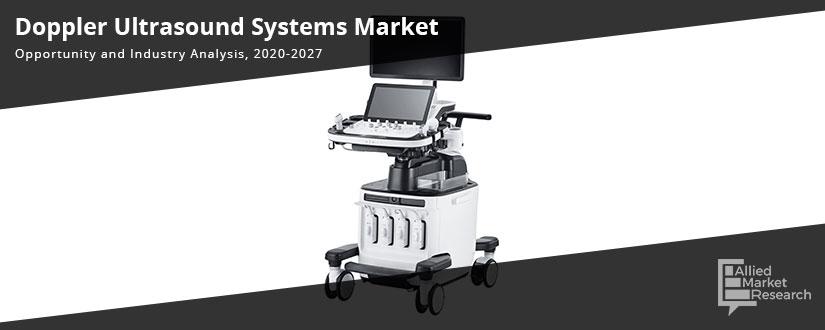 COVID-19 Scenario Analysis:
To take care of infected population the demand for medical supplies is increasing. Respiratory support devices such as atomizer, life-support machine, oxygen generator, and monitor are among the majorly used medical devices in primary clinical treatment. Moreover, COVID-19 has led to a huge surge in demand for medical supplies such as personal protective equipment including masks, gloves, and protective eyeglasses. With rise in number of COVID-19 cases worldwide, the need for medical supplies keeps on rising among, both from healthcare professionals and civil population for precautionary measures. Manufacturers of these products have a chance to capitalize this increased demand of medical supplies to ensure adequate and continuous supply of personal protective equipment in the market.
As the COVID-19 virus outbreak in December 2019, the disease has spread to almost 100 countries across the globe with the "World Health Organization" announcing it a public health emergency. The global impacts of the COVID-19 pandemic are already starting to be felt, and will significantly affect the Handheld Doppler Ultrasound Systems market in 2020. COVID-19 can affect the global economy in three main ways by directly affecting production and demand, by creating supply chain and market disruption, and by its financial impact on firms and financial markets.
Top impacting factors: Market Scenario Analysis, Trends, Drivers and Impact Analysis:
Globally, handheld portability device segment is dominate the Doppler ultrasound systems market which attributed to advanced features that rises the acceptance of handheld devices. Globally, North America hold the largest market share and dominate overall Doppler ultrasound system market due to the increasing number of geriatric population, increasing advanced ultrasound devices, presence of favorable health care policies presence of major market player, presence of major research center for innovation, where the world's leading companies in the segment conduct research and development. However, Asia Pacific is expected to expand highest growth rate of the market due to the increasing prevalence of abdominal disorders, rising number of geriatric population and favorable government initiatives for Doppler ultrasound imaging in this region.  
In 2015, 'World Health Organization' (WHO), report that approximately 8.7 million people suffered from tuberculosis (TB) and around 1.4 million died due to the disease. Also stated that around 9.4 million deaths occur every year due to cardiovascular diseases (CVD) across the globe. Resulting into the demand for Doppler ultrasound systems for diagnosing various CVDs is increasing due to improving image production quality. As per the report of "March of Dimes Foundation", around 150 newborn babies suffers from chromosomal abnormalities every year.as a result, fetus diagnostics is necessary to treat chromosomal abnormalities at an early stage of pregnancy. 
The major factor such as growing incidence of chronic diseases including cardiovascular respiratory, abdominal disorders and neurological disorders, rising geriatric population rising funding by government and private agencies, Increasing awareness amongst the population about advanced technology, rising demand for doppler ultrasound systems for diagnosis of CVD and pregnancy cases increasing adoption rate of technologically advanced doppler ultrasound systems, growing investment in healthcare sector and rising technological advanced product are anticipated to drive the doppler ultrasound system market.  Major challenge face by doppler ultrasound system market player such as high cost of doppler ultrasound systems, increasing demand for advancement doppler ultrasound system. The factor such as under the "Patient Protection and Affordable Care Act" (PPACA) of the U.S., an ultrasound device manufacturer is likely to pay "Medical Device Excise Tax" (MDET) of 2.3% on the sale of every ultrasound devices restrain the growth of doppler ultrasound system market. The major opportunities available for the doppler ultrasound system market such as increasing incidence of chronic diseases which rises the demand for devices, presence of favourable government policies, increasing R&D activities and developing advanced product. 
New Product launch to flourish the market:
Major Key market manufacturer have been focusing on increasing research and development activities and producing new product solution for specific applications as there are varying demands based on the utilization. Leading market players have determined how improved accuracy can be influential in many applications. In 2018, "Canon Medical System" has launched "SAL-50A / SDL-01A" system. This system allowed doppler examination of the abdominal vasculature using electronic linear scanning. 
In 2018, "Koninklijke Philips" has launched new doppler ultrasound system such as "M6 Color Doppler Ultrasound System". This system ermits use of multiple scanned angles to form a single image as a result this system continuously track the color flow and optimize the best Color box position and angle in real time scanning. It is a very high cost-effective device, it captures good image, have a powerful functions and also pretty appearance
In 2018, "Siemens Healthcare" has launched new doppler system such as "ACUSON NX3 system". This system helps to reduces exam inconsistencies and increase ability to potentially detect and characterize more with its comprehensive transducer library.
In 2019, "GE Healthcare" has launched new doppler technique such as "CrossXBeam" is a spatial compounding technique of acquiring and combining ultrasound information in real-time to reduce speckle, clutter, and to improve the continuity of specular reflectors.
Key benefits of the report:
This study presents the analytical depiction of the global doppler ultrasound systems market along with the current trends and future estimations to determine the imminent investment pockets.
The report presents information related to key drivers, restraints, and opportunities along with detailed analysis of the global doppler ultrasound systems market share.
The current market is quantitatively analyzed to highlight the global doppler ultrasound systems market growth scenario.
Porter's five forces analysis illustrates the potency of buyers & suppliers in the market. 
The report provides a detailed global doppler ultrasound systems market analysis based on competitive intensity and how the competition will take shape in coming years. 
Questions answered in the Doppler Ultrasound Systems Market research report:
Who are the leading market players active in doppler ultrasound systems market?
What are the current trends will influence the market in the next few years?
What are the driving factors, restraints, and opportunities in the market?
What are the projections for the future that will help in taking further strategic steps?
 Doppler Ultrasound Systems Market: Global Opportunity Analysis and Industry Forecast, 2020–2027 Report Highlights
Aspects
Details
By Portability

Handheld Doppler Ultrasound System
Trolley Based Doppler Ultrasound System

By Application

Obstetrician-Gynecologist
Radiology
Cardiology
Others

By End User

Hospitals
Clinics
Diagnostic Centers
Ambulatory Settings
Others

By Region

North America (U.S., Canada, Mexico)
Europe (France, Germany, Italy, Spain, UK, Rest of Europe)
Asia-Pacific (China, Japan, India, South Korea, Australia, Rest of Asia-Pacific)
LAMEA (Brazil, South Africa, Saudi Arabia, Rest of LAMEA)

Key Market Players
Siemens Healthcare, General Electric Company, Shimadzu Corporation, Esaote SpA, Toshiba Corporation, Hitachi Ltd., GE Healthcare, Analogic Corporation, Fujifilm Holdings Corporation, Canon Medical Systems, Koninklijke Philips, Samsung Electronics Co. Ltd.