Drill Pipe Market Research, 2031
The global drill pipe market size was valued at $1.3 billion in 2021, and is projected to reach $2.2 billion by 2031, growing at a CAGR of 5.4% from 2022 to 2031.
Drill pipe is a thick-walled and hollow piping used for transmission of drilling fluid through wellbore to the drill bit during rig drilling operation. Drill pipes are seamless steel pipes and are considered as a component of drill string assembly. Drill pipes are also built to handle high external and internal pressures that drilling fluids exert. It is manufactured, inspected, and tested in compliance with the American Petroleum Institute's standard criteria (API). Drill pipes are classified as E grade, X-95, G-105, and S-135 on their API grade.
Due to the COVID-19 pandemic, the market was adversely affected as upstream activities were suspended or temporarily shut down due to lower crude oil prices, which created an unfavorable condition for several upstream players. Furthermore, various companies in the market have stopped manufacturing oil and gas equipment such as drill pipes which has affected the global market.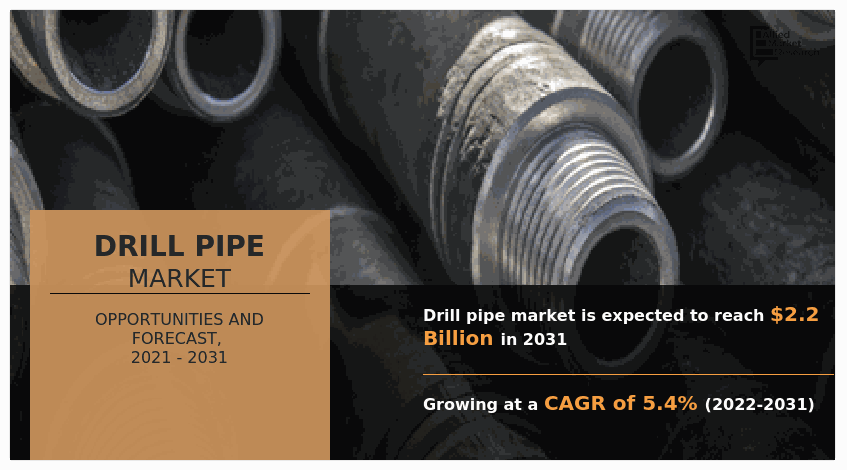 The drill pipe market growth is fueled by increase in exploration and drilling of new oil & gas extraction locations. New improvements in drilling technology and procedures have resulted in a rise in the oil & gas exploration activity. Furthermore, development of new extraction and exploration locations increases demand for drill pipes driving the market growth. Moreover, growth in popularity of horizontal directional drilling with drill pipes is expected to enhance its demand.
The focus on reducing carbon emissions during oil extraction creates demand for new drill pipes. Moreover, to combat climate change and global warming concerns, some oil producing businesses have set a goal of creating net zero carbon emissions throughout operations. This is expected to generate possibilities for development of the drill pipe market during the forecast period.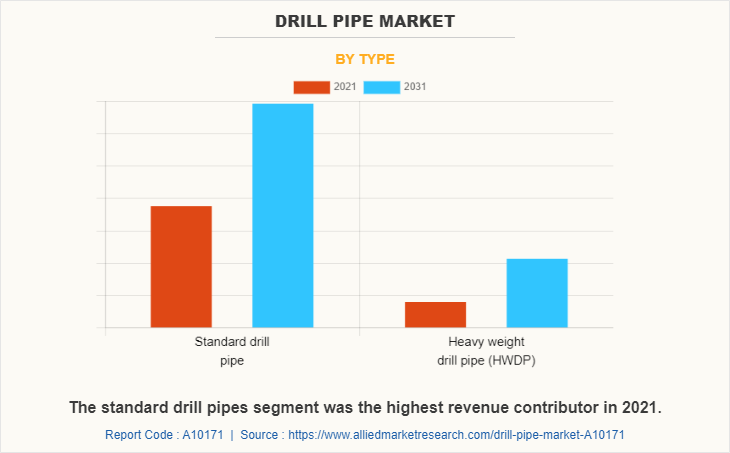 By type, the standard drill pipe segment has attracted attention of drill pipe solution providers. Standard drill pipes are most widely used for drilling operations, owing to their simple design and low cost of manufacturing. In addition, these pipes have a major volumetric share in the drill string assembly.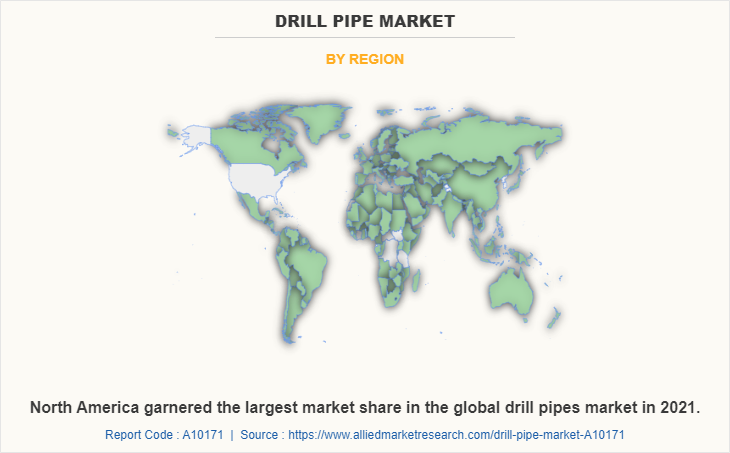 On the basis of region, North America was the largest revenue generating region in 2021. Increase in investments in the oil & gas industry in North America offers lucrative growth opportunities for the market players. For instance, the Canadian Association of Petroleum Producers forecasted a 41% growth in production of oil sands from 2019 to 2035. However, Asia-Pacific is expected to register a significant growth rate in the drill pipe market forecast period. This is due to rising government investment in oil and gas projects in various countries.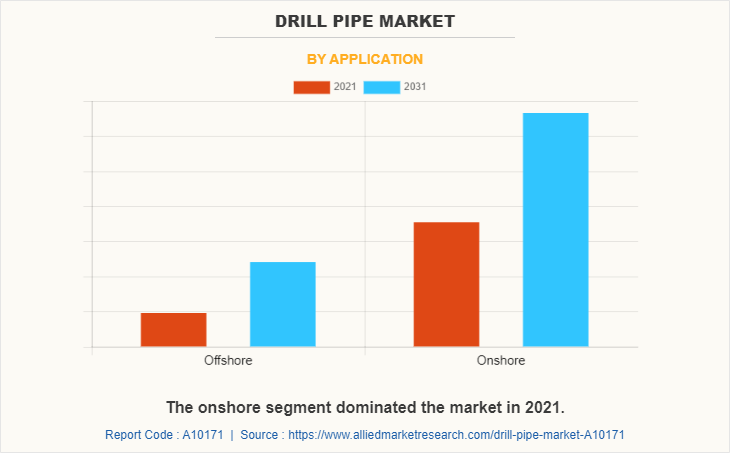 On the basis of application, the onshore segment has accounted for largest revenue in 2021. Large amount of oil & gas is extracted through onshore wells. These are comparatively easy to drill and are available in large quantities, which makes extraction process easier as compared to offshore wells.
The novel coronavirus (COVID-19) rapidly spread across various countries and regions in 2019, causing an enormous impact on lives of people and the overall community. It began as a human health condition and has now become a significant threat to global trade, economy, and finance. The COVID-19 pandemic halted production of many products in the drill pipe market, owing to lockdowns. Furthermore, the number of COVID-19 cases is expected to reduce in the future with the introduction of the vaccine for COVID-19 in the market. This has led to the reopening of drill pipe companies at their full-scale capacities. This is expected to help the market recover by the mid of 2022. After COVID-19 infection cases begin to decline, equipment & machinery producers must focus on protecting their staff, operations, and supply networks to respond to urgent emergencies and establish new methods of working.
The drill pipe market is segmented into Type, Grade, and Application. Depending on type, the market is classified into standard drill pipe and heavy weight drill pipe (HWDP). According to grade, it is categorized into API grade and premium grade. On the basis of application, it is classified into offshore and onshore. Region wise, the market is analyzed across North America (the U.S., Canada, and Mexico), Europe (Russia, UK, Norway, and rest of Europe), Asia-Pacific (China, India, Indonesia, and rest of Asia-Pacific), and LAMEA (Saudi Arabia, the UAE, Brazil, Colombia, and rest of LAMEA). North America is expected to hold the largest market share. However, Asia-Pacific is expected to grow at the fastest rate throughout the forecast period.
Key companies profiled in drill pipe industry include Hilong Group of Companies, Jindal Saw Ltd. (Drill Pipes International LLC), NOV Inc., Oil Country Tubular Ltd., PetroMaterials Corporation, Tejas Tubular Products, Inc., Tenaris S.A., Texas Steel Conversion, Inc., TMK Steel Limited, and Weatherock Group Holding Limited
Key Benefits For Stakeholders
This report provides a quantitative analysis of the market segments, current trends, estimations, and dynamics of the drill pipe market share from 2021 to 2031 to identify the prevailing drill pipe market opportunities.
The market research is offered along with information related to key drivers, restraints, and opportunities.
Porter's five forces analysis highlights the potency of buyers and suppliers to enable stakeholders make profit-oriented business decisions and strengthen their supplier-buyer network.
In-depth analysis of the drill pipe market segmentation assists to determine the prevailing market opportunities.
Major countries in each region are mapped according to their revenue contribution to the global market.
Market player positioning facilitates benchmarking and provides a clear understanding of the present position of the market players.
The report includes the drill pipe market analysis of the regional as well as global drill pipe market trends, key players, market segments, application areas, and market growth strategies.
 Drill Pipe Market Report Highlights
Aspects
Details
By Type

Standard drill pipe
Heavy weight drill pipe (HWDP)

By Grade
By Application
By Region

North America (U.S., Canada, Mexico)
Europe (Norway, U.K., Russia, Rest of Europe)
Asia-Pacific (China, India, Indonesia, Rest of Asia-Pacific)
LAMEA (Latin America, Middle East, Africa)

Key Market Players
WEATHEROCK GROUP HOLDING LIMITED, hilong group of companies, Oil Country Tubular Ltd., TMK Steel Limited, Tejas Tubular Products, Inc., TEXAS STEEL CONVERSION, INC., NOV Inc., PetroMaterials Corporation, Tenaris S.A., Jindal Saw Ltd. (Drill Pipes International LLC)