Driveline Additives Market Research, 2031
The global driveline additives market was valued at $7.4 billion in 2021, and is projected to reach $10.7 billion by 2031, growing at a CAGR of 3.8% from 2022 to 2031.
Sales prospects in 2020 and 2021 were dampened due to the outbreak of COVID-19 pandemic, which reduced the demand for driveline additives from its applications areas such as passenger cars, commercial vehicles, and off-highway vehicles.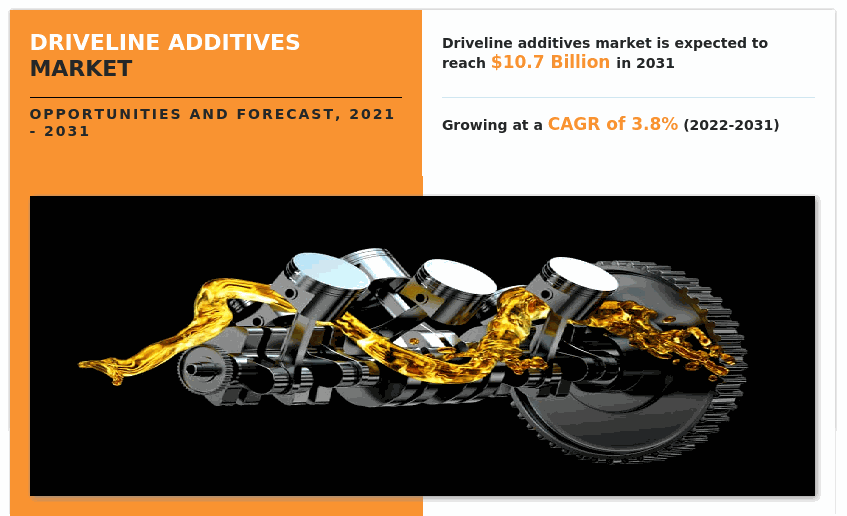 The driveline additives market is segmented into Vehicle Type, Additive Type and Product Type.
Driveline additives are designed to improve vehicle performance in terms of fuel efficiency as well as vehicle longevity. Driveline additives are required in autos to achieve optimal lubrication. When these items are mixed into transmission fluids, they reduce friction and eliminate heat. Furthermore, driveline additives, such as high-pressure anti-corrosive additives, are used to avoid scuffing, spalling, wear & tear, and scoring from causing downtime or device failure. These products protect and shelter the automobiles from heat, foam, and copper rusting.
The market for driveline additives is predicted to develop in response to rise in customer interest in improving vehicle fuel efficiency. Driveline additives aid in the reduction of energy loss and, as a result, improve energy efficiency. Surge in fuel costs and growth in customer desire to improve vehicle fuel efficiency are expected to propel the market forward in the coming years. Furthermore, driveline additives aid in the reduction of carbon emissions from cars. Key players are always working to increase lubricity in order to ensure that automobiles adhere to strict carbon emission standards all over the world. Furthermore, as the automotive industry expands and the number of vehicles manufactured rises, the demand for efficient driveline additives is expected to increase. This is likely to raise demand for driveline additives and encourage producers to increase production and supply of the product. However, volatility in the supply of raw materials coupled with the general impact of higher crude oil prices is expected to hinder the market growth of driveline additives. Furthermore, increased number of partnerships for manufacturing of additives is projected to propel the market growth over the forecast timeframe.
The driveline additives market is segmented into product type, vehicle type, additives type, and region. By product type, the market is categorized into transmission fluid additives, gear oil additives, and others. On the basis of vehicle type, it is fragmented into passenger vehicles, commercial vehicles, and off-highway vehicles. As per additives type, it is classified into dispersants, viscosity index improvers, detergents, anti-wear agents, antioxidants, corrosion inhibitors, friction modifiers, emulsifiers, and others. Region-wise, it is analyzed across North America, Europe, Asia-Pacific, and LAMEA.
The global driveline additives market analysis covers in-depth information about the major industry participants. The key players operating and profiled in the report include AB Petrochem Pvt. Ltd., Afton Chemical Corporation, BASF SE, BRB International B.V., Chevron Oronite Company, LLC., Evonik Industries AG, International Petroleum & Additives Company, Inc., The Lubrizol Corporation, Vanderbilt Chemicals, LLC., VPS Lubricants.
Driveline Additives Market

---
By Product Type
Transmission fluid Aadditives is projected as the most lucrative segment.
By Product type, transmission fluid additives segment held a significant share in driveline additives market in 2021. New technology developments such as dual-clutch transmission (DCT) call for power train fluids with better fuel efficiency, and thus, manufacturers widen their focus on transmission fluid additives.
Driveline Additives Market

---
By Vehicle Type
Passenger vehicles is projected as the most lucrative segment.
By vehicle type, passenger vehicles segment held a significant share in driveline additives market in 2021. Rise in the number of vehicles manufactured annually, need for longer service drain intervals for transmission fluids and axle fluids are anticipated to boost the driveline additives market in near future.
Driveline Additives Market

---
By Additive Type
Dispersants is projected as the most lucrative segment.
As per additive type, dispersants segment held a significant share in driveline additives market in 2020 growing at a CAGR of 3.6% during the forecast period. Dispersants contribute to performance areas including cleanliness, filtration, oxidation, and other important attributes. They are soluble in a range of base oils, which leads to wide adoption in the lubricant industry.
Driveline Additives Market

---
By Region
Asia-Pacific is projected as the most lucrative market.
Region-wise, Asia-Pacific dominated the driveline additives market with a share of more than 35.5% in 2020. Moreover, rise in disposable income in the region has increased their expenditure on the vehicles due to which driveline additives demand has expanded drastically.
IMPACT OF COVID-19 ON DRIVELINE ADDITIVES MARKET
The COVID-19 pandemic is rapidly spreading and ruthlessly affecting the business environments of major markets. The demand for driveline additives is witnessing significant decline in all segments. Some regions, particularly, North America and Europe, are witnessing greater decline than Asia-Pacific. Amidst the ongoing crisis, driveline additives producers are operating at a lower capacity and are planning to scale up their operation after carefully assessing the course of COVID-19 in the near term.

In response to the global coronavirus outbreak, which was responsible for major lifestyle, health, and business changes, the industry for driveline additives suffered a significant blow. This was mainly due to the abrupt closing down of the automotive manufacturing plants. The dearth of labor and components also plummet the sales of vehicles. However, with the gradual resumption of most industrial operations, the product demand is expected to pick up an essential pace.
As a result of the pandemic, many cars were rendered obsolete. In some households, they had been static for months. This necessitated the use of driveline additives such as detergents, dispersants &emulsifiers, and anti-wear additives to maintain and safeguard the cars.
As a result of the reopening of various production facilities, the industry is gradually recovering from losses, resulting in strong sales expectations in the driveline additives market. In the coming years, rise in prospects for transmission fluid additives are likely to improve demand for the product.
Key Benefits For Stakeholders
This report provides a quantitative analysis of the market segments, current trends, estimations, and dynamics of the driveline additives market analysis from 2021 to 2031 to identify the prevailing driveline additives market opportunities.
The market research is offered along with information related to key drivers, restraints, and opportunities.
Porter's five forces analysis highlights the potency of buyers and suppliers to enable stakeholders make profit-oriented business decisions and strengthen their supplier-buyer network.
In-depth analysis of the driveline additives market segmentation assists to determine the prevailing market opportunities.
Major countries in each region are mapped according to their revenue contribution to the global market.
Market player positioning facilitates benchmarking and provides a clear understanding of the present position of the market players.
The report includes the analysis of the regional as well as global driveline additives market trends, key players, market segments, application areas, and market growth strategies.
 Driveline Additives Market Report Highlights
Aspects
Details
By Vehicle Type

Passenger Vehicles
Commercial Vehicles
Off-highway Vehicles

By Additive Type

Anti-wear Agents
Antioxidants
Corrosion Inhibitors
Friction Modifiers
Emulsifiers
Others
Dispersants
Viscosity Index Improvers
Detergents

By Product Type

Transmission Fluid Additives
Gear Oil Additives
Others

By Region

North America (U.S., Canada, Mexico)
Europe (Germany, France, Spain, U.K., Rest of Europe)
Asia-Pacific (China, Japan, South Korea, India, Rest of Asia-Pacific)
LAMEA (Brazil, South Africa,, Rest of LAMEA)

Key Market Players
AB Petrochem Pvt.Ltd., Afton Chemical Corporation, BASF SE, BRB International B.V., Chevron Oronite Company, LLC., Evonik Industries AG, International Petroleum & Additives Company, Inc., The Lubrizol Corporation, Vanderbilt Chemicals, LLC., VPS Lubricants