Drone Analytics Market Statistics 2030 -
The global drone analytics market was valued at $2,717.4 million in 2020, and is projected to reach $28,576.5 million in 2030, registering a CAGR of 29.2%. Drones have shown to be beneficial in more efficiently optimizing data in a variety of industries, including agriculture, building and infrastructure, and oil and gas, generating demand for drone analytics solutions.
The rapid spread of COVID-19 had a significant impact on the global drone analytics market in 2020, owing to the implementation of strict lockdown measures across the world. COVID-19 pandemic led to several challenges for the drone analytics industry such as disruption in the supply chain of essential raw materials, logistics challenges, and others. On the other hand, various countries with the foundations of a drone-friendly environment, such as U.S., UK, China, Germany, and others, were able to quickly mobilize the technology from the start of the pandemic.
Companies are investing substantially in drone analytics solutions, recognizing the market's huge potential. Drone monitoring is usually carried out across construction, oil and gas, and agriculture industries. End users use drone analytics to process and analyze the data acquired from drone monitoring process.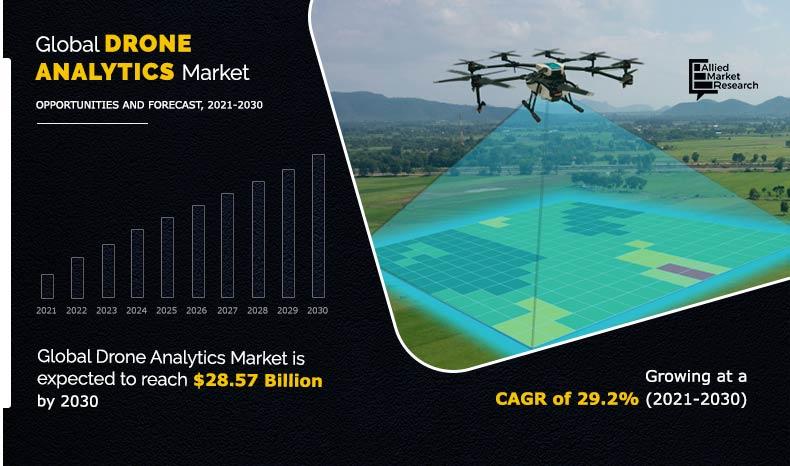 In recent years, the demand for entire drone packages has risen steeply. The amount of data collected by drones has expanded dramatically in recent years, owing to high-resolution cameras being used for image mapping, video capture, and equipment tracking. Drone data, on the other hand, is frequently unstructured. As a result, drone analytics is crucial in converting unstructured data to structured data for better analysis. 
The market is segmented on the basis of type, application, end use, and region. By type, the market is bifurcated into on-premises and on-demand. By application, the market is classified into ground exploration, geolocation tagging, aerial monitoring, thermal detection, and others. By end use, it is divided into agriculture and forestry, construction, mining and quarrying, oil and gas, and others. Region-wise, the market is analyzed across North America, Europe, Asia-Pacific, and LAMEA.
The key players operating in the global drone analytics market include 3DR, AeroVironment, Inc., Delair, Delta Drone SA, DroneDeploy, Huvrdata, Kespry Inc., Optelos LLC, Pix4D SA, and PrecisionHawk. 
High demand for drone analytics in commercial applications
Unmanned aerial vehicles (UAVs), or drones, are aircraft that can be controlled remotely by a pilot or by preprogrammed plans or automation systems that enable them to fly autonomously. Numerous industries and organizations are adopting this technology, including military, government, commercial, and recreational users. Over the years, drones have become an economically viable option for a broad range of commercial functions. Commercial drones are currently making a real impact in applications that take advantage of their ability to quickly and cheaply gather localized visual information. Several such areas are agriculture, construction, infrastructure, and inventory management. Using drone analytics, farmers can benefit from real-time information about large tracts of land. Drones can help track almost everything, including water use, crop health, heat signatures, and soil analysis. Several new start-ups and existing agriculture players are investing heavily in agriculture drones and the software needed to analyze the raw data. For example, John Deere partnered with Sentera (a global provider of software, sensors and drone technologies to the agriculture industry) in early 2016 to provide its consumers access to AgVault Software and agriculture scouting drones. Drones are allowing farmers to gather so much data about their fields that managing all this data has created an important business opportunity. 
Real-time aerial inspection allows for the ability to quickly survey construction sites or rectify the mistakes. The usage of drones in construction sites has resulted in significantly bringing down threatening accidents. 3D Robotics (3DR) uses Autodesk's Forge Platform to provide UAV-to-cloud solution. Its drones can capture site data that is fed into Autodesk software for analysis. All these instances prove the rise in demand for drone analytics for commercial applications, which is expected to propel the growth of the drone analytics market during the forecast timeframe. 
Growing capital investments for the development of new and advanced drone software
The usage of drones across various applications is increasing exponentially. As a result, leading players are investing significantly to develop cutting-edge software. For instance, in December 2019, PrecisionHawk announced $32 million investment in drone software and services. It plans to use this financing to develop the next generation of PrecisionAnalytics, its AI-powered aerial data analytics platform. In February 2017, Microsoft Ventures, the venture capital (VC) arm of Redmond, Washington–based software giant, led a $26 million venture round in AirMap, a drone startup that is the leading maker of software that manages air traffic for drones. Microsoft Ventures publicized that with the investment, AirMap can use Microsoft's software and artificial intelligence tools. The investment also gives Microsoft an entrance into the drone aviation market, which is dominated by the likes of Amazon and Google. To grab a share in the rapidly growing drone analytics market, big investment companies are showing interest to acquire stakes in the leading companies. For instance, in November 2019, DroneDeploy raised $35 million for drone management and logistics tools. In August 2021, Trentar, the India-based company entered into the market involving drone-based services and software. In July 2021, it acquired 75% stake in GarudaUAV, a leading drone service provider company in India, to scale up new-age businesses based on drone services and software. Thus, rise in investments in the development of new and advanced drone software is expected to fuel the growth of the drone analytics market during the forecast timeframe.
Rising concerns over cybersecurity and data security
The benefits offered by drones are many. Today, drones are being increasingly deployed across different applications, but also raise privacy concerns. In November 2018, Check Point Research did an analysis of DJI, one of the leading manufacturers of drones, and found its website had a vulnerability that allowed access to cybercriminals. These hackers could gain access to drone records through the website and obtain personal data. This site flaw allowed hackers to steal information of the clients such as flight logs, photos, and videos taken by the drones during their flight, live video feeds taken from drones in real-time during flights, and map views from the drone user's control feed in real-time.
There are several ways a drone can be hacked. Once the drone has been located, a hacker can potentially take control of the drone, or downlink video or other images, which the drone is broadcasting to its base station. Drones can be hacked from as much as a mile away. Hijacking the command-and-control signal between the operator and the drone can deliver full control of the drone and its systems to the hacker. The issues related to the hacking of drones are expected to hinder the growth of the drone analytics market during the forecast timeframe.
Incorporation of the Internet of Things (IoT) in drones
Drones are able to explore and report on locations that may be inaccessible via other means. Equipped with IoT technologies, a drone could act as a mobile sensor to gather data and relay it back to a cloud app or some other analytics service. Drones can also be used as remote inspection devices to help maintain IoT endpoints and other components. For instance, a drone can check on the physical condition of tower-based sensors or other IoT-connected gear, thus eliminating the need for potentially dangerous in-person inspections.
A few industries have pioneered the use of drones as extensions to their IoT environments or as a complement to other data gathering processes. Energy firms are introducing drone-enabled inspections to their extensive IoT infrastructures. Drones can easily fly over and visually scan powerlines, wind turbines, and other generation & transmission gear to accomplish the tasks that would otherwise have to be undertaken manually or might not be doable at all. The features of drones offering faster, cheaper, and safer services make their use particularly attractive for electricity providers. Such advantages of incorporating IoT in drones are expected to bolster the growth of the drone analytics market during the forecast timeframe.
COVID-19 Impact Analysis 
The COVID-19 impact on the drone analytics market is unpredictable and is expected to remain in force till the fourth quarter of 2021. 
The COVID-19 outbreak forced governments across the globe to implement strict lockdowns and banned import–export of nonessential items for most of 2020. This led to sudden fall in the availability of important raw materials. 
Moreover, nationwide lockdowns forced manufacturing facilities to partially or completely shut their operations.
Adverse impacts of the COVID-19 pandemic have resulted in delays in activities and initiatives regarding development of reliable and innovative drone analytics systems globally.
Key Benefits For Stakeholders
This study presents analytical depiction of the global drone analytics market analysis along with current trends and future estimations to depict imminent investment pockets.
The overall drone analytics market opportunity is determined by understanding profitable trends to gain a stronger foothold.
The report presents information related to key drivers, restraints, and opportunities of the global drone analytics market with a detailed impact analysis.
The current drone analytics market is quantitatively analyzed from 2020 to 2030 to benchmark the financial competency.
Porter's five forces analysis illustrates the potency of the buyers and suppliers in the industry.
Key Market Segments
By Type
By Application
Ground Exploration
Geolocation Tagging
Aerial Monitoring
Thermal Detection
Others
By End Use
Agriculture and Forestry
Construction
Mining and Quarrying
Oil and Gas
Others    
By Region
North America
Europe

Germany
UK
France
Russia
Rest of Europe

Asia-Pacific

China
Japan
India
South Korea
Rest of Asia Pacific

LAMEA

Latin America
Middle East
Africa
Key Players
3DR
AeroVironment, Inc.
Delair
Delta Drone SA
DroneDeploy
Huvrdata
Kespry Inc.
Optelos LLC
Pix4D SA
PrecisionHawk