The global drone logistics market was valued at $8.20 billion in 2021, and is projected to reach $53.32 billion by 2031, growing at a CAGR of 20.8% from 2022 to 2031.
A drone also referred as unmanned aerial vehicle or unmanned aircraft systems is an aerial vehicle that can be operated autonomously or remotely. In recent years, drones have become very popular and are being utilized in several sectors such as defense, aerial photography, logistics, and others. In context of logistics, drone logistics is a service or solution for managing transportation and warehousing of goods in a supply chain from source to destination.
The COVID-19 pandemic wreaked havoc on social and economic systems all across the globe. The tragic loss of human life and the emergence of unprecedented challenges to the world of labor, food systems, and public health have resulted in significant catastrophic damages to societies and enterprises all across the globe. The pandemic has also posed an existential danger to millions of businesses, as well as an unemployment catastrophe for billions of people around the world. However, drone services have been developed and utilized by drone service providers during the COVID-19 pandemic, including lab sample pick-up and delivery and transportation of medical supplies to reduce transportation times and minimize infection exposure, aerial spraying of public areas to disinfect potentially contaminated areas and public space monitoring and guaranty. In the event of the COVID-19 pandemic, these applications have increased demand for different types of drones to capture ground activities from the sky. Moreover, post-pandemic, several logistics companies are focusing on developing a network for last mile deliveries based on drones, which in turn is expected to boost the growth of the drone logistics market during the forecast period.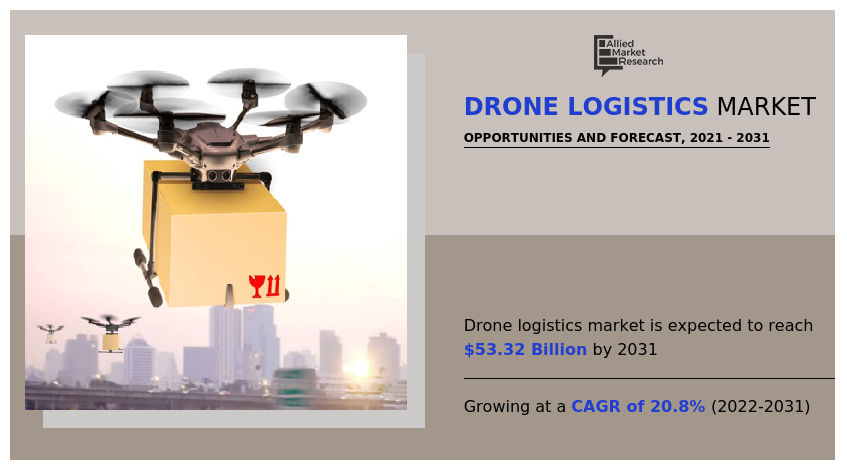 Growth of the drone logistics industry has propelled, owing to rise in demand for time-efficient delivery service and rise in demand for drones in last mile delivery. However, cybersecurity issues associated with drones and short flying duration are the factors that hamper the drone logistics market size. Furthermore, revamped government regulatory framework is the factor expected to offer growth opportunities during the forecast period.
The drone logistics market is segmented on the basis of component, application, end use, and region. By component, the market is categorized into hardware, software, and services. By application, it is fragmented into warehouse & storage management, and transportation management. By end use, it is classified into commercial and military. By region, the market is analyzed across North America, Europe, Asia-Pacific, and LAMEA.
Some leading companies considered in the drone logistics market analysis comprises Amazon.com Inc., Deutsche Post DHL Group, Drone Delivery Canada, DroneScan, FedEx, Flytrex Inc., Hardis Group, Infinium Robotics, Matternet, Pinc Solutions, United Parcel Service of America, Inc., Wing Aviation LLC, Workhorse Group, Wingcopter, and Zipline International Inc.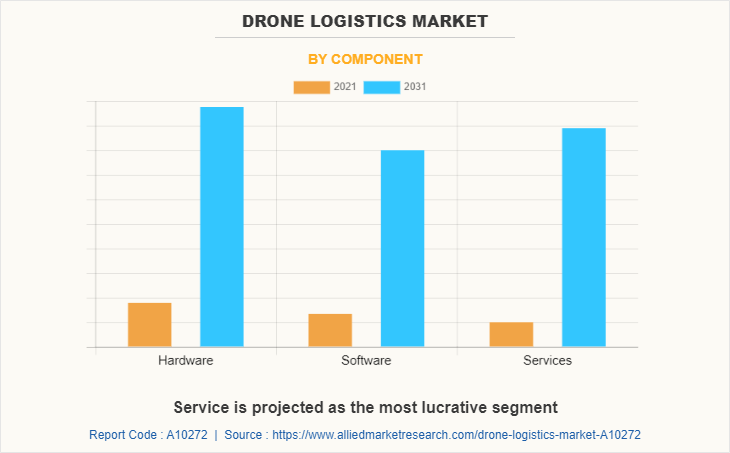 Rise in demand for time-efficient delivery service
The global logistics and e-commerce market has experienced growth in the recent years. The growth in e-commerce and logistics industries drives demand for time-efficient delivery solutions for transportation of critical goods across the globe. For instance, in April 2021, ANA Holdings Inc. and Wingcopter announced a partnership for accelerating development of vital pharmaceuticals and other consumer products drone delivery infrastructure. The partnership is aimed at building a drone delivery infrastructure across Japan.
The major e-commerce and logistics giants, namely, Amazon and DHL have launched drone delivery systems to make quick deliveries and transport packages to places inaccessible by conventional transport systems. For instance, in May 2019, DHL Express and EHang entered into a strategic partnership for launching an intelligent and fully automated smart drone delivery solution in the urban areas of China. The smart drone delivery solution will offer a less energy-consuming, efficient, and cost-effective autonomous delivery service in China.
The aviation administration around the world is approving commercial delivery companies for operating drones to provide the delivery service. For instance, Federal Aviation Administration approved Alphabet-owned startup, Wing, for making commercial deliveries through drones in the U.S. in April 2019. The approval will facilitate Wing in making drone-based deliveries in Virginia. In addition, the advantages such as safe and efficient operations associated with drone delivery solutions promote the adoption of drones for providing delivery and investment for developing drone delivery systems by commercial and logistics organizations across the globe. The increase in the adoption of drone delivery systems to enhance the efficiency and increase the cost-effectiveness of the delivery systems are the factors that propels the growth of drone delivery during the forecast period.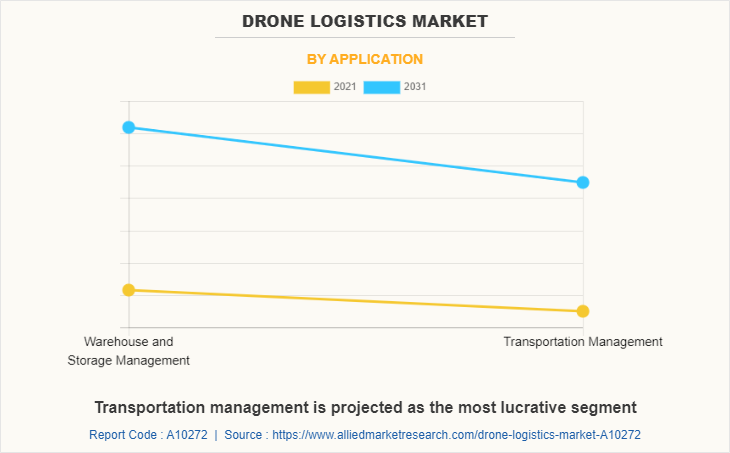 Rise in demand for drones in last mile delivery
Logistics is the backbone of every economy, but the pandemic outbreak has disrupted the supply chains globally. Last mile delivery process of supply chain operation has been affected, owing to which retailers are struggling to meet the growing customer demands for expedited deliveries. Therefore, several logistics stakeholders are exploring drone technology to reduce operational costs, overcome traffic bottlenecks and quell vehicular emissions while satisfying the customer appetite for on-demand and instant delivery.
Drones are ideal for last-mile deliveries, owing to their compact size, quick speed, low operational costs and reduced environmental impact. Therefore, e-commerce giants such as Amazon and Walmart are trying to penetrate the rural and remote areas with drone deliveries.
Moreover, owing to enormous potential of last mile drone deliveries, drones are being deployed all across the globe for delivering medical supplies, vaccines, groceries and food items. The use cases of drone for last mile deliveries are rising each day across the globe. For instance, drone delivery startups TechEagle is partnering with Indian state governments to deliver COVID-19 vaccines, medical essentials and others.
Hence, all the above-mentioned factors collectively result in increase in demand for drones for the logistics industry. Thus, rise in demand for drones in last mile delivery is the factor that drives growth of the drone logistics industry.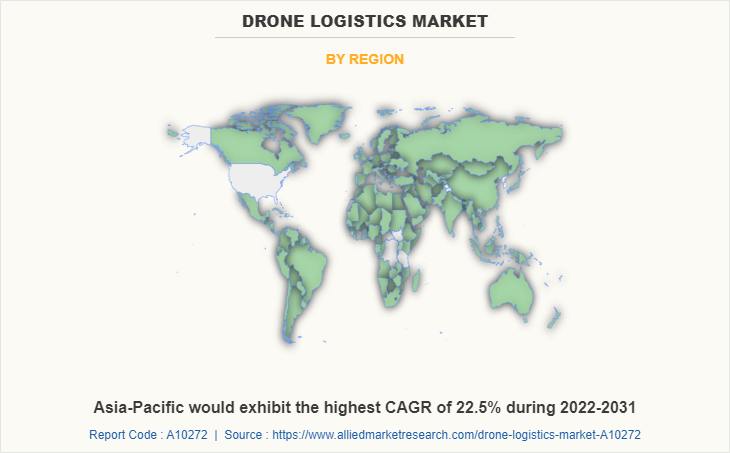 The drone logistics market is segmented into Component, Application and End-Use.
Key Benefits For Stakeholders
This report provides a quantitative analysis of the market segments, current trends, estimations, and dynamics of the drone logistics & transportation market analysis from 2021 to 2031 to identify the prevailing drone logistics market opportunities.
The market research is offered along with information related to key drivers, restraints, and opportunities.
Porter's five forces analysis highlights the potency of buyers and suppliers to enable stakeholders make profit-oriented business decisions and strengthen their supplier-buyer network.
In-depth analysis of the drone logistics industry segmentation assists to determine the prevailing market opportunities.
Major countries in each region are mapped according to their revenue contribution to the global market.
Market player positioning facilitates benchmarking and provides a clear understanding of the present position of the market players.
The report includes the analysis of the regional as well as global drone logistics market trends, key players, market segments, application areas, and market growth strategies.
 Drone logistics Market Report Highlights
Aspects
Details
By Component

Hardware
Software
Services

By Application

Warehouse and Storage Management
Transportation Management

By End-Use
By Region

North America (U.S., Canada, Mexico)
Europe (Germany, UK, France, Italy, Rest of Europe)
Asia-Pacific (China, Japan, India, South Korea, Rest of Asia-Pacific)
LAMEA (Latin America, Middle East, Africa)

Key Market Players
Matternet, Inc., Infinium Robotics, Flytrex Inc., PINC Solutions, Wing Aviation LLC, Amazon.com, Inc., FedEx Corporation, United Parcel Service of America, Inc., Hardis Group, Wingcopter GmbH, Workhorse Group Incorporated, Drone Delivery Canada, DroneScan, Deutsche Post DHL Group, Zipline International Inc.