The global drone motor market size was valued at $2.6 billion in 2021, and is projected to reach $9.9 billion by 2031, growing at a CAGR of 15.1% from 2022 to 2031.
Drones have become an essential part of several industries, ranging from military and security to commercial and recreational. The growth of the drone market is attributed to the advancements in drone technology, which have led to the production of more sophisticated drone motors with better flight capabilities, longer flight times, and more significant payloads. One of the critical components of a drone is the motor, which is responsible for generating the thrust necessary for lift and maneuverability. The use of advanced sensors, cameras, and software has also enabled drones to perform more complex tasks. The advancements in drone technology are expected to drive the growth of the drone motor market.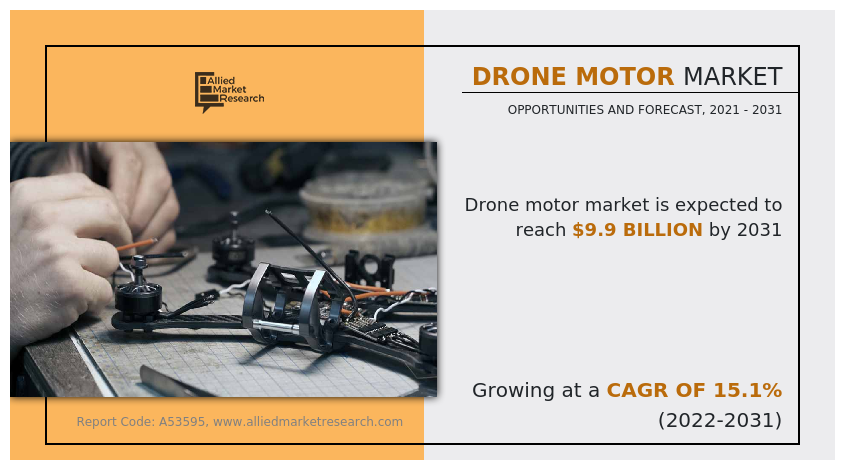 The increasing investment in drone technology by governments, private companies, and venture capitalists is expected to drive the growth of the drone motor market. The investment in drone technology is aimed at developing more advanced drone motors with better flight capabilities and longer flight times. The use of drones is subject to strict regulations in several countries. The regulations restrict the use of drones in certain areas and require drone operators to obtain licenses and permits.
Fixed-wing drones are mostly used for surveying and mapping purposes. The fixed-wing drones are more suitable for such activities because of their wings, which offer more stability and use less power because of the aerodynamic shape of the wing. The growth in construction activities in developing countries across the world will give rise to the demand for fixed-wing drones.
These drones are also widely used in defense services. Fixed-wing drones will see increased demand in defense due to their use in modern warfare as well as in the construction sector, as they can carry heavier loads, fly at higher altitudes, and cover longer distances. These drones can fly for longer periods compared to multi-rotor drones with more efficient aerodynamic design. This longer flight time makes them an attractive option for applications that require extensive coverage, such as mapping and surveying and can cover larger areas compared to multi-rotor drones with their ability to fly faster and farther. This larger coverage area makes them a desirable choice for applications such as agriculture, where large areas of land need to be surveyed.
Drone Motor Market

---

By Motor Type
Brushed type is projected as the most lucrative segment
Factors such as rising demand for drones across several applications, growth in demand for improved surveillance solutions, and upsurge in defense spending are the major drivers for drone motor market. Moreover, the factors such as stringent rules and regulations by government and high cost & limited performance associated with system are predicted to restrain the global growth of drone motors. Furthermore, factors such as use of drones for the delivery of cargo in military operations and development of urban air mobility services are projected to create lucrative opportunities for leading players of drone motors operating in the market.
The drone motor market is segmented on the basis of motor type, drone type, power capacity, application, and region. On the basis of motor type, it is divided into brushed type, and brushless motor. On the basis of drone type, it is classified into fixed wing, rotary wing, and hybrid. On the basis of power capacity, it is classified into below 50 W, 51 to 100 W, and above 100 W. On the basis of application, it is classified into agriculture, construction, military, entertainment, and others. On the basis of region, it is analyzed across North America, Europe, Asia-Pacific, and LAMEA.
Growth drivers, restraints, and opportunities are explained in the study to better understand the dynamics. This study further highlights key areas of investment. In addition, it includes Porter's five forces analysis to understand the competitive scenario of the industry and the role of each stakeholder. The study features strategies adopted by key players to maintain their foothold in the market.
The leading players operating in the drone motor market are Constar Micromotor Co., Ltd., Faulhaber Group, Hacker Motor USA, KDE Direct, KO Technologies, Mad Motor Components Co.,Ltd., Neumotors, Nidec Corporation, T-motor, and X-TEAM.
Drone Motor Market

---

By Drone Type
Fixed wing is projected as the most lucrative segment
Rising demand for drones across several applications
Drones are gradually being used for agricultural, cinematography, inspection, surveillance, and defense applications across the world. It has perceived a substantial demand by military forces for reconnaissance, surveillance, and intelligence activities, battle damage assessment, and combat operations. At the same time, drones are also used for farming applications such as crop inspection, pest control, and crop spraying. They are also being used for security applications in marine sector, especially for marine piracy.
For instance, in 2019, The Korean bulker CK Bluebell, carrying cargo, was confronted by bandits in the Sea of South China. Such cases have stemmed the increase in use of drones to guard the pirate hotspots as the drones can observe & identify suspicious vessels and help to preserve key shipping lanes by offering real-time data to the affected agencies effectively. Drones can also offer safer, cost-effective, and quick means of inspection to law enforcement companies. Such huge demand for drones is expected to increase the sales of drone motors across the globe.
The drones are used to make effectively tactical plans of action due to their data collecting abilities, for recording important missions for training, identifying targets, real-time surveillance, continuously enhancing the nation's safety, and protecting existing infrastructure. The drones have supported more efficient insurgency measures, supporting rational decision-making with advanced loT-based systems.
Drone Motor Market

---

By Power Capacity
51 to 100 W is projected as the most lucrative segment
Drone technology has demonstrated its functionality in military operations and defense intelligence. Primarily, the drones are fully dedicated on collecting essential data about the opponent's base and getting prime locations for evacuation during battle time. Drones have been positively prompting airstrikes without any intervention of armed forces. In the current situation, the safety of defense equipment and armed forces is a major concern for citizens. The drones offer complete coverage of a country's base in real time while not keeping human life at stake. The countries across the world have been constantly urging the use of drones in military, which has offered impetus demand for drone motors.
Growth in demand for improved surveillance solutions
The increase in security concerns and growth in threat from terrorism across the world has led to increase the government expenditure for UAVs such as drones. The unmanned aerial vehicle solutions have a wide range of applications in defense & military sector for the effective interpretations of the assets and surveillance of the areas to gain the optimal operating effectiveness. The drones or UAV can operate at any location, function in nights, hold out stealth operations, and are operationally effective to implement in several operational conditions. Such benefits have led to rise in investments by governments to develop and procure a large number of drones across the globe. For instance, in 2021, Malloy Aeronautics and BAE Systems announced plans to explore the development of an all-electric 'heavy lift' unmanned air systems (UAS) as a budding new solution to sustain rapid response and deliver capability to military and cost-effective security to civilian customers.
Additionally, the protection of key institutions has been greatly enhanced with advanced video surveillance and access control systems. The drones are used for surveillance and tactical planning of gatherings or major events in large cities. Such factors are expected to fuel the growth of the global drone motor market share over the forecast period. The drone technology has perceived solid growth from the past few years due to the continuous innovation and research & development. Many drones are integrated with GNSS, LiDAR, modern sensors, thermal, infrared imaging systems, and high-tech cameras.
Drone Motor Market

---

By Application
Agriculture is projected as the most lucrative segment
The most innovative drones are outfitted with various sensor systems such as air-to-air missiles, intelligence sensors, communication, and global system for mobile communication (GSM). Currently, the most advanced drones can have various payloads attached to internal weapons bay and large sensors. Artificial intelligence (AI) is being implemented commercially for autonomous flight systems for high-altitude drones. This is likely to forecast well for the growth of global drone motor market in the forecast period.
Stringent rules and regulations by government to impact the global sales
The adoption of military and commercial drones has grown in several regions. However, the industry is still facing substantial tasks for market growth in various countries due to limitations on the use of drones and severe government regulations due to lack of air traffic management for drones. For instance, in the recent past, the Federal Aviation Administration (FAA) had declared a new rule for the official registration of drones except for the recreational drones which are weighing under 250 grams or 0.55 pounds. Without remote ID (remote identification), the drones are not allowed to fly. The FAA has received more than 4,000 applications for night waivers till 2021 from 2017. Out of all applications, only 1,200 applications were granted, while the remaining 2300 were denied. Furthermore, the lack of experienced drone pilots had enhanced the concerns related to the safety of costly drones and other indemnity damages. This factor is likely to hinder the demand for drones, which directly limits the sales of drone motors.
Use of drones for the delivery of cargo in military operations
Several new military applications are being discovered wherein drones can be used. One of its applications requires the use of drones for the delivery of military cargo. The drones can be used to resupply materials to armed forces on the battlefield. The idea of using these drones to deliver the cargo in the combat zone came from the commercial sector, where drones are being used to supply products to customers by companies such as Amazon. Presently, the most important portion of army supplies is carried through roadways, making these ways susceptible to opponent attacks. The drones, on the other hand, take aerial moves, which can be modified so that the risks of attacks by enemy can be reduced. The use of drones for cargo delivery in military base also removes high-risk situations for armed forces for delivery by using drones which is safer and faster as compared to conventional roadways.
Drone Motor Market

---

By Region
Asia-Pacific would exhibit the highest CAGR of 18.5% during the forecast period 2022-2031
The first military base to deliver cargo by using drones was in 2012 by the US Marine Corps. They have successfully used an unmanned K-MAX helicopter to supply a collective of 2 million kilograms (approx. 4.4 million Ibs.) to armed forces in Afghanistan. Though the supply was successful, the use of drones to deliver the cargo in the military base is not extensive. Scientists are trying to create drones that can supply cargo to soldiers at any location. For instance, the US army is creating a drone—the Joint Tactical Aerial Resupply Vehicle (JTARV)—which is capable enough to supply cargo to soldiers on the battlefield. The DeltaQuad Pro by Vertical Technologies are designed in such a way that the drone can carry cargo over a range of 150 km—featuring an advanced long-range communication systems and freight drop mechanism. Such quick services in military base for drones are predicted to create lucrative opportunities for drone motor market.
The drone business was negatively impacted by Covid-19 as there was totally breakout in global supply chain in 2020. However, some of the industry leaders entered 2020 worried about the consumer market for flying drones for fun may have even aided it. That might not be the case anymore. In 2021, NPD had claimed that sales of consumer drones "soared" during the pandemic in healthcare sector, with sales more than doubling from March to November of 2020 in comparison to 2019. This was likely due to people who were locked down at home looking for socially distant hobbies. According to research by droneanalyst.com on the drone hardware market published in 2021, the sales of drones used for agricultural spraying increased by a staggering 135%, with Asia accounting for the majority of the gain.
Key Benefits For Stakeholders
This report provides a quantitative analysis of the market segments, current trends, estimations, and dynamics of the drone motor market analysis from 2021 to 2031 to identify the prevailing drone motor market opportunities.
The market research is offered along with information related to key drivers, restraints, and opportunities.
Porter's five forces analysis highlights the potency of buyers and suppliers to enable stakeholders make profit-oriented business decisions and strengthen their supplier-buyer network.
In-depth analysis of the drone motor market segmentation assists to determine the prevailing market opportunities.
Major countries in each region are mapped according to their revenue contribution to the global market.
Market player positioning facilitates benchmarking and provides a clear understanding of the present position of the market players.
The report includes the analysis of the regional as well as global drone motor market trends, key players, market segments, application areas, and market growth strategies.
 Drone Motor Market Report Highlights
Aspects
Details
Market Size By 2031
USD 9.9 billion
Growth Rate
CAGR of 15.1%
Forecast period
2021 - 2031
Report Pages
404
Motor Type

Brushless Motor
Brushed Type

Drone Type

Fixed Wing
Rotary Wing
Hybrid

Power Capacity

Below 50 W
51 to 100 W
Above 100 W

Application

Agriculture
Construction
Military
Entertainment
Others

By Region

North America (U.S., Canada, Mexico)
Europe (UK, Germany, France, Russia, Rest of Europe)
Asia-Pacific (China, Japan, India, South Korea, Rest of Asia-Pacific)
LAMEA (Latin America, Middle East, Africa)

Key Market Players
NIDEC CORPORATION, Mad Motor Components Co.,Ltd., Dr. Fritz Faulhaber GmbH & Co. KG, Hacker Motor GmbH, KO Technologies, T-motor, KDE Direct, Neutronics Enterprises Inc., Constar Micromotor Co., Ltd., X-TEAM