The global drone payload market was valued at $7.2 billion in 2020, and is projected to reach $33.3 billion by 2030, growing at a CAGR of 16.9% from 2021 to 2030.
The COVID-19 impact on the drone payload industry is unpredictable, and is expected to remain in force for a few years. The COVID-19 outbreak forced governments across the globe to implement stringent lockdown and ban import–export of raw material items for most of 2020 and few months in 2021. This led to sudden fall in the availability of important raw materials for manufacturing drone payload components. Moreover, nationwide lockdowns forced drone payload manufacturing facilities to partially or completely shut their operations. Adverse impacts of the COVID-19 pandemic have resulted in delays in activities and initiatives regarding development of advanced drone payload components globally.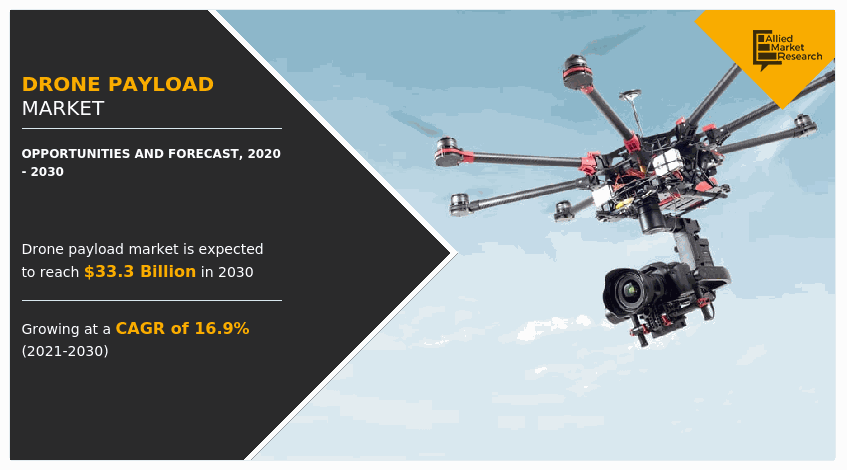 Drones are aircraft that can fly autonomously with the help of an embedded program or that can be remotely piloted from the ground by a pilot. These aircraft are also officially referred to as unmanned aircraft systems (UAS), unmanned-aircraft vehicle systems (UAVS), unmanned aerial vehicles (UAV), remotely piloted aircraft systems (RPAS), remotely piloted aerial vehicles (RPAV), and others. Additional weight that can be attached to these drones, excluding the weight of the drone itself, which is referred to as the drone payload. Drone payloads include, weapon systems, cameras, sensors, delivery goods, and other items. Unmanned aerial vehicles (UAVs) equipped with such devices are utilized for a variety of applications, including LiDAR applications, aerial imaging, security & surveillance, weather monitoring, green mapping, cargo management, traffic control, and others.
The drone payload market is experiencing immense growth driven by the promising growth rate of the drone market, increase in demand for improved surveillance, and increased market for location-based services. However, privacy and security concerns, high-resolution satellite imagery, and strict drone regulations are factors that are expected to restrain the growth of the drone payloads market during the forecast period. On the contrary, increased application areas for GPS, LiDAR, mapping services, and others, improvement in drone technologies, and rise in defense expenditure globally are the major factors that are expected to supplement the drone payloads market, thereby providing a better opportunity for the growth of the drone payloads market during the forecast timeframe.
Drone Payload Market

---
By Application
Construction and archaeology is projected as the most lucrative segment
The drone payload market is segmented based on application, type, and region. On the basis of application, it is classified into defense, agriculture and environment, media and entertainment, energy, government, construction and archaeology, and others. By type, the market is segmented into cameras & sensors, radar & communication, and weaponry. The market is analyzed across four regions, namely North America, Europe, Asia-Pacific, and LAMEA.
Key players profiled in this drone payload market report include, AeroVironment Inc., Autel Robotics, DJI Technology, Draganfly Inc., Elbit Systems Ltd., Israel Aerospace Industries Ltd. (IAI), IMSAR LLC, Northrop Grumman Corporation, Parrot SA, and Teledyne FLIR LLC.
Promising growth rate of drone market
Factors such as technological advancements in the industry and increase in application areas such as aerial imaging, precision agriculture, traffic monitoring, cargo management, and others drive the demand for drone payload and boost the growth of the drone market. Manufacturers design and develop new drone systems to meet the needs of various applications, which propels the drone payload market forward. For instance, in June 2020, Parrot SA launched ANAFI USA, a unique drone that combines enterprise-class data security with easy-to-use features. ANAFI USA is a powerful drone designed to suit the needs of search-and-rescue teams, first responders, security organizations, firefighters, inspectors and surveyors.
Although the drone market is currently in the growing stage, it is expected to generate high demand in the next few years. According to the recent report released in January 2022, by Federal Aviation Administration, 329,114 commercial drones (UAS) were registered. Thus, propelling the growth of the drone payload market in near future. In addition, drone manufacturers are funded to develop advanced products. For instance, in July 2021, Pentagon invested $13.4 million to boost drone start-ups. Such investments are expected to boost the market.
Drone Payload Market

---
By Type
Weaponry is projected as the most lucrative segment
Increase in demand for improved surveillance
The growth in threat from terrorism and increase in security concerns globally has led to increase in government expenditure for unmanned aircraft systems (UAS) or drones to improve surveillance capabilities. Drones can carry out stealth operations, function at night, and operate at any location with payloads, including high imagery cameras such as Zenmuse Series by DJI Technology, DG series by Autel Robotics, and HDZoom30 by Aeryon Labs Inc. and others, sensors, and others. Such benefits have led to increase in investments by governments to procure and develop a large number of drones globally. For instance, in March 2021, Elbit Systems Ltd. signed a $300 million contract to supply Hermes 900 unmanned aircraft systems to a country in Asia.
In addition, in May 2020, FLIR Systems won an additional $20.6 million contract from the U.S. Army for the Black Hornet 3 Personal Reconnaissance Systems (PRS). Such investments by governments propel the growth of the market. Also, the development of advanced payloads for surveillance fuels the growth of the market. For instance, in November 2019, Teledyne FLIR LLC launched the FLIR StormCaster family of unmanned aerial system (UAS) payloads for its SkyRanger R70 and R80D SkyRaider airframes.
The security of key institutions has been greatly enhanced with advanced video surveillance and access control systems. Drones are used for surveillance of major events or gatherings in large cities. Also, several government agencies impose strict policies and guidelines for the installation of drones at high-risk locations. Such factors are expected to fuel the growth of drone payload market during the forecast period.
Drone Payload Market

---
By Region
Asia-Pacific would exhibit the highest CAGR of 20.7% during 2021-2030
Privacy and security concerns
A geographic information system (GIS) services, aerial imaging, LiDAR, green mapping, and other similar applications are focused on acquiring landscape information, such as images and imagery solutions using drones with EO/IR and other technologies. Governments of numerous nations have enacted rules to preserve the public's private space and issues of national security, which limits the growth of the drone payload industry. In the North America market, for instance, the Federal Aviation Administration (FAA) declared that unmanned aerial vehicles (UAVs) can only fly up to 500 feet above ground level and are not permitted within a three-mile radius of airports or flying strips. Furthermore, due to the cyber-security threats associated with drones, numerous administrations have placed prohibitions or restrictions on drone ownership. In April 2021, Legislator Huang Kuo-shu of the Democratic Progressive Party (DPP) of Taiwan issued a guideline warning against the procurement of drones for made-in-China aerial photography, robots, and coding platforms and subsequent phasing out of the existing equipment. The announcement was made owing to the cybersecurity loophole on consumer electronics manufactured in China.
Moreover, they are not permitted to break any privacy or security regulations, and are not permitted to enter flight restricted or National Oceanic and Atmospheric Administration (NOAA) zones. However, laws established by the FAA and other governments are still in the works, so no adequate regulatory framework for this industry has been defined. The rise in use of drones in a variety of applications has increased the cyber-security danger to its users. Hackers may be able to exploit drones if they acquire access to the drones' unencrypted Wi-Fi and GPS systems.
Improvement in drone payload technologies
The technology behind unmanned air systems (UAS) has advanced rapidly in recent years and as a result, UAS can fly faster and further than ever before and are able to perform ever more sophisticated surveillance operations. Developments in high-performance cameras, weapons, and sensors drive these improvements, allowing smaller man-portable systems with more flexible tactical and surveillance capabilities. For instance, in April 2022, Teledyne FLIR LLC launched the Boson plus longwave infrared thermal camera module with industry-leading sensitivity of 20 MK or less for unmanned platforms, security applications, handhelds, wearables, and thermal sights. In addition, in November 2021, AeroVironment Inc. launched the Mantis i45 N, a multi-sensor night-time imaging payload compatible with Puma 2 AE, Puma 3 AE, and Puma LE small unmanned aircraft systems (UAS). Continuous innovation and the introduction of cost-effective products are expected to further stimulate market growth.
Recent advancements in drone payload technologies, such as advanced payload systems that can be controlled through a smartphone application, and others fuel an unprecedented level of interest in these devices. Defense manufacturers have developed drones and drones payloads that perform on a battlefield without human intervention. Owing to improved performance and several benefits offered by drone payloads, the demand for drone payloads is expected to grow appreciably during the forecast time.
Key Benefits For Stakeholders
This report provides a quantitative analysis of the drone payload market segments, current trends, estimations, and dynamics of the drone payload market analysis from 2020 to 2030 to identify the prevailing drone payload market opportunities.
The drone payload market research is offered along with information related to key drivers, restraints, and opportunities.
Porter's five forces analysis highlights the potency of buyers and suppliers to enable stakeholders make profit-oriented business decisions and strengthen their supplier-buyer network.
In-depth analysis of the drone payload market segmentation assists to determine the prevailing market opportunities.
Major countries in each region are mapped according to their revenue contribution to the global market.
Market player positioning facilitates benchmarking and provides a clear understanding of the present position of the market players.
The report includes the analysis of the regional as well as global drone payload market trends, key players, market segments, application areas, and market growth strategies.
 Drone Payload Market Report Highlights
Aspects
Details
By Application

Media and entertainment
Energy
Government
Construction and archaeology
Others
Defense
Agriculture and environment

By Type

Cameras and sensors
Radar and communication
Weaponry

By Region

North America (U.S., Canada, Mexico)
Europe (U.K., Germany, France, Russia, Rest of Europe)
Asia-Pacific (China, India, Japan, South Korea, Rest of Asia-Pacific)
LAMEA (Latin America, Middle East, Africa)

Key Market Players
AeroVironment Inc, Autel Robotics, DJI Technology, Draganfly Inc, Elbit Systems Ltd, Israel Aerospace Industries Ltd, IMSAR LLC, Northrop Grumman Corporation, Parrot SA, Teledyne FLIR LLC