The global drone software market was valued at $5.96 billion in 2021, and is projected to reach $21.93 billion by 2031, growing at a CAGR of 14.5% from 2022 to 2031.
The COVID-19 impact on the drone software market is unpredictable, and is expected to remain in force for a few years. Due to the revenue crunch and rise in maintenance costs were two of the major challenges adversely affecting the drone manufacturers. Furthermore, the reduced GDP of major economies such as the U.S., UK, China, France, India, Germany, and others in 2020 was anticipated a drop in investment in the aerospace and defense industry. The reduction in aerospace and defense spending has had a negative impact on autonomous aircraft development and deployment plans, particularly unmanned aerial vehicles (UAVs), reducing demand for drones. However, various use cases of drone have been developed and utilized by drone service providers during the COVID-19 pandemic, including lab sample pick-up and delivery and transportation of medical supplies to reduce transportation times and minimize infection exposure, aerial spraying of public areas to disinfect potentially contaminated areas, and public space monitoring and guaranty. Moreover, vaccination drive enabled lowering of barriers to economic activity, as well as domestic and international travel. As the restrictions lifted, travel recovered quickly, leading to increase in UAV related applications, which expected to boost the drone software market.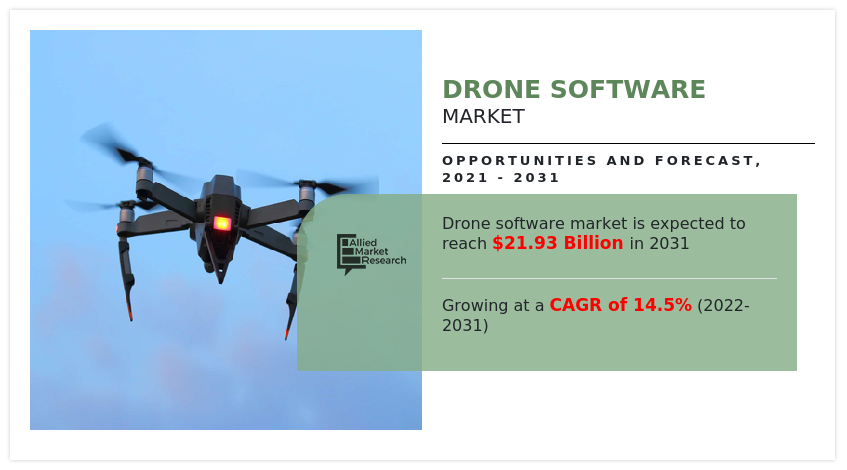 The drone software market is segmented into Solution, Application, Architecture and Deployment.
Drone software includes collision avoidance, obstacle detection, and many other device algorithms. It is also used to fuse all signal transmissions through the connected sensors, such as a visual sensor, ultrasound, an infrared sensor (LiDAR), and others. Some drones also include a the firmware, which is used to fix physical bugs and controls. Drones have shown to be beneficial in more efficiently optimizing data in a variety of industries, including agriculture, building and infrastructure, and oil & gas, thus, generating demand for drone software solutions. Companies are investing substantially in drone deployment, service, and analytics solutions, recognizing the market's huge potential. Drone monitoring is usually carried out across construction, oil & gas, and agriculture industries. End users use drone software to process and analyze the data acquired from drone monitoring process as well as for the deployment of autonomous drones. Factors such as high demand for drone analytics in commercial applications, growing capital investments for the development of new and advanced drone software, and technological advancement in drones are anticipated to boost the growth of the global drone software market during the forecast timeframe. However, cybersecurity issues associated with drones and restrictions enforced by regulations are expected to hinder the growth of the global drone software industry during the forecast timeframe. Moreover, revamped government regulatory framework and incorporation of the Internet of Things (IoT) in drones and high adoption of autonomous drones are expected to create an opportunity for the drone software market in near future.
Drone Software Market

---

By Solution
System is projected as the most lucrative segment
The drone software market is segmented on the basis of solution, end use, architecture, deployment, and region. By solution, it is divided into system and application. By end use, it is divided into defense & government, agriculture, energy & power, construction & mining, media & entertainment, logistics & transportation, and others. By architecture, it is segmented into open source, and closed source. By deployment, it is divided into onboard drones and ground-based. By region, the market is analyzed across North America, Europe, Asia-Pacific, and LAMEA.
The key players that operate in this drone software industry are AirMap Inc, Delair, DJI Technology, DroneBase, DroneDeploy, ESRI, Kespry Inc., MEASURE, Pix4D SA, PrecisionHawk, Inc., SENSEFLY, SHARPER SHAPE, SKYCATCH INC, Skydio, Sky-Future, Skyward IO (Verizon Company), Yuneec, and others.
High demand for drone analytics in commercial applications
Unmanned aerial vehicles (UAVs), or drones, are aircraft that can be controlled remotely by a pilot or by preprogrammed plans or automation systems that enable them to fly autonomously. A large number of industries and organizations are adopting this technology, including military, government, commercial, and recreational users. Over the years, drones have become an economically viable option for a broad range of commercial functions. Commercial drones are currently making a real impact in application that take advantage of their ability to quickly and cheaply gather localized visual information. Such areas are agriculture, construction, infrastructure, and inventory management. By using drone analytics, farmers can benefit from real-time information about large tracts of land. Drones can help track almost everything, including water use, crop health, heat signatures, and soil analysis. Several new start-ups and existing agriculture players are investing heavily in agriculture drones and the software needed to analyze the raw data. For example, John Deere partnered with Sentera, a global provider of software, sensors, and drone technologies to the agriculture industry, in early 2016 to provide its consumer's access to their AgVault Software and agriculture scouting drones. Drones are allowing farmers to gather so much data about their fields that managing all this data has created an important business opportunity. Real-time aerial inspection allows for the ability to quickly survey construction sites or catch mistakes. The usage of drones in construction sites has resulted in significantly bringing down threatening accidents. 3D Robotics (3DR) uses Autodesk's Forge Platform to provide a UAV-to-cloud solution. Their drones can capture site data that is fed into Autodesk software for analysis. All these instances prove the rise in demand for drone analytics for commercial applications, which is expected to propel the growth of the drone software market during the forecast period. 
Drone Software Market

---

By Application
Defense and Government is projected as the most lucrative segment
Growing capital investments for development of new and advanced drone software
The usage of drones across various applications is increasing exponentially. As a result, leading players are investing significantly to develop cutting-edge software. For instance, in December 2019, Precision Hawk announced a $32 million investment in drone software and services. It plans to use this financing to develop the next generation of Precision Analytics, its AI-powered aerial data analytics platform. In February 2017, Microsoft Ventures, the venture capital (VC) arm of the Redmond, Washington–based software giant, led a $26 million venture round in AirMap, a drone startup that is the leading maker of software that manages air traffic for drones. Microsoft Ventures publicized that with the investment, AirMap can use Microsoft's software and artificial intelligence tools. The investment also gives Microsoft an entrance into the drone aviation market, which is dominated by the likes of Amazon and Google. To grab a share in the rapidly growing drone software market, big investment companies are showing interest to acquire stakes in the leading companies. For instance, in November 2019, Drone Deploy raised $35 million for drone management and logistics tools. In August 2021, Trentar, an India-based company, entered into the market involving drone-based services and software. It acquired 75% stake in Garuda UAV, a leading drone service provider company in India in July 2021 to scale up new-age businesses based on drone services and software. Thus, rise in investments in the development of new and advanced drone software is expected to fuel the growth of the drone software market during the forecast period.
Cybersecurity issues associated with drones
The flexibility, cost-effectiveness, and high efficiency associated with drones have resulted in the proliferation of drone deployment in commercial and private applications. The rise in implementation of drones in multifaceted applications has also increased the cybersecurity threat for its users. The modern drones come equipped with GPS, USB ports, and other means of technologies that can act as a critical cybersecurity target for hijackers to easily hijack the drone. The hackers can also exploit the drones by accessing the unencrypted Wi-Fi and GPS technologies, which are used by the drones to communicate. The government administrations have issued a ban or restrictions on drone ownership owing to cybersecurity threats associated with drones. For instance, in April 2021, Legislator Huang Kuo-shu of the Democratic Progressive Party (DPP) of Taiwan issued a guideline warning against the procurement of drones for made-in-China aerial photography, robots, and coding platforms, and subsequent phasing out of the existing equipment. The announcement was made owing to the cybersecurity loophole on consumer electronics manufactured in China. The rise in instances of cybersecurity attacks have hindered the adoption of drones by government and private organizations. The cybersecurity issues related to drones limit the growth of the drone software market during the forecast period.
Drone Software Market

---

By Deployment
Ground based is projected as the most lucrative segment
Revamped government regulatory framework
Drone operators need to pass certain aviation regulatory frameworks of the country they operate in. The increase in usage of drones internationally has led the regulatory bodies to incorporate drones in their framework for supporting drone service development owing to benefits offered by drones such as low energy consumption, less air, and noise pollution, and reduced road congestion. With the increase in demand for Beyond Visual Line of Sight (BVLOS) operations, the Global Navigation Satellite System (GNSS) technology is utilized for navigation by drone operators. The use of regional Global Navigation Satellite System (GNSS), such as GPS, GLONASS, Galileo, Beidou, and others are regulated by governments. The aviation administrations globally are developing new regulations for promoting the growth in the adoption of drones. For instance, in August 2019, the Kansas Department of Transportation was authorized by the Federal Aviation Administration (FAA) for conducting Beyond Visual Line of Sight operations (BVLOS) operations in the country.
The BVLOS operation was conducted using the onboard detect-and-avoid systems. Governments across the globe are developing and implementing a new regulatory system for encouraging drone usage. For instance, the Norwegian Civil Aviation Authority issued European Light UAS Operator Certificate (LUC) to Nordic Unmanned in April 2021. The certificate is expected to enable Nordic Unmanned in deploying its entire Unmanned Aerial System (UAS) fleet for beyond visual line of sight (BVLOS) flights throughout EASA member countries. The governing bodies have eased the regulations for drone operation, namely authorization, certification, and spatial limitations globally to facilitate the adoption of drones by various industries. The welcoming government regulatory framework presents an opportunity for the growth of the drone industry, which in turn is expected to fuel the drone software market in near future.
Drone Software Market

---

By Region
Asia-Pacific would exhibit the highest CAGR of 16.0% during 2022-2031.
Key Benefits For Stakeholders
This report provides a quantitative analysis of the market segments, current trends, estimations, and dynamics of the drone software market analysis from 2021 to 2031 to identify the prevailing drone software market opportunities.
The market research is offered along with information related to key drivers, restraints, and opportunities.
Porter's five forces analysis highlights the potency of buyers and suppliers to enable stakeholders make profit-oriented business decisions and strengthen their supplier-buyer network.
In-depth analysis of the drone software market segmentation assists to determine the prevailing market opportunities.
Major countries in each region are mapped according to their revenue contribution to the global market.
Market player positioning facilitates benchmarking and provides a clear understanding of the present position of the market players.
The report includes the analysis of the regional as well as global drone software market trends, key players, market segments, application areas, and market growth strategies.
 Drone Software Market Report Highlights
Aspects
Details
Solution
Application

Defense and Government
Agriculture
Energy and Power
Construction and Mining
Media and Entertainment
Logistics and Transportation
Others

Architecture

Open Source
Closed Source

Deployment

Onboard drones
Ground based

By Region

North America (U.S., Canada, Mexico)
Europe (Germany, France, Russia, Netherlands, U.K., Poland, Spain, Rest of Europe)
Asia-Pacific (China, India, Japan, South Korea, Asean, Rest of Asia-Pacific)
LAMEA (Brazil, UAE, Saudi Arabia, South Africa, Rest of LAMEA)

Key Market Players
AirMap Inc, Delair, DJI, DroneBase Inc, DroneDeploy Inc, ESRI, Kespry, MEASURE, Pix4D SA, PrecisionHawk, SENSEFLY LTD, SHARPER SHAPE, SKYCATCH INC, Skydio, Sky-Future Ltd, Skyward IO, Yuneec INC