The global drone training and education services market size was valued at $0.91 billion in 2022, and is projected to reach $18 billion by 2032, growing at a CAGR of 34.9% from 2023 to 2032.
Report Key Highlighters:
The drone training and education services market studies more than 15 countries. The research includes a segment analysis of each country in terms of value ($ million) for the projected period 2022-2032.

The study integrated high-quality data, professional opinions and analysis, and critical independent perspectives. The research approach is intended to provide a balanced view of global markets and to assist stakeholders in making educated decisions to achieve their most ambitious growth objectives.

Over 3,700 product literature, annual reports, industry statements, and other comparable materials from major industry participants were reviewed to gain a better understanding of the market.

The drone training and education services market share is fragmented, with several players including UAV Coach, Global Drone Solutions, Drone Destination, Dart Drones LLC, Heliguy, AltexAcademy, Drone Training Ltd, SkyOp LLC, DroneU, and Draganfly Inc. Key strategies such as product launch, contract, expansion, and other strategies of the players operating in the market are tracked and monitored.
Drone training and education services include courses and programs designed to instruct individuals in the safe and proficient operation of drones. These services vary, ranging from online courses to in-person training sessions. Some providers deliver comprehensive commercial training, while others specialize in specific skills such as aerial photography, inspection, or mapping. Several companies specialize in providing drone training and equipment for various industries such as utility and energy, construction, media and entertainment, and others. The training courses may range from beginner-level courses to advanced commercial courses. 
Factors such as surge in adoption of drones across various industries, increase in demand for skilled drone operators with specialized skills, and rise in government initiatives and support drive the growth of the drone training and education services market. However, evolving rules and regulations within the drone industry, and the high cost of training resources hinder the growth of the market. Furthermore, technological advancement in drone design, and integration of AI and VR in training services offer remarkable growth opportunities for the players operating in the drone training and education services market.
The drone training and education services market is segmented on the basis of drone type, industry, type, and region. By drone type, it is divided into fixed-wing drones, multirotor drones, hybrid drones, and others. By industry, the market is classified into agriculture, construction, entertainment, inspection, and others. By type, it is fragmented into in-person training programs, online and virtual courses, and hybrid training. By region, the market is analyzed across North America, Europe, Asia-Pacific, and LAMEA.
The leading companies profiled in the drone training and education services report include UAV Coach, Global Drone Solutions, Drone Destination, Dart Drones LLC, heliguy, AltexAcademy, Drone Training Ltd, SkyOp LLC, DroneU, and Draganfly Inc. The companies have adopted strategies such as contracts, product launch, expansion, and others to improve their market positioning.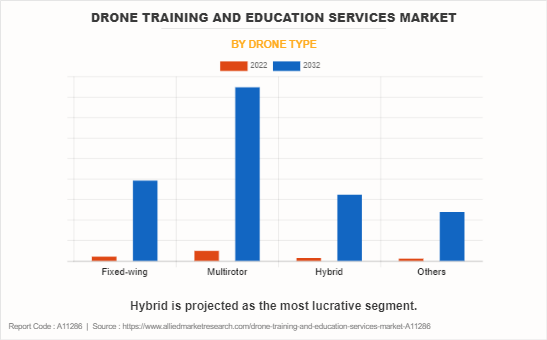 North America includes the U.S., Canada, and Mexico. The increase in adoption of drones in various sectors such as agriculture, construction, infrastructure inspection, and public safety has led to a surge in demand for proficient drone operators. Drone training services are pivotal in imparting the essential knowledge and skills required for individuals to operate drones safely and effectively across these diverse industries.
The rising utilization of drones in diverse sectors like agriculture, construction, surveying, and public safety has led to a growing need for proficient drone operators. Within the drone industry, technological progress, including artificial intelligence (AI), machine learning (ML), and computer vision, is evident. These advancements are being incorporated into drone systems to improve functionalities such as autonomous flight, object recognition, and data analytics. Collaborative efforts are on the upswing to empower drone operators, offering them pertinent skills and certifications aligned with the demands of the evolving drone technology landscape.
 For instance, in June 2023, Draganfly Inc., a prominent drone solutions developer selected by Veterans Elite Drone Training Services (VEDTS) for a significant collaboration. The partnership aims to deliver advanced drone pilot training to Canadian veterans over a one-year period, with the possibility of extending it to two years. VEDTS, committed to supporting Canadian veterans, will leverage Draganfly's expertise and technology to provide immersive online virtual ground courses. Such developments to address the increasing demand for skilled drone operators are expected to drive the growth of the drone training and education services market in the region.
Surge in adoption of drones across various industries
Drones are applied in a diverse range of industries such as agriculture, construction, real estate, healthcare, energy, and others. The applications comprise crop monitoring, surveying and mapping, surveillance, infrastructure inspection, and delivery services. Drones play a pivotal role in the construction industry by facilitating tasks such as surveying, mapping, and site monitoring. Moreover, drones find applications in healthcare for tasks such as medical supply delivery, patient monitoring, and emergency response.
 In agriculture, drones are increasingly employed for precision farming tasks such as crop monitoring, yield estimation, and pest control. Farmers and agritech professionals are turning to drone technology to enhance efficiency. For instance, in January 2023, XAG Agricultural Drones, specifically the P40 and V40 models, have received the first-ever Operational Authorization from the Civil Aviation Authority (CAA) in the UK for agricultural spraying operations. Drones are legally allowed to conduct spraying and spreading operations on farms in the UK. Such developments are expected to have a transformative impact on farming practices in the UK. In addition, drones are used for the inspection and maintenance of critical infrastructure such as power lines and wind turbines in the energy sector.
Therefore, there is an increased need for training and educational services with the rise in the scope of drone applications. These services are essential to equip operators with comprehensive knowledge of the legal and regulatory frameworks that dictate drone usage in distinct industries.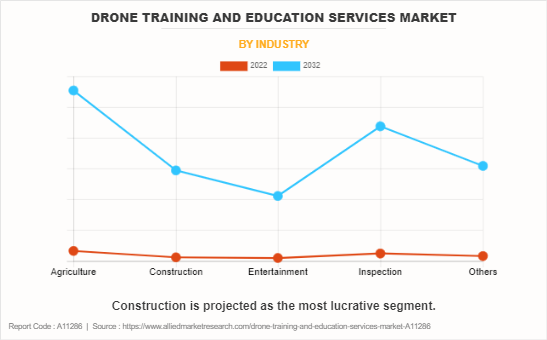 Increase in demand for skilled drone operators with specialized skills
Different industries have unique requirements for drone applications in industries such as agriculture, construction, or surveillance. There is a need for operators with specialized skills tailored to specific industries as the demand for drone services expands across various sectors. Training programs address this need by providing industry-specific expertise, ensuring operators can effectively apply drone technology in diverse areas. Drones are valuable tools for collecting data in various industries, such as agriculture, surveying, and environmental monitoring. Skilled operators possess expertise in collecting accurate and relevant data, and they are trained in data analysis to derive meaningful insights from the information gathered by drones. 
Moreover, skilled drone operators play a vital role in emergency response situations, such as search and rescue operations or disaster assessments. They are trained to respond effectively in crisis situations, using drones to gather real-time information and aid in decision-making processes. Skilled operators can achieve precision in drone operations, optimizing flight paths and ensuring accurate data capture. This precision contributes to operational efficiency, reducing costs and maximizing the benefits of drone technology for tasks such as inspections, mapping, and surveillance.
Rise in government initiatives and support
Governments often play a crucial role in regulating drone operations to ensure safety and responsible use of airspace. Initiatives and support from governments include the establishment of clear regulatory frameworks. Training and education services become essential to educate drone operators on these regulations, promoting compliance and reducing the risk of legal issues. Government support often includes initiatives to raise safety awareness and promote best practices in drone operations. For instance, in August 2023, the Prime Minister of Idia, Narendra Modi announced the country's announced a forthcoming scheme during the 77th Independence Day celebrations.
The scheme aims to train women in approximately 15,000 self-help groups (SHGs) to operate and repair drones. The focus of the scheme is to provide training to women in SHGs for both flying and repairing drones. This initiative is designed to leverage modern technologies, particularly drones, in the agricultural sector. The government has been actively promoting the use of modern technologies, including drones, in various industries. This aligns with broader efforts to enhance agricultural practices, improve productivity, and boost the rural economy. Such government support and favorable initiatives are expected to drive the growth of the drone training and education services industry during the forecast period.
Evolving rules and regulations within the drone industry
The drone industry functions within a dynamic regulatory landscape characterized by frequent changes. The introduction of new rules or modifications to existing ones poses a challenge for training programs in maintaining real-time relevance. This dynamic environment necessitates continuous updates to training materials and curricula, presenting an ongoing challenge for educational providers. The rapid evolution of regulations increases the risk of educational materials quickly becoming outdated. To mitigate this risk of obsolescence, training providers must stay informed about regulatory changes and consistently update their programs. Rapid changes in regulations may lead to the risk of educational materials becoming quickly outdated. Training providers need to stay abreast of regulatory changes to update their programs continually. Such factors are expected to hamper the growth of the market during the forecast period.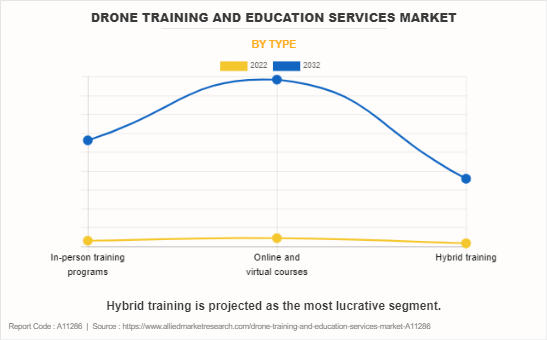 High cost of training resources
Drone training often necessitates access to specialized equipment, including drones, simulators, and other technological tools. The initial investment in procuring and maintaining these resources can be substantial, posing challenges for training providers. Drones and associated technologies undergo frequent updates and enhancements, requiring training providers to invest in the continuous updates of equipment and software. This involves regular maintenance, software upgrades, and potentially replacing outdated equipment, contributing to the overall cost of training.
Moreover, there is a necessity for insurance coverage to mitigate potential liabilities arising from accidents or damage during training sessions. The associated costs of insurance can be significant, and training providers must incorporate these expenses into their overall budget. In addition, training facilities, which include infrastructure such as classrooms, simulation labs, and designated areas for drone flying exercises required operational costs that further contribute to the financial considerations of offering comprehensive drone training programs. Such factors are expected to hinder the growth of the drone training and education services market.  
Technological advancement in drone design
Technological advancements result in the development of more sophisticated drone designs featuring enhanced functionalities. Training programs provide specialized courses that instruct operators on leveraging these advanced features. For instance, in June 2023, Inspired Flight Technologies, a prominent American drone manufacturer, has unveiled the re-release of their highly anticipated medium-lift drone, the IF800 Tomcat. The drone features a lightweight, compact, and foldable frame for easy transportation and deployment in various environments. The advanced design includes a 30-degree upward-angle shooting capability for gimbal-mounted cameras. This feature enhances imaging capabilities for tasks involving wind turbines, bridges, and critical infrastructure. As drones become increasingly complex, there is a growing demand for training services capable of bridging the knowledge gap for operators.
Moreover, specialized applications such as thermal imaging, LiDAR, and autonomous flight capabilities are often introduced with advanced drone designs. Training programs design courses tailored to teach operators how to effectively utilize these technologies, creating opportunities for training providers to offer niche programs that address specific industry needs. In addition, advanced drone designs often improve remote sensing capabilities and data analytics. Training services can concentrate on instructing operators in the collection, processing, and analysis of data gathered by drones. This skill set proves valuable across diverse industries, including agriculture, environmental monitoring, and infrastructure inspection. Therefore, continuous design and development of drones with advanced features drive the demand for drone training by necessitating education on the safe and effective operation of these innovative technologies.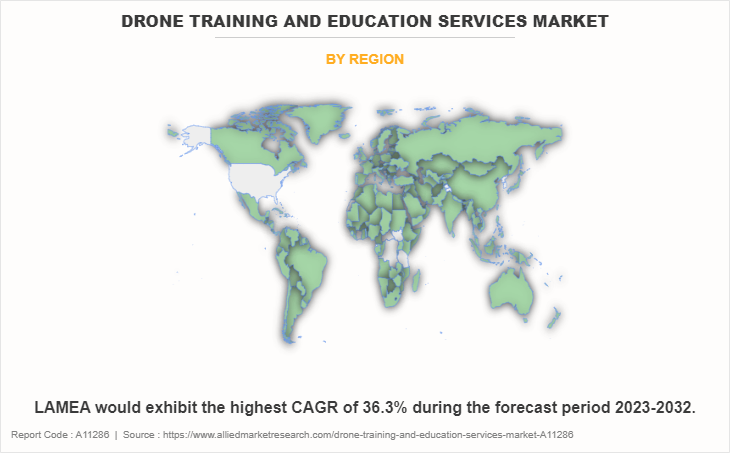 Recent Developments in the Drone Training and Education Industry
In May 2022, Drone Destination announced to set up 150 drone training schools by 2025. The company aims to expand its business presence and further strengthen its m

In October 2022, Drone Destination and National Skill Development Corporation (NSDC) entered into a collaboration aimed at expanding educational institutions or training centers across India. The joint initiative is part of a broader vision to position India as a global hub for drone technology.

In July 2021, DARTdrones LLC and Utah based drone training company launched Professional Drone Training Systems. This system is designed to address the common challenge faced by organizations considering the integration of drones by providing a comprehensive solution.

In July 2020, SkyOp LLC announced the launch of a consultancy division called Enterprise Drone Consultancy. With the new division, the company aims to meet the growing demand from businesses seeking to develop and deploy UAV technology for its inherent competitive advantages and impactful results to worker safety.  
The ongoing conflict between Russia and Ukraine has introduced a complex set of dynamics with potential repercussions across various sectors, including the emerging field of drone training and education services. In conflict zones, there is an increased risk of disruptions to normal business operations, including training programs. The security situation may affect the ability to conduct training sessions and may lead to the closure or relocation of training facilities. During conflict situations, governments might impose stricter regulations related to airspace control and security. This could result in additional challenges for drone training programs, requiring them to adapt quickly to new regulations and compliance measures. However, the increased emphasis on security and surveillance within areas of conflict might result in a growing need for specialized drone training initiatives catering to security applications. Drones frequently find utility in monitoring and gathering intelligence in such environments. The imperative to swiftly implement and leverage cutting-edge technologies, including drones, during conflict situations could stimulate technological progress. This, in turn, may present opportunities for unique drone training programs concentrating on the latest technologies and applications stemming from innovations influenced by conflict dynamics.
Key Benefits For Stakeholders
This report provides a quantitative analysis of the market segments, current trends, estimations, and dynamics of the drone training and education services market analysis from 2022 to 2032 to identify the prevailing drone training and education services market opportunities.
The market research is offered along with information related to key drivers, restraints, and opportunities.
Porter's five forces analysis highlights the potency of buyers and suppliers to enable stakeholders make profit-oriented business decisions and strengthen their supplier-buyer network.
In-depth analysis of the drone training and education services market segmentation assists to determine the prevailing market opportunities.
Major countries in each region are mapped according to their revenue contribution to the global market.
Market player positioning facilitates benchmarking and provides a clear understanding of the present position of the market players.
The report includes the analysis of the regional as well as global drone training and education services market trends, key players, market segments, application areas, and market growth strategies.
 Drone Training and Education Services Market Report Highlights
Aspects
Details
Market Size By 2032
USD 18 billion
Growth Rate
CAGR of 34.9%
Forecast period
2022 - 2032
Report Pages
290
By Drone Type

Fixed-wing
Multirotor
Hybrid
Others

By Industry

Agriculture
Construction
Entertainment
Inspection
Others

By Type

In-person training programs
Online and virtual courses
Hybrid training

By Region

North America (U.S., Canada, Mexico)
Europe (UK, Germany, France, Spain, Rest of Europe)
Asia-Pacific (China, Japan, India, South Korea, Rest of Asia-Pacific)
LAMEA (Latin America, Middle East, Africa)

Key Market Players
Global Drone Solutions, DroneU, Draganfly Inc., AlteX, DARTdrones LLC, UAV Coach, SkyOp LLC, Drone Training Ltd, heliguy, Drone Destination