Drug Screening Market Overview:
Global Drug Screening Market is expected to reach $9,447 million in 2023 from $5,214 million in 2016 registering a CAGR of 8.7%, during the forecast period, 20172023. Drug screening test analyses biological samples, such as blood, hair, & urine; to diagnose the presence of drug abuse or its metabolites in patient's body. Drug screening tests are used to determine if person is or was under the influences of drug at a certain point of time. Drug screening devices have improved owing to introduction of new technology; offering the users precise and accurate results. Rise in alcohol consumption among youth as well as elderly population, overuse of prescribed drugs, increase in use of narcotics and illicit drugs is a major driver for the market.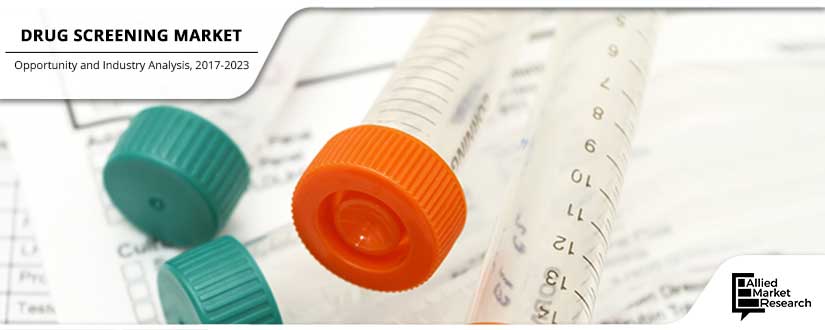 Get more information on this report : Request Sample Pages
The global drug screening industry is segmented based on equipment and services, sample type, end user, and geography. Based on equipment and services, the market is divided into immunoassay analyzers, chromatography instruments, breath analyzers, breath analyzers, rapid testing devices, and urine testing devices. The breath analyzers are further classified into fuel cell breath analyzers, semiconductor breath analyzers, and other devices. The RTD (rapid testing devices) is bifurcated into urine testing devices and oral fluid/saliva testing devices. The urine testing devices are further classified into urine testing cups, dip cards and cassettes Based on consumables assay kits, sample collection cups, calibrators & controls, and other consumables. Laboratory services hold major market share in this segment. The sample type segment is divided into urine sample, breath sample, oral fluid sample, hair sample, and other sample (blood & sweat). Urines sample are widely used and draw a large amount of share in this segment. Based on end user, the industry is divided into workplace & school, drug testing laboratories, criminal justice & law enforcement agencies, hospitals, drug treatment centers, pain management centers, and personal users.
The impact of the driving factors is expected to overcome the effect of restraints. Increase in consumption of alcohol and illicit drugs, establishment of stringent laws in various countries, and increase in governmental funding to control drug trafficking provide opportunity for the drug screening devices. Immunoassay analyzers occupied the largest share in the drug screening equipment market in 2016.
Key players operating in this market include Alere, Inc., Drägerwerk AG & Co. KGAA, Abbott Laboratories, Hoffmann-La Roche AG, Biorad Laboratories, Inc., Siemens AG, Thermo Fisher Scientific, Inc., Danaher Corporation, Quest Diagnostics Incorporated and, Express Diagnostics International Inc.
Key Benefits
The study provides an in-depth analysis of the global market with current trends and future estimations from 2016 to 2023 to elucidate the imminent investment pockets.
Comprehensive analysis of factors that drive and restrict the market growth is provided.
Identification of factors instrumental in changing the market scenario, rise in opportunities, and identification of key companies that can influence this market on a global & regional scale are provided.
Key players are profiled and their strategies are analyzed thoroughly to understand the competitive outlook of the market.
Drug Screening Market Key Segments:
By Product & Service
Equipment

Immunoassay Analyzers
Chromatography Instruments
Breath Analyzers

Fuel Cell Breathalyzers
Semiconductor Breathalyzers
Other Devices

Rapid Testing Devices

Urine Testing Devices

Urine Testing Cups
Dip Cards
Cassettes

Oral Fluid Testing Devices

Consumables

Assay Kits
Sample Collection Cups
Calibrators and Controls
Others

Laboratory Services
By Sample Type
Urine Sample
Breath Sample
Oral Fluid Sample
Hair Sample
Others (Blood and Sweat Samples)
By End User
Workplace and Schools
Drug Testing Laboratories
Criminal Justice System & Law Enforcement Agencies
Hospitals
Drug Treatment Centers
Pain Management Centers
Personal Users
By Geography
North America
Europe

Germany
France
UK
Italy
Spain
Rest of Europe

Asia-Pacific

Japan
China
Australia
India
South Korea
Taiwan
Rest of Asia-Pacific

LAMEA

Brazil
Turkey
Saudi Arabia
South Africa
Rest of LAMEA