Dust Control Systems Market Research, 2031
The global dust control systems market size as $14,735.0 million in 2021, and is projected to reach $21,164.7 million by 2031, registering a CAGR of 3.8% from 2022 to 2031. Dust control is an important process, which is used to provide clean air in a room or at the workplace. In dust control process, particles, such as bacteria, dust, and dirt, which contaminate the air are removed, thereby improving the air quality in that room. Industrial air filters are used for air filtration. Dust control system is most commonly used in the residential and commercial sectors to remove the particles and improve the quality of air. In addition, dust control system offers applications in various industries. The major application of dust control systems is for metal and construction sites where the hazardous dust is generated in greater amount owing to which the need for systems that could help in cleaning such type of dusts is needed. The dust control systems helps in cleaning such hazardous dusts and helps in preserving the nature. Thus, such a benefit helps in preserving the environment. 
The dust control system was hampered as the manufacturing units along with the construction sites are closed that led to reduction in the production of the dust control systems. However, the market recovered by the end of 2021.
The demand for dust control systems is growing due to the lower maintenance cost and higher cleaning efficiency it offers. In addition, growth in the manufacturing and construction activities has fuelled the demand for the dust control systems in order to purify the air. For instance, in March 2020, EIB (European Investment Bank) based in Luxembourg announced to invest EUR 250 million on affordable housing in France. Thus such type of developments is expected to drive the growth of the construction sector which in turn is driving the growth the dust control systems market. In addition, technological innovations in the dust control systems such as Artificial Intelligence (AI) and nanotechnology is expected to offer lucrative opportunities for the dust control systems industry.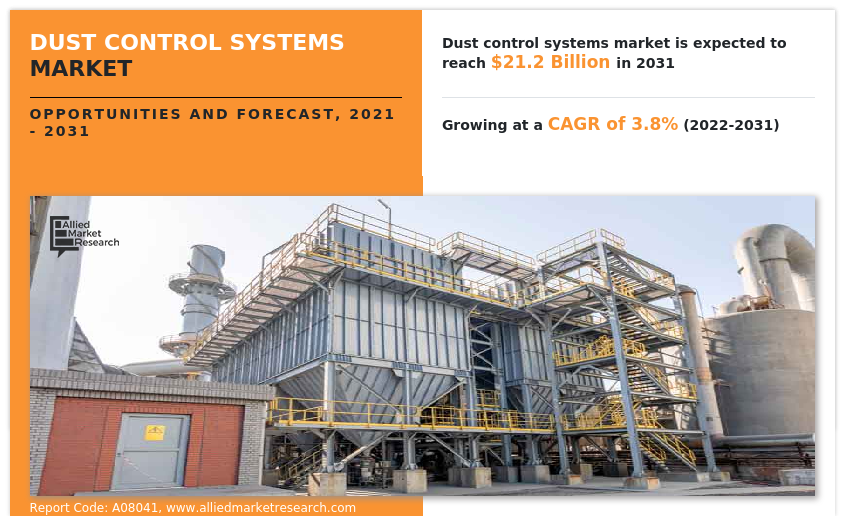 Dust control system is required in every industry along with residential application. The air, which gets inside the body of humans and animals through respiration must be clean and purified. If the air contains particulate, such as dust and dirt, it could prove to be harmful for both humans as well as animals. Therefore, the need for dust control system could prove to be the key driving factor for the growth of the market. Various types of devices, such as wet scrubber, dry scrubber, and welding fume extractors, with different types of air filters are used to remove the dust particles to purify the air. Dust control system works in three phases, dust capturing, dust conveying, and dust collection. 
In addition, growth in awareness considering the water and air pollution over the health is driving the use of dust control systems. The growing awareness is because of the different programs and campaigns that have been launched by the government such as ClientEart, Save Your Lungs and different other similar campaigns that deal with making the people aware about the ill effects of air pollution. In addition, these campaigns state the measures that could be taken on the individual level in order to limit the amount of pollution like filtering of the wastewater for reusing, which is letting various filtering system manufacturers for pursuing the better product in the market. In addition, the growing need for removing the germs, waterborne particles and fine airborne particles from every corner space is letting various laws and regulations getting introduced over different countries. For instance, Clean Water Act (CWA) and Federal Water Pollution Control Act (FWPCA) deals with introduction of regulations that lets people and different industries to follow guidelines in order to restrict the pollutants and the consequences that they need to face by not following those laws is the fundamental driving force that is fueling the demand during the dust control systems market forecast period. 
Dust Control Systems Market

---
By Type
Wet segment holds the largest share in the dust control systems market.
Increase in number of industries could be an important factor for the growth of the dust control system market attributed to working of multiple machines in the automotive industry, more number of dust particles is present in that area. Therefore, many companies use wet dust control systems at their workplace, to remove those particles and purify the air. The companies that produce wet dust control systems take into consideration the system setup, disposal method, size of dust particles, and the type of dust. Furthermore, pure air is necessary in every industry. In the manufacturing industry, various operations are done through which numerous contaminants, such as dirt and dust, are released in the air. Therefore, there is high demand for dust control system in the manufacturing industry. The manufacturing industry is growing over the years, the manufacturing industry has grown by more than 20% since 202 till 2021. Thus, such a rapid growth of the industry requires greater number of manufacturing units which further requires the use of dust control systems in order to remove hazardous dust from the sites. 
Governments of different countries across the globe set some norms to eliminate air pollution. Therefore, dust control systems have been used to reduce dust particles in the air. This is the key driving factor for the dust control systems market growth. 
Dust Control Systems Market

---
By Mobility
Fixed segment is expected to grow at a highest CAGR during the forecast period.
In addition, choosing a dust control system is an important decision for any business or construction site. Where there is dust, there is deterioration. Fine dust particles cannot be used as a binder to maintain road surfaces. Dust results in an exposed and unstable aggregate that erodes with each passing car or rainfall, producing ruts and potholes. Also, acid rain caused by dust stains erodes construction materials, including roads. Dust suppressants attract moisture from the air that binds fine particles and aggregates, keeping roads durable, rugged, smooth and safe. In addition, road maintenance is just as expensive as road construction. For instance, in 2020 , the average annual cost of maintaining one mile of the U.S. National Highway System was estimated at $28,020. That means that better roads would require fewer repairs which, in turn, means savings in labour and materials. Studies have shown that dust control can reduce the overall cost of keeping unpaved roads in acceptable condition by 30 percent. Moreover, according to a study conducted in 2020, dust and sand on roads can cause a sudden loss of visibility and reduced traction on the pavement. As a result, this increases the likelihood of loss of vehicle control and collisions. The other downside of dust on roads is that it can extend braking distances, as tyres struggle to adhere to loose earth or gravel, which could then cause particles to be thrown around, endangering other drivers and people in the area. Dust suppression technology improves these conditions and, therefore, ensures the safety of motorists and pedestrians. In cities where dust is a massive problem and pollutes the air, pullets suffer from respiratory problems that often cause fatal respiratory diseases. Also, studies have shown that dust can cause complications in the brain. An analysis of the brains of 900 subjects over 60 years of age showed that brains that were less exposed to dust seemed healthier. People overexposed to dust were at a high risk of stroke and developing dementia. Dust control could help people breathe cooler air and be less likely to experience respiratory and other health problems related to dust inhalation. This, in turn, leads to a better quality of life. Furthermore, It has been scientifically proven that dust affects photosynthesis, resulting in the penetration of phytotoxic gaseous pollutants into plants. Sulphuric acid, nitrogen oxides, and other volatile compounds that end up settling in the soil and infiltrating water, participate in acidic particle formation. As a result, freshwater lakes and rivers become acidic, leading to harmful acid rain that kills existing vegetation and prevents plants from growing. Controlling dust prevents fine particles from getting into the air, damaging crops and vegetation and causing health problems. Using the best dust control products can also stop these particles from reaching streams and waterways where they can develop sediment levels that are harmful to aquatic life. 
Dust Control Systems Market

---
By End-user
Others segment contributed largest share in the dust control systems market in 2021.
One of the most important benefits of dust control systems is that they can help to improve air quality. Dust particles can be harmful to both workers and the general public, and can cause a range of respiratory problems. By reducing the amount of dust in the air, one can create a safer and healthier environment for everyone on site. 
For purification of air, more advanced dust control device is required, which increases the overall cost of the dust control system. This restrains many companies to use advanced dust control device that could hamper the growth of the dust control system market. 
In addition, during the outbreak of the COVID-19 pandemic, construction, manufacturing, hotel, and tourism industries were majorly affected. Manufacturing activities were halted or restricted. This led to decline in manufacturing of various equipment used for dust control systems as well as their demand in the market, thereby restraining the growth of the dust control systems market. Conversely, industries are gradually resuming their regular manufacturing and services. This is expected to lead to re-initiation of dust control systems companies at their full-scale capacities, that helped the dust control systems market to recover by end of 2021.
On the contrary, many companies in the industrial air filtration market develop and introduce new products in the market. These products are technologically more advanced than the previous range of their products. For example, in May 2020, Dupuy, one of the leading manufacturers of vacuums launched the series of industrial dust collectors known as Dedust. There are four variants in this product range. These dust collectors come with a suction unit, which has high air flow due to which dust is collected in minimum time. This dust collector system is very easy to operate and requires less maintenance. Thus, this is expected to offer lucrative opportunities for the market. 
The dust control systems market is segmented on the basis of type, mobility, end user and region. By type, the dust control systems market is fragmented into wet and dry. By mobility, the market is categorized into mobile and fixed. By end user, the market is divided into manufacturing, oil & gas, food & beverage, metal and others. By region, the dust control systems market is analyzed across North America (the U.S., Canada, and Mexico), Europe (Germany, the UK, France, Italy, and rest of Europe), Asia-Pacific (China, India, Japan, South Korea, and rest of Asia-Pacific), and LAMEA (Latin America, Middle East, and Africa). 
On the basis of type, in 2021 the wet segment dominated the dust control systems market, in terms of revenue, and the dry segment is expected to witness growth at the highest CAGR during the forecast period. As per mobility, in 2021, the mobile segment led the dust control systems market, and the fixed segment is expected to exhibit highest CAGR in the near future. By end user, the others segment led the market in 2021, in terms of revenue and the metal segment is anticipated to register highest CAGR during the forecast period. Region wise, North America garnered the highest revenue in 2021; and LAMEA is anticipated to register highest CAGR during the forecast period. 
Dust Control Systems Market

---
By Region
LAMEA would exhibit the highest CAGR of 8.2% during the forecast period.
COMPETITION ANALYSIS
The major players having significant dust control systems market share are Colliery Dust Control (Pty) Ltd., CW Machine Worx, Donaldson Company Inc., Dust Control Systems Limited, Dust Control Technologies, Duztech AB, Illionis Tool Workers, Nederman Holding AB, Sly Filters, Spraying Devices Inc.
Major companies in the market have adopted product launch, partnership, business expansion, and acquisition as their key developmental strategies to offer better products and services to customers in the dust control systems market.
Key Benefits For Stakeholders
This report provides a quantitative analysis of the dust control systems market outlook, segments, current trends, estimations, and dynamics of the dust control systems market analysis from 2021 to 2031 to identify the prevailing dust control systems market opportunities.
The market research is offered along with information related to key drivers, restraints, and opportunities.
Porter's five forces analysis highlights the potency of buyers and suppliers to enable stakeholders make profit-oriented business decisions and strengthen their supplier-buyer network.
In-depth analysis of the dust control systems market segmentation assists to determine the prevailing market opportunities.
Major countries in each region are mapped according to their revenue contribution to the global market.
Market player positioning facilitates benchmarking and provides a clear understanding of the present position of the market players.
The report includes the analysis of the regional as well as global dust control systems market trends, key players, market segments, application areas, and market growth strategies.
 Dust Control Systems Market Report Highlights
Aspects
Details
Market Size By 2031
USD 21.2 billion
Growth Rate
CAGR of 3.8%
Forecast period
2021 - 2031
Report Pages
218
Type
Mobility
End-User

Others
Manufacturing
Oil and Gas
Food and Beverage
Metal

By Region

North America (U.S., Canada, Mexico)
Europe (Germany, France, UK, Italy, Rest of Europe)
Asia-Pacific (China, Japan, South Korea, India, Rest of Asia-Pacific)
LAMEA (Latin America, Middle East, Africa)

Key Market Players
Nederman Holding AB, Donaldson Company Inc., Spraying Devices Inc., CW Machine Worx, Duztech AB, Dust Control Technologies, Dust Control Systems Limited, Sly Filters, Colliery Dust Control (Pty) Ltd., Illionis Tool Workers