E-Axle Market Outlook - 2025
The E-Axle market was valued at $2,009.71 million in 2017, and is projected to reach $21,639.01 million by 2025, registering a CAGR of 34.6% from 2018 to 2025. The transmission by component segment was the highest revenue contributor in 2017, accounting for $1,645.4 million, and is estimated to reach $15,868.5 million by 2025, registering a CAGR of 32.7% during the forecast period. In 2017, Asia-Pacific accounted for the highest share in the global E-Axle market.
E-Axle is an electro-mechanical propulsion system equipped with axle structures, electric motor, power electronics, and transmission units. This device acts as a compact, cost-attractive electric drive solution for battery-electric vehicles and hybrid applications. Moreover, it is used in conjunction with a conventional ICE or hybrid powertrain. In addition, E-Axle also combines other several elements such as power inverter, and differential that allows neat packaging and simplified integration. In addition, with increase in economy of scale, electric axle is expected to become cheaper, more compact, and efficient. One of the major factors that driving the E-Axle market share is rising sales of electric & hybrid vehicles across the globe and increase in fuel cost.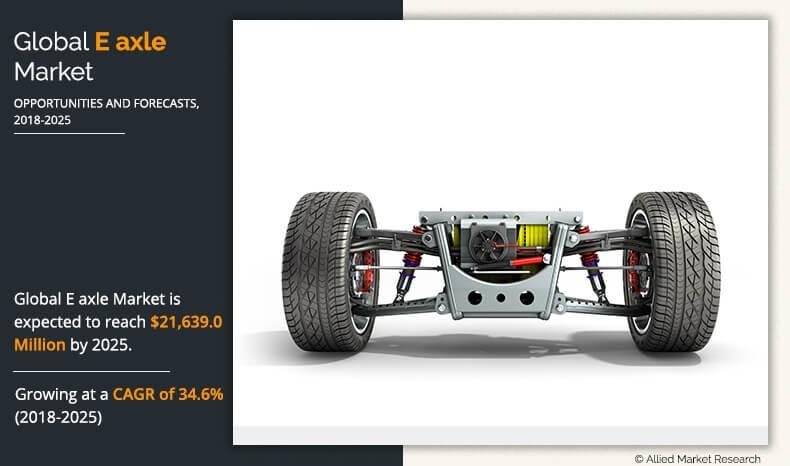 In addition, the growth of the E-Axle market is driven by rise in sale of electric & hybrid vehicles across the globe and increase in fuel costs. Moreover, rise in pollution, development of the automobile industry, and decrease in fossil fuel reserves have fueled the growth of the global market.
High cost of electric axle drive system is the key restraining factor of this market. Furthermore, increase in R&D activities for improvement in electric & hybrid vehicle, and upsurge in deployment of E-Axle in ICE vehicles are anticipated to offer lucrative opportunities for the E-Axle market expansion. Rise in the sale of electric vehicles globally is further expected to offer potential growth opportunities for the market. The E-Axle market forecasted from year 2018-2025 by considering all the driving factors that influence equally to the E-Axle market report.
The E-Axle market is segmented on the basis of drive type, component, and vehicle type. The E-Axle market trends are decided on the basis of forecast from 2018 to 2025. One of the major factors that is driving the growth of the E-Axle market is increase in electric vehicles sales and implementation of stringent emission norms. Furthermore, automotive manufacturers are shifting their focus to reduce the overall vehicle weight. Integrated components such as E-Axle help to reduce the vehicle weight and improve the vehicle performance, thus driving the market growth. The E-Axle market outlook includes the macroeconomic concerns such as the government support for the adoption of electric vehicles, rising interest rates among people and increase in sales of E-Axle and others.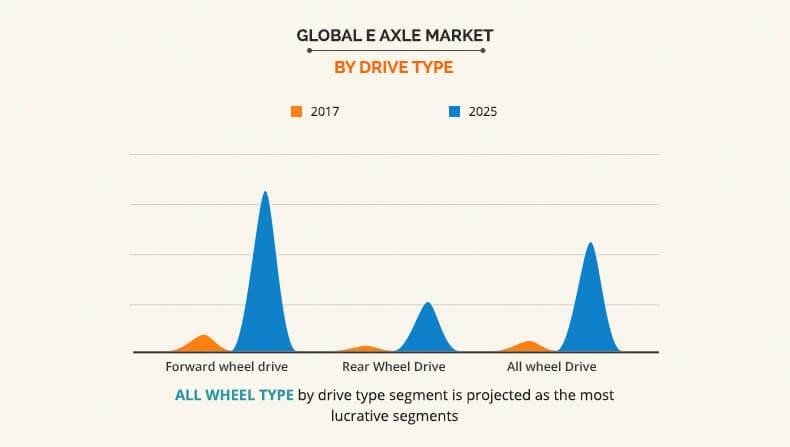 The key players operating in the E-Axle market include Robert Bosch GmbH, Nidec Corporation, ZF Friedrichshafen AG, GKN Plc, Schaeffler Technologies AG & Co. KG, Continental AG, Borgwarner Inc., AVL List GmbH, Axletech International, and Dana Limited.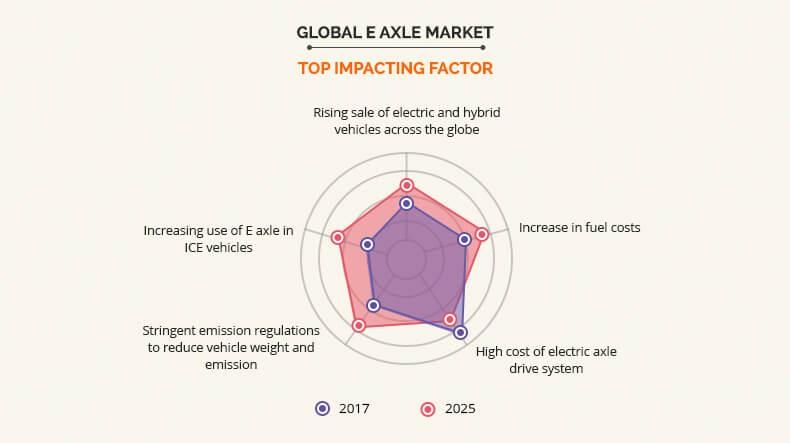 Rise in sale of electric & hybrid vehicles across the globe
The automotive environment is changing at a rapid pace due to globalization. Reducing emissions from electric vehicles is the key factor that contributes toward the growth of the global E-Axle market. In addition, the demand for electric vehicles is increasing at a significant rate, due to their enhanced fuel efficiency. Moreover, improvement in manufacturing facilities in most of the emerging countries such as China, India, and Brazil has boosted the sales of hybrid vehicles sales. According to World Economic Forum, in July 2017, the Government of UK announced the decision of discontinuing production of new petrol and diesel cars from the year 2040. This factor will not only boost the growth of electric car market but also drive the demand for electric automobile products used for manufacturing these cars, including electric axle. In addition, increase in demand for such vehicles in automotive sector fuels the growth to E-Axle industry.
Increase in fuel costs
Increase in fuel costs over the past decade has led to rise in adoption of electric vehicles as a mode of daily commute. Increase in fuel prices has led to surge in crude oil cost, which is majorly controlled by the OPEC countries. With presence of limited sources of crude oil globally, the prices are further expected to escalate in the future. Although gasoline prices have been increasing, electricity costs have been low in many countries such as China, Germany, and Denmark. Electric vehicles equipped with electric motors help in maintaining higher speed more effectively, reduce the overall weight, and increase efficiency. Hence, rise in consumer inclination toward electric and hybrid vehicles has fueled the growth of the E-Axle market.
High cost of electric axle drive system
Electric axle system is widely used in different types of vehicles such as passenger cars, light commercial vehicles, heavy commercial vehicles, and electric vehicles. The E-Axle unit is equipped with electronic motor, power electronic components, and different transmission units depending upon the system used in the vehicle. These parts are costlier, thereby increasing the overall price of electric axle drive system. High cost of E-axle system is in turn responsible for the hike in car prices. Hence, upsurge in adoption of electric axle in countries other than China is limited by high costs. Hence, it is anticipated that high cost associated with e-axle drive unit may inhibit the global E-Axle market growth. However, the electric vehicle market is growing at a rapid rate, which may reduce the impact of this restraint in the near future.
Stringent emission regulations to reduce vehicle weight and emission
Upsurge in demand for electric vehicles due to their lightweight nature and increased efficiency. This has led to surge in installation of e-axles in all type of vehicles. Moreover, such installation helps to reduce CO2 emissions and space required for engines. The conventional gas-powered vehicle makes use of an internal combustion engine to generate power. In an ideal scenario, the combustion system fully incinerates the fuel and only creates carbon dioxide and water as waste, however, the combustion system generates various greenhouse gases, leading to environmental pollution. On the other hand, an electric vehicle uses an electric motor powered via a continuous supply of current, hence, it does not lead to emission of pollutants. U.S., Germany, France, and China have implemented stringent government laws and regulations for vehicular emission, making it mandatory for the automobile manufacturers to use advanced technologies to combat & reduce emission and vehicle weight. Moreover, a program launched by the California Air Resources Board (CARB) includes guidelines for manufacturers to produce and deliver zero-emission vehicles (ZEVs), substantially creating a lucrative opportunity for the adoption of electric vehicles.
Key Benefits for E-Axle Market:
This study presents analytical depiction of the E-Axle market analysis along with the current trends and future estimations to depict the imminent investment pockets.
The overall E-Axle market potential is determined to understand the profitable trends to gain a stronger foothold.
The report presents information related to key drivers, restraints, and opportunities of the market with a detailed impact analysis.
The current E-Axle market size is quantitatively analyzed from 2018 to 2025 to benchmark the financial competency.
Porter's five forces analysis illustrates the potency of the buyers and suppliers in the E-Axle industry.
 E-Axle Market Report Highlights
Aspects
Details
By VEHICLE TYPE

ICE vehicles

Passenger vehicle
Commercial vehicle

Electric vehicle

By DRIVE TYPE

Forward Wheel Drive
Rear Wheel Drive
All wheel Drive

By COMPONENT TYPE

Combining Motors
Power Electronics
Transmission
Others

By Region

NORTH AMERICA (US, CANADA, MEXICO)
EUROPE (UK, GERMANY, FRANCE, ITALY, REST OF EUROPE)
ASIA-PACIFIC (CHINA, JAPAN, INDIA, AUSTRALIA, REST OF ASIA-PACIFIC)
LAMEA (LATIN AMERICA, MIDDLE EAST, AFRICA)

Key Market Players
Nidec Corporation, Dana Incorporated, Continental AG, Schaeffler Technologies AG & Co. KG, AVL List GmbH, Borgwarner Inc, Axletech International, Robert Bosch GmbH, GKN Plc, ZF Friedrichshafen AG