Electronic Prescribing (E-prescribing) Market Statistics - 2026
The e-prescribing market size was valued at $885.6 million in 2018, and is projected to reach $4,152.7 million by 2026, growing at a CAGR of 21.4% from 2019 to 2026. E-prescribing is an application that sends patients or end users prescriptions electronically from their computer to chosen pharmacies. The primary goal of e-prescribing models in an EHR or HIT systems are efficient transmission and receipt of complete, accurate, and unambiguous prescription orders that help optimize pharmacy processing and fulfillment, thereby eliminating disruptions in workflow and delays in patient care. 
Electronic Prescribing (E-prescribing) solutions are widely adopted among healthcare industry due to its benefits such as improved patient safety, fewer medication errors due to handwritten prescriptions, fewer medication errors due to misunderstood phoned-in prescriptions, and less risk of lost or misplaced written prescriptions. This in turn is expected to boost growth of the global e-prescribing market during the forecast period.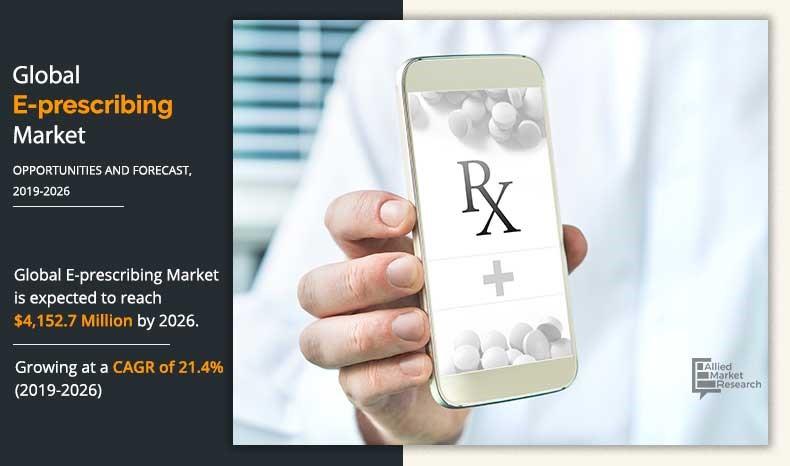 The hospital segment registered high revenue growth in 2018 among all the segments in the global e-prescribing market and is expected to continue this trend over the coming years. This is attributed to rise in adoption of electronic prescribing and medication administration systems with benefits such as accurate communication among healthcare professional and reduced adverse drug events, medication errors, and healthcare costs.
E-Prescribing Market

---
By Component
Solutions is projected as one of the most lucrative segments.
North America has garnered high revenue share due to high adoption of e-prescription integrated systems and increase in adoption toward advanced healthcare technology products. This is a major factor to drive the growth of the e-prescribing market forecast. Moreover, as individuals in the region are inclining toward patient-centric solutions, the adoption of e-prescribing is helping physicians in the region to provide exquisite experience without the need to invest in time for visiting the hospital in non-emergence situations. Whereas, the ambulatory care institutes in the region have adopted e-prescribing solutions at a significant rate due to favorable government initiative toward public safety. Aforementioned are factors that support the e-prescribing market growth in the North America region. 
E-Prescribing Market

---
By Deployment
Web and Cloud-based is projected as one of the most significant segments.
The report focuses on the growth prospects, restraints, and market analysis. The study provides Porter's five forces analysis of the e-prescribing industry to understand the impact of various factors such as bargaining power of suppliers, competitive intensity of competitors, threat of new entrants, threat of substitutes, and bargaining power of buyers on the electronic prescribing market.
E-Prescribing Market

---
By Application
Hospitals is projected as one of the most significant segments.
Segment review
The e-prescribing market segmentation is based on component, deployment, end user, and region. By component, it is categorized into solutions and services. On the basis of deployment, it is divided on-premise and cloud. Depending on end user, it is classified into hospitals, office-based physicians, and pharmaceuticals. By region, the market is analyzed across North America, Europe, Asia-Pacific, and LAMEA.
E-Prescribing Market

---
By Region
Asia-Pacific would exhibit the highest CAGR of 24.3% during 2019-2026.
Key players operating in the global e-prescribing market analysis include Allscripts Healthcare, LLC, Athenahealth, Inc., Cerner Corporation, Change Healthcare, DrFirst.com, Inc., eClinicalWorks, Epic Systems Corporation, Medical Information Technology, Inc., Practice Fusion, Inc., and Surescripts.
Top impacting factors    
The global e-prescribing market is influenced by several factors among which favorable government initiatives and incentive programs have gained high traction and has significantly impacted the growth of the market. Moreover, rise in focus on the reduction of fraud and abuse of controlled substances among healthcare institutions and need to curtail escalating healthcare costs are among some of the major factors to drive growth of the market in the coming years. However, concerns associated with electronic health record (EHR) data security and complex workflow issues associated with integration e-prescribing into existing systems are factors that restrain the market growth to a certain extent. Furthermore, Asia-Pacific countries are expected to garner high adoption rate of e-prescribing owing to on-going healthcare infrastructure development activities, which supports technological advancements in the existing systems, 
Government initiatives and incentive programs
Initial government initiatives were primarily focused on the integration of technology into healthcare sector to ease patient waiting time and service delivery. Advent of technological transformation in healthcare shifted this focus towards standardizing the fragmented technological advance approaches among which development of standards for e-prescribing systems and implementation gained high momentum from the past decade. Aforementioned is a factor that drive the e-prescribing market trends during the forecast period. For example, in 2011, the U.S. Centers for Medicare & Medicaid Services established the Medicare and Medicaid EHR Incentive Programs, which encouraged eligible hospitals & critical access hospitals, and clinicians to implement, upgrade (AIU), demonstrate, and adopt the advance Certified EHR Technology (CEHRT).
Rise in focus on the reduction of fraud and abuse of controlled substances
E-prescribing solutions haves been evaluated to have the potential to improve efficiency by streamlining clinical practice workflow throughout the healthcare systems. In addition, these systems have also advanced to improve patient satisfaction with digital care by reducing wait-time at the pharmacy, improved patient compliance, and reduced the cost of medication to patients by automatically recommending cost-effective generics and preferred formulations. Aforementioned features are key indicators that haves supported the growth of the market and is expected to further garner high revenue growth in the coming years
Key Benefits for Stakeholders:
This study includes the e-prescribing market opportunity, analysis, trends, and future estimations to determine the imminent investment pockets.
The report presents information related to key drivers, restraints, and opportunities of the e-prescribing industry.
The e-prescribing market share is quantitatively analyzed from 2018 to 2026 to highlight the financial competency of the industry.
Porter's five forces analysis illustrates the potency of the buyers & suppliers in the e-prescribing market.
 E-Prescribing Market Report Highlights
Aspects
Details
By Component
BY DEPLOYMENT

WEB & CLOUD-BASED
ON-PREMISE

By End User

Hospitals
Office-based Physicians
Pharmaceuticals

By Region

North America (U.S., Canada)
Europe (Germany, UK, France, Rest of Europe)
Asia-Pacific (Japan, China, India, Rest of Asia-Pacific)
LAMEA (Latin America, Middle East, Africa)

Key Market Players
ALLSCRIPTS HEALTHCARE SOLUTIONS, INC., ATHENAHEALTH, INC., CERNER CORPORATION, CHANGE HEALTHCARE, DRFIRST, ECLINICALWORKS, EPIC SYSTEMS CORPORATION, MEDICAL INFORMATION TECHNOLOGY, INC., PRACTICE FUSION, INC., SURESCRIPTS