Earthing Equipment Market Overview:
The Global Earthing Equipment Market is expected to reach $7,140.2 million by 2025, from $4,542.3 million in 2017, growing at a CAGR of 5.8% from 2018 to 2025.
Earthing is the process of transferring the  electricity directly to the earth plate, by means of low resistance electrical cables. Earthing system or grounding system connects parts of installation with the conductive surface of the earth for functional purposes and safety. Earthing equipment are protective devices that include fuses and residual current devices. They are used to decrease the risk of electric shock from current leaking from uninsulated metal parts of electrical devices and others. The earthing equipment include insulated operating rods, pruning heads, clamp sticks, specialist application heads, low voltage earthing kits, earth clamp application heads, and operating rod bags. Government rregulations and policies are identify for earthing in commercial building, residential areas, and industrial plants. Regulations for earthing equipment's may vary considerably among countries, many follow the recommendations of the International Electrotechnical Commission.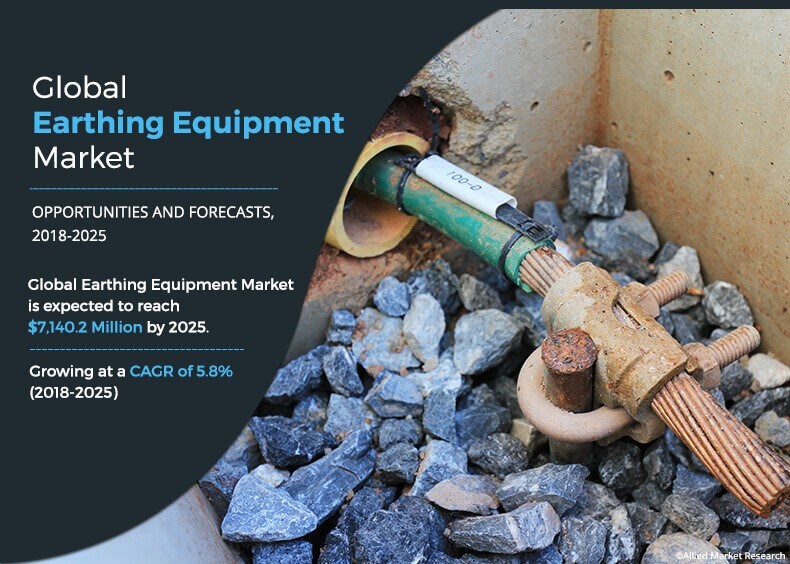 Earthing Equipment Market analysis indicates various factors such as demand for turnkey, expansion of construction industry, and earthing solution increase in demand for electricity owing to growth in industrial and residential sectors, to help the earthing equipment market growth. However, fluctuating cost of raw materials and absence of standards for product design hampers the market growth. Competitor companies use number of measures such as resistant earthing systems, to protect from the threats of copper theft. Furthermore, earthing equipment market opportunities is attributed through government mandates for earthing systems, and continuous launch of new and improved technologies to provide lucrative growth chances for earthing equipment market globally. The earthing equipment market application in modern structure or system for operational and safety reasons will help the market to attain substantial growth in the coming years.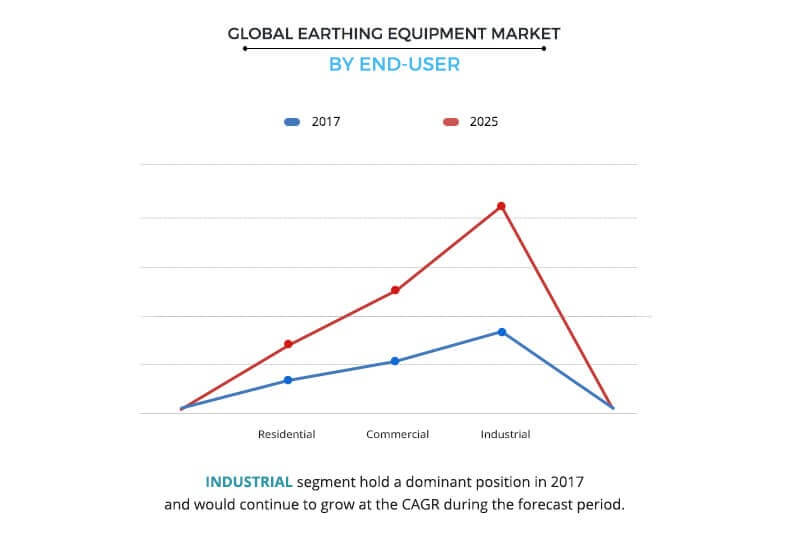 The earthing equipment industry segment is anticipated to grow at the highest CAGR during the forecast period, owing to increase in industrialization across the region  for business. Warehouses and manufacturing plants are rising with increase in business expansion across the globe. The industrial end user is excepted to acquire highest market size and market share to support the growing earthing equipment market trends. Moreover, expansion of industrial sector in countries such as India, and china will  boost the growth of earthing equipment market in the industrial sector. The earthing equipment market is segmented based on product, end user, and region. Based on product, the market is divided into MS flat, CI flat, and GI wire. By end user, it is categorized into residential, commercial, and industrial. Based on region, the market is analyzed across North America, Europe, Asia-Pacific, and LAMEA.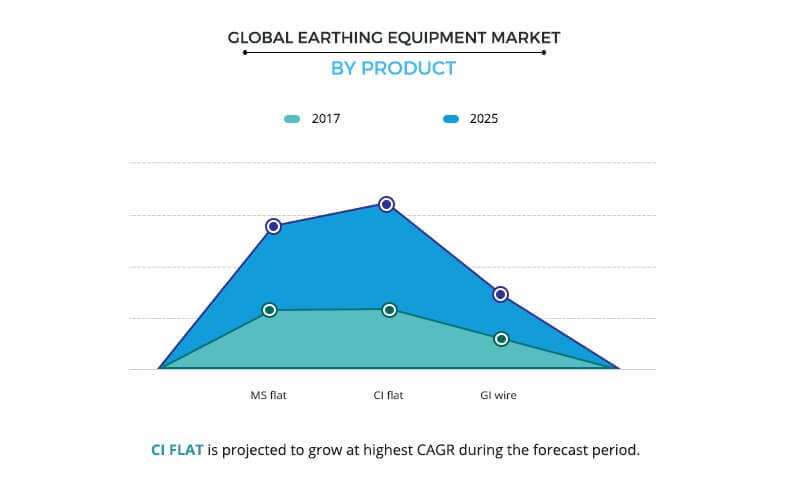 In terms of revenue, the CI flat segment held highest market size in the global earthing equipment market in 2017 and is projected to grow at the highest CAGR during the earthing equipment Market forecast period. Rise in number of construction projects for metro, railways, and manufacturing plants is expected to boost the growth of the earthing equipment market. North America accounted for the highest market share in the earthing equipment segment,  due to growing mining activities in the region. Moreover, use of earthing equipment ensures the safety mandates laid by government for all sectors to boost the earthing equipment market.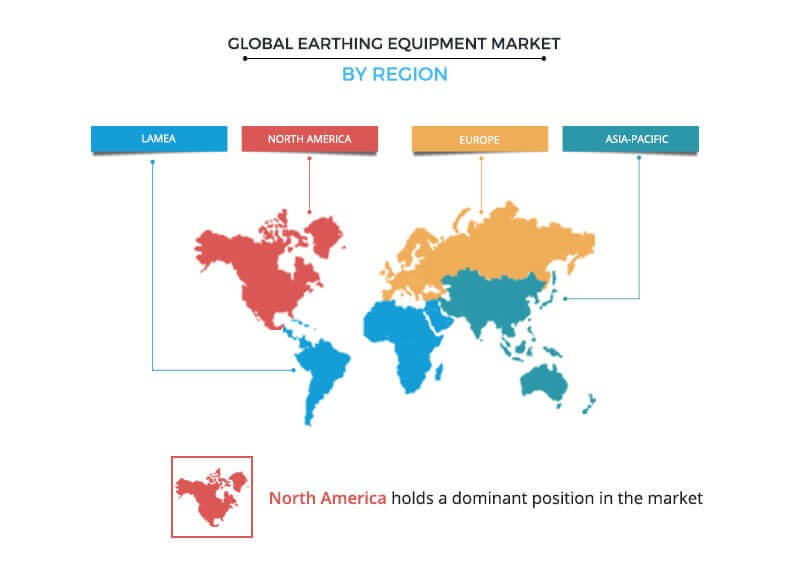 Region wise, the earthing equipment market is analyzed across North America, Europe, Asia Pacific, and LAMEA. The earthing equipment market size analysis for the 2017, showcases North America as the dominant region throughout the forecast period. However, Asia-Pacific is expected to emerge as a lucrative market with maximum growth potential, followed by LAMEA. Moreover, earthing equipment market share is highest for North America region, and is expected to grow at significant CAGR, owing to increase in demand for technologically advance electrical equipment, which necessitates the need for earthing equipment U.S. is the major shareholder among other countries, due to higher electricity consumption and presence of developed residential commercial & industrial sectors
Competition Analysis
The report contains profiles of key players, such as ABB, Alstom, Crompton Greaves, Eaton, Emerson Electric, GE, Harger Lightning & Grounding, Schneider Electric, Kingsmill Industries UK Ltd, and Toshiba.
Key Benefits for Earthing Equipment Market:
The report provides an extensive analysis of the current as well as emerging trends and dynamics in the global earthing equipment market.
An in-depth analysis is conducted by constructing market estimations for the key market segments between 2018 and 2025.
An extensive analysis is conducted by following key product positioning and monitoring the top competitors within the market framework.
A comprehensive analysis of all regions is provided to determine the prevailing opportunities across various geographies.
The key market players are profiled, and their strategies are analyzed thoroughly, which help understand the competitive outlook of the market.
Earthing Equipment Key Market Segments:
By Product
By End User
Residential
Commercial
Industrial
By Region
North America
Europe

UK
Germany
France
Italy
Rest of Europe

Asia-Pacific

China
Japan
India
South Korea
Rest of Asia-Pacific

LAMEA

Latin America
Middle East
Africa
Key Market Players Profiled in the Report
ABB
Alstom
Crompton Greaves
Eaton
Emerson Electric
GE
Harger Lightning & Grounding
Schneider Electric
Kingsmill Industries UK Ltd
Toshiba