Potential Analysis of Ebola drug and Vaccines Market Overview:
Ebola virus disease (EVD), also known as Ebola hemorrhagic fever (EHF), results from Ebola virus and three other closely related viruses in the genes (group of related viruses) of ebola virus. Initial symptoms of this disease include sore throat, headaches, fever and muscles pain. It causes hemorrhagic fever that leads to internal or external bleeding. EVD is widely prevalent in Central and Western Africa, and near tropical rainforests. Due to high mortality rate and unavailability of effective treatments, the pharmaceutical companies have big opportunities to explore. Tekmira Pharmaceuticals, BioCryst Pharmaceutical Inc., Serepata Therapeutics, NewLink Genetics and Mapp Biopharmaceutical are some of the leading companies focusing on research activities to develop efficacious medicine for EVD. Additionally, the governments in the developed countries have also taken formidable steps to support the research activities for the development of EVD therapeutics by providing funding and floating favorable policies. As an example, Tekmira Pharmaceuticals has received fast-track designation from U.S. food and drug administration for their anti-ebola therapeutic TKM-ebola. In 2012, Sarepta Therapeutics had also received fast track designation for AVI-7537, a lead drug candidate for EVD. Both these companies are developing their anti-ebola products under the contract of the U.S. department of defense (DoD).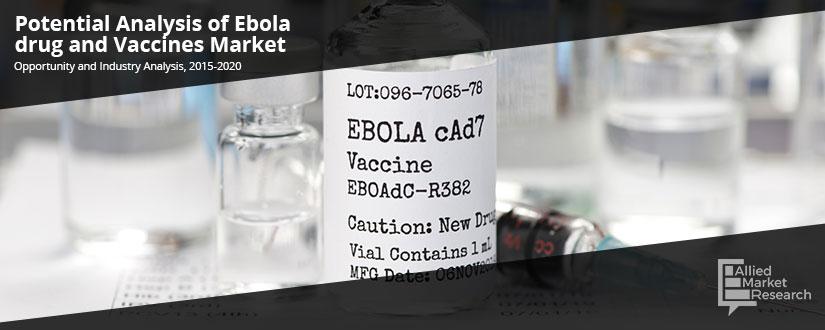 Ebola therapeutics and vaccines market is segmented on the basis of geography into North America, Europe, Asia-pacific and LAMEA. EVD is rampant in LAMEA regions, specifically in African countries. This is a positive sign for pharmaceutical companies, portraying a highly lucrative market in the future. Earlier, US government did not have any regulations for EVD therapeutics due to negligible incidences of this disease in developed economies. However, preference of African people to migrate to developed economies rather than developing economies has cautioned the governments in the developed economies, leading to formulate regulations in order to curb the spread of this disease.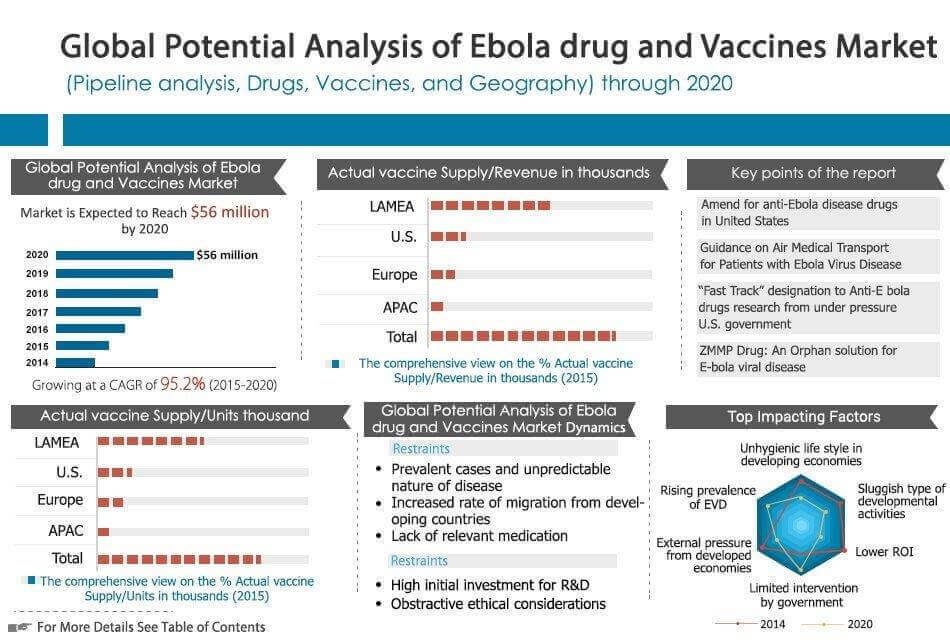 Key Benefits
This report offers the following benefits in particular:
To track commercial trends, major clinical trials and their status are pursued of closely
The report sheds light on the key events held in past years concerning the development of ebola viral disease therapeutics
Pin-point analysis of geographic segments helps to identify opportunities for growth within the ebola therapeutics and vaccines market
Porters Five Forces analysis examines the competitive structure of the ebola therapeutics and vaccines market and would assist market strategists in their respective decision making process
In-depth coverage of the ebola therapeutics and vaccines market including drivers, restraints and opportunities would help professionals to better understand market behavior
Detailed study of the strategies of key leaders, partnerships and acquisitions in the ebola therapeutics and vaccines market would be informative for professionals in corporate sector
 Global Potential Analysis of Ebola drug and Vaccines Market Report Highlights
Aspects
Details
BY GEOGRAPHY

North America
Europe
Asia Pacific
LAMEA

Key Market Players
Tekmira Pharmaceuticals, BioCryst Pharmaceutical Inc., Serepata Therapeutics, NewLink Genetics Corp., Mapp Biopharmaceutical