Eco-friendly Tiles Market Overview:
Eco-friendly Tiles Market was valued at $17,160 million in 2016, and is projected to reach at $37,753 million by 2023, growing at a CAGR of 11.9% from 2017 to 2023. Tile industry witnesses an increase in the use of recyclable materials for the manufacture of eco-friendly tiles.
These tiles have been a part of green or sustainable chemistry in last decade owing to stringent environmental regulations, growth in popularity of green building standards, and rise in consumer awareness for sustainable products. Eco-friendly tiles have been widely used across the world due to its better durability and low maintenance as compared to traditional tiles.
Environmental issues being one of the hot topic around the world, eco-friendly tiles help to reduce impact on environment as there is less energy consumed in the manufacturing of the eco-friendly tiles. Moreover, use of solar power and wind power in manufacturing process of eco-friendly tiles has further minimized the adverse effect on the environment.
Environmental awareness and stringent environmental regulations imposed by government bodies drive the eco-friendly tiles market. Moreover, growth in number of end-user industries due the durability and low maintenance of the eco-friendly tiles fuels the market. However, the high cost of eco-friendly tiles restrains the market growth. Use of renewable source of energy in powering the equipment that is used in the production of eco-friendly tiles has led to large production of tiles with minimal damage to the nature. This large production increases the opportunity for future market growth.
Segment Review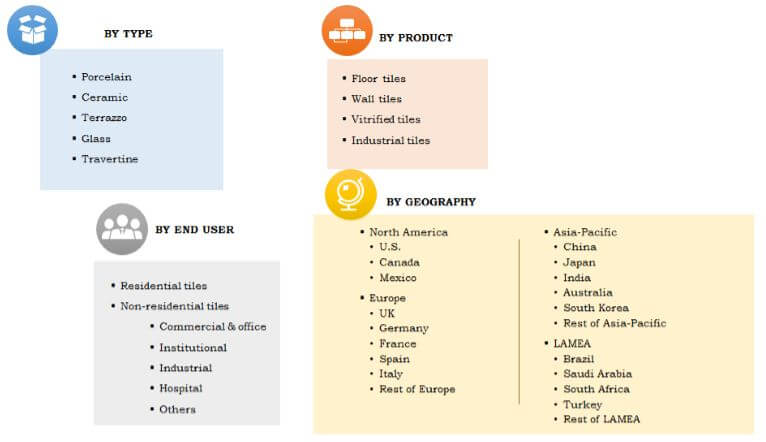 The market is segmented on the basis of type, product type, end user, and geography. By type, the market is categorized into porcelain, ceramic, terrazzo, glass, and travertine. By product type, the market is divided into floor tiles, wall tiles, vitrified tiles, and industrial tiles. Based on end user, it is bifurcated into residential tiles and non-residential tiles (commercial & office, institutional, industrial, hospitality, and others). By geography, it is analyzed across North America, Europe, Asia-Pacific, and LAMEA.
Top Investment Pocket, by Application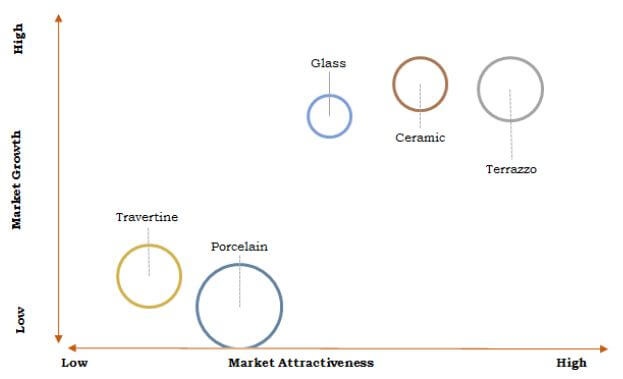 Eco-Friendly Tiles Market, by Geography
Asia-Pacific dominated the global eco-friendly market occupying nearly one-third share in 2016, registering a CAGR of around 12.4% during the forecast period. Europe has witnessed the CAGR of 11.8% and the second highest share in the global market, owing to growth in infrastructural activities and economy.
Japan Eco-friendly Tiles Market, 2016-2023 ($Million)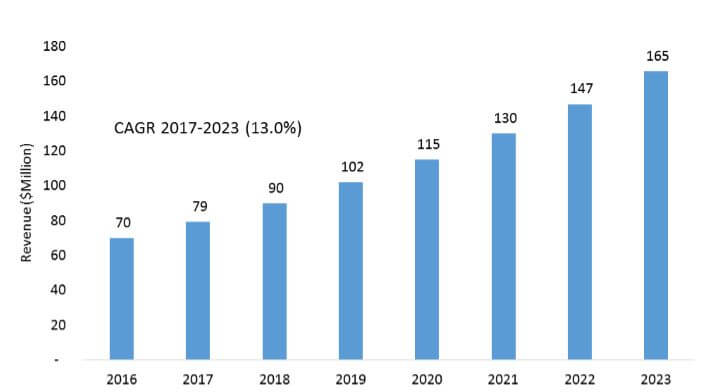 The key players operating in the eco-friendly industry are Ann sacks Tile & Stone Inc., Arizona Tile, Bedrosians Tile & Stone, Marazzi Group S.r.l, Villagio Tile & Stone, Dal-Tile Corporation, Wausau Tile, Inc., Terra Green Ceramics Inc, Enviroglas, and Crossville Inc.
Other players in the value chain include Ceramiche Refin S.P.A., Johnson Tiles, Centura, Division Iris Ceramica, Florim Ceramiche S.P.A, EMILCERAMICA Srl, Vitromex, Florida tile, Del Conca USA, and Nemo Tile Company Inc.
Key Benefits
This report provides an extensive analysis of the current trends, emerging estimations, and dynamics of the global eco-friendly tiles market from 2017 to 2023.
Comprehensive analysis of factors that drive and restrict the growth of the market is provided.
Detailed analysis of the industry based on the type and application explains the trending product type and potential applications.
Porters Five Forces analysis highlights the potency of buyers & suppliers to enable stakeholders to make profit-oriented business decisions and strengthen their supplier-buyer network.
Extensive analysis of the market is conducted by following key product positioning and monitoring of the top players within the market framework.
Eco-friendly Tiles Market Key Segments:
By Type
Porcelain
Ceramic
Terrazzo
Glass
Travertine
By Product
Floor Tiles
Wall Tiles
Vitrified Tiles
Industrial Tiles
By End-User
Residential Tiles
Non-Residential Tiles

Commercial & Office
Institutional
Industrial
Hospitality
Others
By Region
North America
Europe

UK
Germany
France
Spain
Italy
Rest of Europe

Asia-Pacific

China
Japan
India
South Korea
Australia
Rest of Asia-Pacific

LAMEA

Brazil
South Africa
Turkey
Saudi Arabia
Rest of LAMEA
 Eco-Friendly Tiles Market Report Highlights
Aspects
Details
By TYPE

PORCELAIN
CERAMIC
TERRAZZO
GLASS
TRAVERTINE

By PRODUCT

FLOOR TILES
WALL TILES
VITRIFIED TILES
INDUSTRIAL TILES

By END USER

RESIDENTIAL TILES
RESIDENTIAL TILES

Commercial & Office
Institutional
Industrial
Hospitality
Others

By GEOGRAPHY

North America
Europe

France
Germany
Italy
Spain
UK
Russia
Rest of Europe

Asia-Pacific

China
Japan
India
South Korea
Australia
Thailand
Malaysia
Indonesia
Rest of Asia-Pacific

LAMEA

Brazil
South Africa
Saudi Arabia
UAE
Argentina
Rest of LAMEA

Key Market Players
ARIZONA TILE, DAL-TILE CORPORATION, VILLAGIO TILE & STONE, BEDROSIANS TILE & STONE, WAUSAU TILE, INC, MARAZZI GROUP S.R.L, CROSSVILLE INC., ENVIROGLAS, TERRA GREEN CERAMICS INC, ANN SACKS TILE & STONE INC.