Eggshell Membrane Market Research, 2032
The global eggshell membrane market size was valued at $3.8 billion in 2022, and is projected to reach $8.4 billion by 2032, growing at a CAGR of 8.9% from 2023 to 2032. The eggshell membrane refers to the thin, defensive layer that lines the inside of an eggshell. It is placed between the eggshell and the egg white (albumen). The eggshell membrane is composed of fibrous proteins, consisting of collagen, elastin, and different glycoproteins. The eggshell membrane serves numerous necessary functions for the developing embryo inside the egg. It acts as a barrier, defending the embryo from potential microbial contamination and providing mechanical support.
The COVID-19 pandemic has had a significant effect on the eggshell membrane market. Global supply chains of eggshell membrane goods have been affected by lockdowns, travel restrictions, and social distancing tactics. International trade restrictions, border closures, and restricted transit capacity generated delays and raised logistics costs. Eggshell membrane output fell as a result of the poultry industry's lockdown procedures and restrictions. Farms and processing plants encountered difficulties in maintaining operations, resulting in a reduced supply of eggshell membranes.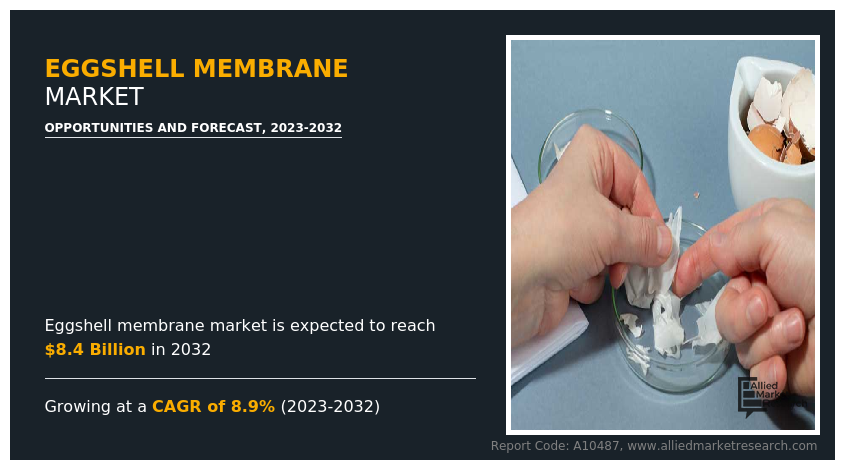 The eggshell membrane has gained interest for its potential fitness advantages when used as a dietary supplement. It is rich in proteins, amino acids, and other compounds that have beneficial effects on joint health, skin health, and usual wellness. Eggshell membrane supplements are often marketed for their potential to aid joint comfort, flexibility, and mobility.
The market for eggshell membranes is influenced by the increasing demand for herbal and organic ingredients. The demand for herbal and natural substances has been increasing across a range of industries, such as food and cosmetics. This trend is driven by consumers' growing preference for products that are perceived as healthier, environmentally friendly, and free from synthetic chemicals. Eggshell membrane is one such natural ingredient that has won attention due to its useful properties. Eggshell membrane is rich in collagen, elastin, hyaluronic acid, glycosaminoglycans, and different proteins, which are regarded to have positive results on the skin, joints, and basic health.
In the cosmetics industry, the eggshell membrane is used in skincare products such as moisturizers, serums, and eye creams. It is believed to enhance skin elasticity, limit wrinkles, and promote a youthful appearance. The collagen and elastin in the eggshell membrane can make contributions to the production of these proteins in the skin, mainly to improve firmness and elasticity. In the food industry, eggshell membranes can be used as a natural source of collagen and other nutrients. It is frequently processed into dietary supplements or introduced to meals to promote joint health. These are the major factors anticipated to boost the eggshell membrane market size during the forecast period.
The availability of eggshell membranes depends on the production of eggs, which can be influenced by several factors such as seasonal variations, disease outbreaks, and changes in consumer demand. Limited availability may additionally prevent the overall provision of eggshell membranes for business use. Disease outbreaks among poultry can appreciably have an effect on egg manufacturing and affect the availability of eggshell membranes. Outbreaks such as avian influenza or other viral infections may additionally lead to decreased egg manufacturing or even culling of infected birds, similarly, reducing the provision of eggshell membranes.
Eggs have more than a few functions in the food industry, along with consumption as meal products, ingredient usage, and processing into other egg-based products. The demand for eggs in these sectors can sometimes overshadow the demand for eggshell membranes, leading to restrained availability as more eggs are utilized for other purposes, which is anticipated to hamper the eggshell membrane market growth in the upcoming years.
The eggshell membrane is gaining attention due to its composition of proteins, collagen, and a variety of imperative nutrients. These aspects have proven potential advantages in helping joint health, decreasing joint pain, and enhancing flexibility. Furthermore, eggshell membranes are also a good source of proteins, essential amino acids, minerals (calcium, magnesium, and phosphorus), and other nutrients. These nutritional components make eggshell membranes a valuable ingredient for the development of dietary supplements and functional food products. This growing client demand creates a favorable market environment for nutraceuticals and dietary supplements incorporating eggshell membranes. It is a sustainable and convenient supply of nutrients, as it is a byproduct of the egg industry. By making use of eggshell membranes, manufacturers can make efficient use of resources and decrease waste.
Eggshell membranes are obtained as a by product of the egg industry, making them a sustainable and environmentally friendly ingredient. Consumers are increasingly seeking natural and sustainable products, which further enhances the market potential for eggshell membrane-based nutraceuticals and dietary supplements. The market has ample possibilities for d innovation as companies continue to improve products that cater to the increasing demand for herbal and effective options for joint health.
The key players profiled in this report include Stratum Nutrition (U.S.), Biova LLC (U.S.), Microcore Research Laboratories (India), Ecovatec Solutions (Canada), Eggnovo SL (Spain), Kewpie Corporation (Japan), Eggbrane (Netherlands), Certified Nutraceuticals Inc. (U.S.), Bolise Co., Ltd. (China), Mitushi Biopharma (India). For instance, in March 2020, Stratum Nutrition (US) entered into a distribution agreement with 3i Solutions (US) to expand its consumer base in its human nutrition segment.
The eggshell membrane industry is segmented on the basis of type, application, and region. By type, the market is sub-segmented into hydrolyzed and unhydrolyzed. By application, the market is classified into pharmaceuticals, personal care & cosmetics, food & beverages, nutraceuticals, and others. By region, the market is analyzed across North America, Europe, Asia-Pacific, and LAMEA.
The eggshell membrane market is segmented into Type and Application.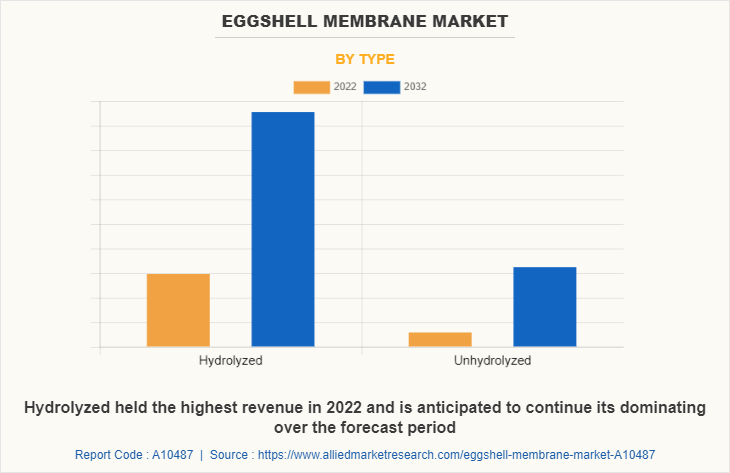 By type, the hydrolyzed sub-segment dominated the global eggshell membrane market share in 2022. increasing demand for natural and functional ingredients in various industries, such as cosmetics, pharmaceuticals, and food supplements is predicted to drive segment growth. Furthermore, the presence of substantial producers of the hydrolyzed form is aiding market growth. Hydrolyzed eggshell membrane is known for its potential health benefits. It is a rich source of collagen, hyaluronic acid, chondroitin sulfate, and other essential nutrients. These components have been associated with joint health, skin rejuvenation, and overall well-being, driving the demand for products containing hydrolyzed eggshell membrane.
The hydrolyzed eggshell membrane contains a variety of bioactive substances that influence the physiology and appearance of the skin, nails, and hair. Because both the supply and demand sides show a strong preference for the hydrolyzed variety, the hydrolyzed sector is likely to dominate the eggshell membrane market forecast period.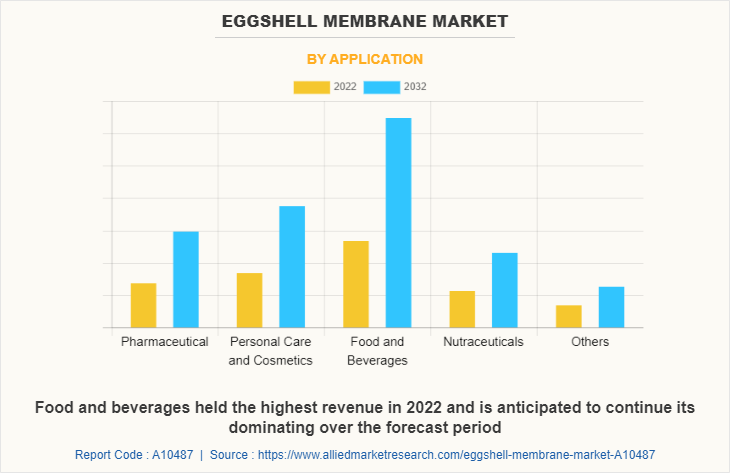 By application, the food & beverages sub-segment dominated the global eggshell membrane market share in 2022. The product's use as a source of dietary calcium in food and beverage applications is gaining traction as food and beverage makers shift their efforts to a naturally sourced component that guarantees great value in return. The increased use of cosmetic and nutraceutical products has resulted in improved skin nourishing and the prevention of human joint health-related disorders, which is anticipated to be a significant driver.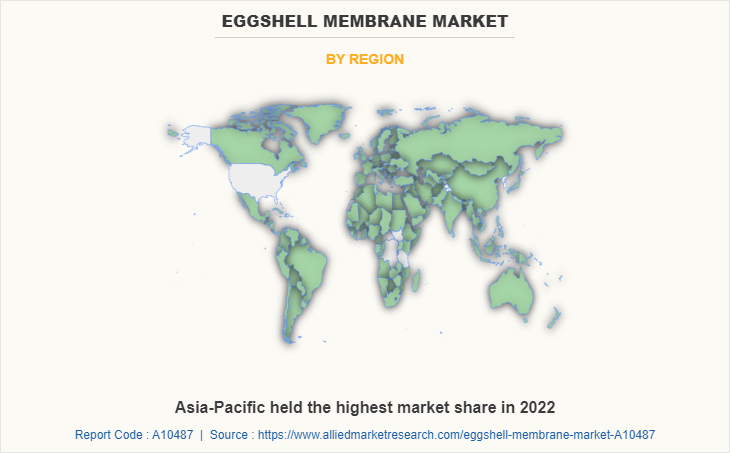 By region, Asia-pacific dominated the global market in 2022 and is projected to be the fastest-growing sub-segment during the forecast period. The rising concentration of eggshell membrane manufacturing businesses in this region is one of the key factors boosting market expansion in the Asia-Pacific region. Furthermore, egg production remains high throughout regions, resulting in lower costs for obtaining raw materials to separate the membrane. As a result, technological improvements and the availability of abundant raw materials have driven manufacturers to make and provide eggshell membranes to various industries at a competitive price, giving them a competitive advantage over their counterparts in other regions.
Furthermore, the increased awareness of the benefits of eggshell membranes in food and beverage, nutraceuticals, and cosmetic and personal care applications is expected to drive demand for eggshell membrane, resulting in high exports from this region's surplus production of eggshell membranes.
Impact of COVID-19 on the Global Eggshell Membrane Industry
 COVID-19 caused disruptions in transportation and logistics, which affected the sourcing and distribution of eggshell membrane products. Lockdowns, travel restrictions, and reduced workforce availability impacted the ability to collect and process eggshell membranes.
 The pandemic affected consumer behavior, with changes in spending patterns and priorities. The demand for nutraceutical and cosmetic products was affected by reduced disposable incomes, shifts in consumer preferences, and changing market dynamics. This influenced the demand for eggshell membrane-based products.
 Manufacturing facilities worldwide faced operational challenges due to social distancing measures and workforce restrictions. This affected the production capacity of eggshell membrane-derived products, leading to delays or shortages.
 The COVID-19 pandemic accelerated the shift towards e-commerce as people sought to minimize physical interactions. This trend influenced the distribution and sales channels for eggshell membrane products, with a greater emphasis on online retail platforms.
Key Benefits For Stakeholders
This report provides a quantitative analysis of the market segments, current trends, estimations, and dynamics of the eggshell membrane market analysis from 2022 to 2032 to identify the prevailing eggshell membrane market opportunity.
The market research is offered along with information related to key drivers, restraints, and opportunities.
Porter's five forces analysis highlights the potency of buyers and suppliers to enable stakeholders make profit-oriented business decisions and strengthen their supplier-buyer network.
In-depth analysis of the eggshell membrane market segmentation assists to determine the prevailing market opportunities.
Major countries in each region are mapped according to their revenue contribution to the global market.
Market player positioning facilitates benchmarking and provides a clear understanding of the present position of the market players.
The report includes the analysis of the regional as well as global eggshell membrane market trends, key players, market segments, application areas, and market growth strategies.
 Eggshell Membrane Market Report Highlights
Aspects
Details
Market Size By 2032
USD 8.4 billion
Growth Rate
CAGR of 8.9%
Forecast period
2022 - 2032
Report Pages
280
By Type
By Application

Pharmaceutical
Personal Care and Cosmetics
Food and Beverages
Nutraceuticals
Others

By Region

North America (U.S., Canda, Mexico)
Europe (Germany, UK, France, Spain, Italy, Rest of Europe)
Asia-Pacific (China, Japan, India, South Korea, Australia, Rest of Asia-Pacific)
LAMEA (Brazil, Saudi Arabia, United Arab Emirates, South Africa, Rest of LAMEA)

Key Market Players
Eggnovo SL, Certified Nutraceuticals Inc., Kewpie Corporation, Eggbrane, Microcore Research Laboratories, Biova LLC, Stratum Nutrition,, Mitushi Biopharma, Ecovatec Solutions, Bolise Co., Ltd.