The global electric bus charging infrastructure market was valued at $1.9 billion in 2021, and is projected to reach $18.8 billion by 2030, growing at a CAGR of 30.9% from 2022 to 2030. Electric bus is creating, implementing, and supporting charging solutions for various fleet kinds. These infrastructures are offered as public charging stations, customer subscription plans, and utility grid management technologies for electric utility firms to level out the system's electric demands. This electric bus charging systems connect the plug-in electric vehicle and electric vehicle to an electrical outlet in order to charge the vehicle's battery. In addition, a number of automakers and electric component producers are working together to develop enhanced electric car charging systems in order to meet the growing demand for electric vehicles.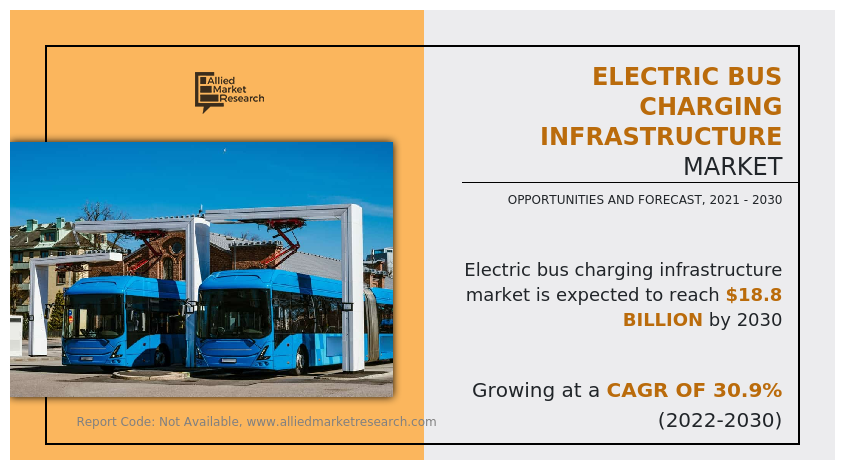 Governments in several nations are taking steps to encourage the use of electric bus to reduce the fuel consumption and minimize greenhouse gas emissions. For example, India has launched FAME phase 2 which will encourage the faster adoption of hybrid and electric vehicles by developing necessary infrastructure for electric vehicles. According to this, incentives would be provided to stimulate local electric vehicle manufacturers. As a result, such government measures are projected to propel the electric bus and electric vehicle charging systems markets share in the coming years.
Lack of consumer understanding, high infrastructure costs, pressure from vehicle & oil companies additionally, negative impact of the COVID-19 pandemic are some of the major factors restraining the global electric vehicles acceptance and infrastructure installation.
EV charging solution suppliers are working on developing more innovative and dependable e-mobility charging solutions that contribute to the creation of a digital world that connects automobiles, buildings, and utilities. To serve electric vehicles' present and future needs, compact EV charging systems that provide faster and on-demand charging as well as robust connectivity are required. The government has prioritized these nine megacities at first (with population of over 4 million). The government's strong efforts through various implementing agencies have resulted in a significant increase in the deployment of public EV charging infrastructure. Between October 2021 and January 2022, 678 public EV charging cha were installed in these 9 cities, which is almost 2.5 times the previous figures, and approximately 1.8 lacs new electric vehicles were purchased during the same period. This has increased customer confidence in the transition to electric mobility. These factors supplementing the growth of the market during the analysis timeframe.
The industry players are investing a lot in research and development of smart and unique strategies to sustain their growth in the market. These strategies include product launches, mergers & acquisitions, collaborations, partnerships, and refurbishing of existing technology. For instance, in June 2022, ABB E-mobility Company launched its largest DC fast charger production site in Italy. It has strengthened its position as the market leader in EV charging solutions with the opening of the E-mobility Centre of Excellence in Valdarno, Tuscany. It is the company's largest DC fast charger production site.
The global electric bus charging infrastructure market is segmented on the basis of platform, charging type, and region. By platform, the market is sub-segmented into coal, natural gas, and others. By charging type, the market is classified into automotive, construction, electronics, appliances, paints & coatings, insulation, pharmaceuticals, packaging, and others. By region, the market is analyzed across North America, Europe, Asia-Pacific, and LAMEA.
The electric bus charging infrastructure market is segmented into Platform and Charging Type.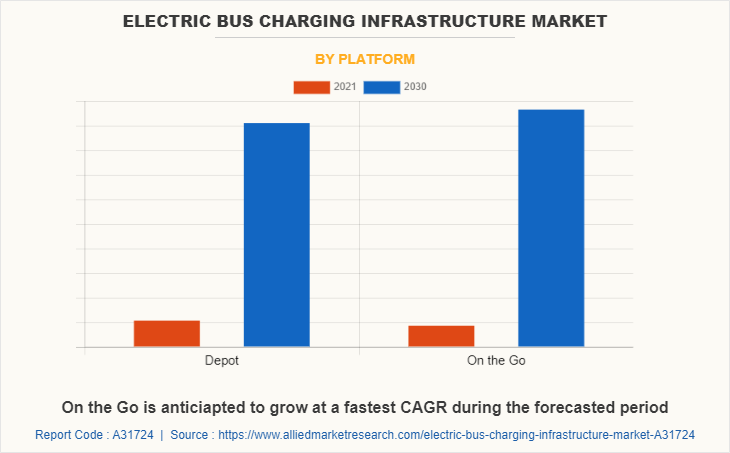 By platform, on-the-go sub-segment dominated the market in 2021. On-the-go charging can help buses run continuously. On the go charging is a time-constrained technique due to the pause in the middle of an unfinished trip. Also, it allows electric buses to operate for longer periods of time on the road by avoiding the need to return to a charging station for extended periods of time to charge. This may be the ideal solution for buses that travel longer distances and cannot take extensive charging breaks. On-the-go charging is often accomplished at higher power rates (up to 500kW), which is faster but may result in costly utility demand charges and consequently higher operational expenses. These are predicted to be the major factors affecting the electric bus charging infrastructure market size during the forecast period.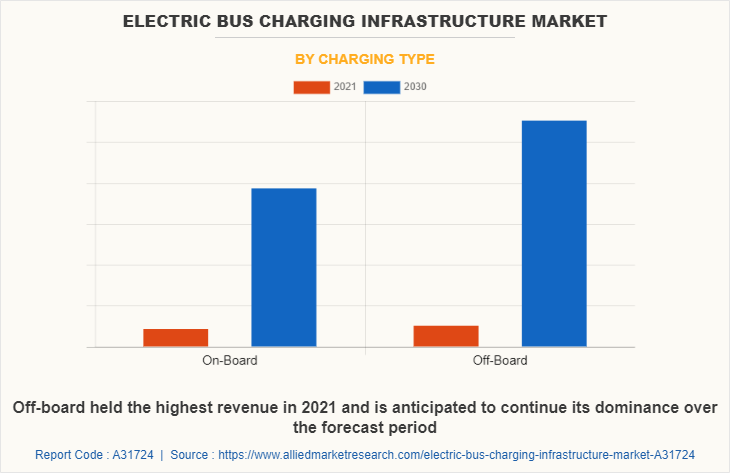 By charging type, the off-board sub-segment dominated the global e-bus charging infrastructure market share in 2021. The growth of this sub-segment can be attributed to the fast-charging electric infrastructure that is available for charging the buses with less time consumption. For instance, the Off-board high power charger gives a lot of flexibility to the eBus service by charging just enough to travel all day from terminus to terminus or to the next accessible charging point. It is ideal for high-frequency operating conditions, as the charging infrastructure can be utilized by several buses per hour, even if they are from different manufacturers, because the buses only occupy the charging station for a few minutes. Such applications of electric bus charging infrastructure in the automotive sector are bound to create a scope of growth for the sub-segment during the forecast period.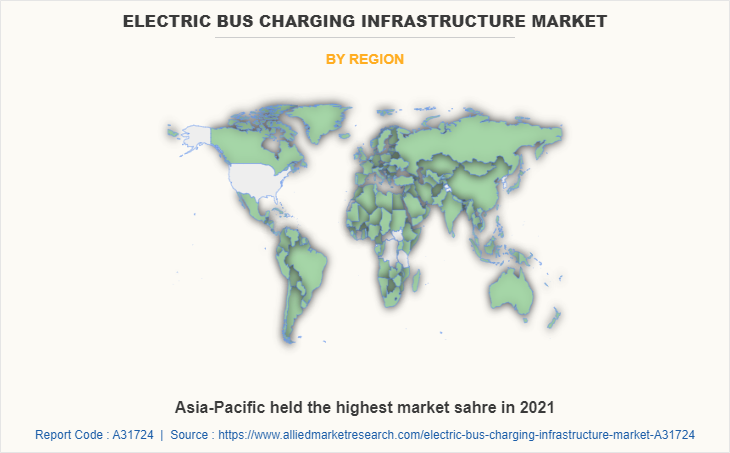 By region, Asia-Pacific dominated the global market in 2021 and is projected to remain the fastest-growing sub-segment during the forecast period. The electric bus charging infrastructure demand in countries, namely China and India, is growing rapidly as it has clean energy and alternatives to gasoline-based fuels. For instance, in January 2021, in Pune, Bhekrai Nagar Bus Depot Is India's first E-depot. Only e-buses are being allowed space in the depot now that all CNG and diesel bus services have been removed from it, which helps to boost the transition towards clean technology. Furthermore, this is expected to reduce Indian crude oil imports and create a better adoption of electric bus charging infrastructure as transportation fuel, further proliferating the growth of the market.
The key players profiled in this report include ABB Ltd., Alstom SA, BYD Auto Co. Ltd, ChargePoint Inc., Efacec, Furrer + Frey AG, Heliox, Liikennevirta Oy(Virta Global), Nuvve Corporation, and Proterra. Moreover, electric bus charging market share is accounted for key players, namely ChargePoint Inc., Heliox, and BYD Auto Co. Ltd.
Impact of COVID-19 on the Global Electric bus charging infrastructure Industry
COVID-19 has negatively impacted various industries, such as automotives, which has led to a drastic decline in automotive sales. As electric bus charging infrastructure is widely used in automotive manufacturing, there was a significant reduction in the electric bus charging infrastructure demand globally.
China is the leading producer and exporter of raw materials such as platforms required for electric bus charging infrastructure production. However, Chinas being the epicenter of the coronavirus pandemic, its export was affected, leading to a decline in electric bus charging infrastructure production.
Sales of electric bus charging infrastructure are directly proportional to the demand from end-use industries, namely automotive. However, the demand for electric bus charging infrastructure in automotive industry was greatly affected owing to import-export restrictions, closed borders, and supply chain disruptions due to the outbreak of the COVID-19 pandemic.
Economic slowdown has affected the setup of new electric bus charging infrastructure projects across the world as the majority of government fundings has been diverted toward healthcare sector owing to rapid spread of the COVID-19 virus, impacting the market to the great extent.
It had a sudden impact on the global unified automotive industry with an interruption in exports of Chinese parts, broad scale manufacturing interruptions in Europe, and the closure of manufacturing plants in the U.S. This is placing an extreme pressure on an industry that is already managing a downshift in the global demand.
Due to the COVID-19 the development of electric bus charging infrastructure has been delayed owing to the lack of raw materials, supply chain disruptions and others.
Key Benefits For Stakeholders
This report provides a quantitative analysis of the market segments, current trends, estimations, and dynamics of the electric bus charging infrastructure market analysis from 2021 to 2030 to identify the prevailing electric bus charging infrastructure market opportunities.
The market research is offered along with information related to key drivers, restraints, and opportunities.
Porter's five forces analysis highlights the potency of buyers and suppliers to enable stakeholders make profit-oriented business decisions and strengthen their supplier-buyer network.
In-depth analysis of the electric bus charging infrastructure market segmentation assists to determine the prevailing market opportunities.
Major countries in each region are mapped according to their revenue contribution to the global market.
Market player positioning facilitates benchmarking and provides a clear understanding of the present position of the market players.
The report includes the analysis of the regional as well as global electric bus charging infrastructure market trends, key players, market segments, application areas, and market growth strategies.
 Electric Bus Charging Infrastructure Market Report Highlights
Aspects
Details
Market Size By 2030
USD 18.8 billion
Growth Rate
CAGR of 30.9%
Forecast period
2021 - 2030
Report Pages
270
By Platform
By Charging Type
By Region

North America (U.S., Canada, Mexico)
Europe (Germany, United Kingdom, France, Netherlands, Italy, Rest of Europe)
Asia-Pacific (China, Japan, India, South Korea, Australia, Rest Of Asia Pacific)
LAMEA (Brazil, Saudi Arabia, UAE, South Africa, Rest of LAMEA)

Key Market Players
Alstom SA, Heliox Group, proterra inc, ChargePoint Inc., Furrer + Frey AG, BYD Auto Co. Ltd, Efacec, Nuvve Corporation, ABB Ltd., Liikennevirta Oy
Analyst Review
Increase in demand for electric bus is the key factor that is projected to drive the growth of the global electric bus charging infrastructure market during the forecast period. In addition, potential cost reductions for operational activities and high dependence on public transportation together supplementing to the market growth. The progressive transition from hydrocarbon-based to electric public transportation is being driven by three key factors: rising pollution levels, high reliance on public transportation, and possible operational cost reductions. However, high initial investments and lack of consumer understanding are the key factors expected to hamper the market growth during the forecast period. On the contrary, rapid growth of the automotive industry and rise in use of electric vehicles provide a clean environment with zero emissions and are anticipated to provide remunerative opportunities for key players to maintain the pace of the electric bus charging infrastructure market in the upcoming years.
Among the analyzed regions, Asia-Pacific is expected to account for the highest revenue in the market by the end of 2031, followed by Europe, North America, and LAMEA. Rapid government initiatives and E-mobility are the key factors responsible for the leading positions of Europe and Asia-Pacific in the global electric bus charging infrastructure market.