E-Bus Market, 2031
The global electric bus market size was valued at $35.3 billion in 2021 and is projected to reach $439.7 billion by 2031, growing at a CAGR of 29.5% from 2022 to 2031.
An electric bus or e-bus is a bus that does not have a traditional ICE engine for its propulsion and is completely electric. An e-bus is driven by an on-board electric motor that receives the power from on-board batteries or a set of batteries. Electric buses are considered as eco-friendly as they do not produce any pollutants and are also economical when compared with traditional gasoline/diesel buses. Moreover, the electric bus market share contributes more than 80% to the electric commercial vehicles industry.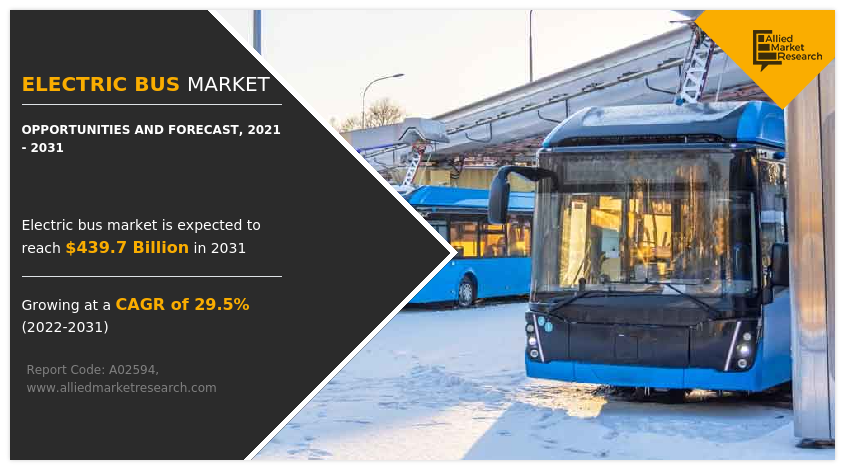 The EV bus market is driven by factors such as an increase in demand for fuel-efficient, high-performance, and low-emission buses, stringent government rules & regulations toward vehicle emission, and reduction in battery prices. However, high manufacturing cost and low fuel economy & serviceability restrict the market growth. Moreover, technological advancements and proactive government initiatives for the adoption of e-buses create lucrative growth opportunities for the market.
In addition, governments are taking various efforts to promote the introduction of electric buses around the world. For instance, the European government has set a goal to have 45% of city electric buses registered for alternative driving by 2025 and at least 65% under the Under Clean Vehicle Directive by 2030. Similarly, the Swedish government plans to expand e-buses penetration to 15% by 2022. Thus, these initiatives shown by the governments are further fueling the growth of the market.
The global electric bus market is segmented on the basis of propulsion type, length, range, battery capacity, power output, and region. By propulsion type, the market is segmented into battery electric vehicle, plug-in hybrid electric vehicle and fuel cell electric vehicle. Further, by length, the market is segmented into less than 9 meters, 9–14 meters, and above 14 meters. By range, the market is classified into less than 150 miles, 150 To 300 miles and above 300 miles. Moreover, the market is segmented on the basis of battery capacity into less than 50 kWh, 50-250 kWh and above 250 kWh. By power output, the market is bifurcated into up to 250kW and above 250 kW.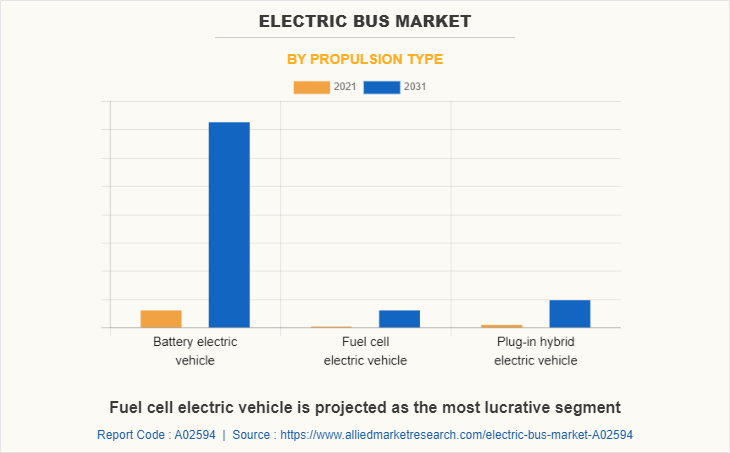 The major companies profiled in the EV bus market include AB Volvo, Ankai Bus, BYD Company Ltd., Construcciones y Auxiliar de Ferrocarriles, S.A., Daimler AG, NFI Group Inc., Proterra, VDL GROEP BV, Yutong Group, and Zhongtong Bus Holdings Co., Ltd.
Based on region, the market is analyzed across North America, Europe, Asia-Pacific, and Latin America, Middle East & Africa (LAMEA) including country-level analysis for each region.
Asia-Pacific comprises China, Japan, India, South Korea, and the rest of Asia-Pacific. The rest of Asia-Pacific includes countries such as Indonesia, Singapore, Thailand, Vietnam, and Malaysia. The electric bus market has great prospects in the Asia-Pacific, owing to increased investment in manufacturing capacity by key industry players and various measures announced by the Chinese and Indian governments to fully electrify public transport in their respective countries by 2030, India's Bharat Stage 6. The adoption of stringent vehicle emission standards, such as the Emissions Standard, and announcements by major countries such as China, India, Japan, and South Korea that they will ban the sale of new internal combustion engine vehicles by 2040 have reduced sales are soaring, creating demand in the electric mobility industry.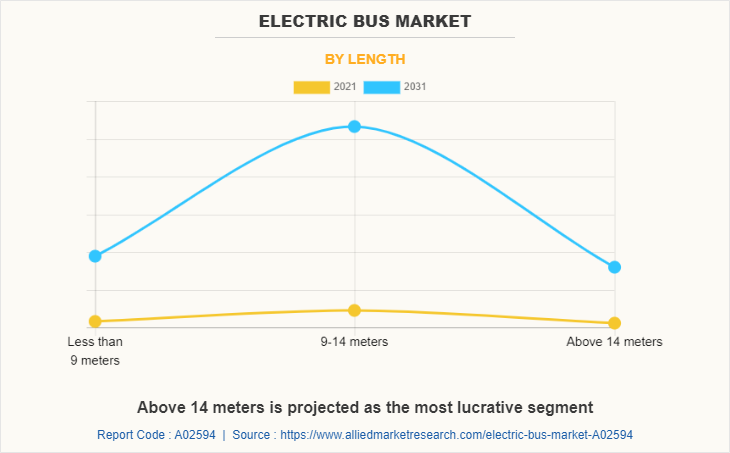 In addition, market players in the region are introducing vehicles with technological advancements to propel the market demand. Furthermore, Japanese automakers such as Toyota, Nissan, and Mitsubishi have been developing electric buses for the domestic and international markets. The Japanese government has also provided incentives and subsidies to promote the adoption of electric buses providing lucrative growth opportunities for the market.
Competitive analysis and profiles of the major electric bus market players include AB Volvo, BYD Company Ltd, VDL Groep BV, Anhui Ankai Automobile Co.,Ltd, Yutong, Proterra and others. The leading companies are adopting strategies such as acquisition, agreement, expansion, partnership, contracts, and product launches to strengthen their market position. In February 2023, AB Volvo signed an agreement with Belgian public transport operator Operateur de Transport de Wallonie (OTW) to deliver 97 Volvo 7900 S-Charge buses. Volvo 7900 S-Charge bus is now in operation in more than 25 countries. It does not require charging infrastructure as it continuously self-charges while in operation, recovering energy when braking and driving downhill.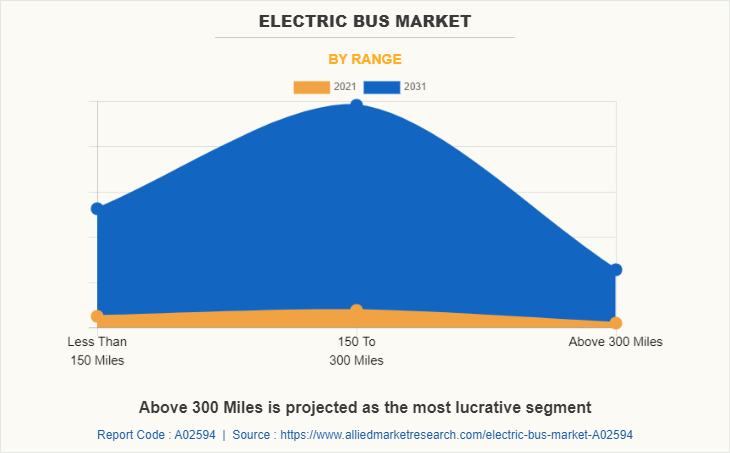 In February 2022, VDL Groep BV & Pinnacle Mobility Solutions entered into a partnership & invested $24,175 in electric buses and e-mini trucks manufacturing to cater to the booming last-mile mobility space in India. In September 2022, Proterra entered into a partnership with Eldorado National California (ENC) for the next generation of electric transit buses. The EV tech manufacturer supplies battery tech, electric powertrain solutions, and other supporting components for an effortless fleet transition. In September 2021, Daimler AG developed a fully electric eO500U bus chassis. The bus chassis is specially designed for Latin American cities and produced in São Bernardo do Campo, in the Brazilian state of São Paulo. In July 2020, AB Volvo entered into a partnership with the Public Transport Authority of Western Australia (PTA) to bring Volvo's first ever Electric Buses to Australia. These provisions for the introduction of alternatively powered vehicles into the public transport bus network when the technology became available in Volvo's Australian product line.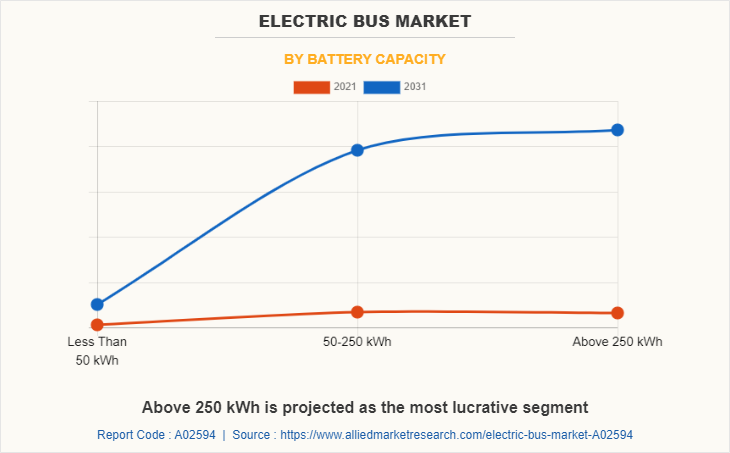 Increase in demand for fuel-efficient, high-performance, and low emission buses
As gasoline is a fossil fuel, it is not a renewable energy source and is expected to run out in the future. Developing and using alternative fuel sources is critical to supporting sustainable development. Electric buses are used, which do not require gasoline and are more economical than conventional buses. Electric buses convert more than 50% of the electrical energy from the grid into electricity at their wheels, while gas-powered buses can only convert about 17-21% of the energy stored in gasoline. In recent years, the demand for fuel-efficient buses has increased due to rising gasoline and diesel oil prices. This is due to the depletion of fossil fuel reserves and the increasing propensity of companies to seek maximum profit from these oil reserves. These factors, therefore, lead to the need for advanced fuel-saving technologies, leading to increased demand for electric coaches.
Reduction in cost of electric vehicle batteries
Technological advances and the mass production of electric vehicle batteries have significantly reduced the cost of electric vehicle batteries over the past decade. This has led to a reduction in the cost of the electric bus as batteries account for almost 30% to 40% of the total cost of an electric bus. For instance, in 2010, the price of an electric vehicle battery was about $1,100 per kWh. However, according to Bloomberg, that price has dropped to about $137 per kWh by 2020, while the price in China is just $100 per kWh. This is due to technological advances in battery technology, in addition to lower manufacturing costs, lower cathode material prices, and higher production volumes for these batteries. EV battery prices are expected to drop from about $40 to $60 per kWh by 2030, which will bring the price of the electric bus down significantly, making them similar to conventional gas-powered buses. Combined with the growing demand for low-pollution transport, this will lead to the widespread use of electric commercial vehicles including buses in the near future.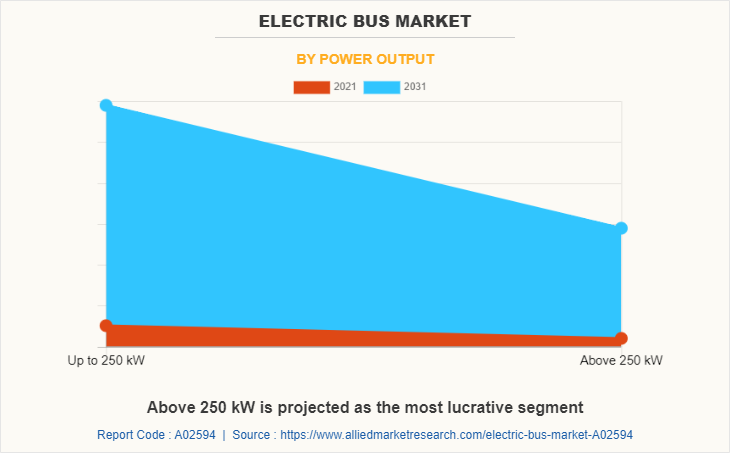 High cost of investment and complication in operating advanced systems
As the automotive industry shifts to electrification and introduces advanced technologies in vehicles, high costs incurred during production and complex mechanisms of advanced systems may hamper the market growth. Automakers invest most of their research efforts in developing new bus technologies. The high cost of lithium-ion batteries used in buses, software installations, and large capital expenditures ultimately increase vehicle manufacturing costs. Advanced driving assistance systems, such as adaptive cruise control, driver monitoring, park assist, driver drowsiness detection, blind spot detection, and automated emergency braking, consist of sensors, cameras, radars mapping, and other software systems. This highly technical system presents many technical challenges and complexities. These systems can add a calculated risk of malfunction or failure, which can hamper market growth during the forecast year.
Environmental Benefits
At 29%, vehicle exhaust is the single source of ozone depletion, air pollution, and emissions of substances that adversely affect the climate. Consumption of unrefined petroleum and rise in fuel costs have increased the popularity and demand for vehicles that are less harmful to nature and use electrical energy. This has increased the introduction of these e-buses to reduce dependence on petroleum fuel. In addition, electric vehicles have fewer moving parts, making them lighter and more productive than traditional modes of transportation. As a result, vehicles require less maintenance and overall these vehicles are beneficial to the environment. According to a recent study by researchers at Kyushu University in Japan claimed that 74.67% of the total pollutant emissions from the existing bus fleet in Delhi can be reduced. Therefore, the market is expected to grow substantially owing to these drivers over the electric bus market forecast period.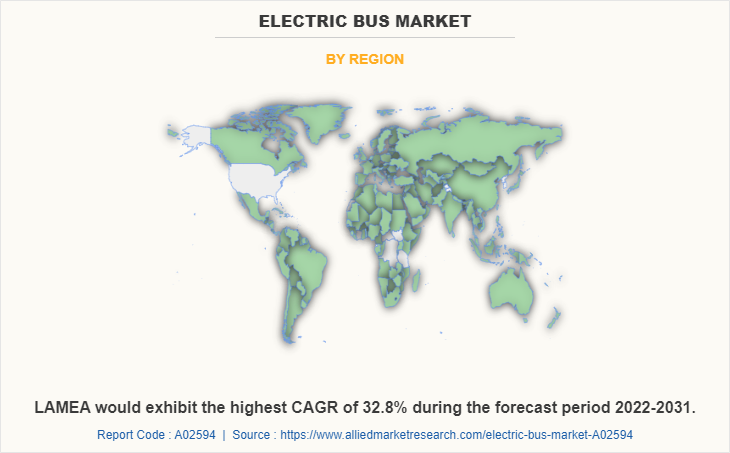 The automotive industry faced a sharp drop in demand and investment. The automotive industry also struggled with an abrupt and widespread stoppage of economic activity, as workers were told to stay at home, supply chains ground to a halt and factories closed. Globally, the sales of electric vehicles increased in 2020 and 2021 due to the growing trend of vehicle electrification around the world. This sector was thus, less affected by the pandemic. The demand for electric buses had similarly decreased in the first half of 2020 and increased thereafter. Hence, electric bus sales have improved since June 2020 as lockdowns have been lifted in most countries. Among them, sales of FCEV and BEV are overwhelmingly large. 2022-2024 is considered the most positive period for commercial electric vehicles including e-buses sales as OEMs plan to launch and develop new EV models in the commercial vehicle segment including electric buses in the coming years.
Key Benefits For Stakeholders
This report provides a quantitative analysis of the market segments, current trends, estimations, and dynamics of the electric bus market analysis from 2021 to 2031 to identify the prevailing electric bus market opportunities.
The market research is offered along with information related to key drivers, restraints, and opportunities.
Porter's five forces analysis highlights the potency of buyers and suppliers to enable stakeholders make profit-oriented business decisions and strengthen their supplier-buyer network.
In-depth analysis of the electric bus market segmentation assists to determine the prevailing market opportunities.
Major countries in each region are mapped according to their revenue contribution to the global market.
Market player positioning facilitates benchmarking and provides a clear understanding of the present position of the market players.
The report includes the analysis of the regional as well as global electric bus market trends, key players, market segments, application areas, and market growth strategies.
 Electric Bus Market Report Highlights
Aspects
Details
Market Size By 2031
USD 439.7 billion
Growth Rate
CAGR of 29.5%
Forecast period
2021 - 2031
Report Pages
450
By Propulsion Type

Battery electric vehicle
Fuel cell electric vehicle
Plug-in hybrid electric vehicle

By Length

Less than 9 meters
9-14 meters
Above 14 meters

By Range

Less Than 150 Miles
150 To 300 Miles
Above 300 Miles

By Battery Capacity

Less Than 50 kWh
50-250 kWh
Above 250 kWh

By Power Output

Up to 250 kW
Above 250 kW

By Region

North America (U.S., Canada, Mexico)
Europe (UK, Germany, Netherlands, France, Rest of Europe)
Asia-Pacific (China, India, Japan, South Korea, Rest of Asia-Pacific)
LAMEA (Latin America, Middle East, Africa)

Key Market Players
Daimler AG, Zhongtog Bus Holding, NFI Group Inc., Anhui Ankai Automobile Co.,Ltd, CAF, Construcciones y Auxiliar de Ferrocarriles, S.A., AB Volvo, YUTONG, Proterra, BYD Company Ltd, VDL Groep BV