The global electric commercial vehicle market size was valued at $43.5 billion in 2021, and is projected to reach $558.4 billion by 2031, growing at a CAGR of 29.9% from 2022 to 2031.
Electric commercial vehicles are the vehicles that take power from a pack of batteries for propulsion. These vehicles are categorized into light, medium, and heavy duty. Governments of various countries are setting stringent emission regulations, which, in turn, propel adoption of electric trucks and buses by the fleet owners. In addition, electric commercial vehicles are noise free, have zero emission, and efficient mode of transportation, which in turn, make them the preferred choice for fleet owners. Further, governments of several developing nations are taking initiatives to provide sufficient charging infrastructure for electric trucks to facilitate smooth operations in the future.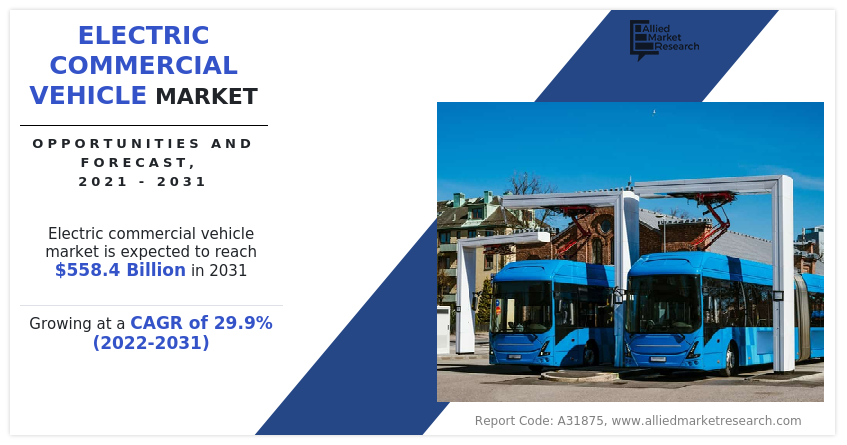 The electric commercial vehicle market is driven by factors such as increase in demand for fuel-efficient, high-performance, & low-emission buses, government initiatives for promotion of e-mobility, and reduction in cost of electric vehicle batteries. However, high cost of investment & complication in operating advanced systems and lack of charging infrastructure restrict the market growth. Moreover, increasing demand for electric trucks from the logistics sector, technological advancements, and proactive government initiatives for adoption of e-buses create lucrative growth opportunities for the market.
The market is segmented on the basis of propulsion type, battery capacity, range, and vehicle type. By propulsion type, it is divided into the Battery Electric Vehicle (BEV), Fuel Cell Electric Vehicle (FCEV), and Plug-in Hybrid Electric Vehicle (PHEV). By battery capacity, it is classified into less than 50 kWh, 50-250 kWh, and above 250 kWh. By range, it is categorized into less than 150 mile, 150-300 mile, and above 300 mile. By vehicle type, it is fragmented into the light duty trucks, medium duty trucks, heavy duty trucks, and buses. By region, it has been analyzed across North America, Europe, Asia-Pacific, and LAMEA.
Electric Commercial Vehicle Market

---

By Propulsion
Fuel Cell Electric Vehicle (FCEV) is projected as a most lucrative segment.
Prominent players profiled in the report include AB Volvo, BYD Company Ltd., Daimler Trucks, Dongfeng Motor Company, NFI Group Inc., Man SE, Proterra, Scania, Tata Motors, and VDL GROEP BV.
Asia-Pacific comprises China, Japan, India, South Korea, and the rest of Asia-Pacific. The rest of Asia-Pacific includes countries such as Indonesia, Singapore, Thailand, Vietnam, and Malaysia. Asia-Pacific has one of the most advanced electric vehicle sectors across the globe. Countries such as China, Japan, and others in the region are highly developed in terms of advanced electric commercial vehicles. Such vehicles are well-equipped with the latest technologies and are continuously upgraded to meet the latest trends. Increasing government regulations to improve EV adoption and the strong expansion being undertaken by local OEMs and suppliers to meet rising demand from the Chinese auto industry is positive for market growth during the forecast period and are expected to provide good prospects.
Significant initiatives & investing plans by the Japanese government for the expansion of the existing electric vehicle segment is the primary factor anticipated to boost the growth of the electric commercial vehicle market in Japan. For instance, in 2020, the Japanese government proposed a "carbon neutral" goal of zero carbon dioxide emissions by 2050. To meet environmental goals, Huis Ten Bosch introduced pure electric buses despite the disruption caused by his COVID-19 pandemic.
The leading electric commercial vehicle companies are announcing plans to accelerate the development and adoption of electric heavy-duty trucks in India, which increases the demand for the electric commercial vehicle market. For instance, in September 2022, Tata Motors announced the launch of a fleet of a new category of heavy-duty trucks in 28 tons and 19-tons variants. These trucks are equipped with ADAS features like Collision Mitigation System (CMS), Driver Monitoring System (DMS), and Lane Departure Warning System (LDWS).
Electric Commercial Vehicle Market

---

By Vehicle Type
Heavy duty trucks is projected as a most lucrative segment.
The leading companies are adopting strategies such as product launches and agreements to strengthen their market position. In October 2021, AB Volvo has signed an agreement with DFDS to supply 100 Volvo FM electric trucks. DFDS is Northern Europe's largest shipping and logistics company. The truck will be used for both short and long transport in DFDS logistic system in Europe.
In January 2022, BYD Company Ltd. has launched an electric bus with vehicle-to-grid technology. The new zero-emission bus is capable to carry 800lbs and has a range of 140 miles. In October 2020, Daimler Truck signed a declaration of intention with Metropole Rennes, a modern public transport network, in France, to supply 92 Mercedes-Benz eCitaro fully electric city buses. The planned order consists of 59 articulated and 33 solo buses. They are due to be delivered between 2022 and 2025. In September 2022, New Flyer, a subsidiary of NFI Group Inc., is its next-generation, zero-emission hydrogen fuel cell-electric Xcelsior CHARGE FCTM. heavy-duty transit bus. It is built on the XcelsiorR. platform with over 16,000 buses delivered to date, New Flyer's battery-electric and fuel cell-electric models have surpassed over 15 million electric vehicles ("EV") service miles.
Increase in demand for fuel-efficient, high-performance, and low-emission buses
As gasoline is a fossil fuel, it is not a renewable energy source and is expected to run out in the future. Developing and using alternative fuel sources is critical to supporting sustainable development. Electric buses are used, which do not require gasoline and are more economical than conventional buses. Electric buses convert more than 50% of the electrical energy from the grid into electricity at their wheels, while gas-powered buses can only convert about 17-21% of the energy stored in gasoline. In recent years, the demand for fuel-efficient buses has increased due to rising gasoline and diesel oil prices. This is due to the depletion of fossil fuel reserves and the increasing propensity of companies to seek maximum profit from these oil reserves. These factors, therefore, lead to the need for advanced fuel-saving technologies, leading to increased demand for electric coaches.
In addition, in June 2022, Nunam Technologies partnered with Brihanmumbai Electric Supply and Transport (rt (BEST) Undertaking in Mumbai to implement a battery management system for its fleet of e-buses under WRI India's 'Better e-bus challenge' project. The Prognostics and Health Management (PHM) system will monitor battery health and performance in real-time in the electric buses operating on the road. This helps operational optimization and safety of e-buses, passengers, and operators.
Increase in government initiatives for the promotion of e-mobility
Governments around the world are pressuring automakers to cut CO2 emissions from burning diesel fuel, address greenhouse gas emissions, and invest in developing electric trucks. The governments haves provided incentives in programs and schemes for the manufacture of electric battery vehicles, which is expected to drive the growth of the market. In addition, globally, governments of developing and developed countries support EV purchases in the form of tax credits and incentives. In addition, some national governments have exempted electric vehicles from highway tolls. For example, to accelerate the adoption of electric vehicles, the Indian government plans to reduce the Goods and Services Tax (GST) on electric vehicles from 12% to 5%. Moreover, the governor of California issued an Executive Order requiring that by 2035 all-new car and passenger light truck sales be zero-emission vehicles. New York, New Jersey, and Massachusetts are considering similar bans on internal combustion engines.
In addition, due to stringent emission standards, countries are planning a complete switch from conventional trucks to electric trucks. For instance, in September 2019, Nitin Gadkari (Union Minister of Road Transport and highways in India) said that all the buses in India are anticipated to switch to electric propulsion type in the following two years to cut down the pollution levels across the country. Such initiatives are expected to drive the growth of the global electric commercial vehicle market.
Electric Commercial Vehicle Market

---

By Battery Capacity
Above 250 kWh is projected as a most lucrative segment.
High cost of investment and complication in operating advanced systems
As the automotive industry shifts to electrification and introduces advanced technologies in vehicles, high costs incurred during production and complex mechanisms of advanced systems may hamper the market growth. Automakers invest most of their research efforts in developing new truck technologies. The high cost of lithium-ion batteries used in trucks& buses, software installations, and large capital expenditures ultimately increase vehicle manufacturing costs. Advanced driving assistance systems, such as adaptive cruise control, driver monitoring, park assist, driver drowsiness detection, blind spot detection, and automated emergency braking, consist of sensors, cameras, radars mapping, and other software systems. This highly technical system presents many technical challenges and complexities. These systems can add a calculated risk of malfunction or failure, which can hamper market growth during forecast year. Moreover, on-board electronic components may malfunction and project false information. In addition, the high risk of cybersecurity threats and the complexity drivers face when operating the system can pose dangers to vehicles, passengers, and drivers. In these sophisticated systems, forced or unforced malfunctions or failures are dangerous and can endanger the life of the user. Therefore, complex mechanisms, high replacement & maintenance costs of these systems, and shortage of skilled labor are expected to restrain the growth of the global electric commercial vehicle market.
Rise in demand for electric trucks from the logistics sector
As the demand for environmentally friendly transportation increases around the world, seeing a reduction in harmful emissions from vehicles, especially in the freight transportation industry, which is a major source of carbon dioxide emissions. In addition, the replacement of commercial diesel vehicles with electric vehicles and government support initiatives for the adoption of electric trucks are expected to boost the electric commercial vehicle market. With an increasing demand for logistics services due to the expansion of e-commerce, retail, and manufacturing industries, supply chains, and logistics companies are actively involved in replacing vehicles with greener ones. For instance, in July 2021, a British logistics company started plans to add electric commercial vehicles to its fleet over the next few years. In addition, in September 2022, Maersk is decarbonizing its road fleet in India by switching to electric vehicles for transporting cargo to customers as the integrated logistics company aims to become net zero by 2040. Similarly, in March 2019, Yamato Transport Co., Ltd. (Yamato Transport) announced that it has jointly developed a compact commercial electric truck for home delivery with StreetScooter GmbH (Aachen, Germany), a Post DHL Group company. Yamato Transport plans to introduce 500 electric trucks in 2019, and start using them from autumn successively in Tokyo, Saitama, Chiba, and Kanagawa. Therefore, rising the demand for electric trucks from the logistics sector offers the lucrative opportunities for market growth.
Electric Commercial Vehicle Market

---

By Region
LAMEA would exhibit the highest CAGR of 32.7% during the forecast period.
After significant disruption in the electric commercial vehicle during the pandemic, the global electric commercial vehicle market is expected to experience growth in the coming years due government providing various subsidiaries and incentives to encourage bus manufacturers to switch to producing electric buses over gasoline-powered buses. Thus, the market witnessed a quick recovery in the sales of electric buses in 2021. For instance, in July 2021, BYD UK signed a contract with the National Transport Authority of Ireland for the delivery of up to 200 BYD ADL Enviro200 EV zero-emission battery-electric buses.
Key Benefits For Stakeholders
This report provides a quantitative analysis of the market segments, current trends, estimations, and dynamics of the electric commercial vehicle market analysis from 2021 to 2031 to identify the prevailing electric commercial vehicle market opportunities.
The market research is offered along with information related to key drivers, restraints, and opportunities.
Porter's five forces analysis highlights the potency of buyers and suppliers to enable stakeholders make profit-oriented business decisions and strengthen their supplier-buyer network.
In-depth analysis of the electric commercial vehicle market segmentation assists to determine the prevailing market opportunities.
Major countries in each region are mapped according to their revenue contribution to the global market.
Market player positioning facilitates benchmarking and provides a clear understanding of the present position of the market players.
The report includes the analysis of the regional as well as global electric commercial vehicle market trends, key players, market segments, application areas, and market growth strategies.
 Electric Commercial Vehicle Market Report Highlights
Aspects
Details
Market Size By 2031
USD 558.4 billion
Growth Rate
CAGR of 29.9%
Forecast period
2021 - 2031
Report Pages
340
Propulsion

Battery Electric Vehicle (BEV)
Fuel Cell Electric Vehicle (FCEV)
Plug-in Hybrid Electric Vehicle (PHEV)

Vehicle Type

Light duty trucks
Medium duty trucks
Heavy duty trucks
Buses

Battery Capacity

Less Than 50 kWh
50 to 250 kWh
Above 250 kWh

Range

Less Than 150 Mile
150 to 300 Mile
Above 300 Mile

By Region

North America (U.S., Canada, Mexico)
Europe (UK, Germany, France, Russia, Rest of Europe)
Asia-Pacific (China, India, Japan, South Korea, Rest of Asia-Pacific)
LAMEA (Latin America, Middle East, Africa)

Key Market Players
Tata Motors, NFI Group Inc., Proterra, MAN SE, BYD Company Ltd, Daimler AG, Scania, AB Volvo, VDL Groep BV, Dongfeng Motor Company