The global electric drive mining truck market size was valued at $487.5 million in 2021, and is projected to reach $815.4 million by 2031, growing at a CAGR of 5.5% from 2022 to 2031.
Electric drive mining trucks are mechanized vehicles, which are used in both on-road and off-road transportation and has a wider application in mining and constructions sites across the globe. These are haul vehicles used to continuously shift the mined & waste materials to refining and dumping grounds in an efficient manner. With the combination of a combustion engine, they use an electric engine for the propulsion & movement of the truck body, which eventually increases the efficiency of the vehicle.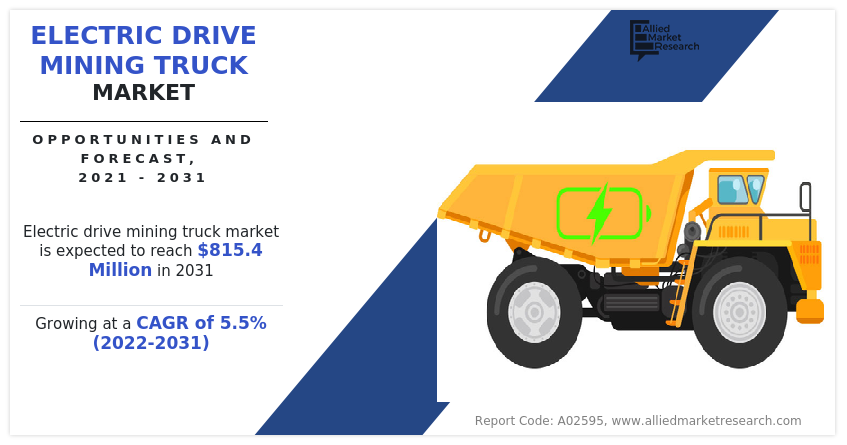 Moreover, with the advancement in technology, numerous mining truck manufacturer companies such as Caterpillar Inc., Komatsu and others, have been inclined toward developing superior quality mining trucks equipped with electric drives to increase the efficiency at mining locations. Such developments carried out by other key manufacturers create ample opportunities for the growth of the market across the globe.
Moreover, the global electric drive mining truck market is expected to experience significant growth due to increase in mining activities, increase in demand for raw materials, and reduced cost of EV batteries leads to higher green vehicle adoption rate drives to the growth of the market across the globe. However, high manufacturing cost & surge in environmental laws and protest against mining industry creates a barrier hampering the growth of the market. On the contrary, shift of manufacturing industries toward clean, and efficient electric vehicles followed by the development of autonomous truck are the major factors that are expected to provide lucrative opportunities for the market growth during the forecast period.
Electric Drive Mining Truck Market

---

By Type
Others is projected as the most lucrative segment
The electric drive mining truck market is segmented into type, size and region. By type, the market is classified into rear dump, bottom dump, and others. On the basis of size, it is segregated into small (90-150 metric tons), medium (151-250 metric tons), large (251-350 metric tons) and ultra (above 351 metric tons). Region wise, the market is analyzed across North America, Europe, Asia-Pacific, and LAMEA.
The key players profiled in this report include Kuhn Schweiz AG, EPIROC, Voltas, Terex Corporation, Komatsu Ltd., Hitachi, Ltd., OJSC BELAZ, Caterpillar, BEML Limited and XCMG Group. These companies hold a prominent share in the global mining industry due to their wider range of products and services offered by the companies to different mining locations across the globe.
Increase in mining activities
Numerous industries globally are dependent on the supply of mineral resources from underground. The mining sector is pivotal to the world's economy. The mining sector extracting bauxite, iron ore, copper, coal, diamonds, tin, or rare earth metals is anticipated to grow significantly over the next few decades and is at the core of national economic development growth forecasts.
The sector is also projected to see significant changes during the upcoming decades. The importance of the mining activities in developing countries shows a considerable contribution to economic development of the nation and create revenues for governments across the globe. Mining corporations can generate employment, economic growth, and profits, in low-income countries followed by partnerships with the government and civil society, they can safeguard the profits of mining; thus, creating a positive impact on the natural environment, climate change, and social capital of the country.
The World Bank has supported several mining sector reform projects in various countries since 1988. The reforms have contributed to an increase in investment in the mining sector and related economic indicators such as exports, fiscal revenues and gross domestic product (GDP) in recipient countries. The World Bank's mining sector promotes policies and programs that strengthen governance and environmental performance and stimulate linkages to the rest of the economy to ensure that the benefits are widespread and sustained. Such factors and policies drive the market toward a positive growth during the forecast period.
Electric Drive Mining Truck Market

---

By Size
Large (251-350 Metric Tons) is projected as the most lucrative segment
Increase in demand of raw materials
There is high demand for raw material that are obtained through mining activities such as bauxite, iron ore, copper, coal, diamonds, tin, or rare Earth metals. The world is shifting toward transition to electric vehicles, the demand for vehicle batteries has increased drastically in main automotive markets across Europe and the U.S. Automotive and battery manufacturers across the world faces a challenging period of uncertainty in the battery supply chain, and many are turning to building their own lithium mine, battery gigafactories or forming joint ventures to address squeezed supply. For instance, in October 2022, a lithium mine with the capacity to supply 700,000 electric car batteries per year is set to open in France. The massive mining project launched by French minerals company, Imerys will operate on the site of the Beauvoir kaolin quarry in Central France. The site contains one million tons of lithium.
According to McKinsey, continued growth of Li-ion batteries over the next decade at an annual compound rate of approximately 30%. By 2030, electric vehicles (EVs), along with energy-storage systems, e-bikes, electrification of tools, and other battery-intensive applications, could account for 4,000 to 4,500 GWh of Li-ion demand. The battery value chain is expected to increase by as much as ten times between 2020 and 2030 to reach annual revenue as high as $410 billion. The world will need more critical minerals and raw materials to power the global economy of the future and these resources will need to be mined sustainably. The increase in the requirement of raw material around the world will further boost the demand in the electric drive mining truck market. 
Electric Drive Mining Truck Market

---

By Region
LAMEA would exhibit the highest CAGR of 9.0% during 2022-2031
High manufacturing cost
High manufacturing cost of electric drive mining trucks has been one of the major concerns over their adoption. The manufacturing cost of electric drive mining trucks is generally much more compared to ICE counterparts. This is generally owing to high price of rechargeable lithium-ion batteries used in these vehicles. The production of electric drive mining trucks also cost more as compared to ICE mining trucks due to costly procedure involved in development of these vehicles. The cost of development of greater range of electric drive mining trucks is much more owing to their advanced specifications of batteries, greater technology used for construction and more costly parts used in these trucks. Therefore, the cost of sales of these mining trucks is much higher than convention ICE mining trucks. These factors will further hamper the demand for electric drive mining truck market.
Shift of manufacturing industries toward clean and efficient electric vehicles
Electrification of trucks is going to be one of the biggest technology shifts in the mining industry. For many years, mining industry relied on diesel-powered mining truck, which causes environmental and health issues. Diesel-powered mining trucks tend to generate pollutants, heat and also create noise from internal combustion engines. Electric drive mining trucks do not emit much pollutants and they generate less heat as compared to diesel powered mining trucks.
Moreover, they are silent in operation, which proves to be beneficial in terms of health as they do not create noise pollution. Requirement to deliver environment-friendly operation in response for a sustainable future is on the surge. There is a constant shift to renewable energy, which has improved the demand for a variety of minerals. This situation has enabled companies to strengthen their business to offer electric drive mining truck, which are more productive and have a smaller environmental impact and further help in market growth.
Due to strict regulations regarding lockdown and ban on the import-export of essential raw materials. The decline in production and delayed delivery by vehicle component manufacturers, the overall automotive industry was impacted. Also, some mine operators have closed their sites temporarily due to the shortage of labor and imposed lockdown to contain the spread of virus. This has put huge stress on the electric drive mining truck market due to widespread shutdown of production, disruptions in global supply chains, quarantined workers as well as reduced demand
Key Benefits For Stakeholders
This study presents analytical depiction of the global electric drive mining truck market analysis along with current trends and future estimations to depict imminent investment pockets.

The overall electric drive mining truck market opportunity is determined by understanding profitable trends to gain a stronger foothold.

The report presents information related to the key drivers, restraints, and opportunities of

the global electric drive mining truck market with a detailed impact analysis.

The current electric drive mining truck market is quantitatively analyzed from 2021 to 2031 to benchmark the financial competency.

Porter's five forces analysis illustrates the potency of the buyers and suppliers in the industry.
 Electric Drive Mining Truck Market Report Highlights
Aspects
Details
Market Size By 2031
USD 815.4 million
Growth Rate
CAGR of 5.5%
Forecast period
2021 - 2031
Report Pages
202
Type

Rear Dump
Bottom Dump
Others

Size

Small (90-150 Metric Tons)
Medium (151-250 Metric Tons)
Large (251-350 Metric Tons)
Ultra (Above 351 Metric Tons)

By Region

North America (U.S., Canada, Mexico)
Europe (France, Germany, UK, Russia, Rest of Europe)
Asia-Pacific (China, Japan, India, Australia, Rest of Asia-Pacific)
LAMEA (Latin America, Middle East, Africa)

Key Market Players
Terex Corporation, Hitachi, Ltd., OJSC BELAZ, XCMG Group, BEML Limited, Caterpillar Inc., Komatsu Ltd., Kuhn Schweiz AG, Voltas Ltd., Epiroc Mining India Limited