The global electric motor market size was valued at $106.3 billion in 2020, and is expected to reach $207.3 billion by 2030, with a CAGR of 6.7% from 2021 to 2030. Electric motor converts electrical energy into mechanical energy. Its components include rotor, bearings, stator, air gap, windings, and commutator. Factors such as angular movements, torque requirements, acceleration, speed, and control make AC motors an ideal choice for robotic system manufacturers. Shunt, series, and permanent magnetics are different types of DC motors, while synchronous machines and reluctance motors are different types of AC motors. Electric motors commonly find applications in OEM-based products, pumps, conveyor systems, compressors, fans, and industrial machineries. AC and DC motors can be developed through integration of electronic hardware and sensors that offers predictive maintenance and reduces downtime during maintenance. 
The electric motor market was hampered during the outbreak of COVID-19 pandemic, owing to restrictions of manufacturing activities. In addition, the sales of products that are equipped with electric motor was hampered owing to limited sales of the products through retail stores.
Surge in demand for superior machine control in automotive industry, owing to high efficiency of AC synchronous motors fuels the electric motor market growth. The regulations such as Minimum Energy Performance Standards (MEPS)  has led to development of new energy-efficient motors to achieve maximum output from the motors. This has further led to adoption of energy efficient motors in appliances thus drives the growth of electric motors market across the world. Rise in demand for electric motor has been witnessed in heating, ventilation, and air conditioning (HVAC) applications, owing to features such as high torque and lower noise level. According to the International Energy Agency (IEA), around 40% of electricity is being used for power electric motors. In addition, electric motor is more efficient, lightweight, and high operating speed. The material handling systems serve as the key consumers of fractional horsepower (FHP) motors, thus boosting their demand across the globe. In addition, the adoption of motors ranging 21-60 V in HVAC sectors, owing to heat dissipation are anticipated to exhibit high demand for these motors in the coming years.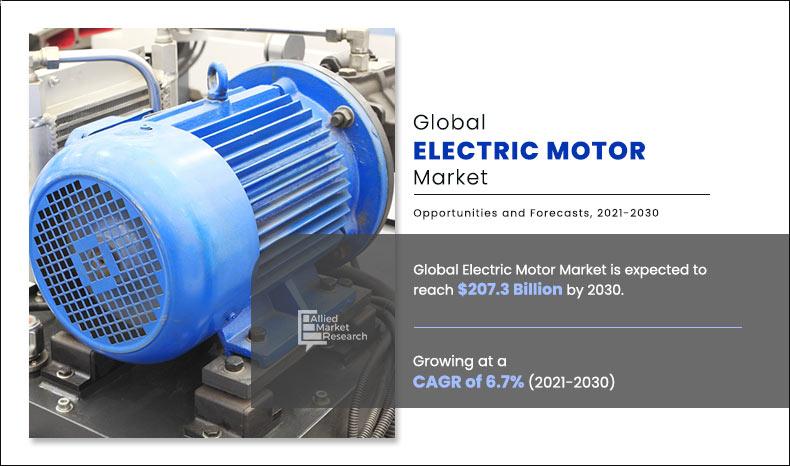 However, industrial motors with high power rating generate substantial vibration, strain, and heating during their performance, which could potentially have profound influence over electronic components and result in their malfunction. In addition, lack of awareness of benefits associated with smart motors among small and medium enterprise owners for various applications is expected to hinder the growth of the electric motor market during the forecast period.
Moreover, COVID-19 pandemic has already negatively influenced the first and second quarter of 2020. For instance, several countries such as Germany, Italy, and India enforced stringent measures on the movement of people and other industrial activities. This has led to halting of construction projects, resulting in the downfall of sales of new electric motors. The automobile industry has shown a decline of 25–30% in 2020 as compared to that in 2019, and is expected to recover only by second half of 2021. Similarly, the HVAC industry was severely hampered as transportation and logistics industries were closed. Furthermore, travelling, tourism, and other activities were hampered across the globe due to government rules to maintain social distancing. Therefore, the demand for new electric motors was hampered and the sales were reduced.
Moreover, companies are increasingly participating in government-led energy management programs. By participating in such programs, apart from contributing to national energy and carbon savings, businesses directly take advantage from lower costs, reduced exposure to fluctuations in energy prices, and increased competitiveness. This will act as a major opportunity for the growth of electric motor market during the forecast period.
Electric Motor Market

---
By Motor Type
Alternate Current (AC) Motor segment holds the largest share in Electric Motor market
The global electric motor market is segmented on the basis of motor type, output power, application, and region. On the basis of motor type, the market is divided into alternate current (AC) motor and direct current (DC) motor. Depending on output power, the market is divided into integral horsepower (IHP) output and fractional horsepower (FHP) output. By application, the market is segregated into automotive, HVAC, medical equipment, industrial machinery, home appliances, and others.
Region wise, the global electric horsepower motor market analysis is conducted across North America (the U.S., Canada, and Mexico), Europe (the UK, France, Germany, Italy, and rest of Europe), Asia-Pacific (China, Japan, India, South Korea, and rest of Asia-Pacific), and LAMEA (Latin America, the Middle East, and Africa). In 2020, Asia-Pacific was the highest contributor to the global electric motor market share, and is anticipated to secure a leading position during the forecast period.
Electric Motor Market

---
By Output Power
Integral Horsepower (IHP) Output segment holds dominant position in 2020
Competition Analysis
The key players in this market adopted product launch, partnership, and expansion as their key strategies to meet the changing consumer demands. For instance, in February 2021, Nidec Corporation acquired Mitsubishi Heavy Industries Machine Tools Co. Ltd., based in Japan, which deals in motors, machine tools, cutting tools, and related products. The acquisition aimed to improve the product portfolio of motors and actuators.
Electric Motor Market

---
By Region
Asia-Pacific holds a dominant position in 2020 and LAMEA is expected to grow at a highest rate during the forecast period.
Key Benefits For Stakeholders
The report provides an extensive analysis of the current trends and future estimations.  
Extensive analysis of global electric motor market is conducted by following key product positioning and monitoring of the top competitors within the market framework.
A comprehensive analysis of all the regions is provided to determine the prevailing opportunities.
The global electric motor market forecast analysis from 2021 to 2030 is included in the report.
The key market players within the global electric motor market are profiled in this report and their strategies are analyzed thoroughly, which help understand the competitive outlook of the global electric motor market.
 Electric Motor Market Report Highlights
Aspects
Details
BY MOTOR TYPE

Alternate Current (AC) Motor
Direct Current (DC) Motor

BY OUTPUT POWER

.Integral Horsepower (IHP) Output
Fractional Horsepower (FHP) Output

BY APPLICATION

Automobile
HVAC
Medical equipment
Industrial machinery
Household appliances
Others

BY REGION

North America (U.S., Canada, Mexico)
Europe (Germany, France, UK, Italy, Rest of Europe)
Asia-Pacific (China, Japan, India, South Korea, Rest of Asia-Pacific)
LAMEA (Latin America, Middle East, Africa)

Key Market Players
ABB, ARC Systems Inc., DENSO CORPORATION, Emerson Electric Co., Johnson Electric Holdings Limited, Maxon, NIDEC CORPORATION, Regal Rexnord Corporation, Rockwell Automation Inc., Siemens