Electric Plugs And Sockets Market Overview:
Electric plugs and sockets Market are power devices, which allow the electric equipment to be connected to the alternating current (AC) power source. These plugs and sockets are utilized for establishing secure electric connections in machines and equipment, which work on different frequencies and voltages. They have high impact strength and offer superior resistance to the flow of electric current. They differ in voltage & current rating, shape, size, and type of connectors.
Rise in construction and development activities fuel the demand for electric plugs and sockets. In addition, swift growth in residential plug & socket installation and increase in demand for dust-proof & splash-proof plugs & sockets are expected to boost the growth of the electric plugs and socket market in the coming years. Moreover, the safety features incorporated into these plugs and sockets such as dust proof, water proof, and fire proof act as the key drivers of the market. However, decrease in growth rate in mining industry hampers the market. On the contrary, rise in government spending is expected to offer potential opportunities for the marker expansion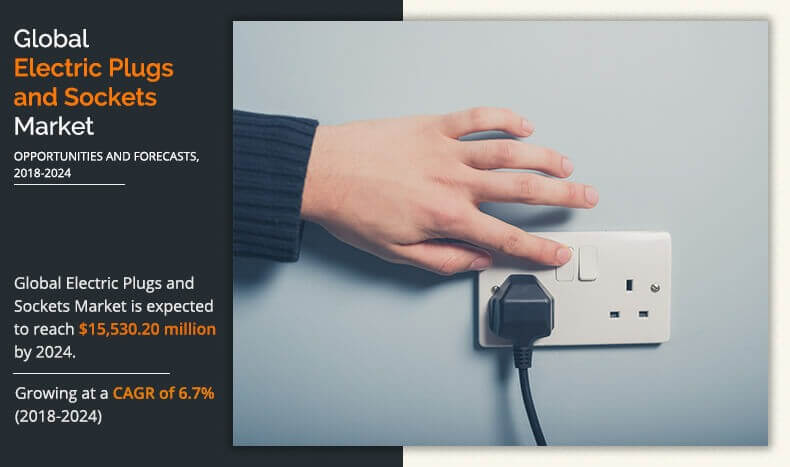 The key players operating in the global electric plugs and sockets market are Legrand SA, Philips, Schneider Electric SE, ABB Ltd., Emerson Electric Co., Wenzhou Chmag Electrical Co Ltd., Mennekes Elecktrotechnik Gmbh, Scame Group, Amphenol Corporation, and Eaton Corp.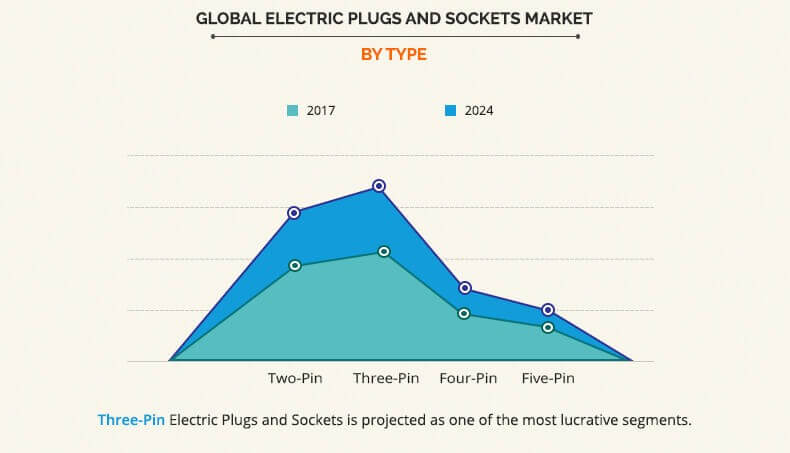 The global electric plugs and socket market is segmented based on type, power rate, end user, and region. Depending on type, the market is segmented as two-pin, three-pin, four-pin, and five-pin. Based on power rate, it is categorized into high power, medium power, and low power. By end user, it is classified into residential, commercial, and industrial. By geography, the market is analyzed across North America, Europe, Asia-Pacific, and LAMEA.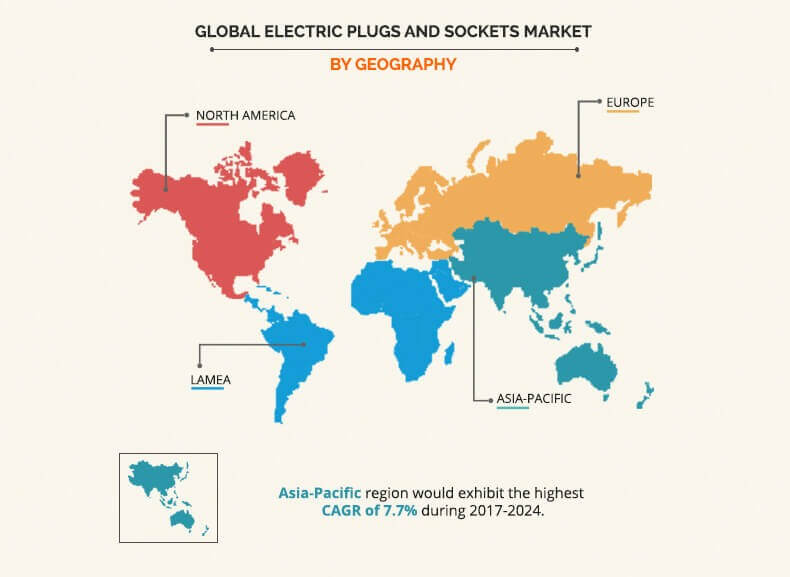 Rise in construction and development activities
The rapid increase in investment on building and constructions, which further fuel the demand for electrical circuit and connection drives the growth of the market.
Swift growth in residential plugs and socket installation
At present, the increase in dependency on more and more electrical products, drives the demand for more number of sockets installation across the residential segments. This in turn drives the market growth.
Slowdown in mining industry
Rapid declines in natural resources and global environmental concern across the world restrict the mining activity across the market, which limits the market growth.
Key Benefits
This report provides an extensive analysis of the current and emerging market trends and dynamics in the electric plugs and sockets market.
In-depth analysis is conducted by constructing market estimations for the key market segments between 2017 and 2024.
Extensive analysis of the market is conducted by following key product positioning and monitoring the top competitors within the market framework.
Key players are profiled, and their strategies are analyzed thoroughly to understand the competitive outlook of the global electric plugs and sockets market.
 Global Electric Plugs and Sockets Market Report Highlights
Aspects
Details
By Type

Two-Pin
Three-Pin
Four-Pin
Five-pin

By Power Rate

High Power
Medium Power
Low Power

By End User

Residential
Commercial
Industrial

By Region

North America (U.S., Canada, Mexico)
Europe (UK, Germany, Italy, Russia, Rest of Europe)
Asia-Pacific (China, India, Japan, South Korea, Australia, Rest of Asia-Pacific)
LAMEA (Latin America, Middle East, Africa)

Key Market Players
AMPHENOL CORPORATION, LEGRAND SA, SCAME PARRE S.P.A. (SCAME GROUP), SCHNEIDER ELECTRIC S.E., EMERSON ELECTRIC CO., MENNEKES ELEKTROTECHNIK GMBH & CO. KG, KONINKLIJKE PHILIPS N.V., ASEA BROWN BOVERI LTD., EATON CORPORATION PLC., WENZHOU CHMAG ELECTRICAL CO., LTD.