Electric Service Companies (ESCOs) Market Research, 2032
The global Electric Service Companies (ESCOs) Market was valued at $30.2 billion in 2022 and is projected to reach $59.8 billion by 2032, growing at a CAGR of 7.2% from 2023 to 2032.
Key Report Highlighters:
The energy crisis that has emerged globally as a result of Russia's invasion of Ukraine has had extreme consequences for households, businesses, and entire economies. ESCOs are faced with the challenge of increasing geopolitical tensions and are forced to adapt their strategies to mitigate risks and ensure the smooth running of their operations.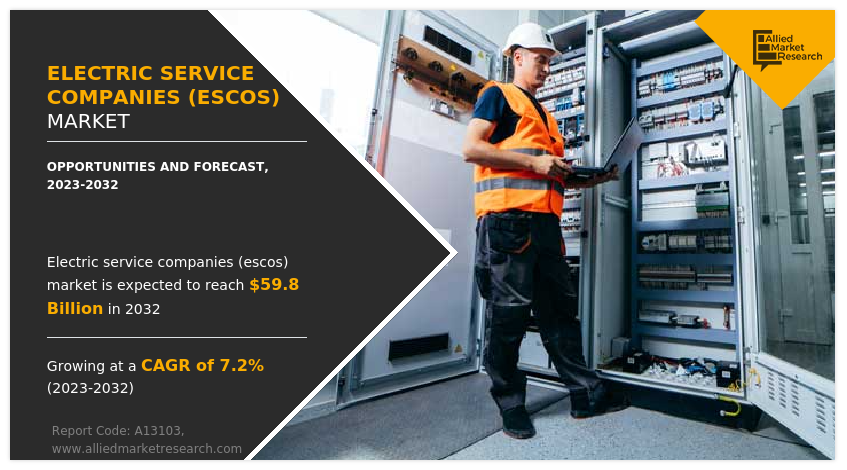 ESCOs, or Electric Service Companies, are organizations that specialize in providing essential services related to various operational, maintenance, and delivery functions within the energy sector. Over the past few decades, the energy industry has witnessed a significant increase in energy consumption due to factors such as population growth and rising demand from the industrial and manufacturing sectors. However, the global economic downturn in 2020 resulting from the COVID-19 pandemic had a negative impact on the growth of Electric Service Companies (ESCOs) Market. The worldwide halt in operational and manufacturing activities led to a decline in electricity demand, affecting the overall Electric Service Companies (ESCOs) Market growth.
Market Dynamics:
The approach of ESCOs focuses on energy conservation by optimizing energy usage and requirements based on an organization's consumption patterns. ESCOs can be established to support various projects, including area revitalization, large residential complex development, specific commercial endeavors like office or manufacturing facilities, or the construction of hospitals or multi-unit commercial complexes with offices or retail stores. However, the Electric Service Companies (ESCOs) Market growth of decentralized energy or ESCOs can be constrained by significant upfront expenses, which limit their widespread availability. ESCOs are business entities that collaborate to provide energy-related services and solutions, offering a diverse range of services aimed at improving energy efficiency based on the customers' needs.
ESCOs play a crucial role in reducing energy consumption and promoting sustainable practices. They cater to residential, commercial, and industrial clients by identifying their energy requirements and offering energy-saving solutions. These companies assist in implementing energy-efficient technologies and optimizing energy usage. They also provide energy audits and assessments to evaluate customers' energy needs and identify areas for efficiency improvements.
Based on the assessment results, ESCOs develop customized energy management plans and measures. These may involve retrofitting buildings with energy-efficient equipment, upgrading lighting systems, optimizing HVAC systems, and implementing renewable energy solutions like solar panels. An important aspect of ESCOs is their provision of innovative financing options. They often offer performance-based contracting models, where the costs of implementing energy efficiency measures are paid back through the resulting energy savings. This allows customers to implement energy-saving initiatives without the need for upfront capital investment.
ESCOs also play a vital role in ongoing energy monitoring and management. They provide energy management software, monitoring systems, and services to track energy consumption, analyze data, and optimize energy performance over time. This ensures that energy-saving measures are maintained and continuously improved.
Current Scenario:
The energy crisis that has emerged globally as a result of Russia's invasion of Ukraine has had extreme consequences for households, businesses, and entire economies. There are several sanctions being levied on Russian companies as well as economies trading with Russia. This situation has prompted immediate actions from governments and sparked a broader discussion on how to lower the risk of future disruptions and enhance energy security in case of unfortunate situations. The crisis has led to disruptions in energy supply and distribution, creating challenges for companies operating in this sector. The uncertainty and instability caused by the war have affected investment decisions and Electric Service Companies (ESCOs) Market dynamics. ESCOs are faced with the challenge of increasing geopolitical tensions and are forced to adapt their strategies to mitigate risks and ensure the smooth running of their operations. This crisis has underscored the importance of diversifying energy sources and strengthening energy security measures to minimize the potential impacts of geopolitical conflicts on the energy sector.
The global Electric Service Companies (ESCOs) Market Size is segmented into customer type and region.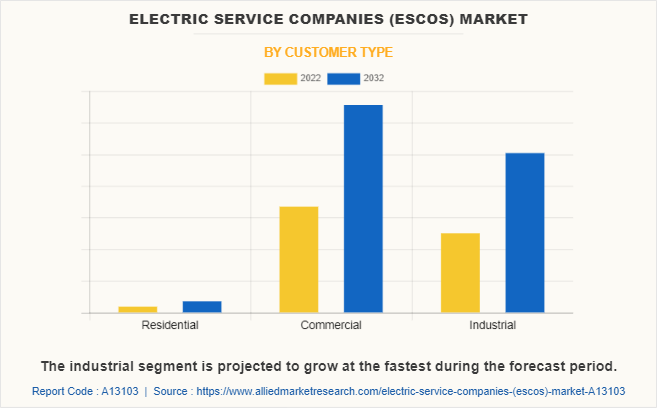 Depending on the customer type, the market is fragmented into residential, commercial, and industrial. The commercial segment dominated the electric service companies market share for 2022. However, the industrial segment is expected to grow at a higher CAGR during th electric service companies market forecast period. Residential buildings and complexes are prime sources for implementing electric service projects, encompassing both the demand and supply aspects. These projects hold significant potential in the market, particularly for larger urban developments, as they possess the capacity to invest in and leverage energy-saving measures for financial gains. The scale and scope of such urban projects make them lucrative to capitalize on energy efficiency and generate substantial savings.
The residential segment involves a range of properties, including small to large residential buildings, high-rise apartments, and row houses. ESCOs offer a wide array of electric services to residential customers, including repairs, upgrades, and installations of various electrical components such as switches, ceiling fans, landscape lighting, switchboards, portable generators with manual transfer switches, electric heating devices, pool & hot tub wiring repairs, and renovations. In addition, the residential sector requires wiring services, periodic battery maintenance, emergency lighting system upkeep, and power supply management.
Moreover, some companies even provide inspection services such as electrical home inspections, circuit breaker inspections, and replacement of outdated wiring. Both private and public residential projects are the target audience for ESCOs in this segment. Multi-apartment buildings, in particular, can benefit from significant energy savings within 2–5 years and achieve a return on investment. However, the lack of proper regulations and standards acts as a key restraint of the market. In addition, the absence of model projects and limited awareness among consumers hinder market expansion.
In the commercial segment, airports, restaurants, hotels, data centers, offices, warehouses, and retail stores are the major customers. ESCOs provide the design, installation, maintenance, and repair of electrical systems for such buildings. They offer several electrical services for commercial onsite locations such as upgrading present lighting systems, installation, and upgradation of electrical panels, wiring or rewiring projects, remodeling, indoor & outdoor lighting installations, updating or installing security systems, and motion detection systems. These services are designed to work on maximum energy efficiency, aimed at improving functionality and ensuring compliance with safety regulations.
Electric service providers often collaborate closely with architects, contractors, and designers throughout the entire process of a commercial project, from the initial stages of construction to its completion. This collaboration ensures comprehensive support and coordination to deliver optimal electrical solutions for commercial buildings. Overall, ESCOs play a vital role in the commercial segment by providing a range of electrical services, collaborating with industry professionals, and ensuring that electrical systems in commercial buildings are designed, installed, and maintained effectively.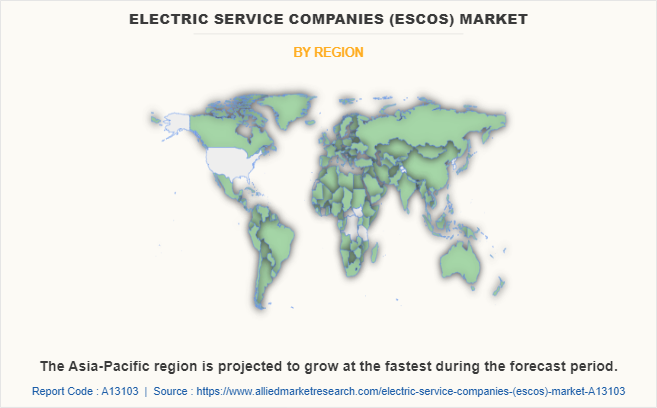 Region-wise, Electric Service Companies Market Analysis is done across North America (U.S., Canada, and Mexico), Europe (Germany, the UK, France, Italy, Spain, and the rest of Europe), Asia-Pacific (China, India, Japan, South Korea, Australia, and the rest of Asia-Pacific), and LAMEA (Saudi Arabia, Brazil, South Africa, and the rest of LAMEA). The North America electric service companies (ESCO) market is analyzed across the U.S., Canada, and Mexico. The U.S. is the dominant country in the region in terms of Electric Service Companies (ESCOs) Market share, followed by Canada. This is attributed to the presence of companies such as Ameresco, Johnson Controls, Honeywell, Siemens, Schneider Electric, and Trane (a brand of Ingersoll Rand). These companies have extensive experience in energy efficiency projects and have successfully implemented numerous initiatives across the country. Mexico garners the lowest share of the Electric Service Companies (ESCOs) Market.
In North America, ESCOs play a defining role in providing a wide range of energy-related services to customers. They focus on offering energy-efficient solutions, which may require renewable energy integration and other energy management services. In North America, Energy Performance Contracting (EPC), a financial mechanism offered by ESCOs, allows clients to implement energy efficiency projects without upfront capital investment. ESCOs finance the project costs and guarantee a certain level of energy savings, with the savings used to repay the investment.
This model enables businesses and institutions to overcome financial barriers and accelerate the adoption of energy-efficient solutions. They further provide energy audit services extending to energy upgrades as per need, installation of appliances to achieve energy efficiency, and offer renewable energy solutions, especially solar installation. This aids in reducing energy bills, which aids customers in saving money. In the commercial sector, they work in collaboration with businesses, institutions, and organizations to incorporate energy management strategies as per their need.
They offer services that are common for commercial sectors such as energy audits, lighting retrofits, HVAC system optimization, and building automation solutions. This aids commercial customers to achieve energy savings, meeting sustainability goals, and enhancing operational efficiency. In the industrial sector, ESCOs in North America offer specialized services tailored to the unique energy needs of manufacturing facilities, industrial plants, and other industrial establishments.
The LAMEA Electric Service Companies (ESCOs) Market is analyzed across Brazil, Saudi Arabia, South Africa, and the rest of LAMEA. Brazil is the dominant country in the region in terms of market share, followed by South Africa. This is attributed to the fact that Brazil has a strong focus on promoting renewable energy sources, such as wind, solar, and biomass. ESCOs contribute to this objective by implementing renewable energy projects, facilitating the adoption of clean energy technologies, and helping organizations transition to sustainable energy solutions. An increase in focus on energy efficiency, implementing renewable energy technologies & systems, and encouraging sustainable development are expected to create lucrative opportunities for ESCOs in LAMEA's energy transition.
In addition, ESCOs in the region are continuously working to increase awareness about the benefits of implementing energy-saving systems. In addition, they are engaged in providing energy management solutions and assisting clients to achieve energy goals and consequently reduce environmental impact. While the ESCO market in LAMEA is still developing, there are notable activities and Electric Service Companies Market growth opportunities in various countries within the region.
For instance, in Latin America, both commercial and industrial clients are addressing the need for energy saving opportunities and have thus opted for improved operational efficiency and reduced energy costs. In addition, the economies such as the United Arab Emirates, Saudi Arabia, and Qatar have introduced policies that have increased focus on energy conservation and sustainable practices. Thus, all these factors collectively contribute toward the growth of the market
The major key players operating in the Electric Service Companies (ESCOs) Industry are Schneider Electric, General Electric, Siemens, Honeywell, Johnson Controls, Orsted, Eaton Corporation, Alpiq, Enel X, and Veolia. Alpiq Holding Ltd. (Alpiq) is one of the leading producers and providers of electricity. It is a Switzerland-based company that offers energy-saving projects to commercial, industrial, and residential customers. It offers solutions such as electricity supply, gas supply, asset management, energy management, renewable energy management, and digital energy solutions.
Recent Development Strategies Announced By Key Players
Eaton Corporation announced that it has completed the acquisition of a 49% stake in Jiangsu Ryan Electrical Co. Ltd. (Ryan), a manufacturer of power distribution and sub-transmission transformers in China.
Honeywell International Inc. and SAPA Placencia, a major electric power solution provider and world leader in heavy vehicle transmissions, had signed a memorandum of understanding (MOU) to collaborate in the development of enhanced electric power generation for military land vehicles.

Johnson Controls International acquired Hybrid Energy to enhance its industrial heat pump portfolio. This acquisition enables Johnson Controls to provide high-temperature heat pumps in rapidly growing district heating and industrial markets, especially in Europe.
Key Benefits For Stakeholders
This report provides a quantitative analysis of the market segments, current trends, estimations, and dynamics of the market analysis from 2022 to 2032 to identify the prevailing electric service companies market opportunities.
The market research is offered along with information related to key drivers, restraints, and opportunities.
Porter's five forces analysis highlights the potency of buyers and suppliers to enable stakeholders to make profit-oriented business decisions and strengthen their supplier-buyer network.
In-depth analysis of the electric service companies market scope assists to determine the prevailing market opportunities.
Major countries in each region are mapped according to their revenue contribution to the global market.
Market player positioning facilitates benchmarking and provides a clear understanding of the present position of the market players.
The report includes the analysis of the regional as well as global electric service companies market trends, key players, market segments, application areas, and market growth strategies.
 Electric Service Companies (ESCOs) Market Report Highlights
Aspects
Details
Market Size By 2032
USD 59.8 billion
Growth Rate
CAGR of 7.2%
Forecast period
2022 - 2032
Report Pages
191
By Customer Type

Commercial
Residential
Industrial

By Region

North America (U.S., Canada, Mexico)
Europe (Germany, UK, France, Italy, Spain, Rest of Europe)
Asia-Pacific (China, Japan, India, South Korea, Australia, Rest of Asia-Pacific)
LAMEA (Brazil, Saudi Arabia, South Africa, Rest of LAMEA)

Key Market Players
Eaton Corporation, Enel X S.r.l., Schneider Electric SE., Johnson Controls International, Honeywell International Inc., General Electric, Veolia Environment S.A., Siemens, Alpiq Holding Ltd., Orsted A/S
Analyst Review
As per the insights of the top-level CXOs, the ESCO market is highly fragmented in nature, however, IT is poised to experience steady growth. The factors contributing to the growth of the ESCO market include the emergence of new revenue streams for utilities, an increase in the utilization of distributed energy resources, a decline in costs of renewable power generation & storage solutions, and the availability of federal & state tax benefits for energy-efficient projects.
However, the substantial initial costs associated with establishing or subscribing to ESCO services have hindered the industry's expansion. Despite facing constraints, the market is witnessing significant growth opportunities; for instance, the implementation of energy-saving mandates and the outsourcing of energy-related tasks are expected to open new avenues for the overall industry development during the forecast period.