The global electric utility vehicle market was valued at $8.59 billion in 2021, and is projected to reach $24.98 billion by 2031, growing at a CAGR of 11.4% from 2022 to 2031.
Electric utility vehicle is a zero-emission vehicle, which utilizes electric motor to carry out a specific task. These are primarily an alternative for traditional utility terrain vehicles that are powered by internal combustion engines. It can have a high-capacity battery, a battery swap system, or a lithium-ion battery with a quick charging system. It is a quiet and green alternative to conventional utility vehicle and aids in reducing carbon footprints.
The impact of the COVID-19 pandemic has resulted in supply-chain disruptions, causing low sales of passenger cars and temporary suspension of production of vehicles across the globe, which in turn resulted in decrease in the demand for automotive across the globe. For instance, in 2020, global automobiles production recorded a drop of 16% in vehicle production. In addition, in March 2020, in India, Hyundai suspended manufacturing operations at its Chennai facility due to the COVID-19 pandemic. Several automobile manufacturers faced shortage of components, such as semiconductor chips, and others, which further resulted in delay in production of automobiles. For instance, in 2020, Nissan had to halt production for two days at a plant in Japan, which manufactures Serena and X-Trail models due to shortage of automotive parts. In addition, the COVID-19 pandemic also had an adverse effect on electric utility vehicle industry. As per the data released by Society of Electric Vehicle Manufacturers (SMEV), new EV registration of all types of electric vehicles during 2021 dropped by 20% as compared to the number of new EV registrations in 2020. However, it is been predicted that though the sales of electric vehicles were hampered due to the pandemic for a short term, the industry is set to bounce back with the higher growth than that of the previous year, owing to the consistent rise in fuel prices and rise in concerns towards environmental pollutions coupled with provision of the subsidies by various governments.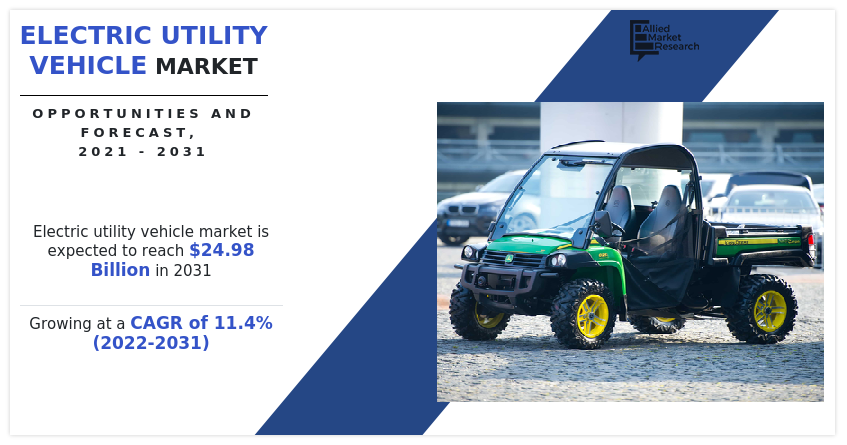 The growth of the global electric utility vehicle market is propelling, due to launch of new and improved electric utility vehicle, stringent government rules and regulations toward vehicular emission, and increase in fuel costs. However, lack of charging infrastructure and limited driving range of electric vehicle are factors that hamper the growth of the electric utility vehicle industry. Furthermore, technological advancements and proactive government initiatives are expected to offer growth opportunities in the market during the forecast period.
The electric utility vehicle market is segmented on the basis of battery type, vehicle type, application, and region. By battery type, it is segmented into lithium-ion, lead-acid, and others. By vehicle type, it is classified into sport utility vehicle, multi utility vehicle, utility terrain vehicle, and others. By application, it is fragmented into passenger commute, industrial, agricultural, sports, and others. Region-wise, the report is analyzed across North America, Europe, Asia-Pacific, and LAMEA.
Some leading companies profiled in the electric utility vehicle market report comprise Alke, Bollinger Motors Inc., Club Car, Columbia Vehicle Group Inc., Ford Motor Company, General Motors, Hyundai Motor Company, Mahindra Electric Mobility Limited, Marshell Green Power, Neuron Energy, Polaris Inc., Star EV Corporation, Tesla, Inc., Toyota Motor Corporation, and Tropos Technologies Inc.
Electric Utility Vehicle Market

---
By Vehicle Type
Utility terrain vehicle is projected as the most lucrative segment
Launch of new and improved electric utility vehicle
Electric utility vehicle are utilized for recreation, such as hunting and fishing. It is also used for agricultural purposes, such as feeding cattle, towing, and construction tasks. At present, most of the utility vehicles are based on internal combustion engines, which uses fossil fuels to run the vehicle and create emissions. However, electric utility vehicle runs on clean energy and do not create any emission and also have low maintenance cost, which in turn is driving the demand for electric utility vehicle.
In addition, manufacturers across the globe are focusing on electrification of vehicles owing to environmental concerns. Numerous manufacturers are developing and introducing new electric utility vehicle to reduce carbon footprints. For instance, in May 2022, Alpha Motor Corporation unveiled pure electric utility vehicle namely, REX. REX is built on a common platform that powers the WOLF Truck series. The REX is expected to be equipped with a four-wheel-drive system and independent suspension to manage rough terrain. It will also include an 85 kWh lithium-ion battery with a range of 275 miles. Moreover, in December 2021, Polaris, a manufacturer of multi-utility vehicles, introduced its all-new electric UTV named as RANGER XP Kinetic. It comprises two models: one is premium trim which has a single 14.9 kWh lithium-ion battery with a range of 70 kms, and other model has 29.8 kWh lithium-ion battery with a range of 130 kms.
Electric Utility Vehicle Market

---

By Battery Type
Lithium-ion battery is projected as the most lucrative segment
Stringent government rules and regulations toward vehicular emission
With the growing environmental concerns, governments and environmental agencies globally are enacting stringent emission norms and laws to reduce vehicle emission. Major regulatory measures are stringent emissions targets for the reduction of nitrogen oxides (NOx) and carbon dioxide (CO2) in air. High amounts of greenhouse gases being emitted from vehicles and federal and state governments in the U.S. are stepping up efforts to make transportation cleaner.
For instance, the U.S. Environmental Protection Agency (EPA) announced that they are working on new rules to decrease emissions of nitrogen oxide (NOx) and other pollutants from heavy-duty trucks.
In addition, the California Air Resources Board (CARB) is adopting heavy-duty Low NOx Omnibus Regulation, which aims to achieve a 90% reduction from current NOx emissions limits by 2027. Moreover, in Europe, the European Union (EU) committed within the Paris agreement (COP21) to achieve its 20% greenhouse gas reduction target in 2020 for the second phase of the Kyoto Protocol. The EU has also set a target to achieve 40% greenhouse gas reduction by 2040 and net-zero by 2050.
Therefore, with enactment of the emission regulations for fossil fuel-powered vehicle, the burden on vehicle manufacturers, especially on commercial vehicle manufacturers, has further increased. This, in turn, is expected to drive the demand for electric utility vehicles. Thus, stringent emission norms imposed on fossil-fuel powered commercial vehicles significantly drive the growth of the electric utility vehicle market.
Electric Utility Vehicle Market

---

By Region
Asia-Pacific would exhibit the highest CAGR of 12.2% during 2022-2031
The electric utility vehicle market is segmented into Vehicle Type, Application and Battery Type.
Key Benefits For Stakeholders
This report provides a quantitative analysis of the market segments, current trends, estimations, and dynamics of the electric utility vehicle market analysis from 2021 to 2031 to identify the prevailing electric utility vehicle market opportunities.
The market research is offered along with information related to key drivers, restraints, and opportunities.
Porter's five forces analysis highlights the potency of buyers and suppliers to enable stakeholders make profit-oriented business decisions and strengthen their supplier-buyer network.
In-depth analysis of the electric utility vehicle market segmentation assists to determine the prevailing market opportunities.
Major countries in each region are mapped according to their revenue contribution to the global market.
Market player positioning facilitates benchmarking and provides a clear understanding of the present position of the market players.
The report includes the analysis of the regional as well as global electric utility vehicle market trends, key players, market segments, application areas, and market growth strategies.
 Electric Utility Vehicle Market Report Highlights
Aspects
Details
Vehicle Type

Sport Utility Vehicle
Multi Utility Vehicle
Utility Terrain Vehicle
Others

Application

Passenger Commute
Industrial
Agricultural
Sports
Others

Battery Type

Lithium-ion
Others
Lead-acid

By Region

North America (U.S., Canada, Mexico)
Europe (Germany, U.K., France, Spain, Rest of Europe)
Asia-Pacific (China, India, Japan, South Korea, Rest of Asia-Pacific)
LAMEA (Latin America, Middle East, Africa)

Key Market Players
Tesla, Inc., Alkè, Tropos Motors, Columbia Vehicle Group Inc., Marshell Green Power, Polaris Inc., Club Car, Star EV Corporation, Neuron EV, Bollinger Motors, Mahindra Electric Mobility Limited, Ford Motor Company, The General Motors Company, Toyota Motor Corporation, Hyundai Motor Company