Electric Vehicle Charger Market Statistics - 2027
The electric vehicle charger market size was valued at $3.8 billion in 2019, and is projected to reach $25.5 billion by 2027, registering a CAGR of 26.8% from 2020 to 2027.
Electric vehicle (EV) chargers are used to provide charging to electric vehicles with a battery and the electrical source that helps to charge the battery. Charging of such vehicles can be carried out through different levels of charging, i.e., level 1, level 2, and level 3. The cost in addition to maintenance cost of electric vehicles is lower than conventional petrol/diesel cars. Electric vehicles reduce the carbon footprints released into the atmosphere, which contain toxic gas.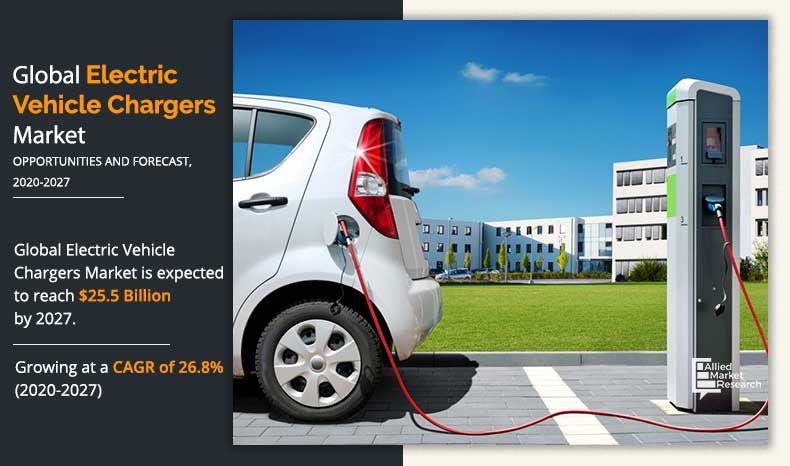 The major companies profiled in the electric vehicle charger market share include ABB Ltd., Robert Bosch GmbH, Siemens AG, Delphi Automotive, Chroma ATE, Aerovironment Inc., Silicon Laboratories, Chargemaster PLC, Schaffner Holdings AG, and POD Point.
The electric vehicle charger market is segmented into vehicle type, charging type, end user, and region. By vehicle type, it is divided into battery electric vehicles (BEV), plug-in electric vehicles (PHEV), and hybrid electric vehicles (HEV). By charging type, it is bifurcated into on-board chargers and off-board chargers. The end user segment includes residential and commercial EV chargers. Region-wise, it is analyzed across North America, Europe, Asia-Pacific, and LAMEA.
Top Impacting Factors
The significant factors impacting the growth of the electric vehicle charger market include government regulations to limit environment pollution, increase in market penetration of electric vehicles, and surge in government initiatives for development of electric vehicle charging infrastructure. Further, limited number of EV charging stations, lack of standardization of EV charging, rise in demand for luxury and feature enabled vehicles, and wireless charging for electric vehicles have strong impact on the market. Each of these factors is anticipated to have a definite impact on the electric vehicle charger market during the
Government regulations to limit environment pollution
The conventional gas-powered vehicle makes use of an internal combustion engine to generate power. In an ideal scenario, the combustion system fully incinerates the fuel and only creates carbon dioxide and water as waste; however, the combustion system generates various greenhouse gases, leading to environmental pollution. On the other hand, an electric vehicle uses an electric motor powered via a continuous supply of current; hence, it does not create any pollutants. The U.S., Germany, France, and China have implemented stringent government laws and regulations for vehicular emission, making it mandatory for the automobile manufacturers to use advanced technologies to combat high-emission levels in vehicles. A program launched by California Air Resources Board (CARB) also includes guidelines for manufacturers to produce and deliver zero-emission vehicles (ZEVs), substantially boosting the adoption of electric vehicles and thereby electric vehicle charger market.
Electric Vehicle Charger Market

---
By Vehicle Type
BEV is projected as the most lucrative segments
Further, several policies have been deployed by the various governments across the globe to cater with environmental conditions. For instance, Electric Vehicle Initiative (EVI), a multi-firm government policy forum established in 2009 under Clean Energy Ministerial (CEM), helped the key players to accelerate the deployment of electric vehicles worldwide (as per IEA.org). In addition, during the last quarter of year 2018, China government announced its New Energy Vehicle (NEV) mandate, which is to ban the cars with internal combustion engines (ICS) over the long term. Further, Indian government is also providing subsidiaries to promote the sales and use of the electric vehicles. All these factors are anticipated to drive the growth of the electric vehicle charger market.
Electric Vehicle Charger Market

---
By Charging Type
Off-board chargers is projected as the most lucrative segments
Increase in market penetration of electric vehicles
Gasoline being a fossil fuel is not a renewable source of energy and is expected to exhaust in the future. To support sustainable development, it is important to develop and use alternative sources of fuel. This involves use of electric vehicles, which do not use gas and is more economical than conventional vehicles. An electric vehicle converts over 50% of the electrical energy from the grid to power at the wheels, whereas the gas-powered vehicle only manages to convert about 17%–21% of the energy stored in gasoline. The demand for fuel-efficient vehicles has increased recently owing to rise in price of petrol and diesel. This is due to depleting fossil fuel reserves and growth in tendency of companies to gain maximum profit from these oil reserves. Thus, these factors boost the need for advanced fuel-efficient technologies, leading to surge in demand for electrically powered vehicles for travel.
Electric Vehicle Charger Market

---
By Region
LAMEA would exhibit the highest CAGR of 28.3% during 2019-2027.
Key Benefits For Stakeholders
This study comprises analytical depiction of the electric vehicle charger market trends with current trends and future estimations to depict the imminent investment pockets.
The overall potential is determined to understand the profitable trends to gain a stronger foot hold.
The electric vehicle charger market analys is report presents information related to key drivers, restraints, and opportunities with a detailed impact analysis.
The current growth and electric vehicle charger market forecast is quantitatively analyzed from 2019 to 2027 to benchmark the financial competency.
Porter's five forces analysis illustrates the potency of the buyers and suppliers in the electric vehicle charger market share.
The study also comprises the electric vehicle charger market opportunity which help key players in decision making.
The leading players in the electric vehicle chargers industry are expecting high revenue margin from market returns.
 Electric Vehicle Charger Market Report Highlights
Aspects
Details
By Vehicle Type

Battery Electric Vehicle (BEV)
Plug-in Hybrid Electric Vehicle (PHEV)
Hybrid Electric Vehicle (HEV)

By Charging Type

On-board Chargers
Off-board Chargers

By End User
By Region

NORTH AMERICA (U.S., Canada, Mexico)
EUROPE (U.K., Germany, France, Netherlands, Norway, Rest of Europe)
ASIA-PACIFIC (China, Japan, India, South Korea, Rest of Asia-Pacific)
LAMEA (Latin America, Middle East, Africa)

Key Market Players
ABB LTD, AEROVIRONMENT INC, CHARGEMASTER PLC, CHROMA ATE INC, DELPHI TECHNOLOGIES, POD POINT LTD, ROBERT BOSCH GMBH, SCHAFFNER HOLDING AG. (EVATRAN GROUP), SIEMENS AG, SILICON LABORATORIES, INC