The global e-paper display market size was valued at $1.6 billion in 2020, and is projected to reach $9.5 billion by 2030, growing at a CAGR of 17.3% from 2021 to 2030. 
Electronic paper display (EPD) is a significant development in the display technology owing to its advanced features, such as readability in direct light (indoor as well as outdoor ambience), low power consumption, flexibility, durability, lightweight, and convenient composition. It is also known as bistable display that refers to the retention of content on the screen even when the power is turned off.
The retail industry impacted negatively, due to COVID-19 Pandemic outbreak.
Electronic paper display presents itself as a practical fusion of physics, chemistry, and electronics. The ink utilized in this display technology is termed as e-ink, with chemical composition similar to the pigment used in the conventional printing industry. Instead of being deposited on paper, this ink takes the form of tiny capsules (about the diameter of the human hair sandwiched between two electrodes) to produce a monochrome result or sometimes a result with limited colors. Two-pigment ink system is used for monochromatic EPDs, whereas for applications using multiple colors like electronic shelf labels, three-pigment ink system is used.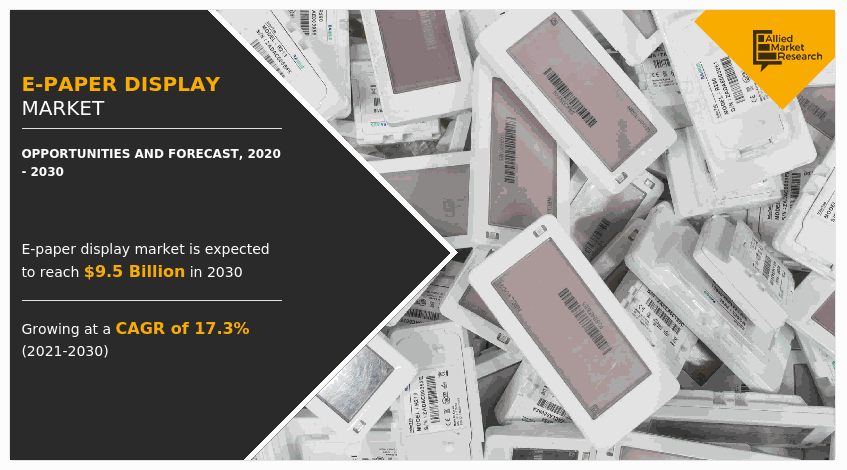 The e-paper display market growth across various applications is attributed to factors, such as ongoing technological advancements in e-paper screen, positive environmental impact owing to very less energy consumption as compared to other display technologies, and increase in application areas of large e-paper display. The advantages offered by these paper displays in terms of readability, user experience, energy consumption, and manufacturing cost, are some of the factors that drive the global electronic paper display market. However, lack of awareness, low refresh rate, and absence of wide color pallet along with video output limitation restrict the overall e-paper display industry growth.
E-Paper Display Market

---
By Product
E-readers segment is expected to secure leading position during forecast period.
SEGMENT OVERVIEW
The e-paper display market is segmented on the basis of product, application, and geography. The products segment is classified into auxiliary displays, e-readers, electronic shelf labels, and others.
E-Paper Display Market

---

By Application
Retail segment is projected as one of the most lucrative segments.
The application segment includes consumer & wearable electronics, institutional, media & entertainment, retail, and others. Geographically, the e-paper display market trends are analyzed across North America, Europe, Asia-Pacific, and LAMEA.
E-Paper Display Market

---

By Region
Asia-Pacific would exhibit the highest CAGR of 19.3% during 2021-2030
TOP IMPACTING FACTORS
The significant impacting factors in the e-paper display industry include, technological innovation and ongoing advancement, growing application areas, and environmental impact, which impact the growth of the market. However, limitations related to color pallet and videoutput, and low refresh rate of e-paper display are expected to hinder the growth of the e-paper display market. Conversely, increase in participation of key players and growth in the retail automation industry are projected to offer remunerative e-paper display market opportunities. Each of these factors are anticipated to have a definite impact on the market during the forecast period.  
COVID-19 IMPACT ANALYSIS
The outbreak of COVID-19 significantly affected the electronics and semiconductor sectors. Businesses and manufacturing units across various countries were closed, owing to increase in number of COVID-19 cases, and were estimated to remain closed in 2021. Furthermore, partial or complete lockdown disrupted global supply chains, posing challenges for manufactures to reach customers.
The COVID-19 pandemic impacts the society and overall economy across the globe. The impact of this outbreak grows day-by-day, affecting the overall business globally. The crisis is creating uncertainty in the stock market, falling business confidence, massive slowing of supply chain, and increasing panic among customer segments.
Asian and European countries under lockdowns suffered major loss of business and revenue due to the shutdown of manufacturing units. The operations of the production and manufacturing industries were heavily impacted by the outbreak of the COVID-19 pandemic, which negatively impact the growth of the e-paper display market outlook.
The COVID-19 pandemic impacted the electronics sector, as the production facility halted, which, in turn, resulted in decrease in demand for electronics and semiconductor products in industries. Its major impacts include large-scale manufacturing interruption across Europe and interruption in Chinese parts exports, which are expected to hinder the e-paper display market opportunity.
COMPETITIVE ANALYSIS
The key players profiled in the report include, Liquavista B.V. (Amazon), Cambrios Technologies Corporation, CLEARink Displays, Inc., E Ink Corporation, Guangzhou OED Technology Inc., GDS Holding S.r.l., Plastic Logic, LG Electronics Inc., Pervasive Displays Inc., and Samsung Electronics Co. Ltd. These key players have adopted strategies, such as product portfolio expansion, mergers & acquisitions, agreements, geographical expansion, and collaborations to enhance their position in the e-paper display market.
KEY BENEFITS FOR STAKEHOLDERS
This study comprises analytical depiction of the global

e-paper display market

size along with the current trends and future estimations to depict the imminent investment pockets.

The overall

e-paper display market

analysis is determined to understand the profitable trends to gain a stronger foothold.

The report presents information related to key drivers, restraints, and opportunities with a detailed impact analysis.

The

e-paper display market

forecast is quantitatively analyzed from 2021 to 2030 to benchmark the financial competency.

Porter's five forces analysis illustrates the potency of the buyers and suppliers in the industry.

The report includes the

e-paper display market

share of key vendors and market trends.
 E-Paper Display Market Report Highlights
Aspects
Details
By Product

Others
Auxiliary Display
Electronic Shelf Labels
E-Readers

By Application

Consumer and Wearable Electronics
Institutional
Media and Entertainment
Retail
Others

By Region

North America (U.S., Canada, Mexico)
Europe (France, Germany, U.K., Rest of Europe)
Asia-Pacific (China, Japan, India, South Korea, Rest of Asia-Pacific)
LAMEA (Latin America, Middle East, Africa)

Key Market Players
Liquavista B.V. (Amazon), Samsung Electronics Co. Ltd., Cambrios Technologies Corporation, CLEARink Displays, Inc., E Ink Corporation, Guangzhou OED Technology Inc., GDS Holding S.r.l., Plastic Logic, LG Electronics Inc., Pervasive Displays Inc.
Other Players In The Value Chain Include
Displaydata, Dke Co. Ltd, Epson Electronics America, Inc., Global Display Solutions, Motion Display, Mpicosys, Omni-Id, Solomon Systech Limited, Ubiik, Visionect