Electronic Warfare market Statistics – 2028
The global electronic warfare market valued $15,811.4 million in 2020 and is projected to reach $23,560.4 million in 2028, registering a CAGR of 5.6% for the forecast period 2021-2028.    
The rapid spread of COVID-19 had a significant impact on the global aerospace industry in 2020, owing to the disruption in the supply chain of essential raw materials. COVID-19 pandemic led to several challenges for the aerospace industry such as lowered production, non-availability of materials, logistics challenges, and others. These challenges significantly led to cancellations of several existing aircraft modernizations, electrification, and new production offers, and delay in aircraft deliveries. Although many challenges lie ahead, the world witnessed some positive developments by the governments to lessen the economic impact of the pandemic. For instance, several governments around the world announced relief packages to help the aerospace industry. which may help the aviation industry.
Development of advanced technologies in electromagnetic spectrum complicates execution of military operations in an information-reliant environment. The need for electronic warfare to support unimpeded access to electromagnetic environment defense operations is on the rise with increase in electronic threats. Electronic warfare is a critical element of information and is utilized in offensive and defensive counter-information activities. Nations around the world have developed and adopted electronic warfare (EW) policy and doctrine. Electronic warfare activities involve infrared and radio frequency countermeasures, electronic masking, electronic security, electronic counter-countermeasures, and anti-jamming capabilities.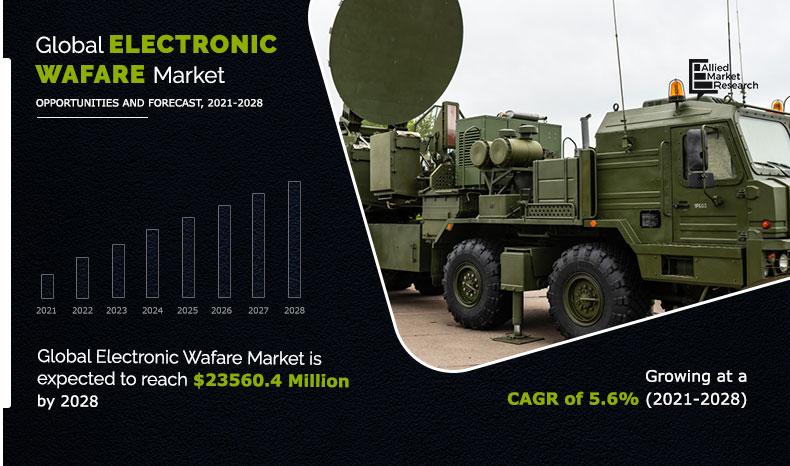 North America includes powerful and large economies such as the U.S. and Canada. Rise in defense spending across the U.S. is a key driver for the growth of the electronic warfare market over the forecast period. North America is projected to witness increase in adoption of electronic warfare by defense agencies, owing to multiple military modernization and enhancement programs underway in North America. Increase in investments by North American countries propels development of advanced electronic warfare equipment across the region. Presence of premier defense equipment manufacturers in the region increases contribution of North American countries in the global electronic warfare market.
Increase in new electronic warfare product development activities by industry giants in the region further boosts growth of the electronic warfare market. For instance, Raytheon Intelligence and Space developed a new dual-band decoy electronic warfare system in April 2021 that can operate in a wider range of bands in the electromagnetic spectrum. The dual-band decoy electronic warfare system can also identify more threats and engage them from a farther range. Increased defense spending by North American countries and development of new defense systems are expected to fuel growth of the market during the forecast period.
U.S. is the leader in implementation of modern technologies in military, navy, homeland security, and other defense agencies. U.S. Department of Defense (DoD) is the nation's largest government agency with an annual budget of $721.5 billion as of financial year 2020. This allocation is a 5.2% rise from the 2019 budget for U.S. Department of Defense (DoD). U.S. Air Force, U.S. Navy, and U.S. Army heavily invest in modernization of the existing defense infrastructure and installation of advanced defense equipment.
For instance, in April 2021, a $15.5 million contract was offered to Raytheon Technologies by the U.S. Air Force to deliver an upgraded version of dune the buggy-mounted laser weapon system. This high-energy laser weapon system (HELWS) can destroy small unmanned aerial systems from directed energy up to a range of 3 kilometers. In addition, aerospace and defense prime contractors and government are focused on development of advanced technology solutions to cater to rise in need for modern defense systems in the U.S.
For instance, in May 2021, CAES and Colorado Engineering Inc. (CEI) announced a collaboration for joint development of electronic warfare systems, missile seekers, and other advanced technologies. Major factors that promote growth of the electronic warfare market include increased defense expenditure and rise in development of advanced defense equipment by private organizations.
Rise in innovations and development of new warfare are is anticipated to fuel growth of the global electronic warfare market during the forecast period. For instance, in April 2021, the Iranian Army Ground Force's Research and Self-Sufficiency Jihad Organization launched a slew of electronic warfare and other electronic systems. The warfare systems would be used to provide protection to Iranian drones in enemy territory and disrupt enemy drones. Rise in threats of enemy drones and remotely triggered IEDs have increased investments in electronic warfare systems for defence against such threats. For instance, the UAE defense conglomerate, Edge Group launched NavControl-G, a specialized counter-drone capability, and V-Protect, a radio frequency communication jamming system. Electronic warfare solutions provide safety for on-the-move Iranian VIPs or strategic commanders.
The electronic warfare market is segmented on the basis of capability, equipment, product, platform, and region. By capability, it is divided into electronic protection, electronic support, and electronic attack. Depending on equipment, it is fragmented into jammer, countermeasure system, decoy, directed energy weapon, and others. On the basis of product, it is classified into EW equipment and EW operational support. On the basis of platform, it is divided into land, naval, airborne, and space. Region-wise, the market is analyzed across North America, Europe, Asia-Pacific, and LAMEA.
Key players operating in the global electronic warfare market include BAE Systems plc, Elbit Systems Ltd., General Dynamics Corporation, Israel Aerospace Industries Ltd. (IAI), L3Harris Technologies, Inc., Leonardo SpA, Lockheed Martin Corporation, Northrop Grumman Corporation, Raytheon Technologies Corporation, SAAB AB, and Thales Group 
Electronic Warfare Market

---
By Capability
Electronic Protection is projected as the most lucrative segments
Growth in need for surveillance, intelligence, and self-protection capabilities 
Rise in digital and cybersecurity threats and attacks has increased the need for adoption of advanced surveillance, intelligence, and self-protection capabilities globally. Defense agencies around the world have started implementation of electronic to achieve augmented situational awareness to maintain superiority in defense across land, sea, and air. For instance, in April 2021, the U.S. Navy tested a self-protection system for their maritime patrol plane P-8A Poseidon. The self-protection system is capable of releasing an AN/ALE-55 towed decoy, which diverts radar-homing missiles away from aircraft and jamming enemy radars. 
Defense companies are developing electronic warfare systems with self-protection capabilities to increase protection of aircraft, satellites, naval ships, and military vehicles from electronic and radar threats. Advanced electronic warfare systems aid defense agencies in delivering swift responses against enemy attacks. For instance, in April 2021, Gilmour Space Technologies and DEWC Systems announced a partnership to launch Miniaturised Orbital Electronic Warfare Sensor Systems (MOESS) on the satellites of Gilmour Space Technologies. It protects communication signals from getting jammed. Moreover, electronic warfare technology is also involved in gathering intelligence and carrying out surveillance activities on battlefields or hostile environment to plan and decide a swift action to resolve a situation. Rise in development and adoption of electronic warfare systems to enhance surveillance, intelligence, and self-protection capabilities of defense organizations are anticipated to propel growth of the global electronic warfare market during the forecast period.  
Electronic Warfare Market

---
By Equipment
Jammer is projected as the most lucrative segments
Rise in adoption of electronic warfare systems 
Increase in instances of political, economic, or social upheaval among countries or regions has led to rise in domestic and intercontinental tensions across the globe. Governments have increased defense expenditure to defend growing territorial and intercountry instability. For instance, rise in threat from Precision Guided Missiles and Unmanned Aerial Vehicles [UAVs] produced by Iran has enforced establishments of an inter-agency working group for the U.S. and Israel to combat threats by use of advanced electronic warfare techniques. 
Emerging economies and developed nations have increased adoption of advanced defensive systems such as electronic warfare to counter rising regional instability. For instance, increase in incidences of impasse at the India-China border gave rise to development and procurement of advanced defense capabilities by both countries. In November 2020, China developed an anti-stealth radar for detecting advanced stealth fighter jets and guiding defensive missiles toward them. The anti-stealth radar aids China in carrying out countermeasures against fifth-generation aircrafts, which posed challenges for their conventional air defense systems. Hence, rise in adoption and development of advanced defense mechanisms worldwide acts as a driver for growth of the electronic warfare market.    
Electronic Warfare Market

---
By Product
EW Equipment is projected as the most lucrative segments
High deployment cost 
Increase in involvement of strategic and tactical roles played by electronic warfare in modern warfare such as electronic support, electronic protection, and electronic attack propels demand for affordable and effective electronic warfare systems. Electronic warfare systems are required to perform in high-magnitude signal environments and crowded electromagnetic environments. Complexity and performance requirement associated with electronic warfare system further increases deployment cost of electronic warfare. For instance, in April 2020, the U.S. pegged the cost for up-gradation of electronic warfare systems of the F-15J aircraft of Japan to $745 million and later increased it to $2.2 billion. The massive rise in the cost of upgradation has ceased operations of the F-15 upgrade program. 
Upgradation and modernization of electronic warfare techniques require huge investments, which presents an obstacle for implementation by developing economies. For instance, Northrop Grumman secured a $1.16 billion contract in 2020 from the U.S. Navy for developing and delivering an electronic warfare system with improved electronic attack (EA) capability. High deployment cost of electronic warfare acts as a restraint for growth of the electronic warfare market.
Electronic Warfare Market

---
By Platform
Airborne is projected as the most lucrative segments
Vulnerability of electronic warfare systems to cyber-attacks 
Electronic warfare systems provide protection and security to defense infrastructures of a country. These systems operate on electromagnetic radiations by transmitting data securely. Cyber-attacks pose a threat to electronic warfare systems by creating hindrance or blocking access to electromagnetic spectrum such as denial-of-service attack. Cybercriminals exploit potential vulnerabilities of electronic warfare systems and attacks critical national infrastructures such as communications, intelligence, power, and surveillance systems. For instance, Russian hackers hacked into the Ukrainian power network and created power outages and employed malware to further obstruct repairing activities. 
Thus cyber-attacks are a substantial threat to electronic warfare as these attacks can be operated remotely from distant locations. For instance, in July 2020, the U.S. Army published a report mentioning presence of 6,000 North Korean electronic warfare specialists and hackers operating from countries such as Russia, Malaysia, China, Belarus, and India. Such rise in cyber-terrorism is anticipated to restrain growth of the electronic warfare market during the forecast period. 
Electronic Warfare Market

---
By Region
Asia Pacific would exhibit the highest CAGR of 6.4% during 2020-2027.
COVID-19 Impact Analysis 
The COVID impact on the electronic warfare market is unpredictable and it is expected to remain in force till the second quarter of 2021. 
The COVID-19 outbreak forced governments across the globe to implement strict lockdowns and made social distancing mandatory to contain the spread of virus. This led to a sudden downfall in global trade, which further reduced demand for electronic warfare across the globe. 
Moreover, nationwide lockdowns forced electronic warfare manufacturing facilities to partially or completely shut their operations.
Adverse impacts of the COVID-19 pandemic have resulted in delays in activities and initiatives regarding development of innovative electronic warfare solutions.
Key Benefits For Stakeholders
This study presents analytical depiction of the global electronic warfare market analysis along with current trends and future estimations to depict imminent investment pockets.
The overall electronic warfare market opportunity is determined by understanding profitable trends to gain a stronger foothold.
The report presents information related to the key drivers, restraints, and opportunities of the global electronic warfare market with a detailed impact analysis.
The current electronic warfare market is quantitatively analyzed from 2020 to 2028 to benchmark the financial competency.
Porter's five forces analysis illustrates the potency of the buyers and suppliers in the industry.
Key Market Segments
By Capability
Electronic Protection
Electronic Support
Electronic Attack 
By Equipment
Jammer
Countermeasure system
Decoy
Directed energy weapon
Others
By Product
EW equipment
EW operational support
By Platform
By Region
North America
Europe

Germany
UK
Russia
France
Rest of Europe

Asia-Pacific

China
India
Japan
South Korea
Rest of Asia-Pacific

LAMEA

Latin America
Middle East
Africa
Key Players
BAE Systems plc
Elbit Systems Ltd.
General Dynamics Corporation
Israel Aerospace Industries Ltd. (IAI)
L3Harris Technologies, Inc.
Leonardo SpA
Lockheed Martin Corporation
Northrop Grumman Corporation
Raytheon Technologies Corporation
SAAB AB
Thales Group
 Electronic Warfare Market Report Highlights
Aspects
Details
By CAPABILITY

Electronic Protection
Electronic Support
Electronic Attack

By EQUIPMENT

Jammer
Countermeasure System
Decoy
.Directed Energy Weapon
Others

By PRODUCT

EW Equipment
EW Operational Support

By PLATFORM

Land
Naval
Airborne
Space

By Region

North America (U.S., Canada, Mexico)
Europe (France, Germany, Italy, Spain, UK, Russia, Rest of Europe)
Asia-Pacific (China, Japan, India, South Korea, Australia, Thailand, Malaysia, Indonesia, Rest of Asia-Pacific)
LAMEA (Brazil, South Africa, Saudi Arabia, UAE, Argentina, Rest of LAMEA)

Key Market Players
THALES GROUP, .SAAB AB, Elbit Systems Ltd., Leonardo SpA, RAYTHEON TECHNOLOGY CORPORATION, .L3HARRIS TECHNOLOGIES, INC., LOCKHEED MARTIN CORPORATION, NORTHROP GRUMMAN CORPORATION, GENERAL DYNAMICS CORPORATION, .ISRAEL AEROSPACE INDUSTRIES LTD. (IAI), BAE SYSTEMS PLC