Electrostatic Discharge (ESD) Bags Market Outlook - 2021–2030
The global electrostatic discharge (ESD) bags market size was valued at $3.2 billion in 2020, and is projected to reach $6.6 billion by 2030, growing at a CAGR of 7.4% from 2021 to 2030.
The pandemic has restricted the regular operations of numerous industries including the consumer electronic industry, which is hampering the manufacturing of electronic devices, thus declining the demand for electrostatic discharge bags. All these aspects are adversely impacting the market growth during the pandemic period.
ESD (electrostatic discharge) bags packaging protects various ESD-sensitive products, such as electronics and electrical gadgets and equipment, against static charges in a partial or total manner. The packaging, which is commonly constructed of polymers or metals, is typically resistant to electrostatic discharge and protects the contents from static charges in a variety of external settings. Electronics are frequently stored and sent in ESD bags and pouches, which provide the necessary visibility to identify such as sensitive objects. ESD packaging has been found to be useful in providing a static safe environment required in a number of end-use industries including electrical and electronics, automobile, manufacturing, aerospace, and healthcare. The use of numerous military equipment worlds over, such as fire control and navigation systems that are highly sensitive to ESD, has intensified the need for such bags and pouches.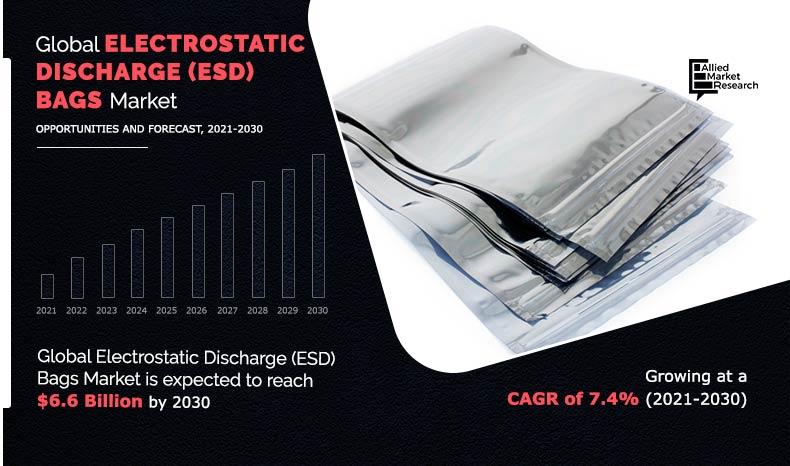 Rising demand for ESD bags from end-use industries such as electronics, chemicals, and pharmaceuticals, owing to properties such as lower manufacturing process cost, high ESD shielding effectiveness, contamination protection, and permanent antistatic properties, is expected to drive the global market growth during the forecast period. In addition, the target market's growth is expected to be aided by the fast increasing packaging industry over the forecast period. Furthermore, rising demand for electronic items such as smartphones, laptops, and tablets, is projected to promote the growth of the ESD bags market in order to minimize static charge build-up in such electronic devices. Electronic components and gadgets are commonly shipped in ESD bags around the world. A growing trend in the target market is the use of ESD bags for transporting electronic equipment that are susceptible to static discharge. However, mounting environmental worries over plastic pollution are projected to stifle worldwide market growth during the projection period. Innovative product development and rising merger and acquisition activities in order to enhance product portfolio of manufacturers are expected to create potential revenue opportunities for players operating in the target market over the forecast period.
The global electrostatic discharge (ESD) bags market is segmented on the basis of application and region. On the basis of application, the global electrostatic discharge (ESD) bags market is categorized into electrostatic discharge (ESD) bags, including network & telecommunication, consumer electronics & computer peripherals, automotive, military & defense, healthcare, aerospace, and others. Based on region, it is studied across North America, Europe, Asia-Pacific, and LAMEA.
The key players profiled in this report include 3M Company, Miller Packaging, Advantek, Inc., Protective Packaging Corporation, Teknis Limited, Digi-Key Electronics, Dou Yee Enterprises (S) Pte Ltd., Edco Supply Corporation, Statclean Technology (S) Pte Ltd, and Electrotek Static Controls Pvt., Ltd. The global electrostatic discharge (ESD) bags market report provides in-depth competitive analysis as well as profiles of these major players.
Global electrostatic discharge (ESD) bags market, by end-user
By end-user, the consumer electronics & computer peripherals segment accounted for around 41.4% of the electrostatic discharge (ESD) bags market share in 2020. Consumer electronics & computer peripheral use the ESD packages to a large extent to procure and transfer electronic products from one place to another.
Electrostatic Discharge (ESD) Bags Market

---
By End-user
Consumer Electronics & Computer Peripherals is projected as the most lucrative segment.
Get more information on this report :
Request Sample Pages
Electrostatic discharge (ESD) bags market, by region 
Region wise, North America is the largest electrostatic discharge (ESD) bags market in the region. The increase in adoption of technological devices in manufacturing and automobile industries has consequently boosted the need for transportation and adaptive packaging of these devices to protect them from damage.
Electrostatic Discharge (ESD) Bags Market

---
By Region
North America holds a dominant position in 2020 and would continue to maintain the lead over the forecast period.
Get more information on this report :
Request Sample Pages
Key Benefits For Stakeholders
Porter's five forces analysis helps to analyze the potential of buyers & suppliers and the competitive scenario of the industry for strategy building.
It outlines the current trends and future estimations from 2020 to 2030 to understand the prevailing opportunities and potential investment pockets.
The major countries in the region have been mapped according to their individual revenue contribution to the regional market.
The key drivers, restraints, & electrostatic discharge (ESD) bags market opportunities and their detailed impact analysis are explained in the study.
The profiles of key players and their key strategic developments are enlisted in the report.
Impact of COVID-19 on the global electrostatic discharge (ESD) bags market
COVID-19 is an infectious disease that originated in Hubei province of the Wuhan city in China in late December. The highly contagious disease, caused by a virus, severe acute respiratory syndrome coronavirus 2 (SARS-CoV-2), is transmitted from humans to humans. Since the outbreak in December 2019, the disease has spread to almost 213 countries around the globe with the World Health Organization declaring it a public health emergency on March 11, 2020. 
The pandemic is predicted to have a negative impact on the global electrostatic discharge bags market. During the novel coronavirus outbreak, most of the consumer electronic industrial sites were shut down due to the government-imposed lockdown. Also, the production of electronic devices was obstructed due to labor shortages, raw material supply, and other issues. These factors had a direct impact on the ESD bags market. As the pandemic has forced certain industries to shut down, some temporarily and others permanently, the use of electrostatic discharge bags has reduced drastically. However, predictions state that the demand for ESD packaging will increase after the pandemic settles.
 Electrostatic Discharge (ESD) Bags Market Report Highlights
Aspects
Details
By End-User

Network & Telecommunication
Consumer Electronics & Computer Peripherals
Automotive
Military & Defense
Healthcare
Aerospace
Others

By Region

North America (U.S, Canada, Mexico)
Europe (France, Germany, UK, Spain, Italy, Rest of Europe)
Asia-Pacific (India, China, Japan, South Korea, Australia, Rest of Asia-Pacific)
LAMEA (Latin America, Middle East, Africa)

Key Market Players
Advantek, Inc., Dou Yee Enterprises, Edco Supply Corporation, Electrotek Static Controls Pvt. Ltd, Mako PKG, Protective Packaging Corporation, Statclean Technology (S) Pte Ltd., Teknis Limited, The 3M Company, Universal Plastic Bags