Electrostatic Discharge (ESD) Trays Market Research, 2030
The global electrostatic discharge trays industry was valued at $659.30 million in 2021, and is projected to reach $1.3 billion by 2030, growing at a CAGR of 8% from 2022 to 2030.
Electrostatic discharge trays market experienced a negative impact due to prevalence of COVID-19 pandemic. As the world experienced a major lockdown and transportation ban, the demand and supply of electronic goods were greatly impacted. Since, the transportation of electronic good from one place to another was hampered, this factors affected the manufacturing of the products and hence, decreased the demand for electrostatic discharge trays which has affected the market growth.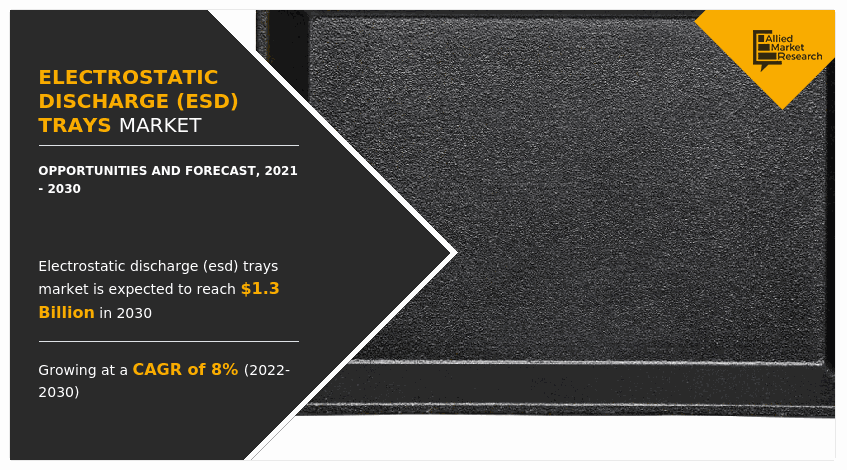 The electrostatic discharge (esd) trays market is segmented into and End-user.
The electrostatic discharge trays are also known as anti-static trays. These trays are made of thick clear plastic that is sturdy and can be easily customized with the required number of compartments to keep proper gaps between equipment. An ESD tray is usually well stackable with a purpose to ensures a secure transport of loose and sensitive electronic goods. ESD trays facilitate the countability with an inventory, even with thicker walls of the low-line parts high accuracies are possible. Trays are also ideal for lifting out and presenting new products.
ESD trays are primarily used to protect small electronic parts, PCB, circuit boards, and PCBA & electronic components during shipping, packaging, and storage. 
The market for ESD trays is expected to expand due to product advancements and rising demand for trays in various end-use industries such as the automotive industry. Each year, nearly 6% of electrical products, such as printed circuit boards and semi-conductors, are damaged by static electricity, which is caused by skin friction contacts or contact electrification between two electrically charged items.
The main impediment, however, is ensuring safety of the electronic components that can get hampered while transportation or due to the electrostatic discharge. The high cost of the manufacturing process is one of the primary factors inhibiting the growth of the ESD trays market in the near future. Furthermore, because the trays are so thin and can easily shatter, market growth is projected to be limited. Furthermore, many new and cheap alternatives like air bubble wrapping is available in the market which has now started replacing ESD trays. Hence, the electrostatic discharge trays market  growth is likely to be hampered in the projected time span.
The commencement of COVID-19 has a negative impact on the electrostatic discharge trays market. ESD trays are frequently used in production units across a wide range of industries to protect equipment and instruments that are both good conductors of electrostatic discharge and delicate in nature. The global shutdown of industrial units as a result of the COVID-19 outbreak has stifled the ESD trays market's growth. Furthermore, the raw material supply chain has been significantly disrupted, which has had a detrimental influence on the market for ESD trays. All these factors have negatively impacted the growth of electrostatic discharge trays market size.
Owing to rising demand for protective packaging products for electronic items from being damaged due to electrostatic charge, manufacturers of ESD trays are now using metal layers or metal oxides to impart conductive qualities to packaging material. Furthermore, adding carbon to devices and components degrades their mechanical qualities. As a result, major ESD tray manufacturers are using current metal filler instead of additive, which has resulted in significant cost savings and enhanced the manufacturer's profit margin. These factors are majorly responsible for the growth of electrostatic discharge trays market share.
The global electrostatic discharge (ESD) trays market is segmented on the basis of end-user and region. By end-user, the market has been divided into network & telecommunication industry, consumer electronics & computer peripherals, automotive industry, military & defense, healthcare, aerospace, and others. By region, the market is analyzed across North America, Europe, Asia-Pacific, and LAMEA.
The key players profiled in electrostatic discharge trays market forecast report include Smurfit Kappa Group, BASF, Desco Industries, DowDuPont, PPG Industries, TIP Corporation. Conductive Containers Inc., Elcom (UK) Ltd., Tandem Equipment Sales Inc., and Global Statclean Systems.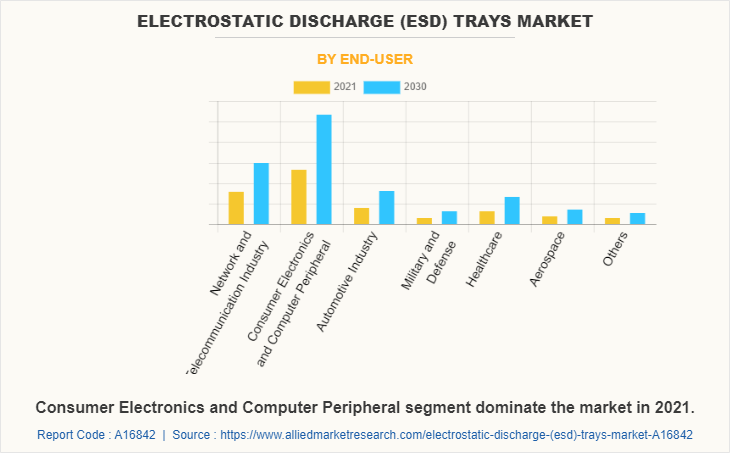 By end-user, the consumer electronics & computer peripheral sub-segment is expected to have a dominant share during the forecast period. Consumer electronics and computer peripherals make extensive use of ESD trays. This is primarily to maintain proper distance between electronics components, preventing them from being tampered with during transportation. The growing use of ESD trays in consumer electronics and computer peripherals is expected to drive the sub-segment market during the forecast period. Owing to this, the electrostatic discharge trays market revenue is expected to grow in future.
By region, North America is projected to be the dominant region during the forecast period. In recent years, the increasing as well as rapid adoption of new technologies all around world increased the demand for ESD trays. Automobile businesses have adopted various equipment, which has increased the demand for transportation, resulting in the use of electrostatic discharge trays to protect them from damage. As a result, demand for electrostatic discharge trays has increased because they keep tools and equipment that conduct electrostatic discharges at a safe distance apart and this factor has propelled electrostatic discharge trays market growth.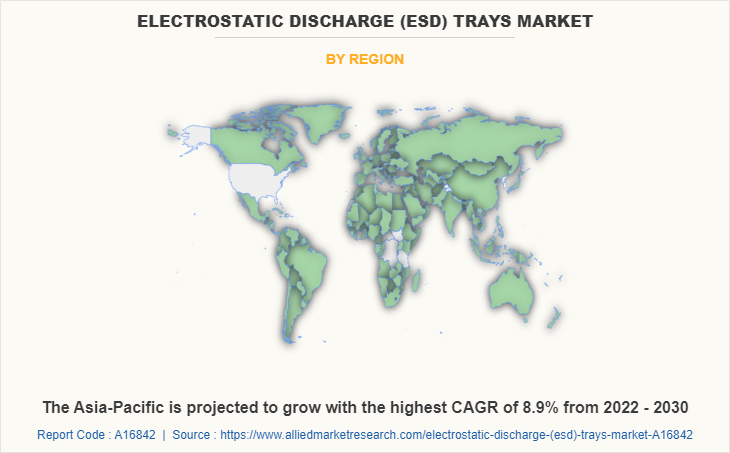 Key Benefits For Stakeholders
This report provides a quantitative analysis of the market segments, current trends, estimations, and dynamics of the electrostatic discharge trays market analysis from 2021 to 2030 to identify the prevailing electrostatic discharge trays market trend.
The market research is offered along with information related to key drivers, restraints, and opportunities.
Porter's five forces analysis highlights the potency of buyers and suppliers to enable stakeholders make profit-oriented business decisions and strengthen their supplier-buyer network.
In-depth analysis of the electrostatic discharge (esd) trays market segmentation assists to determine the prevailing market opportunities.
Major countries in each region are mapped according to their revenue contribution to the global market.
Market player positioning facilitates benchmarking and provides a clear understanding of the present position of the market players.
The report includes the analysis of the regional as well as global electrostatic discharge (esd) trays market trends, key players, market segments, application areas, and market growth strategies.
IMPACT OF COVID-19 ON THE GLOBAL ELECTROSTATIC DISCHARGE (ESD) TRAYS MARKET
 Electrostatic Discharge (ESD) Trays Market Report Highlights
Aspects
Details
By End-user

Network and Telecommunication Industry
Consumer Electronics and Computer Peripheral
Automotive Industry
Military and Defense
Healthcare
Aerospace
Others

By Region

North America (U.S., Canada, Mexico)
Europe (Germany, U.K., France, Spain, Italy, Rest of Europe)
Asia-Pacific (China, Japan, India, South Korea, Australia, Rest Of Asia Pacific)
LAMEA (Brazil, Saudi Arabia, UAE, South Africa, Rest of LAMEA)

Key Market Players
Tandem Equipment Sales Inc., Conductive Containers Inc., DowDuPont, Elcom (UK) Ltd., Global Statclean Systems, PPG Industries, TIP Corporation, BASF, Smurfit Kappa Group