Embedded Analytics Market Outlook: 2023 
Embedded analytics market size was valued at $25,133 million in 2016, and is projected to reach $60,281million by 2023, with a CAGR of 13.6% from 2017 to 2023. Embedded analytics market is the integration of data analytics capabilities within business applications, which include customer relationship management (CRM), marketing automation, enterprise resource planning (ERP), and financial systems. Such integration allows enterprises to easily access Business Intelligence (BI) tools while performing routine tasks, which helps in decision-making process
Embedded analytics is a consumer-facing BI and analytics tool that is integrated into software applications of an enterprise and operates as a component of the innate application rather than a different platform. Analysis through this allows users to work with higher quality data and quick reporting. Analytics can be embedded into consumer portals, so that they can ask queries related to data with easy access to delivery tracking, invoices, and billing.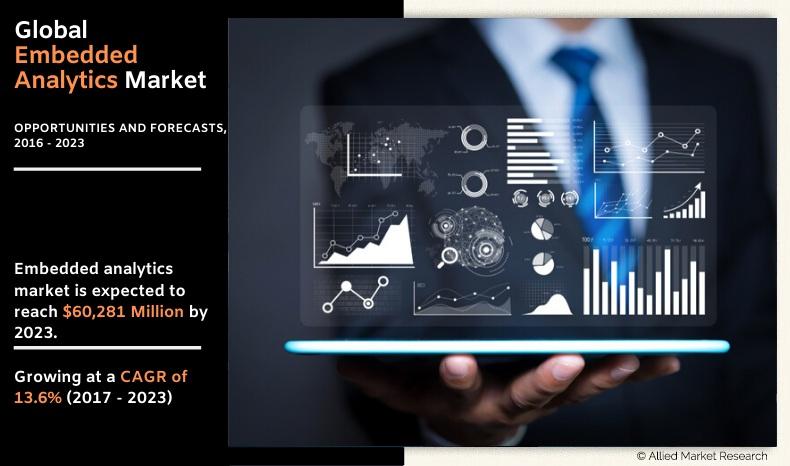 The global embedded analytics market is segmented based on deployment model, business application, analytics tool, industry vertical, and geography. Based on deployment model, it is bifurcated into on-premise and cloud-based. As per business application, the global industry is classified into sales & marketing, finance, operation, and human resource. Based on analytics tool, it is categorized into dashboards and data visualization, self-service tools, benchmarking, and reporting. Based on vertical, the global embedded analytics market is divided into banking, financial services, and insurance (BFSI); IT & telecom; public sector; manufacturing; retail; healthcare; energy & utilities; and others. Geographically, it is analyzed across North America, Europe, Asia-Pacific, and LAMEA.
Global Embedded Analytics Market Segmentation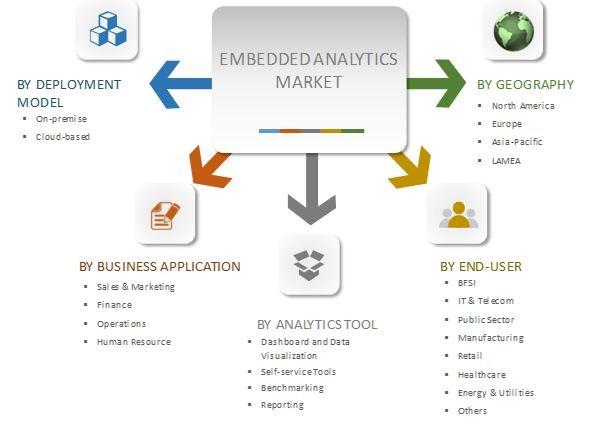 The global market was valued at $25,133 million in 2016, and is expected to reach $60,281 million by 2023, growing at a CAGR of 13.6% from 2017 to 2023. The major factors that drive the embedded analytics market growth are emergence of big data and Internet of Technology (IoT) among organizations, increase in reliability on mobile devices and cloud technology, and rise in need to integrate data analytics with business applications to achieve optimum performance. Retail embedded analytics market is expected to witness second highest market growth, owing to surge in e-commerce data and large number of online transactions. BFSI is also one of the largest consumers of embedded analytics products, followed by IT & telecom vertical.
North America embedded analytics market generated highest revenue in 2016, attributed to adequate technology infrastructure, presence of large number of enterprises, and growth in demand for embedded analytics tools. The Asia-Pacific market is expected to grow at the highest CAGR, owing to enterprise mobility; rise in penetration of smartphones, laptops, and tablets; high penetration of internet; and surge in need of better data management.
The key players operating in the global industry include Birst, Inc., IBM Corporation, Information Builders, Logi Analytics, Microsoft Corporation, Microstrategy Inc., Opentext Corporation, Qlik Technologies, Inc., SAP SE, and TIBCO (The Information Bus Company) Software Inc. These players have expanded their market presence by adopting various business strategies such as acquisition, geographical expansion, product development, strategic alliance, and collaboration.
Top investment pockets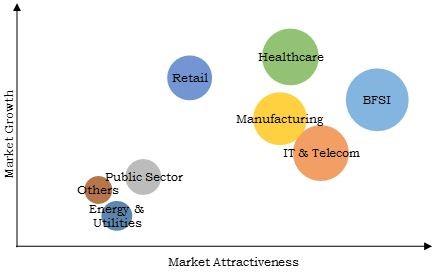 The following graph signifies the growth potential of the global embedded analytics market by industry vertical. It is observed that the market is driven by the BFSI vertical, which occupied the highest embedded analytics market share in 2016. The healthcare segment is expected to witness highest market growth, owing to rise in e-commerce data.
Emergence of Big Data and IoT Among Organizations
The importance of big data to enterprise executives is determined from the data collected. Initially, executives relied on structured data and stored such data in traditional databases. At present, information collected from social media and the Internet of Things (IoT) provides unstructured data that is constantly updated. Analysis of such huge data can provide new information for the enterprises that is expected to maintain a competitive environment in the business. This has urged the enterprises to embed analytics in the business applications.
Increase in Reliability On Mobile Devices and Cloud Technology
Cloud business analytics is implemented in numerous organizations as it offers scalable, elastic, and cost-efficient infrastructure without the need to maintain in-house infrastructure. Growing adoption of Big data and cloud computing has urged enterprises to implement a robust platform that can provide value for on-premise as well as hosted data.
High Investment Costs
Organizations using embedded analytics consider it as a major rising trend in business intelligence and analytics from the growing demand statistics. However, various costs associated with the implementation of embedded analytics in the enterprise hamper the growth of global market.
Key Benefits for Embedded Analytics Market :
In-depth analysis of the global market and dynamics is provided to understand the market scenario.
Quantitative analysis of the current trends and future estimations from 2017 to 2023 is provided to assist strategists and stakeholders to capitalize on prevailing opportunities.
Porters Five Forces analysis examines the competitive structure of the market and provides a clear understanding of the factors that influence the market entry and expansion.
A detailed analysis of the geographical segments enables identification of profitable segments for embedded analytics market players in the global industry.
Comprehensive analyses of the trends, sub-segments, and key revenue pockets are provided.
Detailed analyses of the key players operating in the global embedded analytics industry and their business strategies are anticipated to assist stakeholders to take informed business decisions.
 Embedded Analytics Market Report Highlights
Aspects
Details
By Deployment Mode
BY BUSINESS APPLICATION

SALES & MARKETING
FINANCE
OPERATIONS
HUMAN RESOURCE

BY ANALYTICS TOOL

DASHBOARD AND DATA VISUALIZATION
SELF-SERVICE TOOLS
BENCHMARKING
REPORTING

BY INDUSTRY VERTICAL

BANKING, FINANCIAL SERVICES, AND INSURANCE
IT & TELECOM
PUBLIC SECTOR
MANUFACTURING
RETAIL
HEALTHCARE
ENERGY & UTILITIES
OTHERS

By Geography

North America
Europe

UK
Germany
France
Italy
Rest of Europe

Asia-Pacific

Australia
China
India
Japan
Rest of Asia-Pacific

LAMEA

Latin America
Middle East
Africa

Key Market Players
BIRST, INC., INTERNATIONAL BUSINESS MACHINES CORPORATION, INFORMATION BUILDERS, LOGI ANALYTICS, MICROSOFT CORPORATION, MICROSTRATEGY INC., OPENTEXT CORPORATION, QLIK TECHNOLOGIES, SAP SE, TIBCO (THE INFORMATION BUS COMPANY) SOFTWARE INC.