Emulsified Fuel Market Analysis - 2030
The emulsified fuel market size was valued at $13.8 billion in 2020, and is projected to reach $20.8 billion by 2030, at a CAGR of 4.2% from 2021 to 2030. Emulsified fuel is an oil-based liquid that can be used to directly substitute crude or jet fuels, saving up to 70% on operating costs. It is less expensive and better for the environment because it does not contain sulfur. The technique entails mixing water with any form of hydrocarbon (oil) in a ratio of 99:51 to 85:15, resulting in emulsion droplets with a diameter of less than 0.01 microns for use as a transportation fuel. Emulsification has been found to outperform other alternatives such as biofuels and coal liquids due to its environmental friendliness, high energy density, minimal gas emissions during combustion, and other advantages.
Owing to production shutdown, emulsified fuel industries are facing significant losses. This is further expected to enforce the companies to increase fuel prices to recover the investments post lockdown. .
There is an increase in the demand for diesel engines due to an increase in construction investment and a surge in need for emergency power, particularly in rural regions. The rise in demand for diesel engines has raised concerns about carbon emissions. As a result, researchers have been forced to focus on alternate fuel innovation, such as emulsified fuel, which can improve thermal efficiency and minimize engine emissions. This is likely to boost the global demand for emulsified fuels during the projection period. Furthermore, technical advances and improvements in engine design to boost operational efficiency are expected to propel the growth of the global emulsified fuel market. However, between 2020 and 2030, the availability of alternative replacements, such as LNG, is likely to be a major factor impeding the market growth.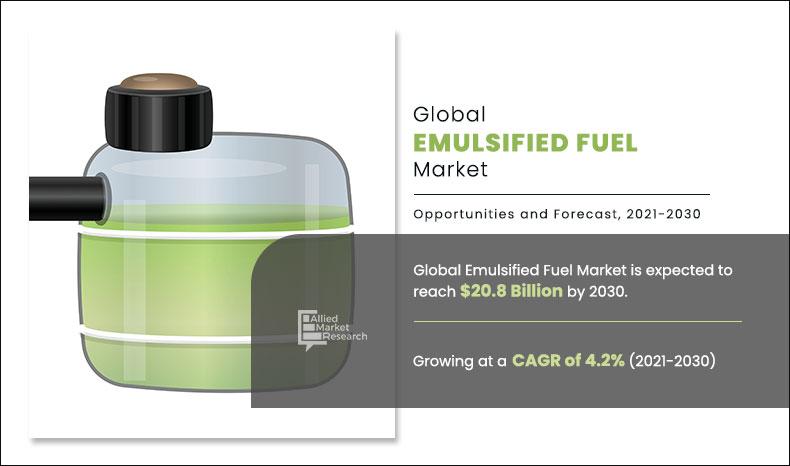 The report on emulsified fuel exclusively focuses on current market trends and future growth opportunities of various types of emulsified fuel such as heavy oil, kerosene, and others. On the basis of application, the market is divided into marine, industrial, and others. Region wise, it is studied across North America, Europe, Asia-Pacific, and LAMEA.
The manufacturers studied and profiled in the emulsified fuel industry report include Alternative Petroleum Technologies, Blue Ocean Solutions, Eneco Holdings, Green Fuels NZ Limited, Nanofuel Co., Ltd., Noritake Co. Limited, Quadrise Fuels International plc., SulNOx Group PLC, Tecnoveritas, and TotalEnergies.
Emulsified fuel market, by type
By type, the emulsified fuel market share of heavy oil segment is expected to contribute 56.6%. For many years, heavy oils have been utilized as an industrial lubricant in industries like mining, construction, and power ships. Where a pipeline connection is not available, they are also burned on-site with diesel generators.
Emulsified Fuel Market

---
By Type
Heavy oil is projected as the most lucrative segment.
Emulsified fuel market, by application
By application, the marine is expected to contribute 53.1% share in the global emulsified fuel market. Marine transportation refers to the usage of emulsified fuels in ships and airplanes. Emulsion fluids are mainly used as a fuel for aircraft, diesel-electric submarines, and transport vehicles such as buses. These factors are expected to drive the demand for marine emulsified fuel market forecast.
Emulsified Fuel Market

---
By Application
Marine is projected as the most lucrative segment.
Emulsified fuel market, by region 
By region, Asia-Pacific is expected to contribute 37.9% share in the global emulsified fuel market. Asia-Pacific is expected to dominate the global emulsified fuel market during the forecast period followed by North America and Europe. Asia-Pacific is anticipated to witness considerable growth during the forecast period owing to its high demand for marine fuels. 
Emulsified Fuel Market

---
By Region
Asia-Pacific holds a dominant position in 2019 and would continue to maintain the lead over the forecast period.
Key benefits for stakeholders
Porter's five forces analysis helps analyze the potential of buyers & suppliers and the competitive scenario of the industry for strategy building.
It outlines the current emulsified fuel market trends and future estimations from 2020 to 2030 to understand the prevailing opportunities and potential investment pockets.
The major countries in the region have been mapped according to their individual revenue contribution to the regional market.
The key drivers, restraints, & opportunities and their detailed impact analysis are explained in the study.
The profiles of key players and their key strategic developments are enlisted in the report.
Impact of COVID-19 on the global emulsified fuel market
Some of the major economies suffering from the COVID-19 crisis include Germany, France, Italy, Spain, the UK, Norway, and others. Many industries have been shut down due to lack of raw material availability and disruptions in the supply chain, owing to the virus outbreak. The worldwide lockdown has suspended the marine and industrial activities, which results in declining demand for emulsified fuel.
Manufacture of oil and gas and other products across the globe came to a halt due to unavailability of raw materials, shortage of labor, and others. This is expected to hamper the emulsified fuel market growth.
Gaps in demand-supply, price volatility, and change in government policy are expected to affect the growth of various end-use industries. In terms of its immediate and long-term effect on industry and consumers, the COVID-19 pandemic has outpaced any headwind ever encountered. The world economy of emulsified fuel industries has been experiencing a rapid slowdown due to constraints of the COVID-19 pandemic on economic activity.
Owing to COVID-19, the market witnessed significant dip due to closure of marine fuel; however, the market is projected to witness strong growth in the next couple of years as situation continues to ease down in the North America and Asia-Pacific regions.
 Emulsified Fuel Market Report Highlights
Aspects
Details
BY TYPE

Heavy oil
Kerosene
Others

BY APPLICATION
BY REGION

North America (US, Canada, Mexico)
Europe (Germany, UK, France, Spain, Italy, rest of Europe)
Asia-Pacific (China, Japan, India, South Korea, Australia, rest of Asia-Pacific)
LAMEA (Brazil, Saudi Arabia, South Africa, rest of LAMEA)

Key Market Players
ALTERNATIVE PETROLEUM TECHNOLOGIES, BLUE OCEAN SOLUTIONS, ENECO HOLDINGS, GREEN FUELS NZ LIMITED, NANOFUEL CO., LTD., NORITAKE CO. LIMITED, QUADRISE FUEL INTERNATIONAL Plc., SULNOX GROUP PLC, TECNOVERITAS, TotalEnergies