Energy Efficient Lighting Market Research, 2030
The global energy efficient lighting market was valued at $46.2 billion in 2021, and is projected to reach $93.3 billion by 2030, growing at a CAGR of 8.1% from 2022 to 2030.
The LED market revenue experienced a decrease in growth rate due to delayed construction projects. During the pandemic, however, the medical industry increased its demand for UV LED.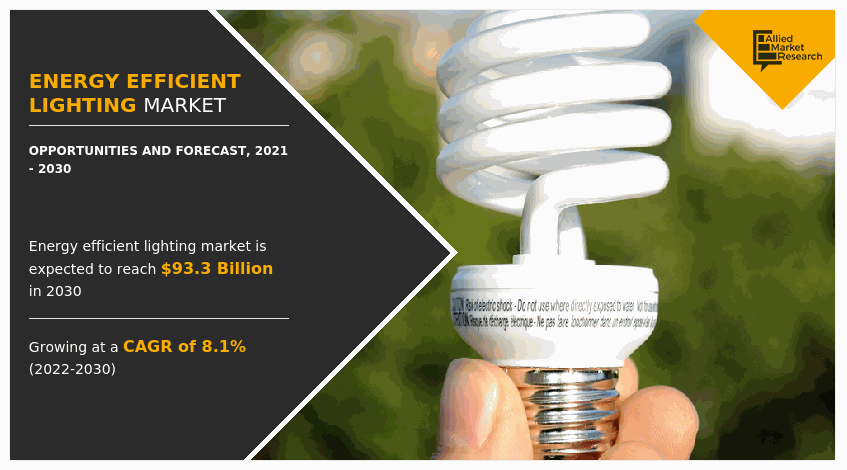 Energy efficient lighting entails using more light from fewer lights by replacing high power consumption lights like incandescent, high discharge lamps, and so on. This technology also used in a number of control technologies including GPRS, GSM, and SCADA. It is also replacing high-wattage lighting accessories with low-wattage devices such as electronic ballasts and fixtures. Energy efficient lighting consists of replacing traditional lighting (such as incandescent bulbs) with energy efficient lights such as fluorescent lamps, CFL lighting, and LED lamps.
Technological advancements in lighting systems provide not only energy efficiency but also other benefits such as light ambiance and warmth. Furthermore, these lighting devices enhance the aesthetic beauty of the home while reducing the need for artificial heating and cooling, which increases product demand.
However, the initial equipment and installation is expensive. Energy-efficient lighting is 20 times more expensive than standard incandescent lighting. However, advancements in lighting technology and mass production of energy-efficient lights are expected to lower prices in the coming years. As a result, the global market impact of the restraint is quite low.
The global energy efficient lighting market is segmented on the basis of source, application, and region. By source, the market is classified into high-intensity discharge lamps (HID), linear fluorescent lamps (LFL), light emitting diodes (LED) and others. By application, the analysis has been divided into home, commercial and industrial. By region, the market is analyzed across North America, Europe, Asia-Pacific, and LAMEA.
The key players profiled in this report include Eaton, Philips, General Electric, Toshiba Corporation, ABB, Schneider Electric, Advanced Lighting Technologies Australia Inc., NICHIA CORPORATION, Bridgelux and Digital Lumens, Inc.
The energy efficient lighting market is segmented into Source and Application.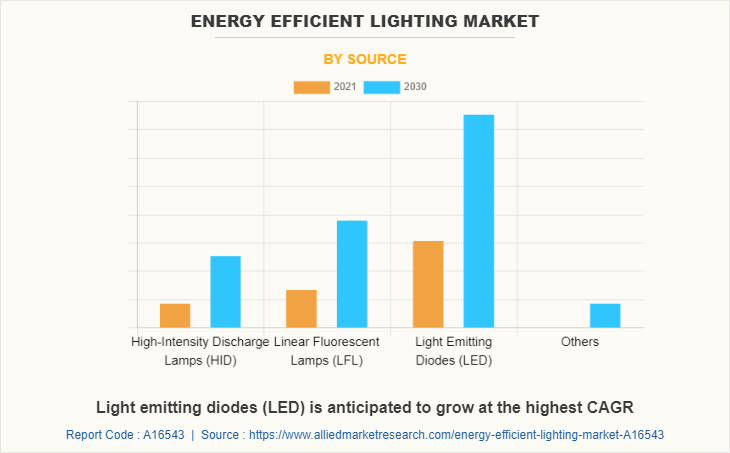 By source, the light emitting diodes (LED) sub-segment is predicted to be the fastest growing sub-segment. A light emitting diode is a semiconductor light source with two leads. It emits light when activated because it is a p-n junction diode. LEDs' recent advancements enable them to be used in environmental lighting. LEDs have seen a surge in demand due to the advantages they provide over incandescent light sources; low energy-consumption, improved physical robustness, longer lifetime, faster switching, and smaller size are among them.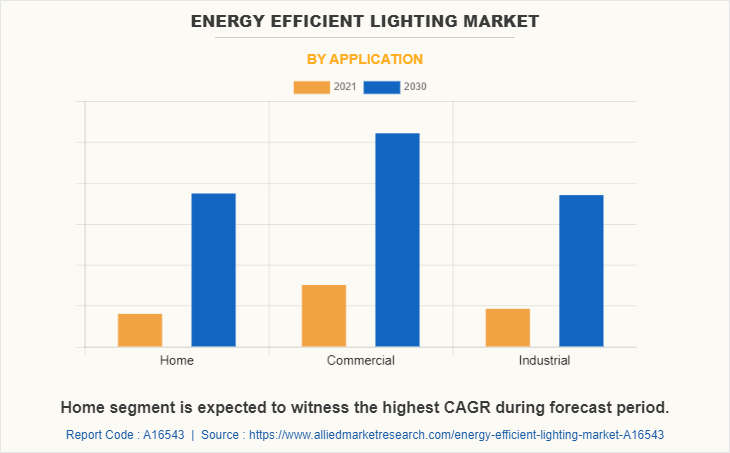 By application, commercial sub-segment was the dominating sub-segment in 2021. The main drivers of sub-segment growth are LED penetration in commercial sectors. Furthermore, key market players provide a variety of energy-efficient lighting solutions based on their intended use. Philips, for example, provides lighting solutions for commercial use, and their products use less energy thanks to low-cost LED lighting and controls.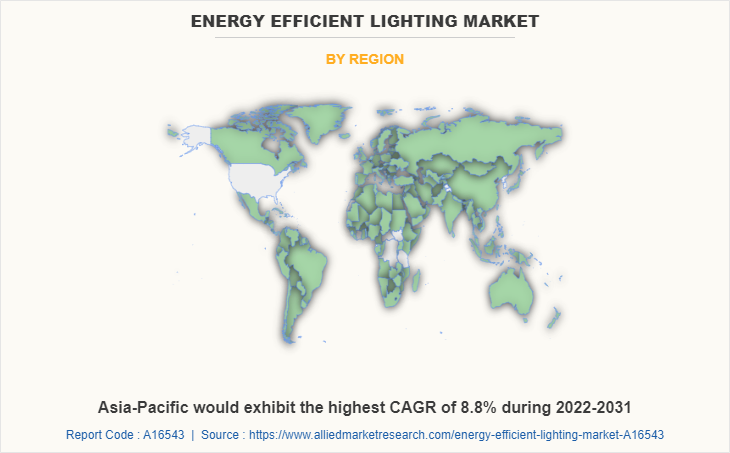 By region, North America dominated the global energy efficient lighting market in 2021. Because of increased production of energy-efficient lamps, the region is regarded as the most lucrative market for energy efficiency lights. This is due, in large part, to the presence of major manufacturers, stringent energy efficiency regulations, and high power-consumption in industrial and residential applications. Furthermore, rising demand for Energy Performance Certificates, which require commercial spaces to comply with energy-efficient requirements and processes is predicted to drive the regional market growth.
IMPACT OF COVID-19 ON THE GLOBAL ENERGY EFFICIENT LIGHTING MARKET
The global energy efficient lighting market is expected to grow slowly during the COVID-19 pandemic, owing to a global shortage of electric components' supply caused by the coronavirus outbreak.
China is the world's largest supplier of electronic components, and a lack of proper supply due to strict government guidelines and lockdown imposition has resulted in the postponement of residential projects in countries such as India and China.
The LED market revenue experienced a decrease in growth rate due to delayed construction projects. During the pandemic, however, the medical industry increased its demand for UV LED.
As a result, the LED market was expected to gain traction by the end of 2021. LED market growth has been hampered by gradual manufacturing by Original Equipment Manufacturers (OEMs) and a decrease in sales for lighting systems as well as other electronics devices.
Key Benefits For Stakeholders
This report provides a quantitative analysis of the market segments, current trends, estimations, and dynamics of the energy efficient lighting market analysis from 2021 to 2030 to identify the prevailing energy efficient lighting market opportunities.
The market research is offered along with information related to key drivers, restraints, and opportunities.
Porter's five forces analysis highlights the potency of buyers and suppliers to enable stakeholders make profit-oriented business decisions and strengthen their supplier-buyer network.
In-depth analysis of the energy efficient lighting market segmentation assists to determine the prevailing market opportunities.
Major countries in each region are mapped according to their revenue contribution to the global market.
Market player positioning facilitates benchmarking and provides a clear understanding of the present position of the market players.
The report includes the analysis of the regional as well as global energy efficient lighting market trends, key players, market segments, application areas, and market growth strategies.
 Energy Efficient Lighting Market Report Highlights
Aspects
Details
By Source

High-Intensity Discharge Lamps (HID)
Linear Fluorescent Lamps (LFL)
Light Emitting Diodes (LED)
Others

By Application

Home
Commercial
Industrial

By Region

North America (U.S., Canada, Mexico)
Europe (United Kingdom, Germany, France, Spain, Italy, Rest of Europe)
Asia-Pacific (China, India, Japan, South Korea, Australia, Rest of Asia-Pacific)
LAMEA (Brazil, Saudi Arabia, United Arab Emirates, South Africa, Rest of LAMEA)

Key Market Players
philips lumec, Bridgelux, Inc., Eaton Corporation, Schneider Electric, ABB, toshiba corporation, Digital Lumens, Inc., advanced lighting technologies australia inc., General Electric, nichia corporation