Energy Management Systems Market Research, 2030
The global energy management systems market size was valued at $36.2 billion in 2020, and is projected to reach $161.9 billion by 2030, growing at a CAGR of 16.2% from 2021 to 2030.
With growing demand for sustainable and green management of energy resources and rise in government mandates across the globe for installing energy management system across various industries has increased the demand in the market during the COVID-19 pandemic, having a positive impact on the market.
An energy management system (EMS) is a system of computer-aided tools used by operators of electric utility grids to monitor, control, and optimize the performance of the generation or transmission system. It can be used in small scale systems such as microgrids. It is one of the emerging technologies that enable an organization to collect real-time information on the energy use through monitoring, assessing, and visualizing energy consumption. This concept not only monitors energy consumption however also helps make data driven decisions and enhance enterprise-level operation & financial decisions.
Energy management solutions have gained popularity since they help gain competitive advantage, increase productivity, and reduce energy cost. In addition, the government policies toward energy conservation & the limited availability of fossils is drawing attention of the corporate. Every industry small or big is running with the help of energy, so it is essential to deploy energy management system. Although technology is advancing at a brisk pace, the end-use clients may not be adopting the same as quickly. Most of the potential buyers of energy management systems are at a stage where they are aware about the benefits of implementing such system, however preferably utilizing traditional technology and applications. Financial barriers, limited expertise, and fragmented stakeholders are some of the key challenges for the energy management systems market.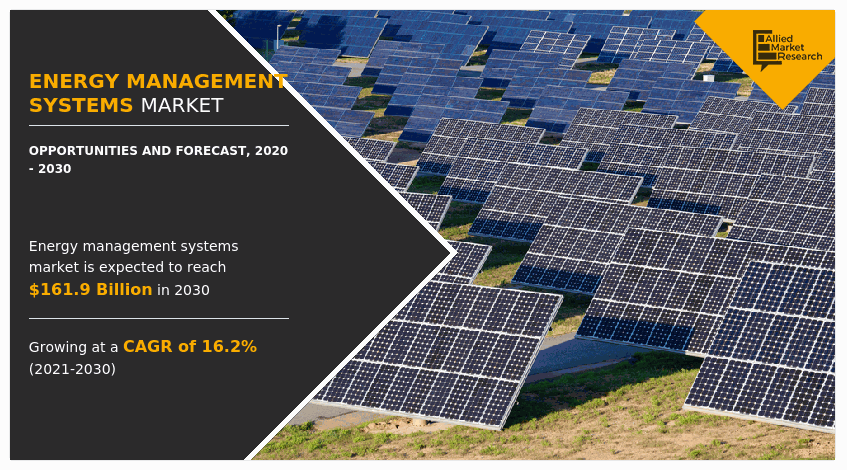 Segment review
The global energy management systems industry is segmented on the basis of component, end user, type, application, and region. The component segment is bifurcated into solution and service. By end user, the market is segmented into energy and utilities, IT and telecom, manufacturing, retail, healthcare, and others. Furthermore, on the basis of type, the market is categorized into home energy management systems, building energy management systems, and industrial energy management systems. By application, the market is broadly classified into residential and commercial. In addition, to gain further diverse insight, the market is analyzed across major regions, namely, North America, Europe, Asia-Pacific, and LAMEA.
The key players that operate in the energy management systems industryare C3, Inc., Delta electronics, Inc., Dexma, General Electric company, Gridpoint, Honeywell international Inc., Johnson controls international plc, Schneider Electric S.E, Siemens and Yokogawa electric corporation.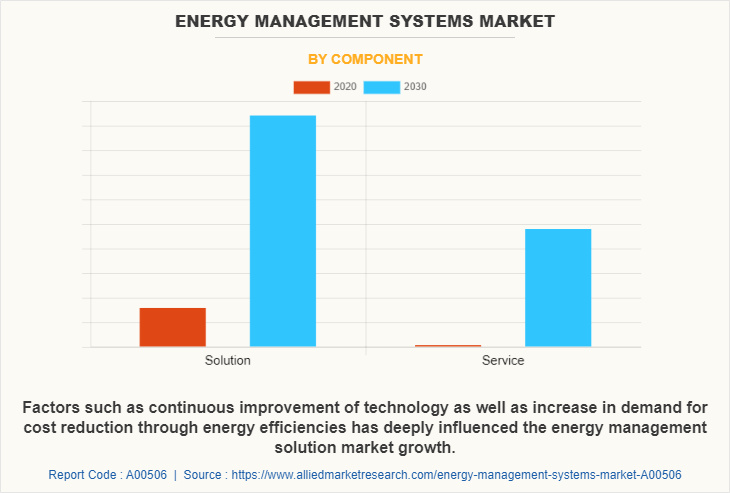 Depending on component, the solution segment holds the largest energy management systems market size as the solutions allow for real-time gathering of key data and energy readings which further enables effective management of energy resources. In addition, increase in interest in EMS across different industry verticals as well as technological advancements, availability of cheap labour, and low manufacturing cost are some of the major factors that drive the market growth. However, service segment is expected to witness growth at the highest rate during the forecast period, as large organizations are opting for third party energy management solutions to better optimize their energy resources.
Region wise, the energy management systems market share was dominated by Asia-Pacific in 2020 and is anticipated to grow at a significant rate during the forecast period, due to the rise in digitization and increase in data generated by IoT devices. Moreover, with the growing energy needs and high carbon footprint of the region, many organizations are leaning towards energy management systems are to optimize the energy resources for their operations.
COVID-19 Impact Analysis
The energy management systems market size has grown significantly in recent years. However, due to the outbreak of the COVID-19 pandemic, the market experienced a sharp decline in 2020. This is due to the diminished energy usage in heavy industries such as petroleum, coal, and natural gas. This has led to deflated energy demand across the key economics including U.S., Italy, Germany, UK, and others. However, the market has survived owing to surge in demand from the household energy consumption. The imposition of lockdown has increased home activities such as online shopping, remote work, powering home appliances, cooling or heating home, and streaming entertainment services. Therefore, the application of energy management systems in household energy consumption has increased the demand in the market during the COVID-19 pandemic, having a positive impact on the market.
Top Impacting Factors
Rise in inclination toward energy efficiencies
Energy is the primary source of social and economic progress. Every sector needs energy to operate and due to highly competitive market and technological improvements, there is a constant demand for energy. The industrial sector, in particular, requires a lot of power. There is also a growing awareness of the need to optimize energy use and save it. Furthermore, due to market pressure and public awareness of environmental sustainability, enterprises have attempted to use energy more effectively. The desire to reduce and optimize energy use is projected to be a major market driver.
Energy price volatility
Energy prices fluctuate owing to of changes in supply and demand. Energy prices are influenced by a variety of factors, including extreme weather, economic conditions, and supply availability. According to the World Energy Outlook, energy consumption is expected to rise by 60% in the next 25 years, with developing countries accounting for the majority of this increase. Fossil fuels such as coal and thermal power plants currently provide a substantial quantity of energy in emerging countries. This is the most affordable non-renewable kind of generating energy. Increased energy demand and the depletion of natural resources are predicted to push other, more expensive forms of energy generation forward, resulting in higher energy prices. There has been a huge drop in the amount of energy used across the board. A significant reduction in energy consumption across several markets is anticipated to decrease the energy prices, particularly relative to the impact of the increased energy demand. Hence, factors such as constrained energy supply and increased energy cost due to volatility in energy prices are expected to fuel the energy management systems market growth.
Key Benefits For Stakeholders
This report provides a quantitative analysis of the

energy management systems market forecast, current trends, estimations, and dynamics of the energy management systems market analysis from 2020 to 2030 to identify the prevailing energy management systems market opportunities.

The market research is offered along with information related to key drivers, restraints, and opportunities.
Porter's five forces analysis highlights the potency of buyers and suppliers to enable stakeholders make profit-oriented business decisions and strengthen their supplier-buyer network.
In-depth analysis of the energy management systems market segmentation assists to determine the prevailing market opportunities.
Major countries in each region are mapped according to their revenue contribution to the global market.
Market player positioning facilitates benchmarking and provides a clear understanding of the present position of the market players.
The report includes the analysis of the regional as well as global energy management systems market trends, key players, market segments, application areas, and market growth strategies.
 Energy Management Systems Market Report Highlights
Aspects
Details
By Component
By End User

Energy and Utilities
IT and Telecom
Manufacturing
Retail
Healthcare
Others

By Type

Home Energy Management Systems
Building Energy Management Systems
Industrial Energy Management Systems

By Application
By Region

North America (U.S., Canada)
Europe (Germany, United Kingdom, France, Italy, Spain, Netherlands, Rest of Europe)
Asia-Pacific (China, India, Japan, South Korea, Australia, Rest of Asia-Pacific)
LAMEA (Latin America, Middle East, Africa)

Key Market Players
Gridpoint Systems, yokogawa electric corporation, Siemens AG, C3 energy, Delta electronics, Johnson controls international plc, Dexma, General electric company, Honeywell International Inc., Schneider Electric