Energy Security Market Research, 2031
The global energy security market was valued at $15.6 billion in 2021, and is projected to reach $42 billion by 2031, growing at a CAGR of 10.5% from 2022 to 2031.
COVID-19 outbreak had a negatively impact on the growth of the energy security market owing to loackdown restrictions, shutdown of certain locations, employee layoffs, changing suppliers has delayed deliveries of solar pannels, turbins, batteries to renewable energy companies and unable to comply with equipment installation deadlines with similar trend of falling demand and power price reduction.
Energy security refers to protecting power plants and the sources of energy generation from physical as well as cyber-attacks for the smooth functioning of the power plants for power generation. Moreover, rapid deployment of renewable energy increased energy efficiency, and diversification of energy sources, energy stores, and types of energy machines can use all result in significant energy security and economic benefits 
Increased government pressure and security compliance and regulation and increase in threats from terrorist and cyber-attacks is boosting the growth of the global energy security market. In addition, increase in physical attacks and insider threats is positively impacts the growth of the energy security market. However, lack of apprehension about security implementation by operators is hampering the energy security market growth. On the contrary, rise of new energy markets in developing economies is expected to offer remunerative opportunities for expansion during the energy security market forecast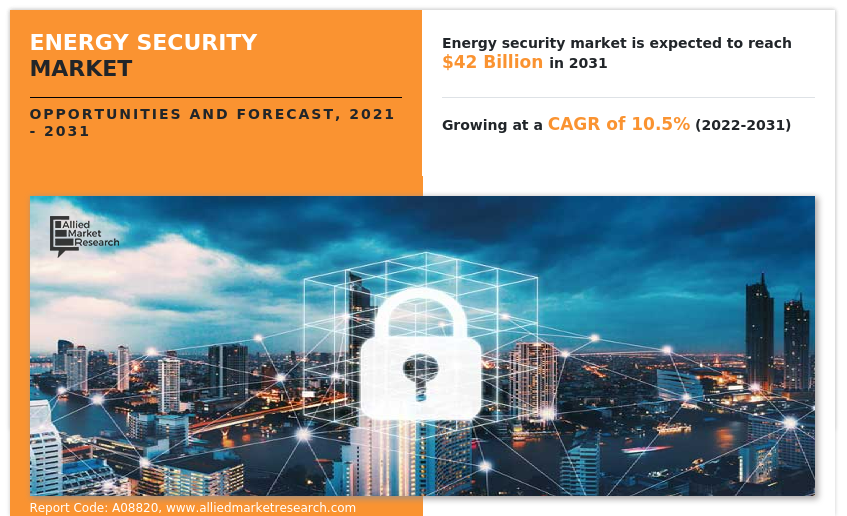 The energy security market is segmented into Component, Technology and Power Plant.
The energy security market is segmented on the basis of by component, technology, power plant, and region. On the basis of component, the market is categorized into solution and service. On the basis of technology, the market is fragmented into physical security, and network security. On the basis of power plant, it is classified into thermal and hydro, nuclear, oil and gas, and renewable energy. On the basis of region, the market is analyzed across North America, Europe, Asia-Pacific, and LAMEA.
Energy Security Market

---
By Component
Solution segment accounted for the highest market share in 2021 as it deals with timely investments to supply energy in line with economic developments
Get more information on this report :
Request Sample Pages
In terms of component, the solution segment holds the highest energy security market size as it provides improving, and modernizing energy infrastructure such as smart grid solutions. However, the service segment is expected to grow at the highest rate during the forecast period owing to, providing uninterrupted availability of energy sources at an affordable price.
Energy Security Market

---
By Region
North America accounted for the highest market share in 2021 owing to, increasing in adoption of balance of energy production in oil and natural gas industries.
Get more information on this report :
Request Sample Pages
Region-wise, the energy security market share was dominated by North America in 2021 and is expected to retain its position during the forecast period, owing to widening confirmation of certain solutions. However, Asia-Pacific is expected to witness significant growth during the forecast period, owing to the advancing society and government ambition in the province.
The key players that operate in the energy security industry are ABB Ltd., AEGIS Security & Investigations, BAE Systems plc, Elbit Systems Ltd., Thales, Teledyne FLIR LLC, Honeywell International Inc, hexagon ab, Lockheed Martin Corporation, and Siemens AG. These players have adopted various strategies to increase their market penetration and strengthen their position in the industry.
Digital Capabilities: 
Energy supply is fundamentally important to homes and workplaces. In addition, the energy supply has to be affordable, sustainable, stable, and secure, which makes energy systems a complex problem. digital energy systems is an emerging discipline using powerful digital tools and various digital models to solve and manage increasingly complex modern energy systems. Within the discipline, digital tools and models such as artificial intelligence and blockchain technology are used to analyze data from different energy systems and sources and drive new control and operational strategies and business models, whilst supporting key objectives such as reaching Net Zero emissions. Moreover, cloud computing supports energy applications by allowing them to demand access to a shared pool of computing resourcing. It includes social and networked modifications to corporate intranets and other classic software platforms used by large companies to organize their communication. In contrast to traditional enterprise software, which imposes structure prior to use, enterprise social software tends to encourage use prior to providing structure. 
Key Benefits: 
Energy efficiency can bolster regional or national energy security. By reducing overall energy demand, it can reduce reliance on imports of oil, gas, and coal. Energy efficiency can therefore play a crucial role in ensuring both long- and short-term energy security in a cost-effective manner. Moreover, Energy security removes the size and complexity of earlier systems. It doesn't need experts such as systems analysts and consultants to make these systems work and maintain. Unlike most corporate initiatives, Energy security tools, at least in their current incarnation, are not expensive to implement. Furthermore, it also provides new avenues to open up a conversation with partners, suppliers or customers. Communication flows both ways, enabling to share information and ideas. With these technologies, there is an option to ask customers for pictures or videos using products in interesting ways and thus build brand equity with customer base or it helps to share information with partners who are working on a project with company. Companies can easily start a blog for a specific product category, enabling a small niche of market to communicate, a process that would have been much more difficult and expensive using earlier Web tools. 
In addition, energy security reduces the likelihood of supply interruptions the only energy source that cannot be interrupted is the energy that is not used. Also, in the event of a disruption, efficiency measures can work with emergency conservation measures to reduce demand. 
In addition, with further growth in investment across the world and the rise in demand for energy security, various companies have expanded their current product portfolio with increased diversification among customers. For instance, in October 2021, Siemens AG launched new artificial intelligence (AI)-based industrial cybersecurity service, Managed Detection and Response (MDR), powered by Eos.ii, to help small and medium-sized energy companies defend critical infrastructure against cyberattacks. MDR's technology platform, Eos.ii, leverages AI and machine learning methodologies to gather and model real-time energy asset intelligence. This allows Siemens Energy's cybersecurity experts to monitor, detect and uncover attacks before they execute. For instance, in January 2021, IBM corporation partnered with telephonic help to accelerate the modernization of application estates, while also letting them choose whether to run their workloads in on-premise or cloud-based setups. 
Government Regulations: 
All well-governed power plant industries should be able to demonstrate due diligence to ensure regulatory compliance in applicable fields, including IT. Organizations are adopting energy security to manage, store, and extract relevant and useful information from the data stored and it is logistical and legal challenges along with the expected benefits of using social collaboration tools. Governments of many countries help to promote cost-effective, environment-friendly and indigenous electric products. For instance, in February 2021, the central government of India launched the Go Electric campaign to boost the adoption of electric mobility vehicles and electric cooking appliances to ensure energy security in the country. Moreover, Governments of many countries help to safe guard privacy.  For instance, in January 2020, the government of California launched Consumer Privacy Act, and additional governments across the world formalized requirements for how businesses can collect data from visitors on their digital products. As a result, marketers are having to do more personalization with less personal data. In addition, federal and state governments are improving their track plans for various privacy laws, which are applicable for data that participate in their operations. For instance, the Massachusetts Data Security regulations are majorly focused on security purpose and increasing the privacy of big data analytics. Europe is set to take the advantage of AI for providing data protection facilities to different organizations. For instance, the European Government adopted the new General Data Protection Regulation (GDPR). The act seeks to regulate the collection, storage, and processing of information about individuals. The key aim of GDPR is to protect critical data of consumers of the European nation. Moreover, organizations are adopting analytical software to deal with applying advanced technologies like artificial intelligence (AI), Machine Learning (ML) to automate processes and augmented human activity. For instance, California's Online Protection Privacy Act provides explicit privacy rights and allows users to know how their information will be used in the future. Furthermore, the cloud security regulations are strongly adhered by all AI service providers to operate as global service providers, for instance, the U.S. security regulation is mandatory to be adhered by majority of players located in this country. 
Top Impacting Factors 
Increased government pressure and security compliance and regulation 
An increase in government pressure and security compliance and regulation provides innovation that combines knowledge and execution with scripting. In addition, it is a blend of technological abilities that was a significant boost to back-office tasks. Furthermore, long-term energy safety refers to the time investment to supply energy along with sustainable environmental needs and economic development whereas short-term energy refers to the ability of the system to react to changes in the demand-supply balance. In addition, several government authorities along with power plant owners are implementing network and physical solutions such as perimeter, microwave intrusion detection, secured communications, surveillance systems, access control systems, and detectors. For instance, U.S. and the European Commission are committed to reducing Europe's dependency on Russian energy to joint commitment to Europe's energy security and sustainability, and to accelerating the global transition to clean energy. Further, the implementation of network systems such as antivirus, firewall, and SCADA systems along with IPS/IDS systems for preventing cybercriminals from attacking the network power plant network is projected to elevate energy security industry growth over the next seven years, which drive the growth of the market. 
Increase in threats from terrorist and cyber attacks  
Increase in threats from terrorists and cyber-attacks. The industry is expected to see new opportunities for market growth as well as new types of alternatives to invest in advanced technologies. With the rising number of cyber threats and growing market competition in modern-day business enterprises, energy security are becoming one of the most crucial and fastest-growing security technologies today because they provide cloud service visibility, data security, threat protection, and compliance. Energy security is an effective and easy way to mitigate the top cloud security threats. Security practitioners look to trusted energy security providers as strategic partners to help advise them on key energy security decisions. For instance, in September 2022, ABB launched cyber security solution to simplify and improve the protection of industrial infrastructure 
When sensitive content is discovered in or en route to the cloud, energy security can allow IT teams the option to manage suspected violations efficiently to their local networks for further analysis. Moreover, deeper research on threat observations aids a company in identifying and stopping malicious activity before it escalates further. Such factors are propelling the growth of the energy security market. 
KEY BENEFITS FOR STAKEHOLDERS  
The study provides an in-depth analysis of the global energy security market forecast along with current & future trends to explain the imminent investment pockets. 

Information about key drivers, restraints, & opportunities and their impact analysis on global energy security market trends is provided in the report. 
The Porter's five forces analysis illustrates the potency of the buyers and suppliers operating in the industry. 

The energy security market analysis from 2022 to 2031 is provided to determine the market potential. 
 Energy Security Market Report Highlights
Aspects
Details
Market Size By 2031
USD 42 billion
Growth Rate
CAGR of 10.5%
Forecast period
2021 - 2031
Report Pages
283
Component

Solution
Service

Service Type

Professional Services
Managed Services

Technology

Physical Security
Network Security

Power Plant

Thermal and hydro
Nuclear
Oil and gas
Renewable Energy

By Region

North America (U.S., Canada)
Europe (UK, Germany, France, Italy, Spain, Rest of Europe)
Asia-Pacific (China, Japan, Australia, India, South Korea, Rest of Asia-Pacific)
LAMEA (Latin America, Middle East, Africa)

Key Market Players
AEGIS Security & Investigations, BAE Systems plc, Elbit Systems Ltd., Thales, Teledyne FLIR LLC, hexagon ab, Siemens AG, ABB Ltd., Honeywell International Inc., Lockheed Martin Corporation