Engineering Plastics Market is expected to reach $102 billion by 2022 from 2015 market value of $67 billion, growing at a CAGR of 6.4% during the forecast period. Engineering plastics, a segment of the plastic industry, are used in applications that require high performance with respect to thermal stability, chemical stability, impact resistance, mechanical strength, and dimensional stability.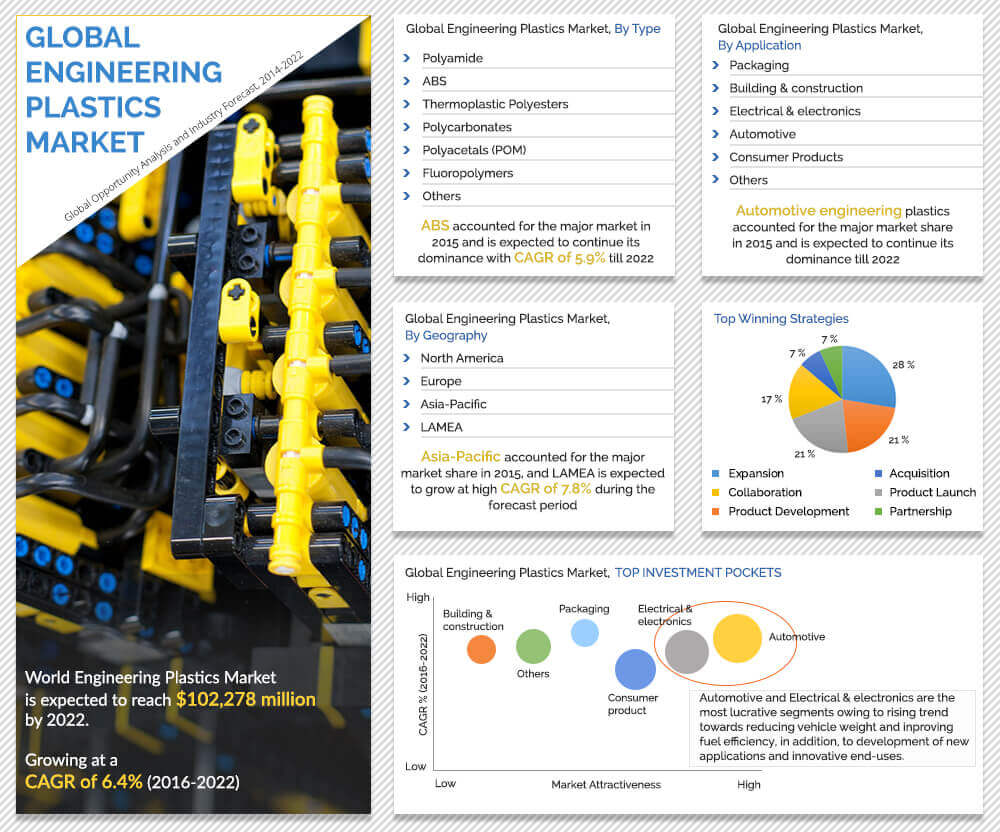 The specific categorization of these materials is due to their utility in various applications that require higher performance than commodity materials and require engineering to design customized products. Engineering plastics are gradually replacing metal from construction and automotive industries due to their durability, designing flexibility, high strength-to-weight ratios, and low densities.
Major factors that drive the Market growth are the growth in trend of reducing vehicle weight and improvement in fuel efficiency coupled with metal replacement in the construction and electrical & electronics industries. In addition, the demand for engineering plastics market is supplemented by growth in end-user industries, as engineering plastics are primarily utilized through injection molding into required end product. However, fluctuating price of crude oil and regulatory challenges regarding CO2 emissions are expected to restrain the market growth.
Among all regions, Asia-Pacific generated the highest revenue, whereas LAMEA is projected to grow at a significant CAGR of 7.8%, due to several emerging economies with expanding end-user industries such as automotive, construction, and consumer products.
MARKET DEFINITION AND SCOPE
The report analyzes the world engineering plastics market based on type, application, and geography. Based on type, it is segmented into polyamide (PA), acrylonitrile-butadiene-styrene (ABS), thermoplastics polyesters (PBT), polycarbonate (PC), polyacetals (POM), fluoropolymers (PVDF/PTFE), and others (PEEK/PMMA/PPS). Based on application, it is divided into packaging, building & construction, electrical & electronics, automotive, consumer products, and others. Geographically, it is studied across North America (U.S., Canada, and Mexico), Europe (Germany, Spain, France, UK, Turkey, Russia, and others), Asia-Pacific (China, India, Japan, and Others), and LAMEA (Brazil, Argentina, and others). The report includes market size of these aforementioned engineering plastics segments.
However, the Market size is limited to abovementioned plastics only and excludes commodity plastics such as HDPE, LDPE, PVC, and PET.
TOP INVESTMENT POCKETS
Automotive was the highest revenue-generating segment in 2015, followed by electrical & electronics and consumer products. This segment is estimated to grow at a CAGR of 7.0%. However, packaging is expected to grow at the highest CAGR of 7.3%. Automotive generated maximum revenue owing to the usage of engineered polymer composites and plastics in a wide range of applications. Engineering plastics are the second most common class of automotive materials after ferrous metals and alloys. With increased emphasis on decreasing the weight of the car, improving fuel efficiency, and regulating emissions, engineering plastics are replacing several other materials.
COUNTRY OVERVIEW:
The German engineering plastics market accounted for nearly 32% of the European engineering plastics market in 2015. In 2015, BASF announced the expansion of compounding capacities for engineering plastics in Europe. From 2017, it will be possible to additionally produce up to 70,000 metric tons per year of Ultramid (PA) and Ultradur (PBT) at the Schwarzheide site, Germany.
Major players in the engineering plastics segment have adopted expansion, product development, and product launch as their key development strategies. Important players operating in the market include BASF SE (Germany), LG Chem (South Korea), Sabic Innovative Plastics (Saudi Arabia), Solvay SA (Belgium), Evonik Industries AG (Germany), Arkema SA (France), E. I. du Pont de Nemours and Company (U.S.), Royal DSM NV (Netherlands), Lanxess AG (Germany), and Bayer AG (Germany).
Top of Form Key Benefits of the Engineering Plastics Market Report:
The report provides an in-depth analysis of the forecast along with the current and future market trends.
This report highlights the key drivers, opportunities, and restraints of the Engineering Plastics Market along with the impact analyses during the forecast period.
A comprehensive analysis of the factors that drive and restrain the Engineering Plastics Market growth is provided.
The qualitative data in this report aims on market dynamics, Engineering Plastics Market trends, and developments.
The Engineering Plastics Market size is provided in terms of volume and revenue.
 Engineering Plastics Market Report Highlights
Aspects
Details
By Type

Polyamide
ABS
Thermoplastic Polyesters
Polycarbonates
Polyacetals
Fluoropolymers
Other engineering plastics

By Application

Packaging
Building & Construction
Electrical & Electronics
Automotive
Consumer Products
Others

By Geography

North America
Europe

Germany
France
Spain
UK
Turkey
Russia
Others

Asia-Pacific
LAMEA

Key Market Players
Lanxess AG, LG Chem Ltd., Bayer AG, SOLVAY, E. I. DU PONT DE NEMOURS AND COMPANY, EVONIK INDUSTRIES AG, ARKEMA SA, Royal DSM NV, BASF SE, SABIC