Enteral Feeding Devices Market Overview:
The global enteral feeding devices market size was valued at $2,828.52 million in 2019 and is projected to reach $4,426.54 million by 2027 at a CAGR of 5.5% from 2020 to 2027.
An enteral feeding device is a medical device used to provide nutrition to people who cannot obtain nutrition by mouth, are unable to swallow safely, or need nutritional supplementation. In addition, enteral feeding refers to intake of food via the gastrointestinal (GI) tract. The GI tract comprises the mouth, esophagus, stomach, and intestines. Enteral feeding devices are medical devices used to provide medications and nutrition in patients suffering from chronic illness such as malnutrition, gastrointestinal disorder, cancer, and other. Being fed through a tube allows them to receive nutrition and keep their GI tract working. Enteral feeding may make up their entire caloric intake or may be used as a supplement. Generally, enteral feeding devices are used in operation theatre (OT), intensive care unit (ICU), and critical care unit (CCU), and in severely ill patients even at home.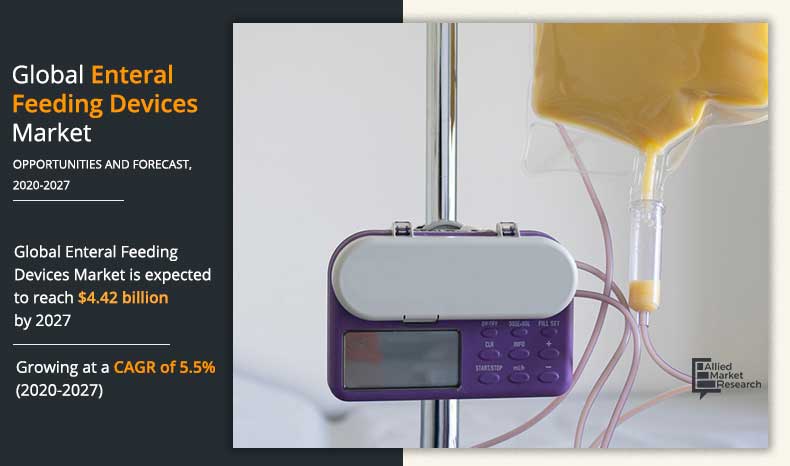 The major factors that contribute toward the growth of the market include increase in prevalence of chronic disorders such as cancer and neurological disorders. In addition, rise in adoption of enteral nutrition, increase in geriatric population, and surge in incidences of malnutrition cases are expected to help increase the market revenue and boost the enteral feeding devices market growth. However, stringent governmental regulations and inadvertent dislodgment of tubes leading to accidental disabilities and deaths hamper the market growth. Conversely, development of new products with technological advancement and high market potential in untapped emerging economies are expected to provide lucrative opportunities for the market growth.
Global Enteral Feeding Devices Market Segmentation 
The global enteral feeding devices market is segmented into product, age group, application, end user, and region. Based on product, the market is divided into enteral feeding pump, enteral feeding tube, enteral syringe, giving set, and consumable. The enteral feeding tubes segment is further classified into enterostomy feeding tube, nasoenteric feeding tube, and oroenteric feeding tube. The enterostomy feeding tube segment is further categorized into gastrostomy feeding tube, percutaneous endoscopic jejunostomy (PEJ) tube, and percutaneous radiological gastrostomy and jejunostomy tube. The gastrostomy feeding tube segment is sub-segmented into percutaneous endoscopic gastronomy feeding tube (PEG), balloon gastrostomy tube, and low-profile balloon gastrostomy (buttons).  
Based on the age group, the market is bifurcated into adult and pediatrics. Based on application, the enteral feeding devices market is categorized into gastrointestinal disease, cancer, malnutrition, neurological disorder, and other applications. The cancer segment is further segmented into head & neck cancer, gastrointestinal cancer, liver cancer, pancreatic cancer, esophageal cancer, and others. By end user, the market is divided into hospital, ambulatory surgical center (ASCs), and home care. Based on region, it is analyzed for across North America, Europe, Asia-Pacific, and LAMEA.
Segment Review
The enteral feeding pumps segment accounted for the largest share in 2019, and is expected to grow at the fastest rate during the forecast period with a CAGR of 6.3%, owing to rise in usage of the feeding pumps and lesser side effects as compared to other devices.
The cancer segment is anticipated to record the highest growth at a CAGR of 6.0% during the forecast period. This is attributed to increase in global cancer cases across the globe. Further, head and neck cancers, cancers of the gastrointestinal system, lung cancer, and liver cancer, are expected to play a vital role in the higher adoption of enteral feeding devices used to provide clinical nutrition to cancer patients.
By age group, the pediatric segment is the highest growing segment of global enteral feeding devices market with a CAGR of 6.0%. This is attributed to high prevalence of preterm births across the globe.
By end user, the hospital segment accounted for the largest share in 2019, which was $ 1,726.16 million. The utilization rate of enteral feeding devices in hospitals is high owing to high availability of these products in hospitals and placement of tubes in hospitals with high success rate. In addition, shift from parenteral nutrition to enteral nutrition are supporting the growth of the hospitals segment. However, the home care segment is expected to grow at a CAGR of 6.1% during the forecast period.
Europe was the leading revenue contributor to the global enteral feeding devices market in 2019, and is expected to dominate the market during the forecast period. This is attributed to early approval of enteral feeding devices and high adoption of enteral feeding pumps in this region. However, Asia-Pacific is expected to grow at the highest CAGR of 6.2% during the study period, due to increase in affordability, surge in healthcare expenditure, and rise in awareness toward safe enteral feedings products.
The global enteral feeding devices market is highly competitive, and prominent players have adopted various strategies for garnering maximum market share. These include collaboration, product launch, partnership, and acquisition. Major players operating in the market include Fresenius SE & Co. KGaA, Boston Scientific Corporation, Danone, Cook Medical, Inc., Cardinal Health Inc., Becton, Dickinson and Company, Moog Inc., B. Braun Melsungen AG, Owens & Minor, Inc., and Nestlé S.A.
Key Benefits for Stakeholders:
This report entails a detailed quantitative analysis along with the current and future global enteral feeding devices market trends from 2019 to 2027 to identify the prevailing opportunities along with the strategic assessment.
The enteral feeding devices market forecast is studied from 2019 to 2027.
The enteral feeding devices market size and estimations are based on a comprehensive analysis of key developments in the enteral feeding devices industry.
A qualitative analysis based on innovative products facilitates strategic business planning.
The development strategies adopted by the key market players are enlisted to understand the competitive scenario of the enteral feeding devices market,
Key Market Segments:
By Product
Enteral Feeding Pumps
Enteral Feeding Tubes

Enterostomy Feeding Tubes

Gastrostomy Feeding Tube

Percutaneous Endoscopic Gastronomy Feeding Tubes
Balloon Gastrostomy Tube
Low-Profile Balloon Gastrostomy (Button)

Percutaneous Endoscopic Jejunostomy (PEJ) Tubes
Percutaneous Radiological Gastrostomy and Jejunostomy Tubes

Nasoenteric Feeding Tubes

Nasogastric Feeding Tubes
Nasojejunal Feeding Tubes
Nasoduodenal Feeding Tubes

Oroenteric Feeding Tubes

Enteral Syringes 
Giving set
Consumables
By Age Group
By Application
Gastrointestinal Diseases

Cancer
Head & Neck Cancers
Gastrointestinal Cancers
Liver Cancer
Pancreatic Cancer
Esophageal Cancer
Others

Malnutrition 
Neurological Disorders
Other Applications
By End User
Hospitals
Ambulatory Surgical Centers (ASCs)
Home Care
By Region
North America
Europe

UK
Germany
France
Italy
Spain
Rest of Europe

Asia-Pacific

China
Japan
India
Australia
Rest of Asia-Pacific

LAMEA

Brazil
South Africa
Saudi Arabia
Rest of LAMEA