The global enteral nutrition market was valued at $6,762 million in 2018 and is projected to reach $12,294 million by 2027, registering a CAGR of 7.1% from 2020 to 2027.
Enteral nutrition market is expected witness modest growth during this pandemic period owing to the usage of enteral nutrition during COVID treatment.
Enteral nutrition refers to any method of feeding that involves the intake of food through gastrointestinal tract to fulfill an individual's caloric requirements. Further, it can also include a normal diet, use of liquid or powdered supplements, and tube feeding. There are various equipment and instruments available for the patient to take enteral nutrition. These include tubes, pumps, and other pipes, which help in easy flow of fluid directly to the gastrointestinal tract. The enteral nutrition is required for the individuals suffering from diabetes, malnutrition, cancer, gastrointestinal disorders, and other complications. In addition, enteral nutrition can be provided for the patients with nutritional deficits.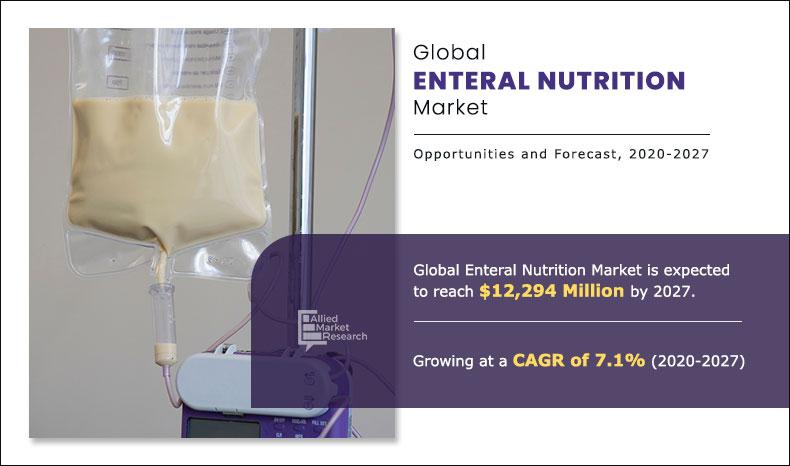 The increase in prevalence of chronic disorders such as cancer and neurological disorders is the major factor that contributes toward the growth of the enteral nutrition market. Other factors that fuel the market growth include surge in geriatric population and rise in malnutrition cases. In addition, enteral nutrition is gaining high acceptance rate, owing to enhancement in techniques, and inclusion of proper ingredients into the composition of the products. However, decreased demand from the underdeveloped countries is anticipated to hamper the market growth. Conversely, high market potential in untapped emerging economies is expected to provide lucrative opportunities for the growth of the market.
The World Health Organization (WHO) on January 30, 2020 declared COVID-19 outbreak a public health emergency of international concern. COVID-19 has affected around 210 countries across the globe. The demand for enteral nutrition increased, with the advent of COVID-19, owing to the high nutritional risks of the COVID-19 patients. The patients suffering from COVID-19 require intensive care management. In addition, nutritional deficits caused during the condition offered growth opportunities for the enteral nutrition market. Furthermore, appropriate nutrition is required when the patient is suffering from COVID-19, owing to the alterations in metabolism pattern and gastrointestinal function. Hence, optimal nutrition therapy helps the patients manage the nutritional deficits and manage further complications such as poor glycemic control, and delay in gastric emptying. Enteral nutrition helps in faster absorption to the gastric walls, owing to the forms in which it is available such as powdered and liquid form. 
Enteral Nutrition Market Segmentation  
The enteral nutrition market is segmented into protein composition, form, age group, distribution channel, and region. By protein composition, the market is divided into standard protein diet, high protein supplement, protein for diabetes care patient, and others. By form, the market is categorized into powder and liquid. By age group, the market is bifurcated into adults (above 18) and pediatric (below 18). By distribution channel, the market is segmented into hospital sales, retail, and online. By region, the market is analyzed across North America, Europe, Asia-Pacific, and LAMEA.
Enteral Nutrition Market

---
By Protein Composition
Standard protein diet segment holds a dominant position in 2018 and would continue to maintain the lead over the forecast period.
Segment review 
Presently, on the basis of protein composition, the standard protein diet dominated the global enteral nutrition market in 2018, and is anticipated to continue this trend during the forecast period. Key factors such as high adoption of standard protein diet, owing to the fact that it is one of the most preferable composition prescribed for patients suffering from diabetes, cancer, and other conditions where they have difficulty in ingesting solid food. Different product launches of the standard protein rich products, are fulfilling the market demand. Furthermore, there has been a steep increase in products, which are originated from the organic products, and hence there has been a growth in demand for standard protein diet.
In addition, the enteral nutrition market on the basis of distribution channel is segmented into hospital sales, retail, and online. The hospital sales segment accounted for maximum market revenue in 2018, and is anticipated to gain dominance in the coming years. This attributes to the greater number of inpatients and outpatients in the hospital. Furthermore, the hospital sales segment is anticipated to grow owing to higher preference of the patients for hospitals.
Enteral Nutrition Market

---
By Distribution Channel
Hospital Sales segment is projected as one of the most lucrative segment.
Snapshot of Asia-Pacific Enteral Nutrition Market  
Asia-Pacific presents lucrative opportunities for key players operating in the enteral nutrition market, owing to increase in patient population suffering from diseases such as cancer, neurological disorders, gastrointestinal disorders, diabetes, and other chronic conditions, increase in geriatric population in emerging economies, development of the R&D sector, rise in healthcare reforms, and technological advancements in enteral nutrition products. Moreover, surge in focus of leading manufacturers on expanding their geographical presence in emerging Asia-Pacific countries to capture high market share is expected to drive the growth of the enteral nutrition market in the region.  
The key players profiled in this report include Abbott Laboratories, B. Braun Melsungen AG, Danone S.A., Fresenius Kabi AG, Global Health Products, Inc., Hormel Foods Corporation, Meiji Holdings Co., Ltd., Nestlé S.A., Reckitt Benckinser Group PLC, and Victus, Inc.
Enteral Nutrition Market

---
By Region
Asia-Pacific region would exhibit the highest CAGR of 8.2% during 2020-2027.
Key Benefits For Stakeholders
The study provides an in-depth analysis of the enteral nutrition market size along with the current trends and future estimations to elucidate the imminent investment pockets.
It offers enteral nutrition market analysis from 2018 to 2027, which is expected to enable stakeholders to capitalize on prevailing opportunities in the market.
A comprehensive analysis of four regions is provided to determine the prevailing opportunities.
The profiles and growth strategies of the key players are thoroughly analyzed to understand the competitive outlook and global enteral nutrition market growth.
 Enteral Nutrition Market Report Highlights
Aspects
Details
By Protein Composition

Standard Protein Diet
High Protein Supplement
Protein for Diabetes Care Patient
Others

By Form
By Age Group

Adults (Above 18)
Pediatric (Below 18)

By Distribution Channel

Hospital Sales
Retail
Online

By Region

North America (U.S., Canada, Mexico)
Europe (Germany, France, UK, Italy, Spain, Rest of Europe)
Asia-Pacific (Japan, China, Australia, India, South Korea, Rest of Asia-Pacific)
LAMEA (Brazil, Saudi Arabia, South Africa, Rest of LAMEA)

Key Market Players
ABBOTT LABORATORIES, B. BRAUN MELSUNGEN AG, DANONE S.A., FRESENIUS KABI AG, GLOBAL HEALTH PRODUCTS, INC., HORMEL FOODS CORPORATION, MEIJI HOLDINGS CO., LTD., NESTLE S.A, RECKITT BENCKISER GROUP PLC., VICTUS, INC.