Enterprise Wearables Market Overview:
Global Enterprise Wearables Market was valued at $3,232 million in 2016, and is projected to reach at $32,418 million by 2023, growing at a CAGR of 38.8% from 2017 to 2023. Enterprise wearables device is the technology that enables industries to provide advanced high-end user experience to their employees while performing the tasks. The wearable devices are used to access information via connected devices, automatic storage, and activity tracking, which increases the employees productivity and enhances its performance. Further, an increased technological convergence, presence of internet mobility, easy access to information from an ERP system using touch, gesture, voice commands, and ambient display drive the need for wearable devices in the enterprise.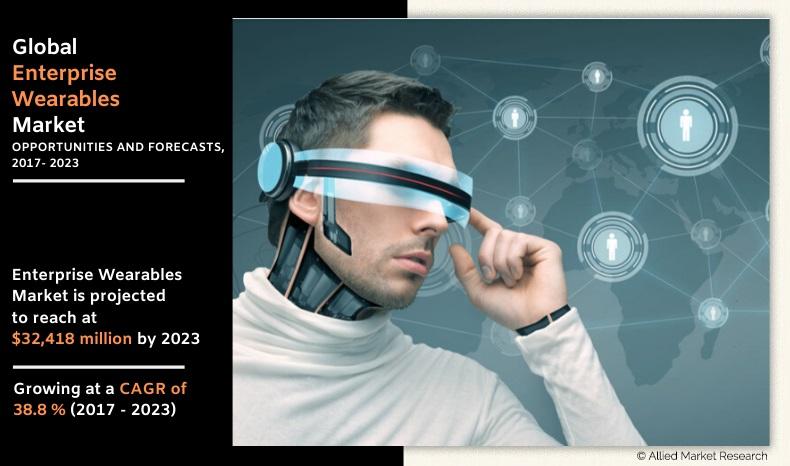 Rise in healthcare awareness and increase in mobile penetration drives the demand for the enterprise wearables market. Further, the benefits such as ease of use, flexibility, and convenience is fueling the market growth rate. However, high cost of enterprise wearables and rise in data security and privacy concern impedes the market growth. Moreover, increase in demand for enterprise wearables in emerging market such as China, India, and Brazil owing to the increase in health and wellness provides ample of growth opportunity.
Apple Inc., Alphabet Inc., Adidas AG, Eurotech S.p.A, Fitbit Inc., Samsung Electronics Co. Ltd, Sony Corporation, Seiko Epson Corporation, Misfit Inc. and Xiaomi Inc., are some of the major key players of the global enterprise wearables market.
Segment Overview
The enterprise wearable market is segmented based on product, technology, end user, and geography. Based on product, the market is divided into wrist-wear, eye wear, head wear, and others. According to the technology, the market is bifurcated into the Bluetooth and Internet of Things (IoT). Based on end user, the market is classified into manufacturing, healthcare, retail, aerospace & defense and others. Based on region, it is analyzed across North America, Europe, Asia-Pacific, and LAMEA.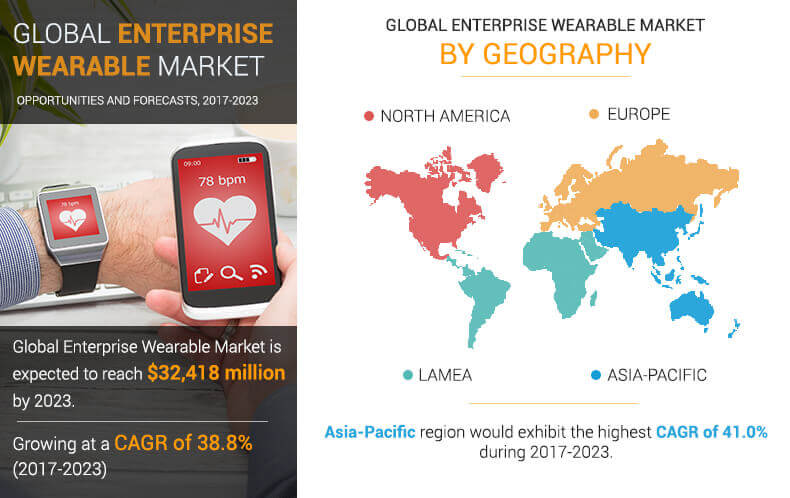 Top Impacting Factors
Increase in concern of health and wellness, growth in internet and mobile penetration, rise in concern related to data security, and high cost of enterprise wearables impact the growth of the global enterprise wearables market. These factors are anticipated to either drive or hamper the market growth.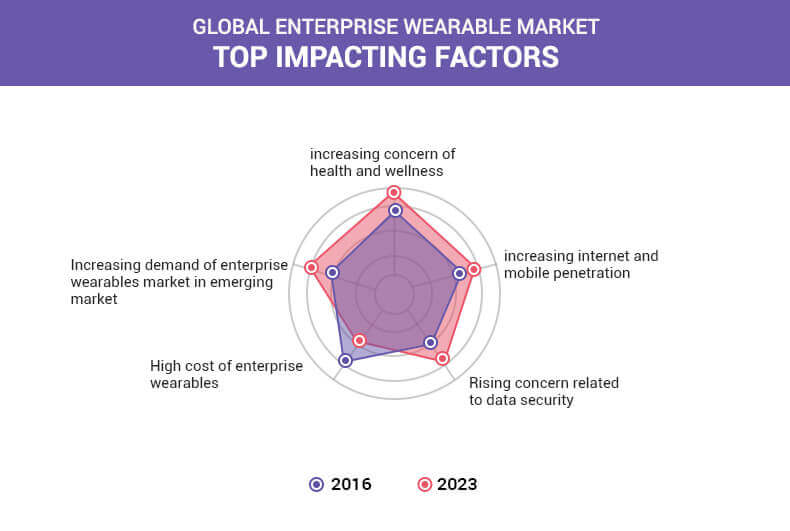 Increase in Concern of Health and Wellness
Rise in chronic diseases such as coronary heart diseases, diabetes, and others increases the demand for enterprise wearables toward growth. Aging population and hectic work schedule are more prone to cause these diseases. Thus, to stay fit, there is an increase in concern toward health and wellness owing to the benefits of wearable such as convenient tracking of data, health, and exercise habits for overall well-being.
Growth in Internet and Mobile Penetration
Mobile devices sales and penetration grows rapidly owing to the increase in acceptance of BYOD among organizations. The variety of services, applications, and functions available on mobile devices leads to large amount of data being stored on devices and transferred to and from devices; which drives the demand of mobile. In addition, increase in synchronization of fitness and medical hardware with a mobile app rather than traditional website to collect data on a continuous basis such as heart rate, weight, and others fuels the growth of the enterprise wearables market.
Rise in Concern Related to Data Security
Enterprise wearables have transformed the traditional working process as it track, monitor and store data automatically through its devices such as smart glasses & helmets, tech-enabled lanyards, cards, and wireless headsets among others. However, data security concern related to data access from Bluetooth networks and Internet of Things (IoT) is expected to hinder the market growth. Further, the increase in threat of cybercriminals targeting organizations through IoT devices, such as smart watches or fitness trackers is expected to limit growth in the coming years.
High Cost of Enterprise Wearables
The high cost of enterprise wearables devices is one of the major restraint that is expected to hinder the market growth during the forecast period. Manufacturers in this market are launching their products in the premium product category. For instance, the ASP of products such as Microsoft HoloLens at $3000, Epson Moverio $699, SonySmartEyeglass at $899, LG 360 VR starting price is $199.99. Hence, the mass adoption of wearables devices is less due to its premium price.
Key Benefits for Stakeholders
This study comprises analytical depiction of the global enterprise wearables market with current trends and future estimations to depict the imminent investment pockets.
The overall market potential is determined to understand the profitable trends to gain a stronger foothold.
The report presents information related to key drivers, restraints, and opportunities with a detailed impact analysis.
The current market is quantitatively analyzed from 2017 to 2023 to highlight the financial competency of the market.
Porters Five Forces analysis illustrates the potency of the buyers and suppliers in the industry.
 Enterprise Wearables Market Report Highlights
Aspects
Details
By Product Type

Wrist-wear
Eye wear
Head wear
Others

By Technology

Bluetooth
Internet of Things (IoT)

By End User

MANUFACTURING
HEALTHCARE
RETAIL
AEROSPACE & DEFENSE
OTHERS

By Region

North America (U.S., Canada, Mexico)
Europe (UK, France, Germany, Russia, Rest of Europe)
Asia-Pacific (China, Australia, India, Japan, Rest of Asia-Pacific)
LAMEA (Latin America, Middle East, Africa)

Key Market Players
ADIDAS AG, ALPHABET INC., APPLE INC., EUROTECH S.P.A, FITBIT, INC., FOSSIL GROUP, INC. (MISFIT, INC.), SAMSUNG ELECTRONICS CO. LTD., SEIKO EPSON CORPORATION, SONY CORPORATION, XIAOMI INC.