Entertainment Insurance Market Research, 2031
The global entertainment insurance market size was valued at $3.1 billion in 2021, and is projected to reach $8 billion by 2031, growing at a CAGR of 10.1% from 2022 to 2031.
As entertainment business was totally shut down during the pandemic, insurance providers faced few market challenges such as, policy holders were not able to pay the total premium which they opted for as their businesses were totally shut down. In addition, as the events were cancelled, parks were closed and other such instances occurred for the entertainment industry resulted in decrease in demand for entertainment insurance.
The entertainment insurance does not pertain to a single type of policy. Rather, it refers to a collection of policies covering different aspects of the industry. These different insurance policies include touring insurance, production insurance and special event insurance. Policy holders need only pay for the coverage they need given that there is not a single type of entertainment insurance. Entertainment insurance is beneficial because it covers all manner of risks. Owing to the production costs involved in putting on a show, event or festival, it is essential that any company involved has adequate coverage. A tour bus crash, stolen equipment or a flooded event venue could cost thousands of dollars if the right insurance policy is not obtained. Perhaps the greatest benefit of entertainment insurance is flexibility. Entertainment ventures only need to pay for the coverage they actually use.
Entertainment insurance provides a range of coverage to the policyholder which may be customized according to the need of the policyholder. It covers general liability, third party damage, equipment loss or damage and other such coverage. Moreover, it protects the policy holder from libel and copyright claims which is very common in the insurance industry, and involves large amount of money as legal fees and takes years of time to get settled. In addition, the growth of entertainment industry in the recent years are some of the major factors propelling the growth of entertainment insurance industry. However, high premium rate associated with entertainment insurance compels consumers to avoid taking this policy, which is a major factor limiting the entertainment insurance industry. On the contrary, advances in technology and adoption of high tech equipment by the entertainment industry to offer the best possible experience needs to be protected from all kind of risk for which the demand for entertainment insurance industry is expected to provide lucrative growth opportunities in the coming years.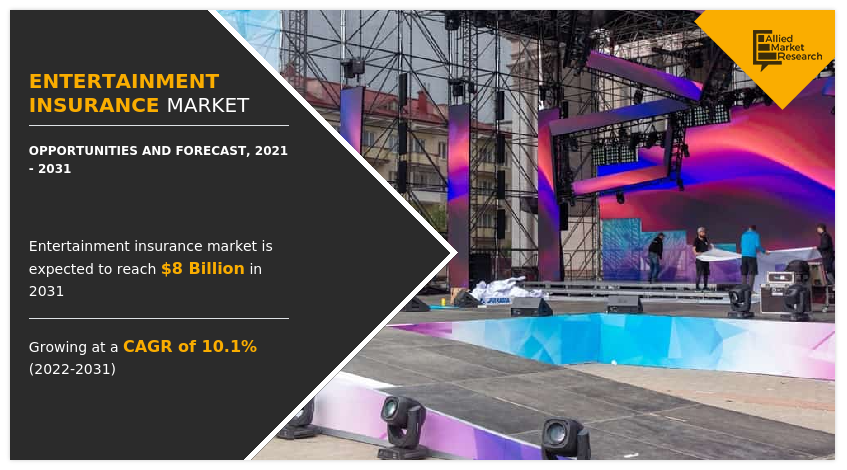 The entertainment insurance market is segmented on the basis of insurance type, coverage, distribution channel, end user, and region. By insurance type, it is segmented into production insurance, staging & rigging insurance, special event insurance, and touring insurance. By coverage, it is bifurcated into liability coverage, commercial property coverage, and other coverage. The liability coverage is further divided into general liability, third-party property damage, and errors and omissions insurance. On the basis of distribution channel, it is segmented into brokers and non-brokers. Based on end user, the segment is divided into business and individuals. By region, it is analyzed across Asia-Pacific, Europe, North America, and LAMEA.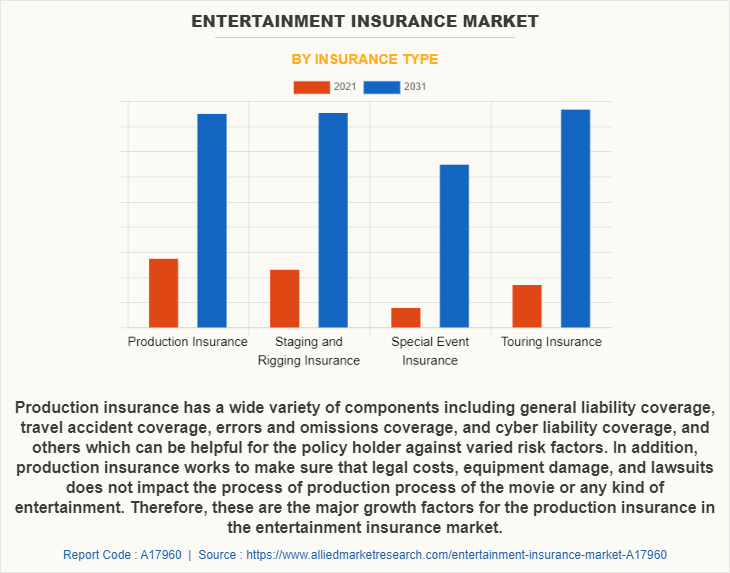 By insurance type, the production insurance segment attained the highest entertainment insurance market share in 2021. This is attributed to the fact that production insurance has a wide variety of components including general liability coverage, travel accident coverage, errors and omissions coverage, and cyber liability coverage, and others which can be helpful for the policy holder against varied risk factors. In addition, production insurance works to make sure that legal costs, equipment damage, and lawsuits does not impact the process of production process of  the movie or any kind of entertainment. Therefore, these are the major growth factors for the production insurance in the entertainment insurance market outlook.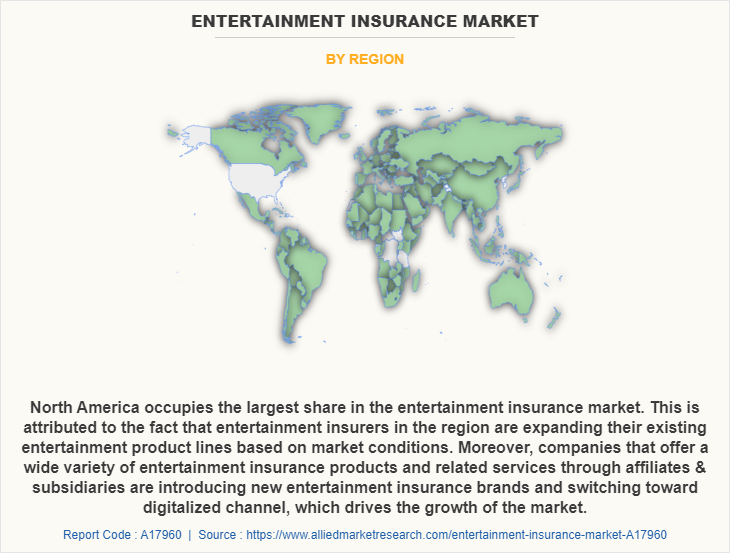 By region, North America attained the highest growth in 2021. This is attributed to the fact that entertainment equipment insurance are largely adopted by entertainment corporations, professional film makes, and acting institutions across the U.S., which has become a major trend in the market. Moreover, insurance programs are conducted by insurers to meet the needs of entertainment business segments with unique risk profiles, and the market has experienced rapid increase in demand for both comprehensive & custom designed entertainment insurance. This, as a result, is accelerating the market growth in this region.
The report focuses on growth prospects, restraints, and trends of the entertainment insurance market analysis. The study provides Porter's five forces analysis to understand the impact of various factors, such as bargaining power of suppliers, competitive intensity of competitors, threat of new entrants, threat of substitutes, and bargaining power of buyers, on the entertainment insurance market forecast.
The report includes the profiles of key players operating in the entertainment insurance market analysis such as Allianz, Allen Financial Insurance Group, Arthur J. Gallagher & Co., AXA SA, Chubb, Everest Re Group, Ltd., Hub International Limited, Higginbotham, Insurance Canopy, Marsh LLC, MFE INSURANCE BROKER, Next Insurance, Inc., Ryan Specialty Group, LLC, The Hartford, Zensurance, Markel Corporation, and Truman Van Dyke. These players have adopted various strategies to increase their market penetration and strengthen their position in the entertainment insurance market.   
COVID-19 impact analysis
The COVID-19 pandemic negatively impacted the entertainment insurance market since all the entertainment related activities were stopped during the lockdown period, events were cancelled, film shoots were put on hold and other such activities which require protection from risk were not required at that point in time. Therefore, the demand for entertainment insurance drastically fell during the pandemic. Moreover, the existing policyholders also cancelled their policy since it was useless for them to pay high premium for the policy, even when there was no activity going on. Therefore, the entertainment insurance market was negatively impacted due to the COVID-19 pandemic.
Top impacting factors
Growth of entertainment industry
The entertainment industry is one of the fastest growing industry across the globe and provides employment to a large number of people. In addition, the number of movies, events, and festivals are increasing day by day. However, with such high extent of growth, the risk factor has also increased. Movie directors, producers and actors often have to face difficulties of media outrage, controversies and legal court room trails which cost them huge losses of money and time. In addition, music events, shows, theaters often are targeted by local mobs during public outrages and they are damaged, burnt, people are killed. Therefore, entertainment insurance brokers takes into account all such types of risk involved in the entertainment industry and provides coverage to the policy holder and supports them financially. They even cover any third party damage such as death due to some accident on movie set, fire, flood and other such instances. Therefore, with the growth of the entertainment industry, the demand for entertainment insurance is growing rapidly which is a major driving factor for the growth of the market.
High premiums for entertainment insurance
The rate of premium charged by the entertainment insurance is generally high as it covers a wide range of risk aspects. In addition, as the coverage includes protection of expensive equipment and high legal cost of copyright claims, the insurance providers often charge high premiums from their customers. However, many small production houses, event managers and people related to the entertainment industry cannot afford to pay such high premiums, for which they often avoid taking the policy. Therefore, the high premium for entertainment insurance is a major factor hampering the growth of entertainment insurance market.
Adoption of expensive equipment by the entertainment industry
As the entertainment industry is rapidly growing, movie directors and producers aim to offer the best possible cinematic experience to their viewers. Now a days movies are made with a lot of VFX and special effects which cost them huge amount of funds and involves use of state of art technology for making such movies. In addition, the use of cameras for shooting movies, music videos have evolved and with time, the quality of the movies are improving based on the type of camera used, technology is implemented for VFX and special effects to further enhance the experience. However, the cost involved in using such hi tech cameras and VFX is huge and therefore, the need to protect them from any kind of damage becomes necessary, for which entertainment insurance is opted. Therefore, with the advancement of technology and usage of expensive equipment for making movies and organizing entertainment events, demand for entertainment insurance is expected to grow rapidly in the upcoming years, which is anticipated to provide major lucrative opportunities for entertainment insurance market growth.
Key benefits for stakeholders
This report provides a quantitative analysis of the market segments, current trends, estimations, and dynamics of the entertainment insurance market analysis from 2021 to 2031 to identify the prevailing entertainment insurance market opportunity.
The market research is offered along with information related to key drivers, restraints, and opportunities.
Porter's five forces analysis highlights the potency of buyers and suppliers to enable stakeholders make profit-oriented business decisions and strengthen their supplier-buyer network.
The report includes the analysis of the regional as well as global entertainment insurance market trends, key players, market segments, application areas, and market growth strategies.
 Entertainment Insurance Market Report Highlights
Aspects
Details
By Insurance Type

Production Insurance
Staging and Rigging Insurance
Special Event Insurance
Touring Insurance

By Coverages

Liability Coverage
Commercial Property Coverages
Other Coverages

By Distribution Channel
By End User
By Region

North America (U.S., Canada)
Europe (United Kingdom, Germany, France, Italy, Spain, Rest of Europe)
Asia-Pacific (China, India, Japan, Australia, Singapore, South Korea, Rest of Asia-Pacific)
LAMEA (Latin America, Middle East, Africa)

Key Market Players
Gallagher, The Hartford, Higginbotham, Insurance Canopy, Chubb, Allianz, Next Insurance, Inc., AXA XL, Marsh LLC, Allen Financial Insurance Group, Everest Re Group, Ltd., Zensurance, Ryan Specialty Group, LLC, Hub International, MFE INSURANCE BROKER