Epoxy Composite Market Outlook - 2027
The global epoxy composite market size was valued at $16.4 billion in 2019, and is projected to reach $24.2 billion by 2027, growing at a CAGR of 5.1% from 2020 to 2027.
Composite materials are formed by combining a resin matrix system such as epoxy with a reinforcing fiber. The mixture of fiber and resin has superior properties, and is increasingly being used as replacement for comparatively heavy metal materials. The fiber bears much of the load in a composite material, and is the main contributor to the properties of the composite material. The resin allows moving load between fibers, preventing buckling and holding the materials together.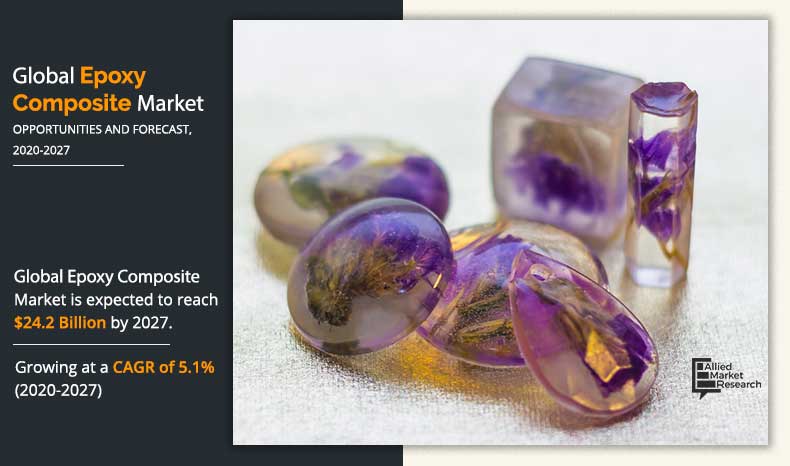 Epoxy composite is used in a wide variety of end-use industries, including aerospace & defense, solar, industrial, marine, and pipes & tanks. Additionally, the rapid expansion of epoxy composite from various industries, including electricity & electronics and marine, is another predicted factor to support expansion in target market revenues during the forecast period. Various advantages offered by these products, such as UV resistance, excellent adhesion, chemical resistance, and heat resistance, are the key factors that drive the adoption of the epoxy composite. Furthermore, increase in demand for lightweight, high mechanical strength, and corrosion resistant material and rise in calling firm emerging economies are additional factors drive the demand for epoxy resin, which in turn stimulate the market expansion during the forecast period. Moreover, rise in need for lightweight materials in the automotive and aerospace industries is predicted to stimulate worldwide demand for epoxy composite due to its low weight and strength ratio.
The global epoxy composite market is segmented on the basis of fiber type, end-use industry, and region. By fiber type, the market is classified into glass, carbon, and others (natural fiber and aramid fiber). According to end-use industry, it is divided into aerospace & defense, automotive, electrical & electronics, wind energy, sporting goods, marine, piping, and others. Based on region, the market is analyzed across North America, Europe, Asia-Pacific, and LAMEA.
Some of the key players operating in the global epoxy composite market are Barrday Inc., Bhor Chemicals and Plastics Private Limited, Cytec Solvay Group, Hexcel Corporation, Mitsubishi Chemical Corporation, Park Aerospace Corp., Sabanc? Holding, SGL Carbon SE, Teijin Limited, and Toray Industries Inc.
Global Epoxy Composite Market, by Fiber Type
By fiber type, glass fiber-based epoxy composites have greater adaptability to produce, high longevity and a high strength-to-weight ratio. The composites are therefore increasingly used in industries such as shipping, pipe & tank, wind energy, marine, oil & gas, and electrical & electronics industries, among others.
Epoxy Composite Market

---
By Fiber
Glass is projected as the most lucrative segment.
Global Epoxy Composite Market, by End-Use Industry
By end-use industry, the use of epoxy composites is expected to increase in the automotive end-use sector in the near future. Increase in demand in the automotive sector for high-quality composite materials is expected to create direct investments in developing new manufacturing technologies.
Epoxy Composite Market

---
By End-use Industry
Automotive is projected as the most lucrative segment.
Global Epoxy Composite Market, by Region
By region, Asia-Pacific dominated the epoxy composite market, globally, due to the presence of growing automotive & transportation, wind energy, and aerospace & defense industries in the region. In addition, the presence of large manufacturers of epoxy composites, growing economy, and rapid urbanization in the area are expected to drive the use of epoxy composites in the building, electrical & electronics, pipe & tank, and marine industries. Therefore, high growth in those end-use industries is expected to fuel the region's demand for epoxy resin.
Epoxy Composite Market

---
By Region
Asia-Pacific holds a dominant position in 2019 and would continue to maintain the lead over the forecast period.
Key Benefits For Stakeholders
The report provides an in-depth analysis of the epoxy composite market forecast along with the current and future market trends.
This report highlights the key drivers, opportunities, and restraints of the market along with the impact analyses during the forecast period.
Porter's five forces analysis helps analyze the potential of the buyers & suppliers and the competitive scenario of the global epoxy composite industry for strategy building.
A comprehensive epoxy composite market analysis covers factors that drive and restrain market growth.
The qualitative data in this report aims on market dynamics, trends, and developments.
Impact Of Covid-19 On The Global Epoxy Composite Market
The demand-supply gap, disruptions in raw material procurement, price volatility, and many other factors are expected to hamper the growth of the chemical industry during the COVID-19 pandemic.
Epoxy composite are primarily used in manufacturing, aerospace & defense, automotive, and wind energy; and as a reaction to the national lockdown, these sectors were experiencing a sudden decline in growth rates.
The COVID-19 crisis has affected the chemical industry supply chain to a major extent; thus, having a major impact on raw material procurement.
The above factors have impacted the growth of the epoxy composite market.
 Epoxy Composite Market Report Highlights
Aspects
Details
By Fiber Type

Glass
Carbon
Others
Natural Fiber
Aramid Fiber

By End Use Industry

Aerospace & Defense
Automotive
Electrical & Electronics
Wind Energy
Sporting Goods
Marine
Piping
Others

By Region

North America (U.S., Canada, Mexico)
Europe (Germany, France, UK, Italy, Rest of Europe)
Asia-Pacific (China, Japan, India, South Korea, Rest of Asia-Pacific)
LAMEA (Brazil, Saudi Arabia, South Africa, Rest of LAMEA)

Key Market Players
BARRDAY INC., BHOR CHEMICAL AND PLASTIC PVT. LTD., CYTEC SOLVAY GROUP, HEXCEL CORPORATION, MITSUBISHI CHEMICAL CORPORATION, PARK AEROSPACE CORP., SABANCI HOLDING, SGL CARBON SE, TEIJIN LIMITED, TORAY INDUSTRIES INC.