The ergometer market size was valued at $1,042.3 million in 2020, and is estimated to reach $2,302.9 million by 2030, registering a CAGR of 7.2% from 2021 to 2030.
An ergometer is a device that monitors muscle movement or ongoing training. It is a built-in output device of treadmill, which used to measure training or physical activity. Some modern ergometers can measure vital signs, such as blood pressure, heart rate, oxygen consumption, and other information; however, basic ergometers provide basic information such as walking or running time, calories burned, distance traveled, and speed. In recent years, there has been a trend to track physical activity and its results in real time, which drives the demand for such devices in the market.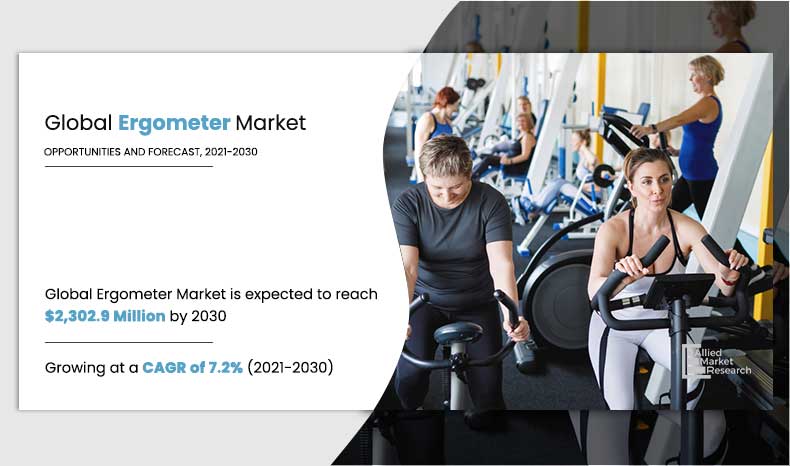 The ergometer market has witnessed significant growth due to increase in number of people going to gyms and health centers to stay healthy and active. Furthermore, key players in the market are trying to consolidate their position by introducing high-tech products and establishing partnerships with well-known local fitness brands, which is expected to increase the ergometer market share during the forecast period. 
Increase in prevalence of cardiovascular diseases and rise in number of health-conscious people drive the need for performing regular exercises, which is expected to fuel the demand for treadmills during the forecast period; thereby, boosting the market growth. For example, stair treadmills are increasingly used due to their benefits. Furthermore, treadmill ergometers are increasingly used in sports activities. In addition, the launch of smart treadmill, which provides Internet connection and collects and stores data for analysis, has had a positive impact on the ergometer market growth.
During the recent outbreak of COVID19, due to mandatory closures and restrictions by relevant regulatory agencies, operations in many industries were suspended or operated with a minimum of employees. China being the global manufacturing hub, with the presence of largest raw material supplier, the COVID-19 is causing delay and bare minimum supply due to lockdowns in many countries.
It has a significant negative impact on the industry's revenue growth. In addition, high cost associated with installing and maintaining these devices is also expected to hinder the global revenue growth of the market.
According to the ergometer market analysis, the market is segmented on the basis of type, end user, sales channel, and region. On the basis of type, the market is categorized into ergometer cycles, ergometer treadmills, upper body ergometer, ergometer rowing, and others. By end user, it is segregated into hospitals & private clinics, health clubs & gyms, home consumers, and others. Depending on sales channel, it is fragmented into B2B suppliers, specialty retail stores, e commerce, and others. Region wise, it is analyzed across North America (the U.S., Canada, and Mexico), Europe (Germany, France, the UK, Italy, Spain, Russia, the Netherlands, and rest of Europe), Asia-Pacific (China, Japan, Australia, South Korea, India, and rest of Asia-Pacific), and LAMEA (Brazil, Argentina, Saudi Arabia, South Africa, United Arab Emirates, and rest of LAMEA).
On the basis of type, the ergometer treadmills segment accounted for about half of the global ergometer market in 2020, and is expected to maintain this trend during the ergometer market forecast period.
Ergometer treadmills are majorly used for the cardio exercises, which are majorly suggested by the physical therapist and doctors. An estimated 17.9 million people died of cardiovascular disease in 2019, accounting for 32% of all deaths worldwide; 85% of them were caused by heart attacks and strokes. More than three-quarters of cardiovascular deaths occur in low- and middle-income countries. In addition, due to the increasing prevalence of cardiovascular diseases and various heart diseases, medical centers and hospitals are the main consumers of ergometer treadmills.
On the basis of end user, the health clubs & gyms segment was valued at $665.4 million in 2020, and is expected to reach $1,369.4 million by 2030 at a CAGR of 6.5%. Health clubs & gyms are significant users of ergometer. Trainer or coach used to analyze the report of sports player derived from the ergometer and accordingly suggest or plan their daily workout. Furthermore, the ergometer manufacturers focus on continuous product innovation and multiple new features to gain significant market share. The increase in admissions in the health clubs & gyms and growth in concern about their body weight and overall health are driving the growth of this market through health clubs & gyms segment. For example, Sports Arts Inc. introduced the environmentally friendly Verde G690 treadmill. This environmentally friendly treadmill uses work related to various activities such as running, walking, and jogging to generate 200 watt-hours of electricity.
According to the ergometer market trends, on the basis of sales channel, the e-commerce segment was valued at $147.3 million in 2020, and is expected to reach $411.2 million by 2030 at a CAGR of 9.8%. Increase in adoption of e-commerce portals in developing regions and rise in number of offers or discounts provided by these sites attract end users, including home consumers and hospitals to purchase ergometer through e-commerce platforms. Moreover, e-commerce platforms have increased consumer reach, owing to which it has evolved as a key source of revenue for many companies. Furthermore, the e-commerce segment is expected to expand in future, owing to rapid growth in internet-enabled mobile user customer bases in emerging markets, which likely to contribute to increase the ergometer market share during the forecast period.
According to the ergometer market opportunities, North America has been dominating the global ergometer market, and is expected to sustain its dominances during the forecast period. This is mainly due to the complexity and deep penetration of leading brands. Both online and offline demand for these ergometer-based machines is growing, which has also promoted the growth of the regional market. The most promising growth rate in this course is expected to come from Asia-Pacific. The strong growth of the regional market is due to the rapid development of the health and wellness industry in the region. 
The players operating in the global ergometer market have adopted various developmental strategies to expand their market share, increase profitability, and remain competitive in the market. The key players profiled in this report include Aspel SA, CORTEX Biophysik GmbH, Emotion Fitness GmbH & Co. Kg, Ergo-fit, Ergoline GmbH, HealthCare International, Lode BV The Netherlands, Monark Exercise AB, Schiller and TECHNOGYM S.P.A.
Key Benefits For Stakeholders
The report provides a quantitative analysis of the current market trends, estimations, and dynamics of the market size from 2020-2030 to identify the prevailing opportunities.
Porter's five forces analysis highlights the potency of buyers and suppliers to enable stakeholders to make profit-oriented business decisions and strengthen their supplier–buyer network.
In-depth analysis and the market size and segmentation assist to determine the prevailing Probiotic Yeast Market opportunities.
The major countries in each region are mapped according to their revenue contribution to the market. 
The market player positioning segment facilitates benchmarking and provides a clear understanding of the present position of the market players in the ergometer industry.
Key Market Segments
By Type
Ergometer cycles
Ergometer treadmills
Upper Body Ergometer
Ergometer rowing
Others 
By End User
Hospitals & Private Clinics
Health Clubs & Gyms
Home consumers
Others
Sales Channel
B2B Suppliers
Specialty Retail Stores
E Commerce
Others
By Region
North America
Europe

Germany
France
UK
Italy
Spain
Russia
Netherlands
Rest of Europe

Asia-Pacific

China
Japan
Australia
South Korea
India
Rest of Asia-Pacific

LAMEA

Brazil
Argentina
Saudi Arabia
South Africa
United Arab Emirates
Rest of LAMEA