The global escalators market size was valued at $11,782.4 million in 2020, and is projected to reach $19,116.6 million by 2030, registering a CAGR of 4.5% from 2021 to 2030. Escalators are moving staircases, that carry people between two successive floors of a building or structure. Escalators typically consist of interlocking steps, that are powered by an electric motor. A system of chains and gears enables easy movement of steps in an escalator. This entire mechanism is contained in a set of trusses that connects the floors.
The COVID-19 outbreak has negatively affected the growth of the global escalators market owing to the lockdown measure in different countries globally and delay in service and production of escalators.
The urbanization rate across the globe has witnessed a significant demand, owing to higher employment and educational opportunities in urban regions. This increase in urban population has fueled the demand for commercial and institutional buildings. The size of commercial buildings, in terms of square footage of commercial building has also increased to accommodate more people. This has increased the importance of vertical transit systems for smooth function of buildings. These factors have positively influenced the escalators market, as escalators enable continuous movement of people from one floor to another. Furthermore, to tackle problems of traffic congestions, many governments across the globe are focused on development of efficient metro rail systems, thereby propelling the demand for market. In addition, the rise in purchasing power of masses in developing countries, has significantly increased the number of shopping malls. Escalators can be installed within the same space as staircases and have less noise and vibration levels. These technical advantages, further increase the use of escalators market.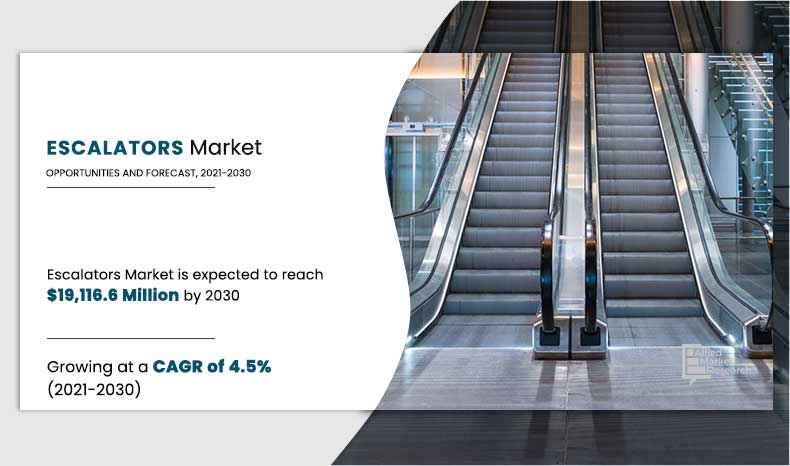 According to the Department of Economic and Social Affairs, United Nations, the global population living in urban areas is anticipated to reach 68% by 2050, up from 55% in 2018. This is expected to add an estimated 2.5 billion people to urban areas by 2050. This increase in urban population, will create a demand for increased commercial space, thereby driving the growth of the escalator market. Furthermore, developing countries across the globe have increased investments in subway and metro projects. For instance, as of 2020, India has over 1000 kms of metro rail network under construction and network of subways in China reached over 6000 kms in 2019. India is also constructing 21 Greenfield airports under the UDAN scheme. The development of such public transport projects significantly increases the demand for escalators, as they enable continuous people movement. In addition, Emaar Properties, which is an international real estate development company based in UAE, is set to develop a 500,000 sq. ft. shopping mall in Srinagar, Indian. Such developments of commercial spaces also drives the growth of escalator market. However, requirement of frequent maintenance and high energy consumption are factors that restrain of the escalators market growth.
Escalators Market

---
By End User
Commercial segment held a majority share of the market in 2020
The novel coronavirus (COVID-19) has rapidly spread across various countries and regions, causing an enormous impact on the lives of people and the overall community. It began as a human health condition and has now become a significant threat to global trade, economy, and finance. The COVID-19 pandemic has negatively affected the development of commercial real estate in many parts across the globe. Furthermore, the negative economic impact of COVID-19 has halted many public transportation projects. However, the number of COVID-19 cases are expected to reduce in the near future as the vaccine for COVID-19 is introduced in the market. This has increased the requirement of commercial spaces, thereby boosting the construction industry. This will help the market to recover by the start of 2022. Post COVID-19, escalator manufacturers are expected to focus on protecting their staff, operations, and supply networks to respond to urgent emergencies and establish new methods of working.
Furthermore, technological advancements have enhanced the safety and power efficiency of escalators, thereby increasing its popularity. For instance, features including auto start and stop significantly reduce power consumption. In addition, major players in the market are increasing their footprint by improving their escalator manufacturing and installation capacity.
Escalators Market

---
By Component
Parallel escalators is expected to hold a majority share of the market throughout the study period
The escalators market is segmented on the basis of type, industry vertical, solutions and region. By type, the market is categorized into parallel, multi-parallel, walkway, and others. On the basis of industry vertical, it is categorized into commercial, public transit, and others. By solutions, the market is categorized as new installation, maintenance & repair and others.  Region-wise, the market is analyzed across North America, Europe, Asia-Pacific, and LAMEA. Asia-Pacific dominated the market in 2020, accounting for the highest share, and is anticipated to maintain this trend throughout the forecast period. This is attributed to increase in population, urbanization, and industries.
Competition Analysis
Key companies profiled in the escalators market report include Fujitec Co. Ltd., Hitachi Ltd., Hyundai Elevator Co., Ltd., KONE Corporation, Mitsubishi Electric Corporation, Omega Elevators, OTIS Worldwide Corporation, Schindler, TK Elevator and Toshiba Corporation.
Escalators Market

---
By Region
Asia-Pacific held a dominant position in 2020 and would continue to grow at a significant CAGR during the forecast period.
Key Benefits For Stakeholders
The report provides an extensive analysis of the current and emerging escalators market trends and dynamics. 
In-depth escalators market analysis is conducted by constructing market estimations for key market segments between 2021 and 2030.
Extensive of the escalators market share and analysis is conducted by following key product positioning and monitoring of top competitors within the market framework.
A comprehensive analysis of all the regions is provided to determine the prevailing opportunities.
The global escalators market forecast analysis from 2021 to 2030 is included in the report.
The key players within escalator market are profiled in this report and their strategies are analyzed thoroughly, which help understand the competitive outlook of the escalators industry.
 Escalators Market Report Highlights
Aspects
Details
BY TYPE

Parallel
Multi-parallel
Walkway
Others

BY INDUSTRY VERTICAL

Commercial
Public transit
Others

BY SOLUTION

New Installation
Maintenance & Repair
Modernization

By Region

North America
Europe

UK
Germany
France
Spain
Italy
Rest of Europe

Asia-Pacific

China
Japan
India
Australia
South Korea
Rest of Asia-Pacific

LAMEA

Latin America
Middle East
Africa