The global essential oil soap market size was valued at $261.2 million in 2018 and is anticipated to reach $458.6 million by 2026, with a CAGR of 8.3% during the forecast period. Soaps are majorly prepared through mixture of oil/fats, fragrances (natural, semi synthetic, or synthetic) and other fillers. Soap is manufactured through three different processes. These include cold process, hot process, and semi hot process. Essential oil soaps are blend of organic essential oil, natural fats, and other associated compounds. Major types of natural essential oil used in soap making includes sandal wood oils, khas oils, palma rosa oil, ajwan oil, pepper mint oil, and lavender oil. The essential oil soap products are sold through supermarket/hypermarket, e-commerce, retail stores, and pharmaceutical stores.
According to the ancient science of Ayurveda, essential oils play a significant role in rebalancing our body systems. Every plant used to extract essential oils possesses unique healing benefits. The use of essential oil soaps has been increasingly explored by the scientific community for the purpose of resolving various skin concerns. In addition, they comprise properties which provide aroma and relaxation upon application. For instance, tea tree essential oil soap helps to combat acne, body odor and fungal infections. Likewise, rose essential oil soap helps to cleanse, purify, and tone the skin. Consumers today have become increasingly aware of the health benefits obtained by using plant extract products. Hence, owing to its healing benefits, the essential oil soaps market have gained popularity among consumers globally.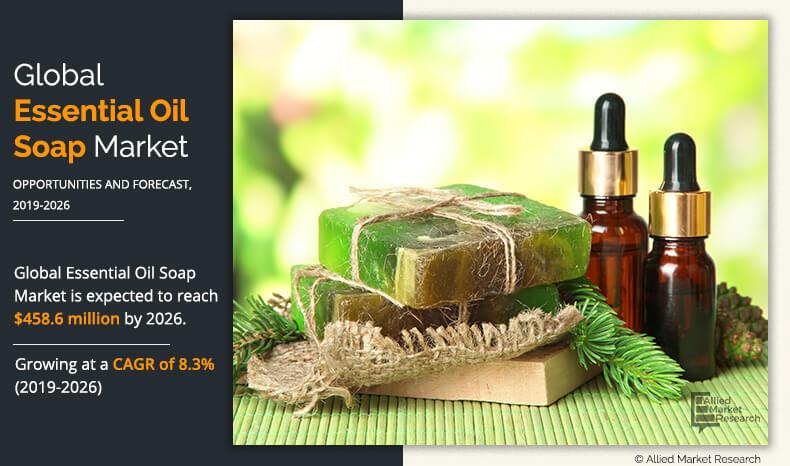 Get more information on this report : Request Sample Pages  
Major personal care brands are progressively using essential oils in their products. Innovations and new formulations in the personal care industry is primarily driven by consumers' willingness to pay more for natural skincare products. Consumers have gradually become aware and are seeking skincare products manufactured without the use of harmful and toxic ingredients. In addition, sustainable products are gaining traction among consumers who want to know the source of their personal care products. In large developed economies with high disposable income such as the European region, there is a high demand for personal care products manufactured using natural ingredients. Furthermore, there is a rise in perception among consumers that natural ingredients are better and safer as compared to synthetic alternatives in skincare products. This trend has rendered a great essential oil soap market opportunity in developing economies such as India, China, and Japan. 
Essential Oil Soap Market

---
By Product Type
Lavender oil segment dominates the global market and is expected to retain its dominance throughout the forecast period.
Get more information on this report : Request Sample Pages  
Millennials are exploring and trying innovative products and new brands associated with body health and awareness. This is due to large generational shift of young consumers and their increase in preference toward locally made, artisanal, and natural ingredient products. The shift in consumer buying behavior has also created a positive impact for young, independent organic skincare brands providing essential oil products. In addition, increase in demand for healthier products has created a pressure on retail stores to ensure availability of natural products. Numerous organic personal care brands selling essential oil soaps such as Forest Essentials and Kama Ayurveda have experienced drastic growth in terms of value sales.  
Essential Oil Soap Market

---
By Distribution Channel
E-commerce segment is expected to grow at a highest CAGR of 10.2% during the forecast period.
Get more information on this report : Request Sample Pages  
The essential oil soap market is segmented on the basis of product type, distribution channel, and region. By product type, it is categorized into lavender essential oil, rose essential oil, tea tree essential oil, rosemary essential oil, peppermint essential oil, and others. By distribution channel, essential oil soap market is categorized into supermarket/hypermarket, e-commerce, retail stores and pharmaceutical stores. Region-wise, it is analyzed across North America (the U.S., Canada, and Mexico), Europe (Germany, France, Spain, Italy, and Rest of Europe), Asia-Pacific (China, India, Japan, Australia, South Korea, and Rest of Asia-Pacific), and LAMEA (the Middle East, Latin America, and Africa).
Essential Oil Soap Market

---
By Region
Europe dominates the market and is expected to grow with a CAGR of 7.0% during the forecast period
Get more information on this report : Request Sample Pages  
The essential oil soap market is analyzed across North America, Europe, Asia-Pacific, and LAMEA. The North America and Europe regions have strong foothold in the market with significant revenue share. These regions offer lucrative growth opportunity for essential oil soap market players owing to increased spending on personal care products and cosmetic products, rise in incidence of skin diseases, harmful side effective associated with chemical based body care products, and introduction of cost effective products in the market. Companies operating in the European market are largely focusing on premium category of essential oil soap products and are actively penetration the market through both traditional as well as e-commerce channels. Asia-Pacific countries also hold lucrative revenue opportunity in essential oil soap market analysis for regional manufactures. Regional manufacturers in these regions are largely competing on the basis of unique product offering where they are positioning the product on the basis of innovative ingredients and packaging. Asia-Pacific is expected to provide strong essential oil soap market growth opportunity in the long run for new entrant. 
The awareness of health benefits of essential oil products has gained rapid recognition among consumers worldwide. However, the production and availability of these products is limited to certain countries. Conversely, the growth of internet penetration and easy accessibility offered by online platforms are expected to contribute to the obtainability of the product worldwide. Therefore, the introduction and sales of essential oil soaps through online channels further enable manufactures to expand the essential oil soap market share and help grow the sales revenue.
The key players operating in the global essential oil soap industry include kama Ayurveda, forest essentials, Edens Garden, Lush, Sunleaf Naturals, LLC, Virginia Aromatics, Wipro Unza Holdings Ltd., Olay, Dove, and Enchanteur.
Key Benefits for Stakeholders:
The report provides detailed qualitative and quantitative analysis of the current essential oil soap market trends and future estimations that help evaluate the market share and opportunities.
The key drivers, restraints, opportunities, and detailed analysis are elucidated in the study.
The market analysis is conducted by following key product positioning and monitoring the top competitors within the industry.
The report provides extensive qualitative insights on the potential and niche segments or regions exhibiting favorable essential oil soap market demand.
Industry player positioning segment facilitates benchmarking and provides a clear understanding of the present position of players along with the essential oil soap market forecast.
 Key Market Segments & Key Market Players
Segments
Sub-segments
BY PRODUCT TYPE

LAVENDER
ROSE
TEA TREE
ROSEMARY
PEPPERMINT
OTHERS



BY DISTRIBUTION CHANNEL

SUPERMARKET/HYPERMARKET
E-COMMERCE
RETAIL STORES
PHARMACEUTICAL STORES



BY REGION

NORTH AMERICA
EUROPE

GERMANY
UK
FRANCE
ITALY
SPAIN
REST OF EUROPE

ASIA-PACIFIC

CHINA
INDIA
JAPAN
AUSTRALIA
SOUTH KOREA
REST OF ASIA-PACIFIC

LAMEA

LATIN AMERICA
MIDDLE EAST
AFRICA



Key Market Players

KAMA AYURVEDA
FOREST ESSENTIALS
EDENS GARDEN
LUSH
SUNLEAF NATURALS, LLC
VIRGINIA AROMATICS
WIPRO UNZA HOLDINGS LTD
OLAY
DOVE
ENCHANTEUR